In case you haven't heard, Hot Girl Summer is officially a thing again, and we are so here for it. While the aesthetic itself includes many kitschy trends, one that I particularly love is corset tops. There is something about the structured boning, the way they shape my frame, and, of course, the unavoidable hotness factor that comes with the top trend. I love wearing corset tops with everything from baggy jeans to tailored trousers and find that, no matter what the occasion, this particular trend grants me more compliments than anything else in my closet.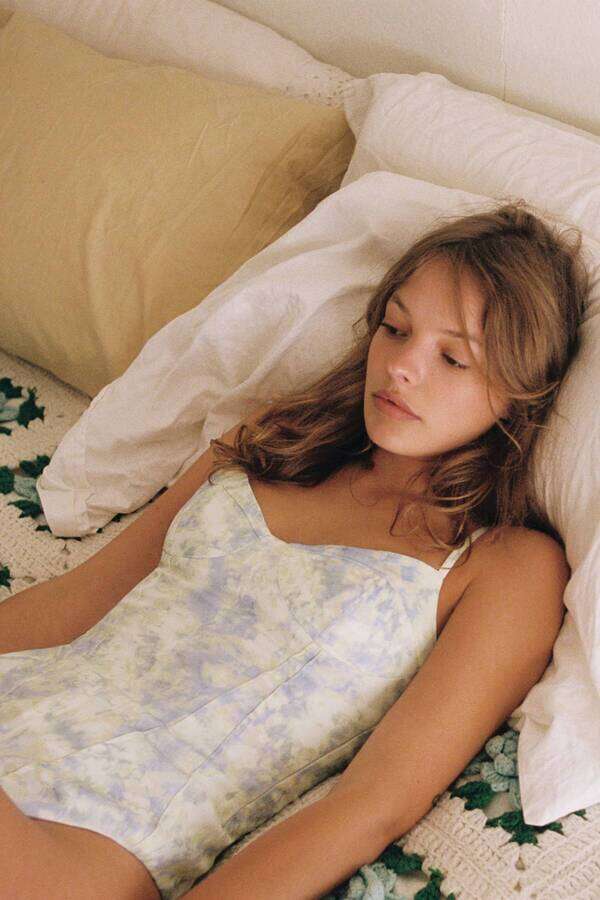 Have I convinced you yet? Great. Ahead, I have ped out the 30 best corset tops on the internet, according to me. From tried-and-true brands like Miaou to the secret Amazon find I'm freaking over, you're sure to find the perfect corset top for you amid the selection below. With that, happy ping and happy Hot Girl Summer 2021.
  FavoriteMiaou Campbell Corset ($225)
  This matching set is all I've been thinking about.
  FavoriteZara Tie Dye Bustier Bodysuit ($36)
  This bustier bodysuit looks so expensive.
  FavoriteAlbus Lumen Curved-Hem Linen Bustier Top ($380)
  Honestly, I couldn't decide between the black and the white.
  FavoriteTobi Daizy Satin Ruched Bust Corset Top in Ivory ($35)
  I think I'm in love.
  FavoriteSami Miro Vintage Corset Top ($405)
  Britney Spears vibes all around.
  FavoriteReformation Minton Linen Top ($128)
  Baby bows for the win.
  FavoriteBardot Fitted Corset Bustier in Orchid White ($79)
  Under $100 but looks anything but.
  FavoriteOut From Under Modern Love Corset ($59)
  Baggy jeans are the perfect counterpart to a structured bustier.
  FavoriteKim Shui Butterfly Bustier ($220)
  Kim Shui always keeps me on my toes.
  FavoriteFor Love & Lemons Majorie Corset ($142)
  Get ready for tons of compliments when you wear this one.
  FavoriteMiaou Imogene Corset in Stone Orange ($225)
  Pretty sure this top was created with fire Instagram pictures in mind.
  FavoritePriscavera Fog Stretch Rainwear Corset Top ($370)
  I love the more casual look of this one.
  FavoriteMissguided Satin Corset Crop Top in Stone ($35)
  This color will go with everything.
  FavoriteWilfred Shine Bustier ($88)
  This comes in an array of stunning hues.
  FavoriteReformation Sedgwick Linen Top ($128)
  When I tell you my jaw dropped…
  FavoriteParis Georgia Marlo Sweetheart-Neck Top ($414)
  Anything from Paris Georgia makes my heart skip a beat.
  FavoriteBlidece Underbust Corset Bustier ($14)
  Good luck choosing one color.
  FavoriteHosbjerg Alina Strapless Top ($119)
  All the Gen Z girls will freak over this one.
  FavoriteMaticevski Statute Exposed Boning Crepe Bustier ($327)
  Wear this on your next night out.
  FavoriteChristopher John Rogers Topstitched Floral-Print Cotton-Twill Bustier Top ($1025)
  Everything about this one makes me smile.
  FavoriteDanielle Guizio Classic Fitted Corset in Vanilla Ice ($218)
  Laced up to perfection.
  FavoriteZara Satin Effect Crop Top ($36)
  Now that's a look.
  FavoriteNatasha Zinko Patchwork Sweetheart-Neck Top ($643)
  This kitschy bustier is worth the splurge.
  FavoriteDion Lee Rouleau Strap Corset Top ($390)
  What I would do to own a Dion Lee corset top.
  FavoriteVictoria's Secret Cotton Lace-Up Crop Top ($55)
  The perfect top to pair with jeans.
  FavoriteSaks Potts Tattoo Logo Embossed Leather Corset ($340)
  She's an icon.
  FavoriteFleur du Mal Knit Corset Top ($275)
  Secretly comfortable.
  FavoriteLaQuan Smith Corset Bustier Top ($495)
  This set is sure to be a conversation starter.
  FavoriteLa Perla Underwired Corset in Black Italian Jacquard Lace ($505)
  La Perla is always worth the investment.
  FavoriteAmanda Uprichard Petrova Top in Ivory ($158)
  Perfectly simple.
  Next up, 37 of this week's best new arrivals.