Recommended accommodation
Jati 3 bungalows and Spa ¥ 237, book now >
Launch more hotels
Published at 01:00, January 12, 2013
Traveler: a family of five, father, mother, husband, me, and our son, who is more than one year old and nine months old. Place of departure: Beijing place of travel: Bali, Indonesia travel tool: Malaysia Airlines from Beijing to Bali, Kuala Lumpur transfer; Balinese local charter car with driver. Travel expenses: 4 adults and 1 baby, air ticket (3622 yuan per adult including tax, 278 yuan per baby), visa, accommodation, travel, meals, souvenirs and so on. The total cost is about 23482 yuan. Travel time: the plane departs at 1:30 a.m. on January 1, 2013 and returns to Beijing at 00:20 a.m. on January 7, 2013. Schedule: D1 (January 1): three meals a day: l breakfast: plane meal; Lunch: plane meal; L dinner: dirty duck in Ubud (234465rb, about RMB 195) itinerary: Beijing Bali; Afternoon: Monkey Forest Park and wubu. Accommodation: jati 3bungalows and Spa (US $86 / night, luxury family room, up to 4 adults and 1 baby) Beijing Kuala Lumpur, January 1, 1:30-8:00, A330-300; Kuala Lumpur - Bali, January 1, 9:05-12:05, boeing777-200; This is a connecting flight. The boarding passes of the two sections are all given to you in Beijing. The luggage is directly checked from Beijing to Bali. When you transfer, you get off the plane in Kuala Lumpur. Just look at the display screen and look for the boarding gate directly in front of the flight number. It's very convenient. The service staff of Malaysia Airlines are very enthusiastic. They give me seats close to the emergency exit, which are very wide. There are not many people on the plane. After the cabin door is closed, the flight attendants will first come to ask the passengers with children if they need help to reserve the back seats, so that the children can lie down after they fall asleep. It's very considerate. The plane was very punctual. When we got off the plane, we signed on the landing. There were exit records on four adult passports, and one baby was a blank passport. The landing visa in Bali is divided into two parts. When you get out of the plane, go through the hall, and go down the steps, you can see small glass windows "visa on arrival". You can queue up and pay. In fact, the payment window is not a customs window, but a window opened by a local bank. They are responsible for collecting visa fees on their behalf, so they are very formal, and they also change, After collection, there is a collection voucher with two copies, one of which will be collected by the customs when it passes through the customs, and then stick a visa label on your passport.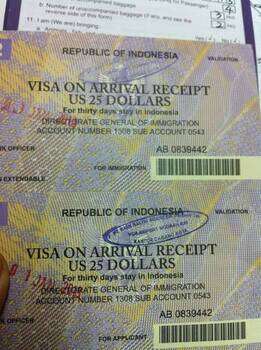 After the payment, the right hand is a long line, or write "visa on arrival", this is through the customs. If there are many people traveling together, you can send someone to line up here first, and the other person will take all the people's passports and visa fees to pay. This will save a lot of time. We don't know. It took one and a half hours to get out of the customs when we finished one line and then another. After leaving the airport, the better driver would have been waiting for me at the gate of the airport with my famous brand. He also served as a tour guide. His English was good. He even explained and took care of all the scenic spots along the way, which was very good. He could enter all the scenic spots free of charge. It should be a local custom. The hotel I ordered is the jati 3 bungalows and spa in ubu. It's very convenient on the road from ubu Monkey Forest Park to the palace. It took more than two hours from the airport to the hotel. The traffic jam in Bali is similar to that in Beijing. The driver said that they are building a highway. This situation will be alleviated in 2014. When we got to the hotel, I let the driver go, because we wanted to walk around by ourselves. After cleaning, we went to Saint Monkey Forest Park first, but we didn't go in. The ticket seemed to be 10000rb (about 8.3 yuan). The reason why we didn't go in was that we were afraid that there were too many monkeys inside to scare our son. However, on the road at the gate of the park, there were many monkeys wandering in the street, We fed the monkeys there. Another monkey jumped on my father's shoulder. The other monkey chased my mother for food. It was very frightening, so we left after playing for a while.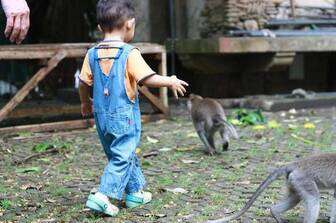 Our dinner was set in dirty duck. Before that, we sent an email in China and asked the driver to book our seats in advance. The environment here is very beautiful, with rice and other crops. It's idyllic. Next to the restaurant, there is a big coco supermarket, with 1.5L barrels of mineral water and 3000rb (about 2.5 yuan). After dinner and shopping in the supermarket, we strolled back to the hotel to have a rest. D2 (January 2): three meals a day: l breakfast: free of charge; Lunch: Magic roast pig rice branch (187000rb, about RMB 156); Near MAS village, the head office is near the palace. The environment is very bad and dirty. This branch has two floors, and the environment is very good. Note: Magic roast pig rice only opens at noon, no dinner, so if you want to eat it, you must arrange your schedule. Dinner: cayatri restaurant in wubu (110000rb, about RMB92) is a quiet restaurant with candles all the way in front of the door. The food is delicious and free of tax and service charge. It's very suitable for families who like to be quiet. Itinerary: Dayong river drifting in the morning, MAS village, batik village, elephant cave in the afternoon, and wubu strolling in the evening. Accommodation: at 9:00 a.m., the driver came to pick us up. First, I went rafting on the Ayong river. Because my hand was broken and I couldn't get wet, my father was dizzy, and my son was too young, so only my mother and father took part in the rafting. The driver ordered the rafting for us, which was 38 dollars per person, It's from Pt. Bahama rafting company. There are many companies rafting. The distance of this company is relatively short, and the current is not so fast, but the scenery is very good. You will get off the boat and take photos in the middle. Considering that I have my mother, I chose this drifting company which is more suitable for the elderly. It's been two hours. My mother is very excited when she comes back. I think it's not bad that the old people in their 50s and 60s can recognize it.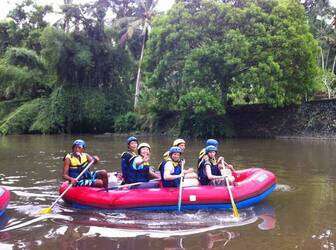 When they were drifting, my father and I took our children around. There were idyllic scenery everywhere, such as rice, scarecrow, temple and so on. The children also had a good time. The cost of rafting included water, lunch, bath and so on. Because we were going to have magic roast pig rice, we didn't have lunch there. In fact, lunch is a dish of fried noodles. At noon, IBU oka2, which is on the other side of MAS village, has a much better environment than the head office opposite the ubu palace. In the afternoon, I visited batik village, MAS village and elephant cave. These places are purely for leisure. You can go shopping or not. Even handicrafts and small shops are not cheap.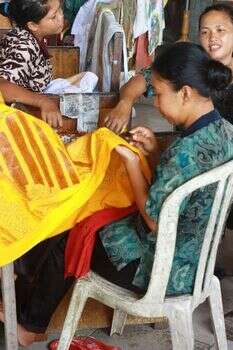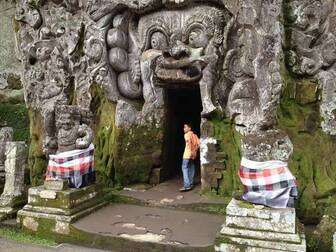 It rained heavily when they came out, but all the tourists had to take a detour from the shop Street, and the drivers could walk directly to the parking lot. I think this should be their local convention, that is, they had to let the tourists go out of the shop Street, so that the shops could have a chance to sell things. In the evening, I went around the palace and found a quiet restaurant to eat. The street of Saint Monkey Forest Park is still very prosperous. Many shops sell souvenirs. I also saw an art gallery shooting water drops on the street. It's very beautiful. D3 (January 3): three meals a day: l breakfast: free of charge; Lunch: buy food from supermarket, go back to the hotel to cook dinner: Bintang Bali (91000rb, about rmb76) this restaurant is at the end of dolphin Plaza, near the sea, with a beautiful scenery. There is a big beach volleyball court at the gate, with a good environment. The ice cream is very pure and delicious. I bought one for my son for 7000rb, which is very delicious. Itinerary: tegallalang, TIRTA empul, jingdamani, luoweina accommodation: Bali Lovina beach courtages (US $110 / night, family room, up to 4 adults and 1 baby) in luoweina, I checked out the hotel of wubu in the morning, loaded my luggage, and went all the way to tangala terrace. It's about half an hour's drive from wubu to the terrace, and I'll charge tickets when I enter the scenic spot, A person 5000rb, children do not want money. Terrace is very small, no Dragon Ridge spectacular, but very beautiful, with coconut trees, do not have a taste.
The water in Shengquan temple is not as clean as expected, but there are still a lot of people taking a bath. They all wear clothes to wash. We can't take off all of them here. We saw the spring, in a lake, gushing from the black mud, the lake is very clear, but the lake is very calm, I think it is more artistic than Baotu Spring. The ticket price of Shengquan temple is 150000rb, and then jingdamani. When we went there, it rained and we didn't see the top of the volcano. However, the smoky landscape is also good. Because we can see it by the roadside and the weather, we didn't have lunch in the so-called landscape restaurant, but chose to go straight to luoweina.
All the way from jingdamani to luoweina is a mountain road, and most of them are 180 degree turns. The driver is required to slow down three times on the road, otherwise the mountain road is rickety and makes people feel carsick. When we got to luoweina, there was a Carrefour. We went there to buy water, eggs, meat, milk, lettuce, carrots, bamboo, watermelon, mango, noodles, iced beer, coke, etc. we went to the hotel of luoweina at more than 2 o'clock, cooked noodles and ate fruit. The hotels in luoweina are all independent cabins. We cooked and sat on the platform outside the cabins, enjoying the seaside and eating. It was very pleasant( The cooking pot is our own. Since 53 days ago, we have taken our son to travel. So we are afraid that the little guy will not adapt to the food of other places. We always bring a small electric cooker so that we can cook an egg, porridge and noodles for him at any time. After dinner, swimming and going to the beach, the beach in luoweina is black, probably because of the minerals carried by the volcano. It's very black, but it's very soft to step on and watch the sunset.
Then we went to the dolphin square. We live close to the dolphin square. We can walk for 5 minutes from the road or the beach. The so-called dolphin square is a statue of a dolphin. Next to it are bars and souvenir shops. We walked around and chose a clean restaurant near the sea. We watched the sea, ate dinner, ordered beer, and had a drink Ice cream and dinner only cost 91000rb, which is very cheap. There is no tax or service charge in this store, and there is free wireless network. Very good. D4 (January 4): three meals a day: l breakfast: free of charge; L lunch: waiung kopi Bukit hexon (88000rb, about 73 yuan) l dinner: supermarket to buy food, cooking their own back to the hotel itinerary: morning out to see dolphins, feeding fish, swimming; In the afternoon, gitgitgit waterfall, strawberry station, baidu Ku Nu temple, sea temple watch the setting sun accommodation: Golden Balaam haven Hill Villas (125 dollars per night, family room, more than 200 square meters mountain villa, with private swimming pool and kitchen, up to 4 adults and 1 baby) at 5:45 in the morning, go out to see the dolphins. The driver also made a reservation for the dolphins in advance, 13 dollars per adult, Children don't want money. The whole family is just in the same boat. It's 5 dollars per person that we add after watching tropical fish feeding. We think it's more fun for children to have more contact with nature. We can see the value of the money. My husband and children went to the sea to play fish. If he has diving equipment, he can go directly into the water to snorkel. He can play as long as he wants in the sea, and the boatman can accompany him at any time.
This season is the off-season for dolphins. We only saw one or two at the beginning. Our boatman is an experienced person. He took us to the deep sea for a long time, and he said that these places were places where he thought there would be dolphins. Later, we saw a large number of dolphins, which was very spectacular and fun. The boatman would chase the dolphins, which was very interesting. We played in the sea until 9:30. We came back to wash and have breakfast. The breakfast in this restaurant is until 10:30. Then we took our son to swim, packed up and asked the driver to pick us up at 12:00. The road is still a mountain road. About an hour later, I arrived at the waterfall. The waterfall is very humble. There is an entrance on the side of the road. If I'm not a local, I can't find it, but it's very beautiful. The terrace is equipped with a waterfall, and the ticket is 5000rb per person. It's worth watching.
From the waterfall to the top of a mountain, there are many monkeys. But the driver said that these monkeys are wild and can catch people. So we threw out a lot of snacks for them through the window. It was very fun. When we went up the mountain, the driver recommended a restaurant. The environment was good, and there were viewing windows to see the valley. On the other side, there was a beautiful lake. The restaurant was also very clean and good, Four talents ate 88000rm, about RMB 70 yuan. Here we also tried a kind of scones with banana and strawberry stuffing and chocolate juice. It's very delicious. After dinner, I drove about an hour to the strawberry station. It's a paradise for children. It's a very beautiful and comfortable Park, with lots of iron amusement facilities, just like the things we used to play in the park in the 1980s. The fresh strawberry juice here is very pure and delicious. A large glass is worth it.
Baidu Ku Nu temple is just opposite strawberry station. We have all arrived at the parking lot and come out again. We all think that there is nothing to see in the temple. It seems that we can see it almost. Instead of looking at the temple in the lake, it's better to go directly to the temple in the sea. So we went directly to the sea temple. When we arrived at the sea temple, it was more than 5 o'clock, and there was still a certain time before 6:30, so we had a good time here. We took photos from all places and angles, which was very good. The setting sun here is really beautiful.
When we came out of Haishen temple, we went shopping in Carrefour near Kuta. Because the hotel we ordered today has a kitchen, we planned to cook a good meal by ourselves. We were a little tired of Indonesian food. It's more than 8 o'clock to stay in the hotel. It's very comfortable to cook, eat and drink with beer. This hotel is very nice, clean and quiet. The location is a little bit off center, because I think our schedule in the next two days is not so tight. We have a private swimming pool and we can enjoy it. Besides, we have cars whenever we go out, so it doesn't matter if we live in a remote place. The service of the hotel is very good. Breakfast is delivered to the room at the time you requested. D5 (January 5): three meals a day: l breakfast: free of charge; L lunch: ES teller 77 (106000rb, about 88 yuan) in the discovery shopping mall in Kuta. L dinner: made's warung (386100rb, about 322 yuan) in Kuta. It's the most expensive meal in Bali. It's very delicious and the hotel environment is very good. Tiramisu is worthy of recommendation. His son will kill one of them himself. Itinerary: swimming in the hotel in the morning, shopping in discovery in the afternoon, blue point and Ulu watu. Accommodation: jinbalan haven Hill Villas (125 dollars per night, family room, 200 square meters mountain villa, with private swimming pool and kitchen, up to 4 adults and 1 baby) sleep in the morning, breakfast is delivered at 9:30, very rich, juice, fresh fruit, fried noodles, fried rice and bread, after eating, swim in the private swimming pool for a while, and the driver comes to pick them up at 11:00, We went to the discovery shopping first. Kuta has this discovery and a big duty-free shop. We thought that the airport is duty-free, so we might as well go to discovery. Later, it proved that our choice was wise. Discovery was built near the sea. We found a dessert shop and sat down at the bottom of it is jinbalan beach, which is very comfortable. In fact, the discovery is not very big. I don't think it's as big as the Baisheng shopping center in Beijing, but the things are very good. I bought my son a pair of Nike pants with a very soft, plush lining, 189000rb. After a while, I found a place to eat. The driver had been waiting for us in the parking lot, and we were on the road again at about 2 p.m. on the road, the driver recommended a beach suitable for surfing without money, Padang beach. There were many foreigners surfing there. We walked a long and narrow valley from the road to the beach, which was really beautiful. The sand was white and thin, and what's more, the trees here were full of butterflies. Continue to drive to blue point. A hotel near blue point urumwatu is famous for its boundless swimming pool. Now it has become a scenic spot. To get into the hotel and see the swimming pool, you need to go to its dining bar first to tip, but it's not absolute. My parents and children swaggered in, but my husband and I were stopped, so we had to buy drinks, I bought the cheapest bottle of Sprite and a bottle of Fanta, which cost us 30000 RB including tax and service charge. I went in and saw it. It was really shocking and beautiful.
Then I went to lover cliff. The sea here is so beautiful. It's blue. It's striking the cliff. It's very shocking.
There are three places to watch the sunset in Bali: the sea temple, lover's cliff and the beach of jinbalan. The sea temple and lover's cliff are magnificent because there are temples and cliffs with the setting sun. Jinbalan beach can be seen while eating barbecue. At the same time, it is also good for the landing and landing of airplanes. You can choose the location according to your preference. After watching lover cliff, we found a place to buy some candy, peanut cake and other local specialties. This is more expensive. A souvenir shop recommended by the driver bought 23 boxes of things, which cost 485000rb. I think the driver of this store should have a rebate. Later, I thought I should have a look at Carrefour supermarket. It might be cheaper, but it doesn't matter. We chose made's warung, a very good restaurant for this evening's big meal. The menu is all English dish names without details. It's hard to order, but fortunately the restaurant has wireless, So I ordered a big meal while Googling. It was very delicious. It was the perfect end of our trip. D6 (January 6): three meals a day: l breakfast: free of charge; Lunch: plane meal dinner: plane meal itinerary: jinbalan beach, Bali - Beijing our plane is at 13:10 p.m., but due to the traffic jam in Bali, the driver came to pick us up at 9 o'clock. On the way, he took us to jinbalan beach, the white beach, where we can see the take-off and landing of the plane. It's very beautiful.
We arrive at the airport around 10:30, check out with the driver, and then step by step go through the security check, check the luggage, and pay the airport tax (everyone has to pay 150000rb / person, and the baby has to pay the tax). Go to the duty-free shop and board the plane. The airport in Bali is very small. We have been waiting in line for more than an hour to check our luggage, so that's why we have to come to the airport early. When Bali leaves, it has to pay 150.000 rupees per person, which is called airport construction tax. It has to pay local money, not US dollars. Summary: the 6-day itinerary is quite full. With the elderly and children, most of the scenic spots in Bali have been visited without too much fatigue. The cost is higher than that of the group. So I am quite satisfied.
Some points for attention are as follows: air tickets: I generally don't choose domestic airlines for traveling abroad. First, the service is not good; second, the model and seats are not comfortable; third, the type and taste of air meals are slightly poor; fourth, air control often gives priority to international flights, so international flights are basically not late. Therefore, my alternative airlines to Bali this time are Air Asia, Malaysia Airlines and Indonesia's Eagle Airlines. I think many people choose Air Asia, and the price is really cheap, but I always think that the aircraft of Air Asia is smaller and more suitable for short distance. For nearly 10 hours of flight, the aircraft of Air Asia will not be too comfortable. On the other hand, Air Asia charges for everything, but charges for luggage check-in, and charges for connecting flights by different routes. There are no meals on the plane, so if you need to buy them, you have to buy them separately. Although the ticket price is cheaper, it's a lot of miscellaneous expenses
It's not suitable to come down. And Air Asia in the online payment with credit card is to charge a certain fee, so it is an expense. Eagle Airlines is from Indonesia. I haven't contacted it, but the price is frightening. I was the first one to be eliminated. Malaysia Airlines did it a few years ago when they went to Malaysia. The service is very good. Each person can check 20kg of economy class luggage and 7kg of carry on luggage. The plane meal is very rich, every flight segment has a meal, and the dessert is also good. After watching for nearly two months, at 12:00 p.m. on November 10, Malaysia Airlines released a special ticket. It was only 3075 yuan for an adult to and from Bali. No hesitation, make it right away, and the baby ticket of Malaysia Airlines is cheaper than that of Air Asia. My son's round trip is only 278 yuan, and there is no handling charge for credit card payment. Finally, the ticket tax is 3622 yuan for adults, 278 yuan for babies, and 14766 yuan for five people. After payment, the mail of Malaysia Airlines will arrive at the mailbox immediately, with ticket number, time, model and description. The ticket was successfully completed. Hotel: the hotel is set in China. I choose it according to the map, praise and price. I use booking.com. Agoda's is slightly cheaper than booking's, but the hotel is not as much as booking's. In addition, although the two websites do not need to pay in advance and can be cancelled at any time, Agoda will freeze the hotel room fee from your credit card when you book, and return it to you if you cancel, which will cause exchange rate loss and annoyance. So I chose booking.com. The service and popularity of booking are very good. This time, I ordered a room between families. Four adults and one child can live in one room, which is quite convenient. Visa: I see there are different opinions on the visa issue on the Internet. Many people say that the customs in Bali will force tips. I'm very nervous about this
For a long time. But it turns out that it's very formal here. Unless you want to take a shortcut and don't want to queue up, there are a lot of people in the hall who look like staff and ask if you want to apply for a visa. If you want to, they will do it for you. These people have to pay a single fee, but the advantage is that you can save the time to queue up and pay. I don't know how much they charge, But they do do it fast. After collecting your money, they go directly into the glass room of the bank, come out with the receipt, and then take you to the room of customs inspection. You can finish everything in 10 minutes and go out of the customs. In my opinion, many people take this way. I'm not in a hurry, so I didn't try this way. One thing to note is that Bali doesn't charge us dollars before 2003. When I paid the visa fee, there were three US $20 bills printed in 1999, which were returned by others. They would be fine if they were printed in 2009. Currency exchange: the streets of Bali are full of currency exchange. You often see a sign that says 970096009500, which shows that the exchange price of US dollars in different years is different, and the exchange amount of US $100 is different from that of US $1, US $10 and US $20. Currency exchange or to find a regular shop, there are certification marks, do not too believe that the high exchange rate ratio, a number of comparison, some high price, often in the exchange time have greasy. I pay US dollars for visa, hotel, rafting, dolphin watching and car chartering. I have to pay US dollars for visa of US $25 per person, and I can pay local money for others. But I think it's too troublesome to change, and I can't pay much more after calculation, so I pay US dollars directly to save trouble
It's too late. We
This time, a total of 300 US dollars were exchanged for daily meals. On the first day, the exchange rate was 1 US dollar = 9400rb. On the second day, it became 1 US dollar = 9725rb. Later, it was about 9600. The exchange rate of Rowena is lower, so it's better to change in Kuta or ubu before going. You can change it for 100 dollars, 100 dollars. There's no need to change so many at once. The last 75 dollars is used to pay the airport excise tax here. Local traffic: the traffic in Bali is not very good, the roads are very narrow. Moreover, the scenic spots are scattered, so renting a car is a good choice. However, as the driving habits are opposite to China's and the roads are not familiar, it is more reliable to rent a driver. I chose Pablo & Co, which is not popular on the Internet
To confirm that they are really good. Our driver is a 25-year-old young guy, very enthusiastic, and good at English. He also helps us to hold our children, take pictures and explain the scenic spots we don't know and have no plans, but he will also stop the car to take us to the great free scenic spots along the way. And they also help me to book the restaurants I want to go to, such as dirty ducks, in advance, The restaurants recommended to us on the way are of high quality and low price, which is very satisfactory. I used to contact by e-mail to say what I thought. They would make some suggestions. The speed of answering e-mail was very fast, and the service was also very good. They washed the car every day, and the car condition was also very good. The five of us were equipped with a 7-seat Toyota, which was very comfortable. Email: dewa_ suwat@hotmail.com If necessary, please contact us. The first day I stayed in Ubud, picking up from the airport to Ubud, 33 dollars; The next few days were spent playing around, 43 dollars a day, and the last day from kimberland to the airport, 15 dollars. If you pay with local money, the first day is 300000 RB; The next few days were 400000rb; The last day was 120000rb. The fare includes the driver's meal, accommodation, fuel, parking, etc., and it can be used 24 hours a day. Where do you want to go. The fee is to send us safely to the airport on the last day for settlement. We don't have to pay every day. We also give the driver's tip together, not every day. We used the car for six days and thought that the driver was very nice, the service was very good, and we were very happy, so we gave him a total of $20.