Published on 2014-02-17 00:05
A trip to Bali
"We must go to Bali for the Spring Festival this year, and resolutely flee from Beijing, the city of" the first block "and" the first poison "....". Determined the Spring Festival holiday itinerary. I quickly landed on Ctrip. Com, and from the decision to the single half an hour, I issued an order for "8 days and 6 nights of free travel in Bali". Good express Ctrip has confirmed the itinerary. At first glance, the price is more than 47000, not including the extra bed fee of about $100 (US dollars) per day. Because I didn't seriously check the itinerary and relevant terms, I yelled "shangyidang" for the leisure trip of "local tyrants" in Bali, It has been launched.
All the way to Bali
On January 26, 2014, we embarked on the journey to Bali. Originally, I wanted to choose direct flight, but considering that I was afraid that I could not bear the direct flight with my child, so I ordered a Malaysia flight and transferred in Kuala Lumpur. Fortunately, the flight was at 1:30 a.m. and I was on the road all night. I went out at 11:00 p.m. and arrived at T3 terminal of Capital International Airport in less than half an hour. Unexpectedly, there were two long queues at the check in place. Fortunately, I bought business class, so I didn't have to wait in line. I handed in my passport, and the check-in beauty gave me the boarding pass and business class rest card of the two-stage trip, and arranged a special VIP luggage channel to check my luggage manually. Then, fish pass through security, border, customs and other joint inspection units and enter the first-class lounge. Although I heard that Malaysia Airlines' big plane service is very good, and the catering is also good, I always feel that it is still "the motherland's good"; As a result, beer, snacks and pastries were swept away. Boarding at 1:30 on time. Airbus 330 is the plane that flies. It's really not small. The plane climbs 10000 meters high and flies flat. The flight attendants broadcast in three languages and begin to prepare meals. They look at the drinks on the dining car and the Eurasian set meal on the dining card. All of a sudden, their appetite increases greatly. The beautiful steward of Malaysia Airlines seemed to understand my eyes. He opened the table, laid the tablecloth, served the tableware and finished it in an instant. I ordered a sirloin to deliver wine. In the twinkling of an eye, the steward brought me two AOC dry red wines from Bordeaux, France, for me to choose. Ha ha, happy hour has begun. I'll have a drink on the plane. The plane arrived in Kuala Lumpur on time. The waiting room of Kuala Lumpur Airport is very large, but there is no Chinese guide for the transfer. Fortunately, I followed several Chinese brothers who are also making the transfer to enter the waiting area for the next flight to Bali. I am very glad to be able to choose Malaysia Airlines, excellent service wine; On the second leg of the flight, as soon as we boarded the plane and took our seat, the purser took the list to upgrade us from business class to first-class class class. Then there was a delicious meal of Malaysian wine and food, which went straight to Bali, Indonesia, which is known as "the best resort paradise in the world". Ha ha, thanks Ctrip! It's a very thoughtful arrangement. It's very good. The night snack, breakfast, Chinese food and one night's room charge (including the return trip) are all over the province. Although the airport in Bali is small, it is still clean and tidy. The carpet is still new. When you get off the plane, you'd better queue up separately. One is to buy landing visa, 25 yuan in 30 days, and the other is to go to customs. Out of the airport, Ctrip pick-up staff have been holding signs waiting, pick-up Meimei smile to welcome us to the coffee shop, quickly ordered three cups of milk tea. We were received by a warm young man from Taiwan. He was very kind when he heard Mandarin in a foreign country. He gave me a tour map and a free SIM card for Bali. He explained some things. Remember that the local currency is RMB by deleting 3 zeros and multiplying by 0.8. Don't change it at the airport. It's the least cost-effective. Of course, I didn't know it until I went outside to the ATM of BCA bank. Note: pay less attention to it. There are no small denominations in ATM. Here's a reminder to my friends: when you travel to Bali, don't listen to others. You'd better change the Dao Lao (US dollar) in China, and exchange it for one or two yuan more. It's convenient to tip. 12000 is about one Dao. (in early February, the local exchange shop was 1 Dao = 12000-12500 Duns, 1 RMB = 1820-2000 yuan, which is more expensive for star hotels). It is said that BCA is a bank run by overseas Chinese, and there is no fee for cash withdrawal. In fact, it's nonsense. As soon as Laka withdraws one million Indonesian rupiah, the mobile phone information will arrive, and hundreds of thousands of rupiah of cash withdrawal fees will be generated.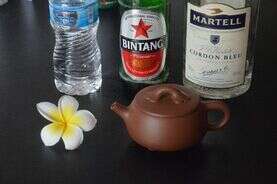 This is my necessary "magic weapon" for travel
The birth of local tyrant
Walking out of the airport, I boarded the special bus to pick up the plane and went to the hard rock hotel where I stayed. All the cars, off-road vehicles, buses and trucks passing by me were all cars made by the Japanese pirates. Did I think the plane landed in the wrong place? Including the seven seat special car we ordered, that is, our domestic APV like Wuling, which is commonly known as "noodle" in Beijing. Hard rock hotel is only ten minutes away.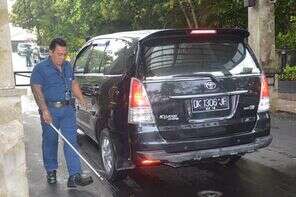 Security personnel are carrying out strict safety inspection on the vehicles entering the hotel
Bali, with its beautiful sunshine, blue sea, attractive scenery and white sand beach, has won the favor of tourists all over the world with its tropical beauty and unique religious culture, and is regarded as one of the most popular tourist attractions in the world. Hard rock hotel is located in Bali's famous Kuta entertainment and prosperous shopping and tourism center. In 2002 and 2005, the second explosion carried out by terrorists hit the world-famous Island hard. When I enter the hotel, I need to go through strict vehicle safety inspection before I am allowed to enter the hotel. When I get to the front door of the hotel, I tip the driver 20000 inds according to the instructions given by the Ctrip partner. Then I take out two large red banknotes just brushed from the ATM and hand them to the driver who didn't say a word and didn't even smile. Unexpectedly, the driver immediately bowed to me with a smile, With slang mixed English, high frequency nod: three grams of friends, three grams of oil; At this moment, I suddenly realized, I call, this Ya court is not stupid?! It turned out that I misjudged the value of the currency and gave him a tip of 200000" "Local tyrant". Behind him came the voice of his son. Ha ha, I didn't expect that when I just entered Bali, I looked at my hand holding one million Indonesian rupiah and the cash I had with me and laughed at myself: I didn't expect that I would become a billionaire as soon as I arrived in Bali, but now, with "practical action", I have become a new Chinese word in the Oxford Dictionary: "local tyrant", which was born carelessly" Let's win honor for us Chinese people, "I said with a smile at my wife and children.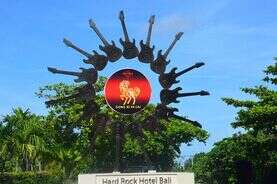 During the Chinese Spring Festival, the hotel specially decorated the year of the horse logo with Chinese flavor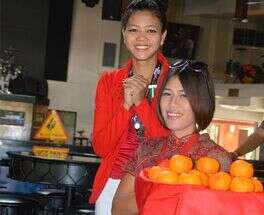 Congratulations on Facai, congratulations on Facai! The beautiful hard rock attendants wear Chinese red to bless the guests!
Hard rock bali is the first hard rock hotel in Asia. Nestled close to Bali's famous Kuta Beach, it covers an area of 3 hectares and has 418 guest rooms and Suites honoring rock stars. Hard rock's precious collection on the wall reflects the revolutionary changes that changed the face of music, trends and art, and superstars from the 1950s to the late 1990s. As soon as you step into the hotel, you will feel the surging charm of rock music.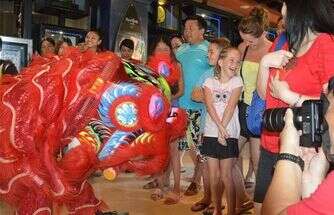 The hotel has arranged lion dance and green gathering activities with strong Chinese characteristics
Decorated hard rock reception hall
Boasting of hard rock's boundless energy, creativity and excellent service, hard rock hotel in Bali has the atmosphere and environment that can let people go back to the rock culture ten years ago! Super music enthusiasts can also show their voice in the hotel's boom box studio. For fitness and leisure enthusiasts, here is impeccable. You can play in the sand covered curved pool below, enjoy wonderful body care at rock spa, or climb on five foot high rocks. You can also go to the well-equipped indoor fitness, where there are advanced fitness equipment, sauna room and steam bath room. You can also have a rest in the garden like courtyard, have a shot of Kung Fu tea or go to a game of chess, or play a beach volleyball if there are many people... In a word, this beautiful bali resort also provides guests with a wide range of leisure and health options, and also prepares various styles of food to cater to different tastes of guests!
Naked dolls on the beach
The little foreigners who went to the sea with full arms
Local cute kids
Hard stone hotel recommended by Ctrip is really good, both hardware and software are good; The receptionist at the front desk is Nana. She has a first-class service and a charming smile. The guests who can't speak English or Indonesian here, especially those who come to China for tourism, basically go to see her, which can be called image ambassador; This is our first stop in Bali. We stayed in a double bed deluxe room. Each bed has 1.5 meters, which allows an adult and a child to sleep together; Overseas hotels stipulate that children over the age of 12 will be charged by adults, who need to live with their parents and pay for extra beds at the front desk. At the time of check-in, the front desk attendant was very polite. When he saw that his son was 1.7 meters tall, he charged for extra bed. When he saw that he was only over 12 years old on his passport, he was free of charge; So the rooms here are all prepared for this kind of playing with children, including breakfast, which is very good! The hotel has its own radio and TV channels. The TV station starts to broadcast the rock singing in the bar in the evening! The bar is very good. I went to the bar for two nights in a row. It's OK to spend money or not to watch. This is better than bars and similar entertainment places in China. The band is on the bar. The lead singer is very professional and can adjust the atmosphere. When hi reaches the climax, all the foreigners below are crazy. Some jump on the bar, cheering and rocking with high decibel rock music, some split their voice and sing along with the music, and some waiters rush to the bar and dance with hi song! Happy forever!!!
Although the hotel is not newly decorated, the white room has light black print, but I am very satisfied with everything of the hotel, the mattress and pillow are very comfortable! Buffet is also very good, there will not be the phenomenon that there is no food, the products are good, from French foie gras to seasonal fruit to on-site food, the variety is over 100, the price is real. At the time of Chinese Spring Festival, the hotel also specially designed the decoration according to the style of Chinese Spring Festival, made the red mark of the year of the horse in the prominent position at the gate, hung red lanterns, and invited local famous lion dancers to dance and pick up the green; For each guest, the front desk will present a long coupon.
In the early morning of the next day, I was awakened by the enthusiastic birds. I pushed the window to look at the sea. A group of surfers were gliding and fighting with the huge waves of 12 meters high. Suddenly, I was eager to try. I rushed into Dantian, changed my swimsuit and went straight to the sea; Although he used to swim in the sea, tied the rope around his waist and jumped into the sea on the fishing boat to play, he hesitated a little in the face of such a huge wave. "Don't counselle, rush up." his heart was full of blood, and he plunged into the huge wave to fight and play with the waves; However, after several rounds of defeat, Mao Da's quotations, which he learned in the past, were instantly overturned; At the same time, he also understood the truth that "water can carry a boat and overturn it"; A huge wave is just under the cover. It doesn't consider your existence and feelings at all. Before you take a breath, it climbs ashore. The undercurrent retreats bravely from the shore and rolls you to the sea without hesitation; All of a sudden, the thigh is wrapped by a sticky and slippery thing. It's easy to pull, MGD??? It turned out to be a half meter long eel, a survival instinct, tenacious support me, with the waves, all the way jumping, rolling out of the sky. So far, recalling that scene of soul stirring "escape", there are still some liver tremors. amitabha!!! Fortunately, God's blessing;
Bali street scene
After breakfast, nine o'clock charter day tour, Ctrip partners, provide professional "platinum Secretary" service, is worth recommending; It costs $65 a day for a 10 hour charter tour, including driver tips and fares, but excluding parking fees. The parking fees for general scenic spots are about 5000 Dunns. Both the charges and the service are good, but the driver can't speak Chinese, so I'm a little sorry; Fortunately, the focus of this trip is to train the wife and children who are learning Wall Street English and majoring in English. Route: from the hotel to wubu (mainly to visit the woodcarving, art painting and other markets with national characteristics and the Imperial Palace), Shengquan Temple (religious sites), shopping on the way, local products similar to polo, and finally to the sea temple to pay homage and watch the famous sunset.
Many devout tourists come here to purify their soul with holy spring
After a day's rest, (visiting the old commercial area around the hotel), we chartered a car to go to jingdamani volcano again. It's about three hours' drive from Kuta to the volcano. Jingdamani volcano is located in the plateau area with badur mountain as the center at an altitude of 1717 meters. It is also a rare cool place in Indonesia, which is very suitable for vacation and recuperation.
Worshippers on the streets of Bali
Jingdamani volcano across the lake
Jingdamani volcano is an active volcano. It erupted in 1917, destroying countless shrines and villages, but also making the land more fertile. Citrus, banana, coffee, coconut and other crops are planted around the volcano. As a scenic spot, there are charges here, but compared with the domineering gate and cattle of domestic scenic spots × The charge here is quite low-key; The toll collector was sitting on the side of the road with several benches. When he saw the tourists passing by, he came up to charge. The tickets were converted into Chinese currency, a few yuan per person. There is a viewing platform on the opposite side of the volcano. From the viewing platform, you can see badur lake between badur mountain and Yabang mountain. The lake water is clear and calm, which makes people reverie. The peak of the mountain is shrouded in smog all year round. The mountain is covered with dense tropical rain forest, or terraces planted with green rice, and there are babbling streams in the mountains, which are full of exuberant vitality everywhere.
After watching from the viewing platform, go down to the lakeside to enjoy the beautiful volcano and lake from a different angle. There are boatmans on the lakeside asking if you want to take a boat to the other side of the lake to see the funeral. The cost of the boat ranges from 300000 to 600000 Duns. It's better not to go. It is said that some poor families here, unable to afford to bury them, put their bodies into the lake for "water burial". Looking at the active volcano, we can only see the moving volcano in the morning. We arrived at the volcano, and it was almost noon, so we didn't see it. ADI, the driver, is a very good local. At his suggestion, we went straight to a small mountain village at the top of the volcano lake with a local tourist. Although the mountain road is steep, the scenery along the way is beautiful. With the fragrance of flowers, we came to the small mountain village at the end of the lake in a twinkling of an eye. Here is a very good temple built in 1992; Watch the volcano with its unique caves here. After watching the scenery, I wanted to go to the volcano hot spring and taste the fish in the volcano lake. But when I think of the "water burial" I just heard about, I have no appetite. In addition, it's raining heavily. I quickly ordered ADI to lead the way and find a restaurant on the top of the mountain to have a meal while watching the scenery. This buffet with an average of 40 to 80 yuan per person is Indonesian style. It's absolutely worth watching the volcano and beautiful scenery outside the window. After dinner, after a rainy day, we used to go to the tropical fruit sales point and buy a few bags of local specialty fruits;
Residential buildings with Bali characteristics
After touring jingdamani volcano, when returning home, seeing that it was still early, Ctrip presented a $10 voucher for the global duty-free shop, so it drove to Bali global duty-free shop. The duty-free shop in Bali is confident of "shopping in Bali to experience luxury". It also provides a round-trip taxi reimbursement service from the hotel in Bali to the duty-free shop for Chinese local tyrants like us; They are also in Beijing, Shanghai and Chengdu, China, in order to reassure Chinese tourists. Duty free shops in Shenyang and other places provide convenient after-sales service. What I didn't expect was that there was such a large area of tourist island with attractive shopping environment, including beauty, fashion and duty-free shops of world-famous luxury brands. In particular, the duty-free shop's elaborate local gift zone, the Balinese town decorated with waterfalls, gardens and villages, is full of local characteristic goods. Local artists make woodcarvings, painted plates and colorful dishes for tourists. Indonesian sarong, bamboo weaving, straw weaving, and rich local food make you feel the wonderful exotic style of Bali while shopping happily; It is also a characteristic scenic spot in Bali. Pujin liquor zone, I'm just stunned. There are more than ten kinds of Macallan whisky I love, including the top old w of 30 years. The observant brand promotion and sales personnel, seeing the arrival of "local tyrants", have come forward one after another to promote their brands. The promotion manager of Macallan is very generous. He opened a bottle of international award-winning Macallan whisky for more than ten years and invited me to taste it for free; When the full mahogany red wine moistens the tip of the tongue, the unique flavors of toffee, ginger, dried fruit and sherry begin to ripple on the taste buds, a little sweet and just right spicy. Suddenly, this unique Scottish highland "water of life", which is called "Rolls Royce in whisky" by the industry, is mellow and fragrant, The feeling of pleasure is hard to express; Others only gave me a $10 voucher, but the goods sent the voucher to my door one after another, which made me feel dizzy, sweeping, sweeping, sweeping; So more than 1000 knives were accepted by them. However, looking at these beloved "spoils" is also a worthwhile trip. Note: in addition to local specialties, those purchased in duty-free shops are not allowed to drink in Bali. They must be collected at the collection counter of duty-free shops at the airport upon departure.
Balinese artists performing the repertoire with Balinese national characteristics
Back to the hotel, take a break, and then with my son, go straight to the hotel's ocean swimming pool, relax, let the sea to enjoy the day's fatigue. In the evening, the family came to the pool side restaurant decorated according to the Chinese New Year Festival. They had a memorable Spring Festival with their family. The enthusiastic Hotel staff came one after another and congratulated them in stiff Chinese: congratulations on getting rich! Happy Spring Festival! The four-day trip to Kuta is coming to an end. Tomorrow we will leave for the legendary five-star Ayana spa resort.
Enter the palace level Ayana Spa Resort
It's convenient and fast to get to Ayana Spa Resort by paying 225000 Dunn for the VIP car provided by hard rock hotel. Some VIP concierges in villas' national costumes wear wreaths made of fresh flowers on our necks, some hand over drinks carefully prepared by the hotel, and some take cold scarves. They are beautiful, generous and meticulous.
The luxurious Cliff Villa hidden in the blue sky and shade on the cliff
Villa private swimming pool facing the Indian Ocean
A corner of spacious and luxurious villa bathroom
Ayana is named after the "sanctuary of God". Located on the 35 meter high cliff of the golden Balaam Bay, the hotel covers an area of 77 hectares. It has a 1.3-kilometer long winding coastline across the Indian Ocean and the southwest of Bali. 78 single family villas and 290 guest room Spa Resort hotels are scattered in the mysterious and charming southwest coastline of Bali and the Argonne mountains; Rich historical and cultural heritage, warm and thoughtful service, attractive environment, excellent geographical location and many advanced supporting facilities constitute one of the largest and most famous luxury hotels in Bali. People from all over the world indulge in the luxury and romantic holidays offered by Bali, live in seclusion in private villas on the cliff beach, enjoy the delicious wine and food in luxury restaurants, experience rich leisure sports, or simply leave everything behind and go to the health preserving sea bath on the rocks to relieve their body and mind.
Luxury Sea Spa built on cliff rock
Gold body offering Buddha in Ayana Hotel Villa
We stayed in Cliff Villa, which is said to be one of the top three luxury villas in Ayana. It covers an area of about 3 mu, with wide lawn, enough to accommodate hundreds of people. Whether lying in a big bed, in a tub full of flowers, or in a private swimming pool, you will face the Indian Ocean; There is a pavilion beside the pool, in which there is a 2.5 × The 2.5-meter square bed and nearly 100 square meters of washing room are luxurious. There are all kinds of convenient facilities for guests, such as ironing machine, rack, massage bathtub, massage bed, Toto washable toilet and so on. The washing and care products are actually from L'OCCITANE in France. Villa is a single family. The room is clean and the service is up to standard. In the morning, we clean the room. In the afternoon, we will come back to help us fill some daily necessities and water. In the evening, we provide bed opening service; What makes my wife even more worried is that the woven handbag in villa can't be taken away. If you buy it locally, the craft and quality will definitely exceed $200. When you go out, you can't put it down; The fruits delivered in the room are very fresh. The hotel has its own 1.5 hectare botanical garden, rich in delicious tropical fruits.
The welcome card specially written in Chinese presented by the hotel's special manager of villa, suta, lists many free items and exclusive privileges, which makes me fully feel the happiness of "local tyrant"! But there's a price to pay. The price of villa room we stayed in is u $1020, plus 21% service charge, plus 68 yuan for extra bed, plus 21% service and tax. It's equivalent to 7000 yuan, not public money. Heartache; However, my creed is: help others, be kind to yourself! Besides, share with family, so "pain, and happy".
The picture on the left is a welcome card and a free project written to me by manager villa.
On the right, even the luggage tag that the bellboy randomly gave me is my lucky number. Look how lucky I am.
Every day, an endless stream of tourists will flock to rock bar
The hotel is close to the mountain and faces the sea, making full use of its superior geographical position on the cliff. It's big, natural, open, with good air. It's very suitable for recuperation or long vacation. Rock bar is my favorite on a 46 foot hillside in the Indian Ocean opposite cliff villa. The bar, which opened in 2009, offers a 360 degree view of the vast Indian ocean scenery to every visitor. The specially designed inclined elevator leads to the bar through the cliff. Guests who stay in villa will be given free drinks and VIP privileges. There is no need to queue up. Priority will be given to reservation and seat selection; Sitting in front of the sea, you can taste the wine made by international wine mixing masters with local fruits, herbs and spices, listen to the beautiful music played by world-class DJs and the sound of waves beating on rocks, watch the setting sun slowly and forget all your troubles. The boundless sky pool next to the bar is built on the hillside of the cliff. Lying on the edge of the pool, watching the waves under the cliff, looking up at the starry sky, you have a special taste in your heart; I haven't seen so many stars in Beijing for a long time. Walking on the beach, there is a kisik seafood barbecue restaurant. You can not only taste delicious seafood, but also experience the unique atmosphere of tropical islands in the Indian Ocean; But the consumption here is also very high. But the delicious seafood is very attractive; I ordered some shrimp, lobster and prawn. Lazy urine shrimp is very big and only has cream. I opened a French dry white with seafood drink. I paid for it. I'm caII, darling, more than 9 million. Ha ha, of course, it's Indonesian rupiah. It is equivalent to more than RMB 5000 of the Chinese dynasty. As a result, we still had more than enough, so we moved forward, thinking of the legendary cliff edge which only opens one table every day and stretches to the sea for more than 30 years. It's stipulated here that only two people can be served at a table, most of them are lovers. Each person without drinks costs two or three hundred dollars, and the average person counts one or two thousand yuan. Besides, in this place, which is known as the most romantic dining place in Bali, there are folk artists offering songs and dances, sea breeze and flickering candlelight. Compared with the prices of high-end clubs such as Diaoyutai and Pangu in Beijing, it's much cheaper. Push open the fence just want to go in, the result was told by the service staff has been ordered, meals need to be reserved in advance. Ha ha, look at the local tyrants here. It's said that Ayana is expensive, but the world's largest sea water physiotherapy spa, which is more than 700 million liters deep in the Indian Ocean, has won the title of "the most luxurious hotel, the best resort and the best villa" in the world. It's reasonable and worth the money.
A table for couples on the sea bridge every day
Ayana cliff swimming pool
The lobby of rimba hotel is beautiful
Compared with the ancient luxury of Ayana Hotel, its sister rimba is a fashionable hotel with modern sense, and the two complement each other
Ayana's attractive Kubu private beach
I'm glad to choose Ayana. It's so wise! There are many leisure and health projects, such as golf, library, spa and so on. There are flowers everywhere, quiet seaside pavilions, attractive beaches, absolutely fresh air, cliff swimming pool, one-on-one 24-hour housekeeper, special car service Exclusive equipped with mobile phones... And so on, all of these brought endless happiness for our holiday; First class service, super first class hardware, is really Ayana; There is a very enthusiastic customer manager at the front desk, who is a Taiwanese girl named Jessica. Her Chinese is very good, her service is meticulous and thoughtful, and her smile is very beautiful. Up to now, I still remember her appearance. I want to thank her sincerely.
The most important thing is that every service staff in the hotel is so kind and responsible. Especially in the evening before leaving, the housekeeper gave us a surprise and sent us the sincere greetings, wishes and hopes written by the hotel manager, together with some postcards and greeting cards made by the hotel. They were all written by themselves, very warm and moving, For our trip to the local tyrant left the most profound memory! It's a pity that we only lived for two days, and everyone said that we didn't live enough! Next time I go to Bali, I will stay in villa for at least a week, and there is a sister hotel rimba in Ayana nearby. In a word, I have everything here, so there is no need to go to other places!
Villa's exclusive reception center
The glass church hidden in the blue sky and the sea of flowers is popular with wedding couples
In a word, Ayana has given us the most perfect "local tyrant" journey, which is really worthy of being the top hotel leader in the international industry! From the moment I stepped out of the door and entered the hotel, I really understood the meaning of the sentence "customer is God"! At an activity held in Xi'an with the famous host Wang Gang years ago, someone asked for words and said, "it's good to have money!
The plane back to Beijing was at 19:15 p.m. and the driver picked it up at 3:30 p.m. and arrived at the airport half an hour later. It's better to prepare the luggage lock in advance when checking luggage in Bali airport, try not to pack there, it's too black o (> ﹏ <) O don't! 120000 guilders for each piece of luggage; In addition, each person has to pay a departure tax of 150000 guilders, which needs to be prepared in cash.
Go through all the departure procedures and we'll go into first class to have a rest. Ha ha ~, I didn't expect that there was a free supply of artisan wine called "king of Indonesian wine" which I had heard about but didn't taste. This wine is wine wine everlasting longing for each other by Newton, the award-winning Australian winemaker. It is dry red and dry white. It has three Chardonnay, longface and Shiraz. Although it is from Indonesia, it has no difference from Australian wine in quality, wine or wine. Pick up the cup immediately and taste it all over. Wow, it really deserves its reputation. After boarding, we met the crew again. Ha ha, this trip is really lucky! In addition to feeling, it's hard to be gracious and feel dizzy. Near 7 o'clock, the plane landed smoothly in the T3 terminal of Capital International Airport. As soon as I got out of the cabin, a cold wind came down my trouser legs to the gate of life. A shivering student pulled me back to reality from my dream of a holiday paradise. I arrived in Beijing and arrived home. To tell you the truth, it's really a bit tired to transfer for nearly ten hours at the second station, so if you go again in the future, you will definitely go. Be sure to take a direct flight. After all, it's only five or six hours. At present, the temperature difference between Beijing and Bali is about 30 degrees, and we are still reluctant to "Miss Bali". Although it is very hot and the ultraviolet radiation is very strong, my skin color is like Indonesian just one week ago. No wonder the frontier inspection officer gave me a sentence: please show your passport.
How to play Bali
1、 Know the destination, know the hotel.
Carefully read the comments on your destination on the Internet, browse the official website of the hotel and the introduction of the selected travel agency. Learn about the hotel facilities, the best route to the hotel and the surrounding scenic spots, the scenic spots that can be visited and the scenic spots that must be visited, and book the travel package or free travel package in a professional travel agency with good reputation according to their own conditions. Including air tickets, hotels, shuttle services, catering, tourism, tickets and so on, to save unnecessary trouble. Note: the above package should be carefully checked and read the terms that must be observed. It has been confirmed by the travel agency and can't be changed. Otherwise, additional fees will be paid.
2、 Prepare travel supplies.
Before departure, be sure to check whether the passport is valid for more than half a year; Exchange for dollars with plenty of travel, and prepare more small denomination loose money of one yuan, due to tips; Prepare mosquito repellent, band aid, antidiarrheal, high-power sunscreen, umbrella, swimming suit mirror, mountaineering shoes and other commonly used items. If you are not good at English, prepare a translation pen, which is very practical. Ready entry and landing visa fee: u $25 / person; Departure fee: 150000 guilders per person. Entry and departure expenses must be paid in cash.
3、 Pay attention to the local customs.
Bali is a religious Island, mainly believing in Hinduism; Pay attention to the road, don't trample on the sacrifice, don't wear shorts and skirts to enter the temple, girls are not allowed to enter the temple during the physiological period, they must wear formal clothes when they visit (for example, Shengquan Temple provides aprons for visitors); When paying, don't use left hand, only right hand; Don't touch your head.
4、 Travel stickers:
1. When staying in hard rock and Ayana Hotel, the buffet breakfast is very rich. (Ayana provides Free Breakfast ordering service to villa guests). You can combine breakfast and Chinese food into one meal every day, that is, two meals plus one fruit meal every day, which saves money and is healthy;
2. If you want to stay in Hard Rock Hotel, you can choose line a one-day tour: jingdamani, return to the global duty-free shop. Including: watching volcanoes, aerobics, hot springs, fish tasting, shopping. One day tour of line B: wubu, Shengquan temple, Haishen temple. Including: visiting, shopping, tasting dirty duck and watching sunset. One day tour on line C: watching dolphins in Rowena. The best time to watch the dolphins is from 5:00 to 8:00 in the morning. It's a four hour drive from Kuta to rowina. You need to go to or check in the local hotel in advance, and make an appointment with the captain who is responsible for picking up the dolphins the next day; Fifty dollars per person. In a word, tourist attractions vary from person to person. It's best to choose those with local characteristics. There's no need to go to other places. Staying in hotels, especially hotels like Ayana, it's also a good idea to enjoy family.
When traveling, you must spray some mosquito repellent or toilet water to prevent mosquitoes, snakes and scorpions; For those who live in villas, spirits and toilet water can be sprayed at the door to prevent snakes and insects from crawling into the room; Apply sunscreen. The ultraviolet rays in Bali are very strong.
3. When staying in Ayana Hotel, there are many leisure, entertainment, sports and health projects, so you don't have to go out. There are free shuttle buses to sister rimba Hotel and Kubu private beach. Other projects are introduced on the Internet. I don't need to repeat them. The tour map printed in Chinese can be obtained from the front desk; If you want to go to jinbalan beach from Ayana to eat seafood and visit the fish market; Be sure to go to the front desk and call a blue bird taxi, because the company has a high reputation and is more reasonable. Drivers don't take a ride and the service is good; I've tried other taxis. It's very boring!
4. For unused Indonesian rupiah (ruble), you must exchange it before entering the airport for security inspection, and there is no currency exchange service after entering. Those who really forget to exchange and are unwilling to keep them can spend in the duty-free shops in the airport waiting room, but we need to pay attention to the tax-free standard for each person.
5. Arrive at the airport in advance or on time and check in. Because all outbound flights are international flights, you must pay attention to the local time difference and flight changes, so as not to affect your itinerary; Arriving at the airport early and on time is the best policy.