Besides the Huawei Nova 9 line handsets, at today's conference, the manufacturer also uncovered a few other products. Among them, we should mention the Huawei Watch FIT, the new speaker, etc.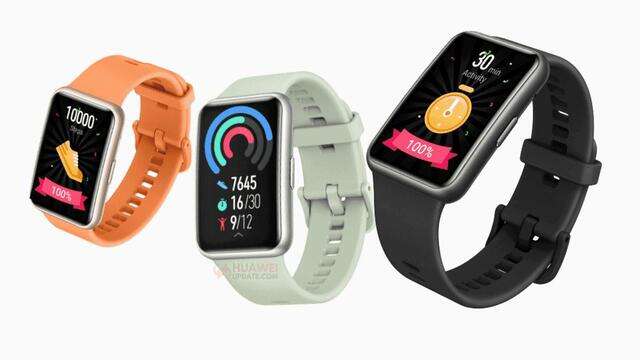 NEW HUAWEI WATCH FIT
  The Huawei Watch FIT new smartwatch inherits the appearance of the previous generation Watch FIT. It uses a large 1.64-inch full-color screen, covered with a 2.5D lens. The price is 799 yuan ($124), which is equal to the first-generation product's price.
  The Huawei Watch FIT new has a large number of watch faces to choose from. Most of them are not free. The product has 97 sports modes. Plus, there is a new skipping mode for easy recording of sports data. The watch has 12 built-in fitness courses and can display real-time animations.
  Also, this watch has a built-in independent GPS function and supports HUAWEI TruSeen 4.0 + technology. The latter can perform heart rate monitoring, blood oxygen monitoring, sleep monitoring, menstrual cycle management as well as premature beats/atrial fibrillation arrhythmia screening, and sleep apnea risk screening. In addition, the watch also supports smart voice assistants, remote camera, music playback control, etc.
  The Huawei Watch FIT has a battery life of up to 10 days. Plus, the fast charging function makes it possible to use it normally for 1 day after 5 minutes of charging.
  The pre-sale of Huawei Watch FIT new smart watches has already started. But it will officially go on sale on September 29.
  HUAWEI FREELACE WIRELESS HEADSET VITALITY EDITION
  At the same time, Huawei released two audio products, the FreeLace wireless headset dynamic version and the Huawei AI speaker 2e.
  This headset adopts a semi-in-ear design, and a neck-mounted cable connects the battery, microphone, wire control and headset body in series. The front of the product has a CD pattern decoration, and the left and right ears are combined by magnetic attraction to switch the earphones on and off.
  Join GizChina on TelegramThe earphones are available in mint blue, mellow yellow, spruce green, and obsidian black. The ring-shaped rubber ring on the earphone body is easy to fix firmly.
  This headset comes with a 13mm moving coil unit and supports AI call noise reduction function. Unfortunately, it does not support active noise reduction.
  The Huawei FreeLace wireless headset has a low latency of 110 milliseconds and a battery life of up to 18 hours. The price is 269 yuan ($42). It will go on sale on September 27.
  HUAWEI AI SPEAKER 2E
  This speaker is small in size and round in shape. This product has a 6W high-power full-range speaker with a passive radiator on the back to provide ample bass.
  The front of the speaker is made of fabric, and the LED light dot matrix can display cute expressions as well as time, weather and other information. The speaker not only supports music playback, but also has a microphone to support voice calls. There is a call button on the top of the product. With a single tap, you can call the default contact.
  Interestingly, the Huawei AI speaker 2e supports children exclusive mode. It is compatible with the HarmonyOS obscurity system.
  HUAWEI 66W GAN ULTRA-THIN CHARGER
  Another interesting product that we saw at today's event was the Huawei 66W GaN ultra-thin charger, priced at 299 yuan ($46).
  This charger has a body thickness of only 10.5mm and weighs only 62g. With a folding pin design, it is slim, compact, and portable. It comes with a 50cm portable 6A USB-C to USB-C cable, which can be placed in a pocket without pressure.
  Its innovative ultra-thin architecture uses high-efficiency sealed GaN gallium nitride and COB highly integrated flat-panel transformers, and pen-type electrolytic capacitors. Compared with the general Huawei Super-Fast Charger, the power density is increased by 95.9%, and the thickness is reduced by 62.9%.
  The Huawei's 66W GaN ultra-thin charger supports charging of Huawei mobile phones, tablets, earphones, smartwatches and other devices. As the name implies, it can provide up to 66W super-fast charging. At the same time, it can provide a maximum of 40W fast charging for laptops and other devices that support the PD protocol.
  In terms of safety, Huawei's 66W GaN ultra-thin charger has ten safety protections. They include short-circuit protection, electromagnetic field protection, over-current protection, lightning protection, over-temperature protection, under-voltage protection, electrostatic protection, over-voltage protection, and triple encryption Protection, smart power response, etc.
  Huawei's 66W GaN ultra-thin charger will be sold on September 29.