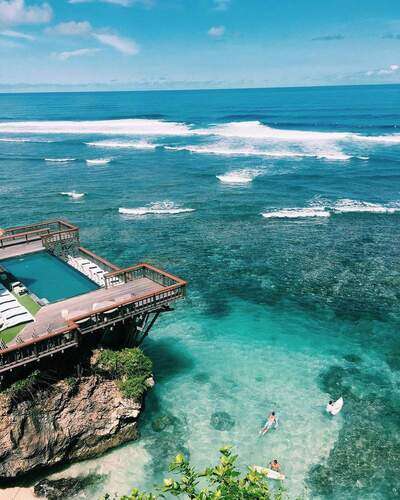 SEASIDE RESTAURANT BALI
Bali has many gourmet restaurants
Or scattered in the streets
Or hiding on the edge of the beach
Enjoy sunset leisure time
You can also taste delicious food
Xiaobian today to recommend a few seaside restaurants~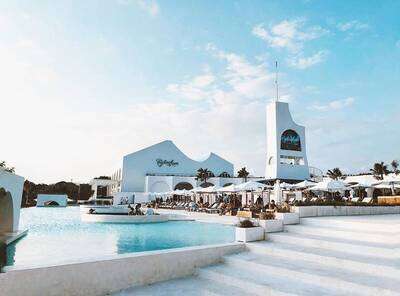 1.Cafe del Mar Bali
At the beginning, Xiaobian was misled by its cafe, thinking it was a seaside cafe. In fact, it was a restaurant, cafe and day   Club as one store~   It's located in Canggu, very close to shuimingyang. It's newly opened in September this year! While there are not many people, hurry to punch in ~ the interior decoration style is simple, and the main colors are white and blue~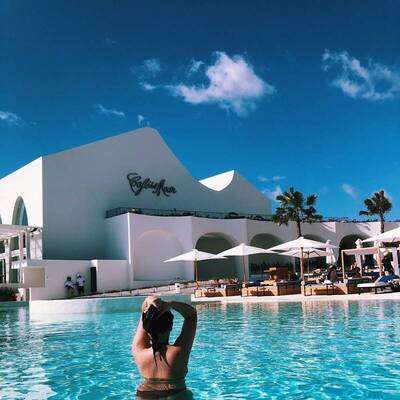 There is also a swimming pool to use. The beach and seaside are beside the swimming pool. You can watch the sunset while soaking. It's so enjoyable! There are many cuisines in the restaurant, such as Italian cuisine, Mediterranean cuisine, Indonesian cuisine, etc~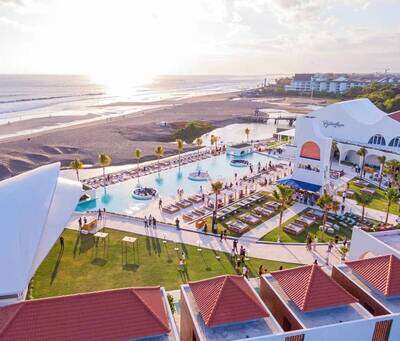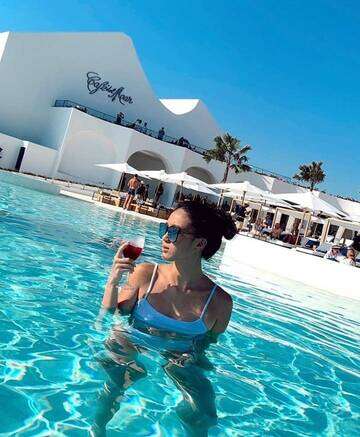 Per capita: 100 RMB+
[UNK]址[UNK]Jl[UNK]Subak[UNK]Sari,[UNK]Canggu[UNK]80361,[UNK]Indonesia
2. Delphi Cafe
The restaurant is located in   suluban   B each, also known as   blue   point   beach~   The most famous restaurant on this beach is this restaurant. Many netizens come here to clock in. Not only do they take good photos, but the swimming pool is boundless. Beside the swimming pool, there are sofa chairs for bathing in the sun, and you can watch the sunset at dusk!
It can be said that it's the best restaurant with sea view in this area~   The restaurant is a hidden net red punch in place, which is also a favorite surfing spot for surfers~
Per capita: 100 RMB+
Address: Delphi™Cafe, ↓ Suluban™Beach, –Uluwatu, ↓ Bali
3. Breeze Restaurant Bali
This restaurant is located at shuimingyang beach, which is more peaceful and comfortable than the bustle of jinbalan beach~   Because this restaurant has a private beach! But all seats have to be reserved in advance~   On the beach of the restaurant, there are a row of masts with yellow lanterns. Walking down next to the beach is the beach.
Facing Dongye Lake  , During the day to see the lake, evening to see the sunset, night to see the stars, every summer there will be fireworks show on the lake Oh~
Per capita: 280RMB+
[UNK]址[UNK]Jl.[UNK]Laksmana,[UNK]Seminyak[UNK]Beach[UNK][UNK]The[UNK]Samaya[UNK]Bali-Seminyak,[UNK]Seminyak[UNK]80361,[UNK]Indonesia
4.The Restaurant at The Legian Bali
This restaurant also has a high score in shuimingyang! Located in the   Legian   In Bali Hotel, advance booking is recommended. You can see the sea from the boundless swimming pool, but it's also very beautiful and romantic. You can enjoy the sunset at dusk, listen to the band playing at night, and listen to the sound of the waves. Dishes are recommended: yellowfin tuna, Tatar and beef brisket
Per capita: 300 RMB+
[UNK]址[UNK]Jalan[UNK]Kayu[UNK]Aya[UNK]Seminyak[UNK]Beach,[UNK]Seminyak[UNK]80361,[UNK]Indonesia
5. Kisik seafood barbecue restaurant
Ayana wanghong hotel has more than rock   Bar, kisik seafood barbecue restaurant is also relatively famous, with 180 degrees of the Indian Ocean beauty, you can enjoy fresh and delicious seafood barbecue, and you can see the picturesque sunset and the spectacular scene of the waves!
Maybe better than rock   Bar experience is better~   In addition, the dishes in the restaurant without a step on the thunder, you can rest assured blind spot! It is recommended to reserve the restaurant in advance~
Per capita: 350 yuan+
[UNK]址[UNK]Jl.[UNK]Karang[UNK]Mas[UNK]Sejahtera[UNK][UNK]Jl.[UNK]Karang[UNK]Mas[UNK]Sejahtera,[UNK]Jimbaran[UNK]80364,[UNK]Indonesia"
'
6.Laguna Bali
In fact, there are five restaurants of this brand in Bali, but this one is the most recommended one. It's not only the beach, but also the grass, jungle and wooden bridge. It's like walking into a dream movie scene. The restaurant is also a great place to watch the sunset. You can enjoy the whole sunset with delicious food without going to other beaches.
After dark, the restaurant is full of jubilation, people celebrate their birthday, date and chat. In such a scene, I feel that everyone has become a fairy tale character~   But dinner will be more expensive, you can order some snacks, sit down and watch the sunset~
Per capita: 200 + yuan
地址:Jalan Pura Kayu Putih
7. Bali breeze
La   Brisa hotel is located in echo, one of Bali's most famous beaches   Beach Beach's cutting edge, with absolutely amazing decor, Beach Club concept is based on - La   Brisa's name means sea breeze, wild and charming. It's pleasant. The hotel is made of recycled wood from more than 500 ancient fishermen's boats and decorated by hand. It's one of the most fashionable and sustainable environmental protection places on the island.
Exuding true Bali character, the menu here is dedicated to all seafood lovers and its sole purpose is to provide local and sustainable products at affordable prices. All the things you send out every day are in LA   The fish Brisa sells are captured by Bali fishermen, and almost all the ingredients used in the kitchen come from the island~
Per capita: 150 yuan+
[UNK]址[UNK]Jl.[UNK] Coast of Stone[UNK]Mejan,[UNK]Canggu,[UNK] Kuta[UNK]North,[UNK] Kabupaten[UNK]Badung,[UNK]Bali[UNK]80361
Pictures from the Internet