Recommended accommodation
The Island Hotel Bali, Bali ¥ Book now > 60
Launch more hotels
Published on December 18, 2012 07:37
My husband and I got married in November this year. We have been planning where to spend our honeymoon since June. You know, this is what we are looking forward to most! Honeymoon is always sweet and romantic, of course, sunshine, beach, bikini, beauty.... Ha ha ha! We searched the Internet for a while... Maldives, Sabah, Bali, Phuket.... Finally, we decided to go to Bali, which is the most cost-effective island. WOW!!! Delicious, fun, too rich! We searched a lot of Bali travel notes, after the strategy, we decided to take a 8-day free trip to Bali. After checking on the Internet, I know that the reservation of air tickets and hotels is also very particular. We are self-help tour, advocate is free, carefree! So Ctrip on some of the designated hotel discount is not very applicable to us. http://www.airasia.com/cn/en/home.page There are often discount tickets to Bali on the website of Air Asia. What we book is to start from Hangzhou (it is said that now Shanghai Hongqiao Airport has added Air Asia flights), transfer to Kuala Lumpur, and then to Bali. And from Guangzhou, from Hong Kong. Two people round trip RMB 6K1. It's cheaper than two people in other airlines RMB 1K +. Special reminder: when booking air tickets, you should buy checked luggage online in advance. Otherwise, it will be very expensive to buy it at the airport. We bought it at the airport. Shanghai Hongqiao airport needs 240 checked luggage, and Bali Hotel needs 630000rp (equivalent to about USD70). Bali Hotel is cheaper than other websites. Of course, it's better to book one and a half months earlier, Online full payment, this will be a lot of concessions. After booking tickets and hotels, print out the confirmation form and bring it with you when you travel. After arriving in Bali, the traffic problem of tourism is also the first problem to be solved. We found some agents on the Internet, they provide charter and booking water sports, spa, hotel and so on. We chose Piyu, chartered a car, USD35 / day (we gave a tip of 5 yuan, which is equivalent to USD40 / day). We contacted him by email about a week before the departure of the tour, and he would tell you the quotation of all the items, including car rental, airport pick-up, water sports, spa. By comparison, the price he gave is cheaper. And Gede Warga, the English driver Piyu sent to pick us up at that time. He's not too talkative. If you like to be quiet, you can find him. Finally, I recommend a taxi driver named wayan EDI. He is a local blue bird taxi driver. We met him when we took a taxi. He is very talkative and friendly. He also provides car rental service, USD40 / day. He will also introduce you to all kinds of places. Of course, if you want to call a taxi, you can call him directly. Here is their contact information: Piyu: Email: piyules@hotmail.comGede Warga(Piyu's driver):Email: gedewarga07@yahoo.comTel :+62 812 361 2131;+ 62 819 343 63570Wayan Edi (Blue Bird taxi driver):Email:wayan_ ediriyanto@yahoo.comTel : 085 237 189 365 we didn't choose the pick-up service because the first hotel we stayed in was in Kuta district. Kuta is very close to the airport. It's cheap and safe to take a taxi. Experience: after you get off the plane, many people will ask you if you want a taxi. Don't take care of it. Go to the taxi boarding point and take a regular taxi with a watch. All we do are light blue blue bird taxis. They are quite regular in the local area. The starting price is 5000. I don't know what to do next. Travel notes will write where to go and how much the taxi is. Let's make reference. Before departure, there is another thing, that is, exchange US dollars, exchange some US dollars in domestic banks, if not enough, go to Bali to exchange. My husband and I exchanged about 900 US dollars before our departure. When we arrived at Bali airport, we exchanged the Indonesian rupiah of RMB200. Because it is not cost-effective to exchange at the airport, we must not exchange it. The next day we can exchange some money changers in Bali for rupees. As we packed the car the next day, we asked the driver to take us to the money changer on Kuta. The driver knew where to exchange it more cost-effective. The ratio of RMB to Indonesian rupiah is 1:1500; The U.S. dollar to Indonesian rupiah ratio is 1:9500. This is the simplest way to convert the Indonesian rupiah into RMB: divide the Indonesian rupiah by 10000 to become US dollars, and then multiply by 7 to become RMB. For example: 120000rp = 120000 / 10000 = 12 US dollars × 7 = 84 yuan. That 120000 rupees is equivalent to about 84 yuan. The last step is packing. My husband and I packed for 2 hours before we almost got everything ready. We didn't feel much less during the whole journey. What do you need to bring? Change clothes every day (Bali is very hot, the average temperature is 30 + degrees, do not bring thick clothes and pants, definitely not used, and it is not cold at night; Besides, don't bring too many summer clothes, short sleeve T-shirts or shirts, and they will dry the next day.) Toiletries (generally restaurants have shower gel, shampoo, toothbrush, toothpaste, comb, etc., unless your hotel is under 3 stars, or you are used to using the designated brand; No cleansing cream, bring it yourself. Swimming supplies: swimsuits, swimming trunks, (swimming cap is not required, there is no requirement for swimming cap), swimming glasses, my husband and I also bought a set of diving equipment (Glasses + breathing tube), slippers (with a pair of light, comfortable, heel flat slippers), bath towel, I also brought a swimming circle (hee hee! It's a must. Sunglasses, my husband brought contact lenses, electronic products: mobile phones, digital cameras (if you like, you can buy a waterproof camera, which is very useful. You don't have to worry about not getting water with the camera when you go to the beach.) Charger, backup battery (it's better to bring a mobile power supply. It's a treasure for me who use iPhone), HDMI cable (in hotels, you can connect notebook and TV together, and download two good movies in the computer, so you won't be bored before going to bed at night), conversion head (European standard, if you don't bring it, you can buy it in a convenience store in Bali, It's cheaper than China's) sunscreen and after sun repair lotion (buy the one with high sun protection factor, preferably SPF 50, which lasts a long time for sun protection). My husband loves beauty and specially bought beauty black products, saying that he wants to be bronzed! Eye drops, first aid medicine (stomach medicine, cold medicine, band aid), anti mosquito water (very important, most restaurants are open-air, so there are a lot of mosquitoes). Finally, if space permits, take some snacks to chew on the road, hehe! After all the preparations, on November 19, my husband and I embarked on a trip to Bali.
The first day: (Monday, November 19) the plane arrived half an hour late, left the airport and took a taxi to our first hotel in Bali, 100 sunset 2 Hotel. This is a three-star hotel. Although the place is small, it has all kinds of internal organs!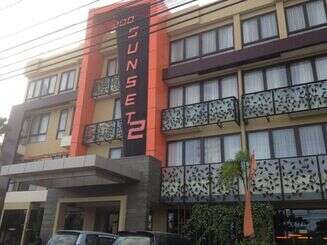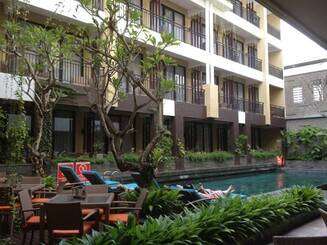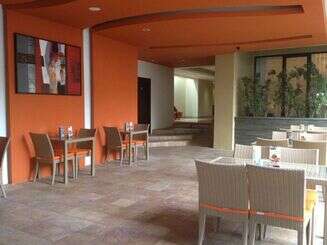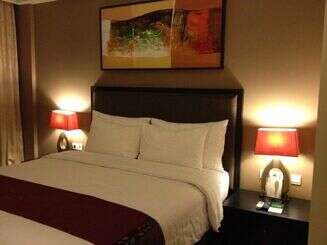 The hotel is a bit ordinary, but considering that we have been playing outside for the first three days, it doesn't matter if we come back to have a sleep.
The next day: (Tuesday, November 20) the alarm clock rings at 9 o'clock on time. We asked Piyu's driver to wait in the lobby at 10 o'clock. The first stop is Tabanan. Because it was too late the night before, I couldn't see clearly what was going on in the street. Now I can finally see enough.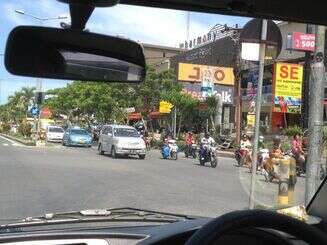 Roadside are some small bungalows and small shops, broken feeling. But there seems to be no business. There are so many motorcycles on the road. It's really a scenic spot! Let's ask Gede to take us to the better money changer in Kuta district and exchange 500 yuan rupees, 75700 rupees. It's very interesting. It's like playing strong hand chess with these Indonesian rupiah! ha-ha!
After driving for about an hour, we arrived at the famous sea temple! Ticket 30000 RP / person, parking fee 5000. As soon as I get off the bus, I can't wait for my husband to take pictures for me!
Entering from the gate, there are rows of small shops. I can't help buying a big straw hat. My husband says it looks good. A path with shops on both sides leads to the "split wall" of the sea. Ha ha! From the inside of the wall, you can see the sea in the distance. WOW! This is Bali's first time to see the sea! I can't wait to rush in! A big rock in the sea is the sea god temple. We can't go to the temple of the sea. We can only enjoy its beauty!
All of a sudden, we found that when we met some Chinese and heard someone speak Chinese, we felt very friendly, so I couldn't help chatting up with them. I found a few grains of glutinous rice on their forehead. I asked them curiously. Oh, it turns out that there is a small hole on the side of the sea temple, where many people gather and local people pray for tourists. This is the local customs of Bali, very interesting! We ran, too.
Head stained with glutinous rice, ears with a representative of the local small yellow flowers. Come on! Li Cheng!
Almost an hour later, we left from the sea temple reluctantly. The driver said that it would take more than an hour to drive to the next Terrace, which scared me. It's not far from the map. It's a long drive! No more. Let's go!
。。。 A bump, the terraces finally arrived! Tickets 5000rp per person. To tell you the truth, it's really boring to go to the terrace, but it's not far from wubu market. It's about 20 minutes by car. If you have time after visiting wubu, you can go and have a look. Because although this is a scenic spot, but such a place, I feel the vision is not wide.
Just behind me, alas! Ordinary, ordinary!
After watching it for 15 minutes, we set out for the next point, Ubud palace + market. Read a lot of online travel notes and strategies, all said that the roast pig rice next to the ubu palace must be tasted. My husband and I can't wait to eat roast pig rice, alas! With full expectation, I didn't expect to get a thorough "disappointment"!!! It's all hype on the Internet! It's really not delicious at all. It's really terrible. I ate a few mouthfuls and gave them to my husband. Fortunately, there are not many points. My husband is also trying to eat them in order not to waste. That coconut is not delicious, coconut juice is not sweet, strange taste.
Ordered a special roast pig rice, which has chicken, vegetables, sausages, pork, but also on top of a bite can not bite the pigskin, do not know what sauce used, super bad. Next to a plate of so-called sausage, with pig blood in it, not to mention the color is particularly black. Once you bite it off, the pieces of meat inside are all scattered in the bowl, and the taste is very strange. I don't know what kind of spices are used to roast them. These things add up to 80000rp. It's not too expensive, but it's not worth it. I didn't eat much, let alone have a good meal! Maybe the local people think it's delicious? Is there something wrong with the taste?
Next, we visited the wubu palace. According to the online introduction, the palace is very small. It is true that it is composed of two small squares. Think about the Forbidden City in Beijing. It's a world of difference!
Farewell to the little palace, we strolled around the wubu market. There were many shops on both sides of the street, some selling souvenirs, some selling clothes and so on. There are not many people in the market. Many shops are empty. My husband and I want to buy some souvenirs, but the price is very expensive. After all, it is a tourist attraction, so the price will not be cheap. My husband and I took a look at the mood, all the way around the past. We printed a simple map of wubu market early in the morning, but I still have no sense of direction, it's all my husband's road.
After shopping for a while, every shop is almost the same. A little tired, my husband and I decided to find a place to have a rest. On the other side of the road, there are two shops, a bar, open-air, and it feels good. Another cafe, a small door, is dark. My husband and I chose the ugly cafe. It's a wise choice. It's a cafe called wayan. It doesn't have a big appearance, but I didn't expect it. As soon as I went in, I suddenly became enlightened! It's so beautiful! This is not a coffee shop. It's a big garden with quiet pavilions. The green around makes people feel relaxed and happy. There are several small yellow fish swimming around in the pond. It's a pleasure! We found a large pavilion with about ten tables. We found one to sit down, and my husband ordered a bottle of beer. I, of course, came from the natural fruit juice in such an elegant environment! Mango + fresh orange juice! WOW! Enjoy!
The drinks inside are not expensive, and the fresh juice is only 10 + / Cup in RMB. We strongly recommend that you do it and enjoy the comfort that you can't feel in the metropolis.
Time is almost up, my husband and I left reluctantly, because we asked Piyu to help us book a dirty duck restaurant for dinner at 6 p.m., and Piyu ordered a smoked duck set meal for us according to our requirements. I can't remember how much it cost. When I went to this restaurant, I read the Bali strategy and travel notes written by others and said I must not miss it.
When the smoked duck came up, I was a little disappointed. People said that they should pay attention to eating all kinds of color and flavor. First of all, the color was a mess. After a taste, this is the smoked duck that has been recommended on the Internet. My God! I gave up after taking a bite. It looks like I still have a little appetite. As soon as I bite it down, my appetite disappears. The best thing to eat is the lobster slice. Oh。。。 My。。。 God!!!! My husband and I looked at each other for a while, and we could only laugh and cry. Now that we have eaten, we can only warn our friends who are going to Bali that it's OK not to go! In addition, my husband also ordered a plate of fruit salad, also very disappointed, the person who cut the fruit is very small, in addition to the banana soft, the others are hard! After eating for less than 20 minutes, I urged my husband to pay the bill and leave. The meal cost about 300000 rupees. It's not worth it!
So far, the whole journey of Ubud has come to an end.
Experience and feeling: after the whole trip to ubu, wayan cafe is a must, and the fresh mango juice in it is a must. Roast pig rice and dirty duck restaurant are all in vain. Don't be fooled any more. You can try something from other restaurants in Ubud, or go back to Kuta to eat.
After a long day's shopping, my husband was so tired. Just in time, our next stop was to go back to Kuta District, where we went to a famous local essential oil massage shop called orchard spa. Gede took us to the orchid spa. After he got the schedule in the morning, he enthusiastically made the spa reservation for us. Entering the spa, the front desk is very small, but the layout is very elegant.
Before I set out again, I saw the promotion information on the website of this spa. The special price is 2 hours USD30 per person, including: sea salt foot bath (just soak it, brush the foot with a piece of frosting stone for 1 minute), Balinese traditional massage (it's pretty good, the whole body massage takes about half an hour), Body Frosting and exfoliation (after applying the exfoliation cream, rub it off after waiting for half an hour), Yogurt moisturizing care (apply cold yogurt on the whole body), petal bath (shower first, take petal bath in the bathtub, almost half an hour).
My husband and I are doing spa in the same room. I think it's very comfortable only when I have massage. The rest is not so good. Especially after wiping the exfoliating cream, cool, feel a little cold. And that cold yogurt, cold my husband called straight!
After the spa, it was the car from the spa hall that took us back to the hotel. Gede left after delivering it to our spa, and we gave him USD40 (of which $5 is a tip, generally $3 is enough.)
Day 3: (Wednesday, November 21)
It's a sunny morning. We get up early in the morning, because we are going to telaga waja rafting today. My husband and I are very excited. Before we came here, we confirmed in email with Piyu that we had ordered bir rafting company, USD35 / person. In addition to the 3-hour rafting, we also included Hotel pick-up and lunch. At 8:30 in the morning, the driver of bir was waiting for us in the hotel lobby. We hastily baked 2 pieces of bread in the restaurant, took a few watermelons, stuffed them in our mouth, got on the bus and set off!!! My God, it's been driving for an hour and a half. First it's a small road, then it's a winding mountain. My stomach is writhing. When it's about to arrive, I can't help but let the driver stop by the side of the road and vomit. Ouch... It's comfortable at last. Within five minutes, it finally arrived. Wow, it's hard to describe the rapidity of the stream around the mountains
This is our coach. He is in charge of our drifting. Look, he's helping us put on life jackets. Before departure, the coach put our mobile phones, cameras, wallets and other valuables into a bag and tied them to the coach himself. He does not allow us to carry cameras and mobile phones, so the beautiful scenery along the way can not be recorded. However, along the way, there are people from bir company standing at certain fixed positions to take photos for tourists. After drifting, tourists can buy these photos. All right, let's go!
There are four tourists and one coach in a kayak, and we have two friends from Holland with us. They introduce their names to each other. The Dutch name is so strange that I forgot it just after listening to it. Ha ha! The coach gave us a simple training and told us that during the drifting period, he would give instructions, forward is to row forward, backward is to row backward, and there is also a "bang". The most interesting one is to tighten the reins and lean back. Because some tree trunks are suspended in the air and must be leveled before they can pass. Drifting is really great, drifting forward with the stream! From time to time, there will be waves coming. My husband and I are sitting in the front row. Two Dutch friends are in the back row. One wave comes and splashes on my husband and me. The pants are wet, the clothes are wet, all wet.... I heard my husband and I giggle! While drifting, while enjoying the beautiful scenery of the mountain stream, the sun is shining, not to mention how much to enjoy! About an hour later, we went ashore to have a rest. The coach returned the camera, mobile phone and wallet to us. My husband bought a bottle of coke to quench his thirst. Of course, I can't wait to take photos with my iPhone. I can't wait to seize the only chance to remember.
After a good rest, we continued on the road, and then drifted for more than an hour. Along the way, we met many other kayaks drifting. We paddled the water with oars to fight with each other. How happy we were! We're still rowing hard. We're going to have a kayak race. The coach is very experienced. Because there are uneven stones under the stream, sometimes it's easy to jam the kayak when encountering big stones. We are led by the coach and work together. We seldom run aground. Once we were stuck between a few big stones. The coach taught us to bump together. As soon as we went up and down, the kayak jumped up in a small range. Slowly, the kayak went forward again. It's still exciting. There's a drop of 4 meters. We're going to slide down from it! Before the fall, the coach stopped at the bank, let's all lie down flat, hold the reins and get ready.... Then..... Come on!
Look at everyone's expression, I'm already scared, but my husband is super excited! In another word, look at the size of us and the Dutch, I fainted! We bought these two photos after the end of rafting. The first one was bought by Dutch friends, and the second one was bought by us, 50000rp / photo. I took a remake of them with my mobile phone, ha ha! If you buy a photo, you can only get a hard copy. You can also buy a set. It's a CD-ROM with all the photos (about 50) engraved in it. It looks like 200000. I can't remember clearly. After the rafting, we tipped the coach 20000 rupees and he was very happy. After taking a shower and changing our wet clothes, there was a small pavilion beside us. We had a buffet lunch with about ten kinds of meat dishes, vegetables, staple food and soup. The taste was pretty good. We all thought it was the best meal to eat now. Up to now, I think the best food is given away.... Speechless....
After that, bir took us back to the hotel. On the way back, my husband had a whim and wanted to borrow a small motorcycle to drive. He had nothing to do in the afternoon and went out for a walk. So when we got back to the hotel, we used WiFi to check the surrounding routes, took photos and put them in the mobile phone. So I went to the front desk and asked the waiter where I could borrow a small motorcycle. I didn't expect that the hotel would have this rental service" Great Look at the excitement of my husband. Now he can enjoy himself again. It's 60000rp / day to rent a small motorcycle in the hotel. Pay directly. The hotel gives us the receipt and the car is ready
The fuel tank of the borrowed car was almost empty. My husband and I added 7000 rupees of gasoline at the nearby gas station, which is equivalent to a little more than 1 liter. After that, we walked according to the map. It's said to follow the map, but we don't know where it is when we drive. Because the roads here are small roads and there are almost no road signs, we don't know which road we are driving on. What's more annoying is that many of them are one-way roads, which makes us confused. We can only keep asking for directions with the map. I just know the importance of network. There is no 3G, no GPRS, nothing, no positioning, no navigation. I began to complain about this place. Fortunately, my husband has a sense of direction. We look around and suddenly see a sign, poppies restaurant. By the way, this is where we plan to have dinner. Starting from 4 p.m., we have been walking around for an hour unconsciously. How did you walk for an hour when you saw the restaurant on the map? I was completely defeated.
This restaurant is also what we see on the Internet. I've begun to worry about whether this restaurant will disappoint us like the dirty ducks before?
It's also small garden style, very elegant. The chair is made of bamboo and vines, and the top of the vines is planted with Balinese logo flowers. No matter 3721, I first ordered two cups of fresh mango juice, which is recommended on the Internet, and then ordered two meals. Mango juice first up, suck a mouthful, wow! It's delicious! It's made of pure mango. It tastes sweet and smooth, so I'm looking forward to the food in this restaurant.
Pork spear ribs 89000rp, I asked to change pineapple rice into Indonesian fried rice (no extra money). The taste is called "like!" The meat is very tender. Just use a fork to separate it from the bone. Shish kebabs (86000rp) is recommended by the waiters. There are pineapple, rice, beef, pork and chicken. When they are served, they are still baking and smoking. It's really delicious. It's a good recommendation. Finally, I ordered a strawberry tiramisu for dessert. After this meal, I gradually became interested in Indonesian food. Thanks God! After eating and drinking, my husband drove. We strolled in the most prosperous street in Kuta. My husband bought a pair of beach pants to wear when going to the beach tomorrow. Then we went to Carrefour supermarket not far from the hotel to buy fruit. Because the fruit here is full of temptation to my husband and me, we decided to get some fruit to digest in the hotel at night, ha ha! The mangoes there are so sweet and juicy, and the Pitaya with red meat. It's the first time I've seen it. Although it's not as sweet as mango, it's much more delicious than the White Pitaya in Shanghai. Experience and feeling: you must go rafting, and you have to go to telaga waja, because according to the driver, Ayong river rafting can only float for one hour, the current is not as fast as telaga waja, and of course it is not as exciting as telaga waja. Be sure to bring a whole set of replacement clothes, because they will be all wet when drifting, including underwear. If you like a scooter, you can borrow one to play with. However, if you have poor directionality, you are advised not to borrow it, because there are almost no road signs, many one-way streets and many cars. It's easy to get lost. There must take advantage of the opportunity to eat more fruit, especially mango and pitaya, very delicious. There are many kinds of mangoes in the supermarket. You should choose some green and some yellow mangoes, not too hard. This kind of mango is the sweetest. The green mango has a smaller core, but it is sour and astringent.
Day 4: (Thursday, November 22)
Gede is waiting in the hotel lobby at 11:00 on time. Today, we have another day's package. The first stop is to go to Nusa Duva beach to play water sports. This is what we made with Piyu before we came to Bali. On the way, we asked Gede to take us to buy a local phone card, the brand of simpati. The SIM card is 27000rp, and there is a free charge in it. I don't remember how much, but it's certainly not enough. We bought another 50000rp, which can be used for international calls. All in all, 77000rp. I didn't finish the call before I came back. I still had a lot of phone bills left. It will be expired by the end of 2013. If there is any friend who wants to go before the end of 2013, I can give you a cheap phone card. As soon as the car drove into Nusa Duva District, the scenery was so beautiful that my husband and I were in front of our eyes. After arriving in nushadua, there were security guards to inspect the vehicles one by one. It is said that there have been terrorist bombings inside before, so the security work has become particularly strict.
It was taken in the car. It's not very clear.
This is where we play water sports. When we got there, a man came to talk with us about the items to play, and then we talked about the price. We finally chose: fly fish -- USD20 / person, 2 people, a total of USD40 parachute -- USD10 / person, 1 person (I dare not play, it's too high, I'm afraid) banana boat -- USD10 / person, 2 people, a total of USD20 diving -- USD35 / person, 2 people, Total USD70, total usd140. There is also a special person to take photos and videos, make a CD-ROM USD25, a total of usd165. Talk about the price, swimsuit change, let's start!
What we are most looking forward to is the depth. In fact, my heart is a little scared. I can't swim. Now if I have to go underwater for so long, I always have no bottom in my heart. There was a coach who took us down, and he would take pictures and videos for us underwater. Before going into the water, the coach first taught us some diving knowledge, such as how to bite the oxygen mouth, how to do with the water in the ears, how to do with the water in the glasses, how to do with the water in the oxygen pipe and so on. After departure, take a boat to the middle of the sea. We went to the sea. In fact, when we first went down, I was really afraid. The sea water was a little cold. As soon as I went down, I tried my best to breathe oxygen. I kept telling myself not to be afraid. When I went out, I was really not so afraid. At first, my ears hurt a lot. When I get underwater, I just swallow my mouth water. The coach saw that we were quite adapted, so he let go and went to the opposite side of us to take pictures for us. He took out a bag of bread and threw it in front of us. WOW! All of a sudden, groups of small fish swim to eat. It was so much fun. We also take out our bread and feed the fish in advance! All kinds of fish gathered more and more, I reached out to fish it a few to play, but the fish speed is too quick, just a hand, it ran! I'm always afraid. The buoyancy of the water is really strong. I always feel that I'm going to float away, so I always hold on to the coral rock tightly.
In about 15 minutes, we'll be up. I don't know what I touched under the water. Maybe it was coral rock. My left arm pricked like a needle, and then grew a small rash. The coach said it would be OK to wipe it with alcohol. My husband said that my skin is too tender. I must be allergic. I cry! Later I learned that the coral on the bottom of the sea may be poisonous. Therefore, I would like to warn you that if you dive, you must not easily touch the creatures on the bottom of the sea. Many corals and sea fish are poisonous, and you may die if you are stabbed. However, there may be some acclimatization. My stomach is always uncomfortable. After staying underwater for a while, I feel dizzy as soon as I come up and vomit on board. It's the second time! How can I be so sad!
Then we're going to jinbalan beach, my husband's favorite beach, and enjoy the barbecue lobster dinner while watching the sunset. Gede drove us to a hotel by the beach. We chose the nearest row of seats to the beach. As we only got there at about 4:30, there were few people in the hotel. All of a sudden, we were attracted by the beauty of jinbalan beach.
More clouds, can not see the salted egg yolk from the sea level, some disappointed at the same time, our dinner is coming!
Generally speaking, the taste of seafood is not good. Too many spices cover the flavor of lobster. The meat is not soft and elastic. In a word, I don't think it's worth it. This meal with tax and tip is about $120. The lobsters are not big, and they haven't eaten up. Of course, it's also possible that the restaurant Gede introduced to us is not delicious. It's also possible that we can't believe all the delicious things on the Internet. Except mango juice, the others are not very good! Experience and feeling: if you go to jinbalan to watch the sunset, find a hotel, sit in the first row by the sea, order two cups of mango juice, enjoy the sunset scenery, and walk on the beach for romance. This is the most cost-effective. The barbecue seafood of jinbalan is really boring, too expensive and not delicious. After watching the sunset, pay the bill and go to a really delicious seafood restaurant. At this price, you can eat big and fresh seafood. Slowly look down, a good place to eat seafood, and then I'll introduce you! After the two-day charter, we went back to the hotel and said goodbye to Gede after we gave him $40. The reason why we stay at the Samsung 100 sunset 2 Hotel in Kuta district is that we played Bali for the first three days, and then three days? Our plan is to play in the hotel, so almost every day in the hotel, there is no need to borrow a car.
The fifth day: (November 23, Friday) today we can finally go to bed and get up late. We got up around 10 o'clock and went to the restaurant below for breakfast. After checking out at 12 o'clock, we asked the front desk to call a blue bird taxi for us and drove to the first hotel we were going to, Melia villa, where we reserved a one bedroom pool villa for two days. My husband and I are very happy. We have never lived in a villa with a swimming pool! I'll have a good time this time. Melia villa in nushadua District, we took a taxi from 100 sunset 2 to Melia villa, which cost more than 60000 rupees, plus tips, a total of 70000 rupees.
Zhenqipai, come down from taxi and walk through this corridor to the hotel lobby.
The waiter knew that we lived in the villa area, so he took us to the VIP reception room next to the lobby. I played with little yellow flowers in the VIP room again, ha ha! We are waiting for the waiter to help us check in. Another waiter gives us a drink list. Let's order welcome drink. You can drink all kinds of juice, soda and wine.
The waiter told us that the room won't be ready until about 2 o'clock. Let's sit down for a while, or go to the hotel first. Of course, my husband and I can't wait to see the hotel.
Look, it's almost time. Hurry back. The room is ready. The key is a wooden card that says villa 4! Go, go, go! The waiter took us to our room, looking forward to it!
My husband couldn't resist the temptation of the swimming pool. He fell down and swam first. What about me? A draught duck can only flop twice. After a shower, I quickly dragged my husband to the next stop, Bali collection! Bali collection is a shopping center with many shops, restaurants and supermarkets. It is quite famous in the local area. I saw it on the Internet before I set out, right next to Melia villa, walking for about 15 minutes. According to online recommendation, there are many restaurants where the roast lobster is very delicious. We asked the front desk for a map of nushadua and set out.
This is a panoramic view of Melia villa's main entrance. It's very impressive.
That's the lily B of the Bali collection.
After visiting for a long time, there are too many restaurants and I don't know which one is better. It seems that I chose this one.
After sitting in, the waiter warmly brought the towel, followed by welcome drink and the first dish of vegetable salad. Order 2 cups of mango juice first, then look at the menu, hee hee!
I chose a small lobster, because my husband is allergic to lobster, and I don't know whether the restaurant is delicious, so I chose a small one conservatively. Only when the lobster is served can we regret it! You should choose a big one, grilled lobster! It's delicious. Satay kebab, barbecue has always been my favorite, taste good, sweet, taste very strong, very fragrant. Tuna fish is a little common. It tastes light and not very delicious.
Experience and feeling: it's really the right choice to have dinner in Bali collection. It's not necessarily so good to eat in the hotel restaurant. It's suggested that you can come here to eat after watching the sunset in jinbalan. It's definitely much better and cheaper than in jinbalan. This meal is very good on the whole. If the score is 100 points, you can give it 85 points, and the price is not too expensive. We ordered these things for 500000 rupees, which is less than 400 yuan. In jinbalan, we ate almost 800 yuan. Is the sex price ratio much higher!
The sixth day: (November 24, Saturday) early in the morning, at 5:30, we set the alarm clock, opened our eyelids, and rushed out of the villa to the seaside. Full of expectation, I didn't expect that the salted egg yolk was covered by thick clouds, but the clouds were golden red by the sun, and a red cloud in the distance was like a huge spray! The magic of nature is beyond description. It's a beauty that can't be recorded by camera.
As the day slowly dawned, my husband continued to leave, recording the beautiful clouds with his camera. I insisted on waiting for the sun to show up, but my husband said that even if the sun does not show up, I can't beat him, so I can only give up. I know. In fact, he wants to go back to the villa and continue to sleep! Lazy! Back to the villa to sleep, breakfast arrived at 9 o'clock on time, the doorbell woke me up to see my husband, still snoring, so the ringing doorbell did not wake him up, speechless, I had to get up to open the door. The waiter put breakfast on the table in the pavilion beside the swimming pool. Wow, it's really rich, isn't it a little too much!
Bacon, ham, sausage, fried eggs, fruit, juice, coffee, milk... Seeing such a delicious breakfast, my sleepiness disappeared completely, and my mind was full of thinking that if things were cold, I would be too sorry for myself. Sit down, grab and eat. I'm really hungry. This delicious meal not only attracted me, but also attracted mosquitoes. After the black spotted foot mosquito gave me two kisses, I found that I was too eager to eat breakfast and forgot to wipe anti mosquito water! Sweat!!!
I wanted to call my husband up to eat together, but seeing him sleeping so well, I can't get up. Forget it, I'll eat alone first, but I'm not lonely at all! The little squirrel saw something delicious and came to join in the fun. So I put a small piece of bread on the railing, and he ran over and took it away. There are also many birds here. I remember the first night we ate bananas by the pool, and there were three left on the small table by the pool. In a twinkling of an eye, half of them were eaten by birds. No wonder the breakfast is covered with lids and plastic wrap, otherwise it may have been enjoyed by the animals before we ate it. ha-ha! After breakfast, my husband hasn't got up yet. I think I can't waste the bright sunshine and the clear swimming pool. So I rushed into the room, took out the life buoy in my bag, opened it and tried to blow. Originally, I wanted to jump into the water to play, but I was a little afraid. After all, I couldn't swim and my husband was sleeping. Although the water in the pool was only 1.2m, I would be wronged if I drowned in the 1.2m water. I have an idea. It's OK to take the swimming circle. I'm blowing into the lifebuoy, huhhhh! Just when I blew my face red, I heard my husband laugh! He's awake! I thought, embarrassing! I gave him a cold eye. Finally, I couldn't help laughing! My husband was so noisy that he couldn't sleep. He got up for breakfast and took two pictures for me with his camera. I don't know how to swim, and I'm at ease in a life buoy!
After breakfast, we plan to go to the beach and swimming pool in the hotel in the afternoon. My husband insisted that I take a life buoy and push me to play in the sea. I didn't go into the water the night before, and I don't know how deep the sea is. We see some tourists, walking a long way, the water is only to the knee here. It turned out to be a shoal. My husband asked me to sit on the lifebuoy. He pushed me forward all the way, but the stone on the sole of my foot hurt my foot too much. We had to go back to the shore before we went far.
Then, we went to the VIP swimming pool beside the villa. There were not many people, because this swimming pool was specially for tourists living in the villa. My husband doesn't care. I went swimming by myself.
The scenery is still good, sunny, but some sun! My skin is suffering again! It's about 5 o'clock when we get back to the villa. We have to think about what to eat in the evening. At the hotel? Or eat out? My husband and I share the same voice: roast lobster! ha-ha! The delicious meal last night lured us to go again today.
Look, Bali collection, here we go again! It felt good, so we went in. Hoho! yummy!。 Pig ribs! Roast lobster, of course, is the highlight! It's delicious! Fried vegetables, also super delicious, especially delicious soup! Highly recommended! This meal cost 640000 rupees, which is more expensive than the previous one, because this lobster is much bigger than the previous one. After a big meal, back to the hotel, my husband continued to watch his news, and I began to enjoy it again! Have a bubble bath, enjoy a large plate of fruit, and chat with friends on wechat. It's really fun! Hee hee!
Experience and feeling: after staying in Melia Hotel for 2 days, I feel it's good on the whole. The price of villa is not high, and the cost performance is very high. Everything in the refrigerator of the hotel is for money, and fruits and snacks in other places are free to eat. I must go to Bali collection. I ate 2 restaurants, and tropical is the best!
The seventh day: (November 25, Sunday) I'm still not reconciled. I get up again at 5:30 in the morning to watch the sunrise. Don't expect my husband to accompany me. He always puts sleep first. I have to admit that my husband made a wise choice. I was disappointed and returned home. Because there were too many clouds, I couldn't see the sun at all. Come back in vain and go on sleeping. After breakfast, start to organize things and prepare to check out at 12 o'clock. Let the hotel call a blue bird taxi for us and go to the next stop, Ayana!!! It was at that time that we met EDI, the taxi driver who drove us to blue bird in Ayana, and one of the drivers I introduced to you at the beginning. He was very chatty and introduced a lot of things along the way. My husband and I liked him very much. He was willing to wait for us at the door of the hotel at 12 o'clock the next day. We continued to drive us to other places after Ayana check out. Ayana is a very popular hotel on the Internet. It is built on the cliff in jinbalan. Its infinity swimming pool and rock bar are very famous, so the price is not cheap. It costs about 5K to stay in the pool villa one night, which is too expensive. We live in a Deluxe Sea View Room, which costs more than 2K a night. The scenery of jinbalan is not as beautiful as that of nushadua.
After a tour, we didn't go far. Because it was too hot, my husband and I went back to the lobby to have a rest. When the room was ready, the waiter took us to the room.
The room is more general, the balcony door is open, there is a small table and two chairs, the window can see the sea.
But I don't think the scenery is as beautiful as Melia. If it's a luxury sea view room, it's always a little worse.
After playing in the room for a while, my husband and I can't wait to go to the infinity swimming pool. So change the swimsuit, hurry! Look! My husband has already swam. How about me? The water depth is 1.2m, so you can only walk slowly to the edge of the pool.
Big blue water bed! It's so comfortable. Ha ha, there's a billiard table in the pavilion next to me. My hand itches. I'll give it to my husband. Looking at the hotel map, I found that there is a boundless swimming pool by the sea. My husband said it must be sweet there, so we went there. It's always right to follow my husband!!!
I'm connected with the sea! The vast sea is boundless and beautiful beyond description. The rock is next to the infinity swimming pool. I'm not allowed to go in when I'm wearing a bikini. At that time, it was around 6 o'clock. The waiter told us that the seats were full, at least after sunset.
The cable car goes straight to the rock. We left by cable car. The rock bar is full, but there are still many people waiting in line to take the cable car.
When we were ready for dinner, my husband and I settled the meal in the hotel. We opened the floor plan of Ayana and studied it carefully. After screening, my husband and I decided to eat in a Thai restaurant. We forgot the name of the restaurant. It's very close to the hotel building. Just walk out. The restaurant is very elegant, built on the pool. The light was dim and there were candles on every table. It was very emotional.
Ordered a curry chicken, a Gulu meat, taste good, rice is free, not enough to add free, a total of 410000 rupees, really not cheap! After dinner, I stroll around. To be honest, the night scene of the hotel is much worse. Then we went back to the hotel and took a bath
. Experience and feeling: if you live in Ayana, you can either live in villa or in an ordinary room. I feel that the price performance of a luxury sea view room is not very high. Anyway, you can't see anything at night. Don't spend too much time in the big infinity swimming pool. You must go to the infinity swimming pool by the sea. There are not many people and the scenery is very beautiful. If you want to go to the rock bar, remember that you are not allowed to go in the swimsuit, so when you finish swimming in the boundless swimming pool nearby, remember to take a suit and put it on before you can go in. If you want to go to the rock, you must make an appointment first, because there are too many people. It's hard to get a seat if you don't go early. Anti mosquito water must be wiped well. Go to dinner. There are many mosquitoes near the water.
Day 8: (Monday, November 26) I wake up my husband at 9 am. We can't waste time in bed. We'll go out for another walk, have breakfast first, and finally enjoy the beautiful scenery of the hotel. Breakfast is free, in the form of self-help, very rich, that is, in the place where we had dinner last night. The last day's breakfast, must eat a fruit meal!
What about? Does it make people drool! My husband was full after breakfast, so he took two mouthfuls of fruit. What about me? I almost ate all the fruit for breakfast. How full! After breakfast, we went to the seaside, the sea really let us reluctant.
Go back to your room and check out in the lobby. EDI has been waiting for us there. We gave EDI 25 dollars to show us around until 6 o'clock. The first stop is Uluwatu lover cliff. After about 40 minutes' drive, we arrived at lover's cliff. Along the way, EDI told us that there are many monkeys on lover's cliff, walking around. Watch out for watches, pendants and other things. It's better to put them up first, or they will be easily robbed by monkeys. After robbing, the owner of the monkey will return the things to you, but you have to tip the owner! This is also a way to make money. Because lover's cliff is on the mountain, it's really hot. EDI told us that it's the hottest area in Bali. I really made a mistake. It's so naked. The sun shines on my shoulder and I can't burn it.
Monkey walking around, always some hair in the heart, afraid he jumped to scratch me!
Experience and feeling: you must wear short sleeve T-shirt or polo shirt when you go to lover's cliff, otherwise your shoulders are easy to burn. Below to wear knee pants or long skirt, or at the door to surround a piece of cloth to come in, it will be more hot. Don't mess with the monkeys on the mountain. Small items, such as watches, headgear and food, should be put in bags to avoid being robbed by monkeys.
Leaving lover's cliff, we went to the Maoshi coffee and Bali coffee production base introduced by EDI, which is a coffee factory opened by overseas Chinese in Indonesia. Maoshi coffee is the fruit of coffee eaten by civet cats. The seeds in it are excreted from the body with its feces. After cleaning (it is said to take more than a year), it can be drunk. We tasted Bali coffee, cat dung coffee is too expensive to taste. It is said that a cup of cat dung coffee costs 1000 yuan in China's high-end restaurants.
We bought three packs of Bali coffee for $35.
After coffee, we are going to have a big meal before leaving Bali, and a delicious lobster dinner.
EDI recommends this place for live seafood, called Octopus seafood, in Kuta district.
This is the quotation of live seafood in the shop. It's really not cheap. If you don't have live seafood, it will be more expensive. The decoration in the shop is very common. First, a cup of watermelon juice for one person. Just waiting for the seafood! This lobster is two Jin in weight. I know my food looks ugly, but it's really delicious. After eating lobster meat, my husband won't let go of lobster tongs, ha ha! The meal cost 1.3 million rupees.
Experience and feeling: live seafood must be eaten, the taste is really delicious. But it should be noted that the best way to choose seafood is to watch them weigh, otherwise it is difficult to say whether the weight is right or not. After all, the price is not cheap. With the end of this final seafood meal, the whole trip to Bali is almost over. Before returning home, it is suggested that you can buy some local fresh and sweet fruits and take them back to your country to give them to friends or to your family. As long as there are not too many, there should be no problem entering the customs. Of course, there are also some very important things, that is, after the end of the journey, do not use up all your rupees. Remember to set aside 150000 rupees to pay the departure tax!