Recommended accommodation
Best Western Kuta Beach ¥ 109, book now >
Launch more hotels
Published on April 22, 2014 17:06
Put aside the reserve and bondage of traditional wedding, in the setting sun, holding the man you love most, listening to the love song that the waves sing for us, let the beautiful Indian Ocean witness our happiness, isn't this the most romantic form?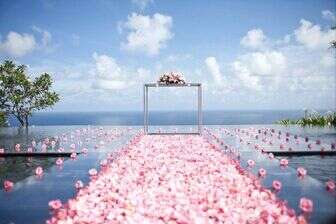 ----------------------------------------------------Gorgeous dividing line----------------------------------------------------------
Bali overview:
1) Climate: Bali has an equatorial tropical climate. The temperature changes with the wind belt. The whole year is divided into two seasons: the dry season is from April to October, and the rainy season is from November to March. It's hot and humid, and the temperature is about 27-32 degrees.
2) Entry and exit: those who hold valid passport and exit ticket for more than six months can directly enter Indonesia after going through visa procedures (landing visa can be used). When entering the country, "E / D card" and "custom declaration" should be filled in. The landing fee is US $25 and the departure tax is Indonesian rupiah 200000.
3) customs: it can carry 2 litres of liquor, 200 cigarettes, 50 cigars or 100 grams of tobacco, and enter the right amount of perfume (overrun will be confiscated or fined). Protected animals (Paradise birds, shellfish) and antiques in Indonesia are not allowed to be taken out of the country. There are no special restrictions on foreign currency and traveler's checks.
4) Currency: Bali uses Indonesia's standard currency rupiah (RP.). Often ups and downs, big fluctuations, day change, morning, afternoon, evening, the price is not the same. Before leaving the airport, first carefully look at the exchange rate of the day, and then decide how much RP to change. If you follow the tour, the tour guide usually prepares some rupees for the first day, but the exchange rate is also low. The only advantage is that the remaining can be sold back to him at the original exchange rate. In recent years, Indonesia's political situation is not stable enough. Coupled with the economic storm in Southeast Asia, the value of Indonesia's currency fluctuates greatly. Moreover, Indonesia's political situation often changes into new currency, and some old currencies can't be used after a while. Therefore, holding too much Indonesian currency is not a small risk. In Balinese airports, banks, hotels, urban areas, scenic spots and so on, you can find a foreign exchange office with the highest exchange rate on the day in front of the currency exchange rate Kanban, but you need to find one with the word no commission on the Kanban, otherwise you will deduct the cost. There is a phenomenon that the exchange rate in Bali is higher when the denomination is larger, and lower when the denomination is smaller. Those too old or published for a long time will be rejected. When you go to the foreign exchange office to exchange money, you should also keep your face clean to avoid being cheated. We usually change $100 or $50 at a time. Don't change too much at a time, because rupiah often fluctuates. Remember that the larger the denomination of US dollars, the better the exchange rate. The highest exchange rate is USD $100 in cash. The ratio of RMB to Indonesian rupiah is about 1:1750, and that of US dollar to Indonesian rupiah is about 1:11000. Please bring the version after 2003.
5) Voltage: 220 V socket usually has two round holes.
6) Telephone: IDD can be directly dialed in the hotel room, but there is a service charge. It's cheaper to use the phone card for public telephone( General supermarkets and hotels are available) dial back to China: 001-86-area code-telephone number. Dial Indonesia: 0062-361 (Bali) - phone number
7) There are a lot of taxis in Bali, but the safest one is Bali taxi company. All of them are light blue. This company's service is more formal. The starting price is 5000 rupiah!
8) For those who are forced to pay tax when eating in Bali, the tax for five-star hotels and restaurants is 21%, while that for ordinary hotels is 15%. 9) Tip: in the local dining can be appropriate to serve the waiter tip, generally 5000 rupiah, or require no change.
10) Food: the theme of Bali food is always cooked rice or fried rice. Other side dishes include chicken, duck, beef, pork, goat, all kinds of seafood and vegetables. Unique food: roasted suckling pig (made of herbs, spices, red pepper, etc.), roast duck, and spicy chicken.
11) Toothbrush, toothpaste, towel and slippers are not provided in the hotel. Please bring them with you; Do not drink raw water in the hotel;
12) Necessities: sunglasses, umbrellas, sunscreen and skin care products, swimsuits, gastrointestinal drugs, anti mosquito drugs, etc.
Bali travel tips:
1. When you travel to Bali, don't forget to bring high index sunscreen. It's tropical. The sun here is not for fun. 2. When shopping in the street, you should pay attention to your personal belongings, "be careful to drive for thousands of years".
3. When walking in the street, pay attention to avoid the sacrificial articles arranged in the street, and never step on them.
4. Don't touch other people's heads, it will arouse the antipathy of Hindus.
5. When driving by yourself, please don't honk your horn when someone is walking in front of you. It's impolite.
6. Taboo: (1) don't use your left hand to shake hands and take things.
(2) Don't touch people's heads, including children, or point fingers at people.
(3) To enter the temple, you need to take off your shoes. Do not expose your arms and legs. Girls in physiological period should not enter the temple.
(4) If someone (especially a priest) is sitting on the ground, never stand on his right hand.
----------------------------------------------------Gorgeous dividing line----------------------------------------------------------
Wedding preparations:
1. Choose the wedding organizer and wedding form.
Although there are more and more overseas weddings, it is important to find a reliable wedding company.
The wedding forms in Bali are roughly divided into church wedding, Villa / garden wedding, beach wedding and water wedding. Some hotels have their own wedding venues, such as W Hotel, Ayana, Bvlgari and BluePoint. Every wedding company has photos of various wedding venues and detailed introduction of the contents of the ceremony. Wedding expenses range from 20000 to 50000, excluding air tickets, accommodation and other expenses.
2. Choose the wedding venue and determine the wedding time.
October to march of the next year is the rainy season and off-season in Bali. If the budget is limited, you can choose to go to Bali during this period. However, this period of time to hold a wedding is to fight RP, if there is no blue sky and white clouds, the wedding effect will be greatly reduced.
Note: Nyepi is one of the biggest festivals in Bali, just like the new year. It is based on the Caka calendar of Hinduism. Generally in March or April every year, during the festival, the whole island is very quiet. People have to stay at home and can't talk. They have to turn off the lights, TV and radio. There are patrols on the streets. This festival is mainly for people to reflect on their own heart. Visitors can only stay in the hotel, beach and water activities facilities, the airport must be closed. If you choose to hold a wedding from March to April, you must stagger Anning day.
3. Confirm wedding attendants and book air tickets, hotels and related itineraries.
Each wedding venue has restrictions on the number of people, so the number of relatives and friends attending the wedding should be confirmed in advance. Overseas wedding expenses do not include round-trip air tickets and accommodation, and round-trip air tickets, hotels and itinerary to Bali also need to be arranged by themselves.
From Shanghai to Bali, there are direct flights from China Eastern Airlines and red eye flights, which will arrive in about 6 hours. You can also choose to transfer to Jakarta or Hong Kong.
4. Choose wedding dress.
Church wedding, there is a drag more beautiful; Garden or beach, poncho or fishtail is more convenient. The specific style should be selected according to the bride's temperament.
----------------------------------------------------Gorgeous dividing line----------------------------------------------------------
Recommended by my friends, I chose Jiamei travel agency in Bali. Because my husband was busy with work, I did all the preparations for the wedding by myself. My aunt saw my wedding arrangements, and also put my cousin's wedding ahead of time, let me arrange it in Bali. After several months of communication and coordination, my cousin and I are all ready for our wedding
Wedding form and time:
Annatara church wedding (cousin), morning of March 19
Bvlgari water wedding (me), March 19, afternoon
Number: 18 (two couples, a honeymoon couple, a mother and daughter, ten elders)
Flight:
3 / 16mu5029 Shanghai Bali
3 / 21mu5030 Bali Shanghai
Ctrip official website booking direct flights in advance, cheaper than the team ticket price.
hotel:
2晚IBIS STYLES BALI KUTA CIRCLE
2晚Bvlgari Hotels and Resorts(我)
Anantara Bali Uluwatu Resort & Spa
1晚Best Western Kuta Beach Bali
Itinerary: (because of the majority of relatives and friends, the itinerary is very relaxed, mainly for leisure)
Arrive in the early morning of March 17, stay in the hotel for rest - free activities - Spa - Japanese set meal of sushi restaurant
3 / 18 South Bay water activities - wuluwadu lover cliff - Korean Japanese barbecue - Dream Beach, afternoon tea - stay in Hotel
3 / 19 all day wedding - Hotel Lunch - Butterfly Beach western style dinner
3 / 20 wubu palace wubu market dirty duck meal terrace afternoon tea Haishen Temple BBQ self service hot pot
2 / 21 am departure for Airport
----------------------------------------------------Gorgeous dividing line----------------------------------------------------------
The following itinerary begins:
first day:
Because the direct flight is only red eye flight of China Eastern Airlines, and China Eastern Airlines likes to be late, arriving at Denpasar airport in Bali is already 4:00 in the morning. Buy a landing sign (25 dollars per person), go through the customs, take your luggage, and finally meet Andy, the tour guide at 5 a.m.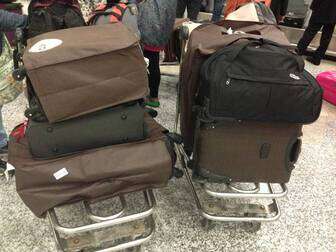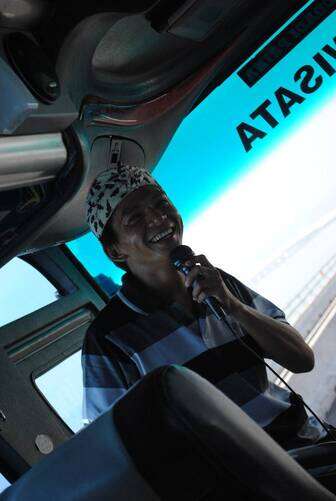 "Andy, our tour guide"
Tips: it's better to provide us dollar change for the landing sign, or two or four people can get together US $50 or US $100 to buy it together, so as to avoid the change, otherwise the US dollar will be found in Indonesian rupiah, and the exchange rate will not be cost-effective. When going through customs, many people worry about being asked for tips and will take the initiative to add $1 to their passport. Every time I went through the customs, I would only smile at the staff, and naturally I was not asked for tips. If you are really asked, just pretend you don't know English. Don't argue with each other.
In order to have a good rest after the red eye flight, I specially arranged Ibis styles Bali Kuta Circle Hotel, which is only 25 minutes' drive from the airport. The hotel is decorated in a contemporary minimalist style with bright colors, an outdoor swimming pool and a 5-minute walk from the hotel to the mall Bali gallery. When we arrived at the hotel, it was already 5:30 in the morning, and the elders were sleepless. We young people discussed that we would go back to our room to sleep after having breakfast at 6:00, and then we would gather at 12:00 to look for food. The mall Bali Galleria is a big shopping center. We found an Indonesian restaurant to eat in it. Six people ordered a table of food. It was only 200 yuan. My husband called it cheap! There is a local supermarket similar to Carrefour in the shopping center. After dinner, you can stroll around the supermarket and buy all the small gifts, snacks and fruits. With food, other commodities in the shopping mall will not attract me. Go to my parents' room and enjoy my fruit feast!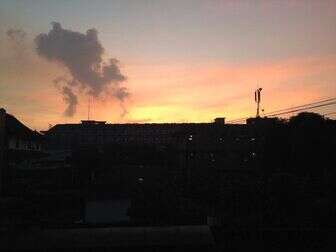 "After breakfast, I went back to my room and saw the morning glow in the corridor"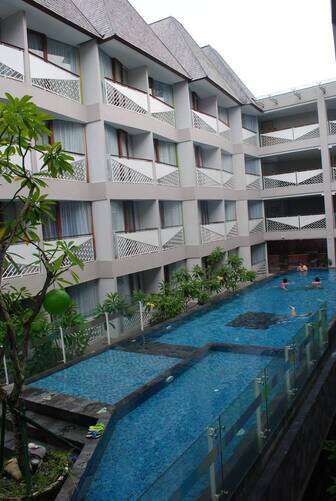 "Hotel pool"
"Layout of Ibis Hotel rooms"
"You can see the back door of the shopping mall from the corridor of the hotel. It's convenient to walk in from the parking lot."
"Indonesian specialty restaurant"
"So many delicacies are less than 300 yuan"
"Fruit feast"
Before dinner, I specially arranged aromatherapy and energy heat stone therapy for everyone. After 2 hours of massage, I felt relaxed and tired.
Aromatherapy focuses on soothing and relaxing. Essential oil is directly absorbed into the human body through the skin through smell and massage. First of all, each person selects the most suitable essential oil according to his own physical needs. Then by the professional masseur with essential oil with pure Indian ancient massage, for you to relax the muscles and bones of the whole body. Finally, with a cup of hot ginger tea, to promote blood circulation in the body, and achieve the perfect therapeutic effect.
Energy heat stone therapy, with natural volcanic stone full of essential oil, massages slowly in the meridians of the body, detoxifies the body, promotes blood circulation, dispels cold, speeds up metabolism, moisturizes the skin, and makes the skin smooth and delicate.
"Spa place"
the second day:
Nanwan water activities
Nanwan Tanjung Benoa is located to the north of nushadua, a piece of sea area bent into the North protruding tip of the peninsula, where the sea surface is smooth and the waves are small, so it is the main area of water activities. Here you can take part in activities such as paragliders, water motorcycles, banana boats, flying fish, etc. you can also take a boat to the sea, dive to enjoy the sea view, or take a glass bottom boat to the turtle island on the other side of Nanwan Bay. There are many animals, such as cultured turtles, lizards, bats, python, and so on, to take photos.
Uluwadu lover's cliff is located on the southwest coast of Bali. Here is a romantic love story: it is said that a young man and woman fell in love long ago, but they were obstructed by their parents. In order to pursue the freedom of love, they both jumped off the cliff here. Since then, young men and women in Bali have come to visit with the vision of free love. Couples will take photos here to look forward to the beautiful and long-term love. Bali is known as "the island of thousands of temples". How can uluwadu have fewer temples. Located on the edge of the cliff, uluwadu temple is the oldest and most valuable temple in Bali, one of the six sacred temples in Bali. In the evening (about 18:00), local residents will also perform the unaccompanied local dance full of artistic color - kekak dance. If you don't have one, you can borrow the local salon at the door. Girls are also forbidden to visit during special periods. There are also many monkeys here. They like to rob people's things, especially the bright things. Before you go in, you must collect your jewelry and eyes, and don't take your food outside, unless you want to have close contact with the monkeys. Our little girl was attacked by monkeys outside the scenic area. Her shoes were taken away by monkeys, so she had to buy a new pair.
The owner of dream beach is the youngest son of former Indonesian President Suharto. When his father was in power, he used his father's power to seize it. It is said that many disgraceful means were used and many nail households "disappeared". Later, Suharto stepped down, and many local people demonstrated to the government. Finally, Suharto's youngest son and the local people reached an agreement that the staff of dream beach must be the descendants of the original landlords, which can be regarded as an iron rice bowl. Dream beach is the only beach that needs security check in this tour. Dream beach is not suitable for swimming and boating, but it is suitable for surfing. Many vendors here hold surfboards and ask if you need to rent them. Because the next day is the wedding, in order not to let a black husband appear in the wedding video, I just let him and my father rush to the sea to play for a short time and then go ashore, which is a small regret in his trip!
The afternoon tea here is very good. It's sweet and salty with sweet guava juice to relieve summer heat and thirst. Unfortunately, I haven't digested my lunch yet, so I have to take advantage of my brother-in-law
Bvlgari resort is located on the cliff, like a medieval castle, hidden in the city wall. The resort is carefully designed by the famous Italian architectural firm Antonio citterio and partners. The interior wall is made of hand cut volcanic stone, and the windows and door frames are made of exquisite bangkiray hardwood. Bvlgari and Antonio citterio and partners invited local Bali artists and designers to design and produce all kinds of excellent textiles for decorating rooms. Bvlgari resort is a modern interpretation of Italian design style and traditional Bali style.
Bvlgari resort consists of 59 villas with sea view. Each villa has a private garden, swimming pool and about 300 square meters of open-air living room overlooking the thatched roof and the Indian Ocean. The entrance of each villa is decorated with elegant lanterns. The design of the entrance gate is inspired by the traditional patio house in Bali. Inside the tall enclosure, you can enter the tropical garden, the wide open living room, the spacious hall and the large bathroom with bath and shower. The interior of each villa is rich in Bali antique decorations and equipped with advanced audio-visual equipment of the famous Danish brand Bang & Olufsen. The quiet and private personal space and the active and happy public space are separated from each other without interference. Strolling in the private garden, bathing in the sun, watching the waterfall pool, what a beautiful pastoral picture!
"It's evening at bvlgar, waiting in the lobby for a check-in welcome drink"
"Our room key"
"Villa's roof, no sense of depression"
"In our own small courtyard, we slowly enjoy a big dinner"
"It's a wonderful dinner, but I can't eat it."
"Villa's little garden, where monkeys often come to visit, food can't be put here"
"The deck chair beside the private swimming pool, where you can see stars all over the sky at night"
"Buggy for hotels, you can call to make an appointment before you go out"
"Is our buggy driver very much like Fage?"
"The boundless swimming pool of the hotel, where we can really feel what is quiet"
Day 3: Wedding
My sister and I got married in two styles and two feelings.
"The glass church of annatara Hotel"
After my sister's wedding in the morning, the driver sent us back to our hotel to prepare for the wedding in the afternoon.
"Before the wedding venue"
"Our float"
"The sunset of Bvlgari"
"The only honeymoon arrangement was almost forgotten by the hotel, sangxin"
the forth day:
The ubu palace was built in the 16th century. It was designed by famous artists. It has 60 rooms. The whole palace is magnificent, especially the gate. The exquisite hand carving and noble gold foil decoration in the palace attract many art lovers every year. Now the palace is the residence of the local landowners and is open to the public for free, Although the whole palace is very small, last year I went to visit a few small gates. This time I only visited the courtyard where the gate is. Other places have been forbidden to enter.
From the palace, you can get to the wubu market. There are all kinds of cartoon and Buddha statues, wood carvings, clothes, accessories, shoes and silverware. As long as you can bargain, you are not afraid that you can't buy what you want.
(because it rained on the day of visiting ubu, and there are few areas to visit now, I'm too lazy to take photos. Please refer to the photos taken last year at the end of the article.)
When you come to wubu, you can't live without a dirty duck meal. It is said that there are two reasons for this name: first, ducks are scattered in the famous rice fields in Bali, eating small insects and fish in the wild, and often get muddy all over; Second, duck in the cooking process, after frying, barbecue, the skin looks colorful, so it is called "dirty duck". Wubu's dirty duck meal is the most famous because it is surrounded by large rice fields. The water quality is good, there are many fish and insects, and the ducks grow fat. Dirty duck meal is a set meal with several small dishes. If you put it on the green banana leaves, the color will greatly increase your appetite: half of the duck is baked brown, and it is crisp when you tear it with your hand, but it doesn't feel too greasy when you put it in your mouth; What's more, there is no smell of duck. It turns out that before baking, it will be marinated for 45 minutes with a special "secret juice" made of a variety of local spices to completely remove the odor.
"That's the dirty duck meal we had in this hotel."
"A few ducklings in the paddy field will soon become people's dishes
Bali's famous terraced landscape, mainly concentrated in the de graeland area, is located in the north of ubu. It is one of the most beautiful terraces in Bali and enjoys a good reputation at home and abroad. The mountains here run from east to west. In the south of the mountains, the soil is fertile, and the terraces run down with the shape. The water source of irrigation farmland is constantly left from the mountain, moistening the seedlings, setting off the green mountains and coconut trees. The winding lines of terraces are very charming. Compared with the magnificence of Longji terraces in Guilin, it is more exquisite here.
The sea temple is one of the most important seaside temples in Bali. It was built in the 16th century. The temple is located on a huge rock by the sea. When the tide rises, the rock is surrounded by the sea. The whole temple is isolated from the land and stands alone in the sea; It is only connected to land at low tide. Go to the sea temple, along the road on both sides of the local characteristics of crafts, where the price is cheaper than other attractions (if you will counter-offer).
----------------------------------------------------Gorgeous dividing line----------------------------------------------------------
Bali, a place that I miss before I leave. The word "Bali" in the language of Bali also means to come back. Although the wedding trip in Bali is over, I will return to Bali again to enjoy the slow life!
(attached are some photos taken in Bali in February 2012. The weather was very good at that time. When I went out by myself, there were many natural scenery photos ~)
"South Bay"
"Jinbalan sunset, my favorite work. Look carefully whether there is a little girl standing on the clouds"
"Before sunset in kimbalan"
"Blue point" swimming pool
"Grand Hyatt private beach after sunrise"
"Entrance to the sea temple"
"The temple of the sea under the blue sky is more beautiful"
"There are many scenic spots to visit in the palace of ubu last year"
One day tour of lanmeng Island
"Sunrise on private beach of Grand Hyatt Hotel"