Recommended accommodation
Patong resort, Phuket ¥ 112, book now >
Launch more hotels
Published on 2014-02-14 13:52
Advance planning
As early as 2011, my wife and I planned to take a trip to Phuket. But when we had done enough homework and had all the tickets and hotels reserved, we found that our wife was pregnant. It's been three years since the plan came to a standstill before we started again.
For hotel tickets, we found a lot of websites, including the famous Taobao and AirAsia, but because I am lazy, and Ctrip can pack and book, so we chose Ctrip. The itinerary includes air tickets, hotels, shuttle flights and two one-day local tours. Flights are cheap flights that fly at night. I want to talk about that. For young tourists with a small budget, night flight is a good choice; But if there is no lack of money, the daytime flight is more comfortable. Our flight is a direct flight from Pudong, Shanghai to Phuket Island. It takes about five hours, plus two hours waiting for the flight and other travel time. It's quite considerable, so it's hard to stay up late. At the beginning, we chose the hotel casually, but later we found that the hotel was very good, meeting our requirements of "vacation", rather than "travel". By the way, our hotel is Patong resort, with a deluxe room for Chinese guests. The hotel has two swimming pools. There are many white people and the environment is beautiful. The most important thing is that there is a small path on the edge of Patong Beach. It takes only three minutes to walk there.
Then all we have to do is exchange money. The Bank of China I went to was not enough. Later, I found that it seemed that BoC was very black, because many people on the same plane went to Phuket airport, and the exchange rate of direct withdrawal from ATM was better.
Such as sunscreen, slippers, clothes, cosmetics, sunglasses, diving goggles and a series of other things can be found on Baidu know, so no longer tired. Just to remind you, sunscreen must buy the most powerful one you think, because the ultraviolet radiation in Phuket is stronger than you think. Some people on the Internet said they would take toothpaste, toothbrush and towel to the hotel, but I don't think so. Maybe it's the reason why I ordered the Chinese guest room. These basic things are provided. If not, they are sold in local 7-11 and other convenience stores.
When you go abroad, you need to use microblog and wechat, so you need to prepare your mobile card. We bought the Thai happy card on Taobao. 7 days unlimited 3G Internet access plus 90 minutes IP phone.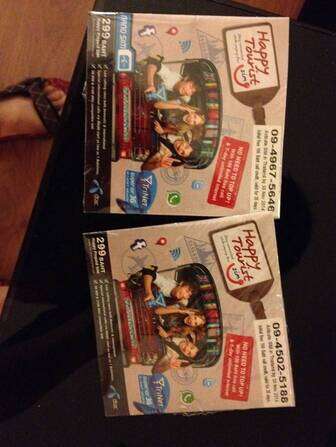 Well, please ignore my feet. This card is also sold locally in Phuket, about RMB60, but it only costs 45 on Taobao. That's how I bought it... I don't want to open any international long distance service at all. However, the 3G of this card is not as fast as that of China Unicom.
Pudong Airport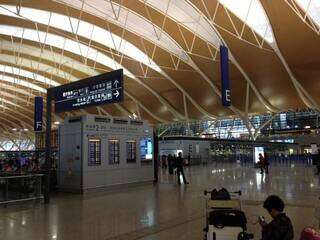 Before arriving at Pudong airport, we should not worry about how to change the winter clothes to Phuket Island and take off the summer clothes as soon as possible. Because the air conditioning of Pudong airport is very awesome, it will not be long before we can get in and out of the toilet and basically change the clothes on. After arriving at the airport, it's easy to choose the service desk according to your flight. If you really don't understand anything, you can go to the information desk and ask the staff. The service attitude is very good~
In order to save money and trouble, my wife and I took the train to Shanghai Hongqiao Station, and then took the subway line 2 to Shanghai Pudong Airport, which was cheap and not out of the door.
First day in Phuket
The pick-up service ordered by Ctrip is very easy. When you go out, you can see the Thai people who pick up the plane. According to the list, you can go to the hotel by car directly. When you leave the airport, talk to people on the same plane. You may meet friends from your hometown or near the hotel, leave your contact information, and maybe play together.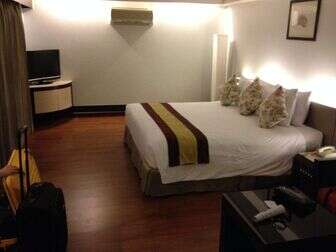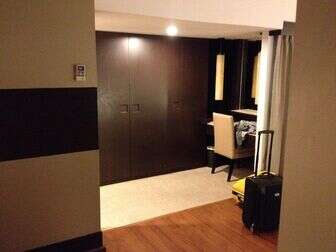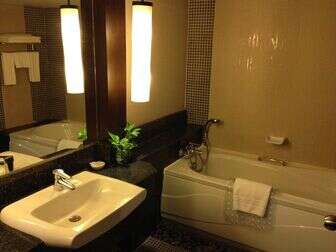 The hotel room is relatively large, as shown in the picture. In fact, what we want is this kind of relaxing feeling, not a kind of business or Express Hotel. The Chinese name of this hotel is Badong resort, which is worthy of the name. The hotel covers a large area, full of trees and shade, not high-rise, which makes people feel relaxed.
The second day in Phuket
As it was midnight, I took a bath and went to bed. The next day I got up for breakfast and found that there were a lot of white people. Breakfast is self-help, rich in content. Especially the sausage and potatoes are delicious. Later, my wife took a cup of cappuccino, which is also full of praise. When you go abroad, you can say hello to others. Don't be afraid of your poor English. Maybe you can make friends. After the whole journey, I found that Chinese people are the most introverted and indifferent people.
This is one of the swimming pools in the hotel. Free reclining chair and clear water. During the day, there are more white people, because they like to bask in the sun. However, in fact, Asians are shy in this kind of public places, such as Chinese people, so I haven't seen Chinese people wandering here. My wife and I went for a swim this afternoon, because it was close to dusk, so we couldn't see anyone.
This is a casual street view taken during the day. I feel that there are more motorcycles and more Toyota cars. Roughly, half of the cars in Phuket are owned by Toyota, and the rest are mostly owned by Honda, Mazda and Nissan. Chevrolet is the most popular brand except Japanese cars. For so many days, Hyundai has seen one, Mercedes Benz and BMW have seen only a few, and there are basically no other brands. During the day, there are more people on the street and the shops are very busy. You must wear sunglasses when you go to the street, otherwise you can't stand it. How to go can be very casual around, do not know the road can download Google maps. Baidu map to this waste, so give up.
This is a picture of my new arrival in Patong. There is a picture of my wife and a picture of me. My wife patted me and said that I was so flexible as a tour guide... Please note that I was a young man at that time... Although I was 31 years old. There are rented lounges on the beach of Patong. As a Chinese, I think we should not be afraid to speak to foreigners, and we should be brave to get a place. However, it seems that the price of these reclining chairs is not negotiable. One hundred baht per person. Next, you can buy whatever you like, but if you want to save money, you can go to the Street convenience store and take it with you. While you are lying down, there will be a lot of mobile vendors selling goods, such as small musical instruments, baskets, blankets, tatoo tattoos, drinks and so on. If you want it or not, you can decide by yourself and bargain. But please smile to refuse, I have seen many Chinese disgust expression.
Occasionally, there will be such a welfare picture, regardless of gender.
The first day I was too confident in my sunscreen ability, one day I bravely didn't wear sunscreen, and then... I became an African chicken.
This is the excited photo taken by my wife after she sold a keaido. Keaido in Thailand is very fresh, unlike the one that has been frozen for a long time. Please ignore the garbage in the back.
In the evening, I found a restaurant called the Pizza Company for dinner. Later, I learned that it was called Pinqi pizza. We have it in Beijing, but we don't have it here. It's absolutely right to eat in this store. The food is fresh, abundant and delicious. Especially, the price performance of pizza is better than that of pizza hut, and the taste is also better than that of pizza hut. As I don't like taking photos very much, I don't have many. Please understand.
Phuket day 3
Due to the scheduled one-day trip to Pipi Island, we have to wait in the hotel lobby for the car to pick up at 7:45. However, the car didn't seem to be very punctual. We waited until about 8:10 and we were very anxious. It took about an hour to get to the dock.
Hello, this is the dock.
The scenery along the way is very good. When we get to Pipi Island, the water is blue and comfortable. However, as I went on holiday to relax, I only paid attention to my appreciation and didn't take many photos. The most important thing is to experience, right? These three are more representative. Let's have a look.
This is a hotel next to the lunch place in DAPI island. The one-day tour lunch on DAPI island is not delicious. It can only be said that it can fill the stomach. The quality is very poor. I don't see any free drinks except mineral water.
You can also see such bikini girls everywhere.
Generally speaking, the journey is quite tired, and the time on the road is much longer than the time of playing. It turned out that Milan was more terrifying. Sure enough, if the scenery is to be better, there will be more fatigue on the road.
At night in the bar. The bars here are basically open, with a view of the street. The roadside was crowded, but mostly white. There is a male singer in the bar who sings very well. It sounds very enjoyable. The following audience also have very hi, sing along or dance by themselves.
First of all... Unit network is not good, can not map. Go home and see if you can update it.
Sequel - published on February 15, 2014 09:33
to update
Phuket day 4
It's the day to go to the islands of Milan (West Milan). In fact, I didn't know this place at the beginning. My wife only knew it after reading other people's introduction on the Internet. It's said that it's very beautiful and pollution-free. Milan is said to be closed from April to October, so friends planning to visit must pay attention to the good time.
It's a long way to Milan. Milan is about 92 kilometers away in the northwest corner of Phuket. But we have to take a bus to a dock in Thailand, that is to say, we have to leave the island first. It took about two hours on the road. I just took some pictures. There are still many Japanese cars on the street, and only about half of them are Chinese cars. I saw that the tire of a Honda (domestic model is Fengfan) car is actually Goodyear. I don't know if the same car in China is so high-quality.
It's unimaginable in our country to photograph a student riding a motorcycle to school. It is said that motorcycles in Thailand don't need driver's license. Those of us who used to travel can rent one as long as our passport is mortgaged. But we never rent it. My wife has always wanted to ride once, but I think it's a left-hand country after all. We are not familiar with the rules and regulations and the road. We'd better not take risks.
This is a picture taken before waiting for the ship to leave at the dock. My wife also realized a dream of riding a motorcycle... The sun is really poisonous!
This was taken while snorkeling. Originally, I wanted to dive into the water to shoot, but the touch screen didn't work well underwater. I didn't get one. I took an underwater video. It can't be transmitted. The picture shows how clear the water is. In fact, if you experience it, you will find that the sea here is much more beautiful than Pipi island.
There is no need to fix the film. Every photo here seems to be a good photo. I had a sunburn on my leg when I was in Pipi Island, so I'm sorry that I didn't dare to stay in the sea more in Milan. I've been resting in the shade of trees like a panoramic photo. The beach here is also very soft, but it may be midday. It's very hot when you step on it.
Give me a picture of a tree on the island of Milan~
Phuket day 5
Because I had to check out early that day, I asked the front desk if I could check my luggage. After I got a positive reply, I saved my luggage and went to the beach in Patong to lie down for a day... I thought the big umbrella would stop us from sunburn, but we were wrong. Umbrellas can only block sunlight, not ultraviolet rays. At the end of the day, my legs continued to burn seriously, and my wife's body also had red marks. So, I think if you want to lie on the beach so leisurely on the last day, you should put on more sunscreen. I saw that the white people were painting it all the time. It was white all over the body. During that time, I heard a white couple around me with an American accent, so I bravely showed my poor English and chatted up with them. I learned they were Canadian. I guess I retired and came here for a holiday. In terms of consumption ability and enjoyment ability, I still have to admire these white people. We poor Chinese people can hardly compare with them.
This is at the beach to see a father with a little Superman playing on the beach. There is a feeling of love, little Superman will not go! Please ignore my feet.
My wife finally couldn't bear to see someone selling tatoo, so she ordered a Doraemon. The original price is 200 baht, and we have reached 100 baht. It's still expensive, because there's no technical content! In fact, it's not like I can draw. I just don't know what the painting materials are.
That's how we spent the day. When I went for a walk on the beach in the evening, I found that the sea water had risen a lot. There are people putting Kong Ming lanterns and fireworks on the beach, which is also a landscape. There are many mosquitoes on the beach at night. My wife has been bitten a lot... The sky at night is very beautiful. Because it is near the fifteenth day of the first lunar month, the moon is very round and bright. It is estimated that this is the reason why the atmosphere is clean. Stars can be seen everywhere, much more than we see in China. It's a pity that my love crazy 4S took such a beautiful image of the moon, and it was just a halo, completely without aesthetic feeling.
Return to China
The mistake is to change your winter clothes without being at Phuket airport. We put all the winter clothes in the box! It's very cold in Phuket airport. I can see that most people are wearing down jackets. My wife and I are still in summer clothes. The plane was originally at 3:45 a.m., but it was late at 4:40. This kind of flight is really very tiring. I suggest you don't take it if you can.
We were lucky to be in the third row, which is the nose part. When I went to the toilet on the plane, I found that the nose of the plane was warm, and the colder it got to the tail. I can't imagine if we would freeze to death if we were assigned to the tail in summer clothes.
After arriving at Shanghai Pudong Airport, I got my luggage and quickly opened the box to change clothes. Then take subway line 2 to Hongqiao Station.
When I got home, I went to bed. I was very tired.
Next, my wife's plan is... To rush out of Asia and travel to other continents^_^