Show all 5 days away
In May this year, I went to Phuket Island for 5 days and 4 nights. I set out from Hangzhou and transferred to Kuala Lumpur. The whole journey of AirAsia.
It's not very big. It's clean. There are few international flights
The first flight is from Hangzhou to Kuala Lumpur. Air Asia flight d7307 starts at 23:20. The whole journey takes five hours. In fact, it's a red eye flight.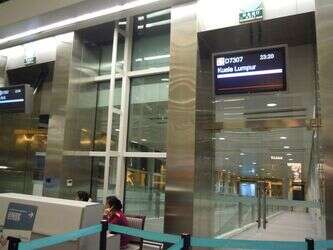 Air Asia flight gate at Hangzhou Xiaoshan International Airport
Hangzhou Xiaoshan International Airport
Take red eye flight, must sleep, otherwise hungry and sleepy, not easy. Air conditioning at AirAsia airport is quite sufficient, so you should take an extra coat, eye mask, pillow and earplug.
Kuala Lumpur's cheap airport for AirAsia
4: After 20 to Kuala Lumpur, the subsequent flight from Kuala Lumpur to Phuket Island is 7:25, so there is no need to apply for a horse visa in China. It is very convenient to directly apply for a transit visa in LCCT.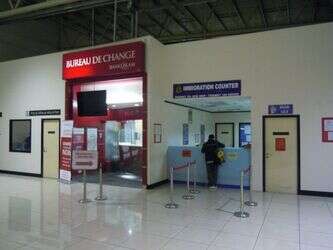 The blue counter is the place for transit visa
LCCT
When handling transit visa, you need only fill in a form, submit your passport and follow-up ticket. It is usually done within 10 minutes. If there are many people, you have to wait a little longer.
Malaysian chain cafes feature white coffee
If you have a transit visa, you have to enter the country, and then you have three hours to make a connecting flight. You can have breakfast, and old is recommended   TOWN   WHITE   COFFEE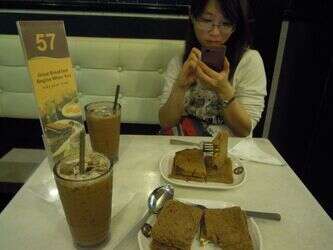 White coffee and toasted toast are the signature delicacies of this shop.
OLD TOWN WHITE COFFEE
LCCT is relatively small, and there is nothing to go around. After breakfast, go through the customs to wait for the plane.
AirAsia's air conditioning is sufficient. The seats are small, but the leather seats are very comfortable
The next flight is ak822    7:25-7:50    Kuala Lumpur - Phuket, pay attention to the time zone of Phuket Island is zone 7, so the actual flight time is 1 hour and 30 minutes.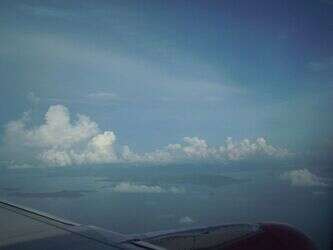 It's about to fly over Phuket
On the plane
By the way, there is no corridor bridge for Air Asia to board at LCCT, so you have to go by yourself, so you should pay attention not to follow the wrong team. Ha ha.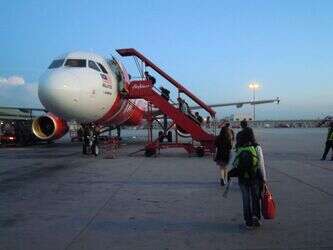 The plane we took to Phuket
On the plane
This flight is early, so there are few people. It's on time.
At Phuket airport, there is a free SIM card counter at the baggage claim area
There is a yellow poster on the right side of the photo, next to the place where you can get your SIM card for free
Phuket Airport
From the airport to all parts of Phuket, you can take Mini   Van, it's 150B to Patong
The street view of Phuket Island is similar to that of a small county in China
The streetscape near Badong beach has just rained
Phuket
It's about an hour from Phuket airport to Padang, and the driver will arrive at the gate of the hotel
There are many convenience stores. It's very convenient to buy things
Phuket
This time, the hotel in Phuket is cheap and clean. It ordered a silver resort hotel. Next to Badong beach, it is 10 minutes' walk from downtown area. There is no swimming pool. It only costs 150 yuan a night to book in advance.
The driver took us to the hotel and the service attitude was very good
The hotel rooms are big and clean with balcony and free wifi
After a long time on the road, I finally got to the hotel. I'd better have a sleep to keep my spirits.
Local people buy vegetables, fruits and clothes at affordable prices. There are many things
Banzaan recommended in other people's travel notes for lunch   FRESH   Market: buy seafood on the first floor. There's a processing stall on the second floor. Just pay the processing fee. Then order fried rice, fried vegetables and shake. It's very affordable.
This is the place to buy seafood on the first floor of the market. You can choose it slowly. There are tiger shrimp, lobster and shellfish
BANZAAN FRESH MARKET
We bought 100b / 4 shrimps (350b / kg), 45B clams (90B / kg) and 168b / 2 crabs (280b / kg) on the first floor
This is the market. It's located on the east side of the jocylon shopping center
BANZAAN FRESH MARKET
After buying seafood, we can take it to the second floor for processing. We also ordered shake   80B / 2 cups, 100b fried rice and 150B processing fee.
Second floor cooking and eating place, there is a called "you"   "Kitchen", recommended in many travel notes, we tried it, it's not bad, it's more reliable.
BANZAAN FRESH MARKET
The total cost of the lunch is only 643B
The most lively place in Phuket must come to, although the beach is not the cleanest
After lunch, I'll go to the street and book the tickets and activities for the next few days.
Patong Beach is very long and busy. You can rent a deck chair. It's like a pair of 200B.
Patong Beach
It's 4 p.m. when I come to the beach, I can just wait and see the sunset
Sunset scene, the sky was playing parachute, play a circle is 1500b
Patong Beach
Back from the beach or back to jocylon for dinner
The Japanese food in jocylon tastes good and the price is not expensive
There are many restaurants in jocylon. We went to Fuji, where we eat Japanese food
Fuji's dinner, no very expensive sashimi, so this meal is cheaper, less than 600B
FUJI
After dinner, it's time to visit jocylon
Thailand's DQ is so cheap that we must eat more
There are two DQS in jocylon. The price is much cheaper than that in China. How can we miss them
Xiaobei Blizzard is 30b, about 6 yuan, the domestic price is 19 yuan
DQ (Lifeng Plaza store)
Jocylon is very big. There are food, play, shopping and supermarkets. You can come to visit if you have nothing to do
Do you want to go to Thailand
In the evening, we went back to have a rest. On the way, we passed the bar street. It was very busy. We didn't go in, so we walked again
Bar street, there are people on the road, you can take a group photo, each 20b
Phuket
I arrived in Phuket on the first day, got familiar with the surrounding environment, and ordered the tour items for the next few days
The next day's itinerary is a one-day tour of the emperor Island, including pick-up and lunch. It's 850B per person, which is cheaper than booking in China
Breakfast in the hotel, 70B per person, convenient and delicious
Breakfast is buffet
At about 7:05, the driver came to pick us up. We were the first group, and then we picked up two groups of people. One group was two men, two women, four college students from the mainland, and the other group was a couple of men and women from India.
Do you want to go to Thailand
We arrived at Chalong wharf and waited for other agents to arrive. There are free water, coffee and so on.
The speedboat has three propellers. There are three rows of seats at the head of the boat, which are open-air. There are side seats in the cabin. There are about 30 people in a boat.
Phuket
Here we are. Put labels on your clothes and take a boat. There is no place to change clothes. Swimsuits should be worn inside. There are life jackets, breathing tubes and goggles on board for free.
It's a beautiful island. Accommodation on the island is more expensive. One day tour is OK
The weather was good and the waves were not big, but the speed of the speedboat was very fast. After 15 minutes, an Indian woman had to vomit. It was generally found that most of the Asians were not suitable to vomit, while most of the European and American people were talking and laughing, which had no effect.
The water in the snorkeling area is very clear and shallow. In fact, it is about 10 meters deep, but you can still see the bottom of the sea
Emperor Island
Our boat is in ter   Bay berths. Those who want to go snorkeling can stay on the ship. The ship will take them to the snorkeling point. Those who don't want to go snorkeling can go ashore first. Some people live on the island that day, so they go ashore first. Lunch is 12 o'clock, arranged in a restaurant in the middle of emperor island.. After lunch, take a tractor like car to Batok   Bay is also the   Racha hotel beach water, reclining chair is 200B two, with a big sun umbrella.
BATOK   Bay is also the   The beach, beach and sea of Racha hotel are beautiful, but the waves are big, so it's hard to snorkel and swim
Emperor Island
Play to 2:30, the leader took to the shower, in the dining room, free cold water shower, mainly change into clean clothes. Then take a tractor to ter   Bay went back in the speedboat.
The speedboats are very fast. It is suggested to take seasickness medicine in advance
When we went back to the Chalong Wharf in Phuket, we first sat on the bow of the ship. It was cloudy and windy. The bow of the ship hit the water again and again in the process of moving forward, making a huge sound. It felt like it hit the hard cement ground, which was very exciting.
Bow, the distance is already covered with dark clouds. It's going to rain heavily
Speedboat
Later, it began to rain heavily. It was really windy and rainy. We rushed into the cabin and fell to the ground. Fortunately, we were pulled up and sat down. The cabin is only covered at the top, so the rain still drifts in, and the cabin is also very bumpy due to the influence of wind and waves. When we get to the dock, the leader will take the car he took when he arrived, and then the driver will take it back.
Check out today and leave for PP island. It was agreed that we would meet at the hotel at 7 o'clock. We would wait while eating in the restaurant until the driver arrived at 7:30. It rained heavily when we set out. We met with traffic jam on the way. I think the shipping schedule provided by the agent is 8:30 and 9:00. But we didn't arrive at the wharf until 9:00, so we still have a boat ready.
The island next to Phuket must play and stay for one night
Before boarding, someone will help you stick different color stickers. When you arrive at the dock, you will be reminded which color stickers tourists need to get off the ship. The seats on the second floor of the cabin are more popular and less bumpy.
The seats on the first floor are relatively empty. They can take up a row of seats and lie down to sleep.
PP Island
Although the weather is bad, but the ship is relatively stable, of course, some people want to get seasick. The bow and deck can be sunned.
PP Island Wharf
PP Island
In advance, we contacted coach a yong recommended by netizens on QQ for offshore deep diving, once per person, 1600b.
You can experience diving or snorkeling
A Yong said that he would wait for us directly at the pier of PP island. As soon as we went to the island, he would take us diving, and then we would have lunch. We thought it was a good arrangement, so we agreed with a Yong on the phone one day in advance. After I went to the island, I called ah Yong on his mobile phone. He was already at the dock, so we didn't put our luggage. Instead, we took a long tail boat with him and went to their diving ship.
Coach a Yong, Chinese, can speak Chinese
Diving point near PP Island
The diving site is Tongsai   To the south of bay, there are many diving boats anchoring there. Ah Yong took us on board, gave us diving suits, and gave us simple training, including breathing methods, diving gestures and so on. Then a little black coach took us both into the water.
In the offshore deep diving area, there are many boats moored to take tourists diving.
Diving point near PP Island
Along with us, there are also a group of tour groups from South Korea, which are carried by tour guides. Ah Yong said that the price of tour guides in South Korea is very black, which seems to cost US $100 a time, and the tour guides take a lot of money by themselves. However, South Koreans believe in tour guides, and they can't travel freely, so it's hard to avoid being unjust.
South Korean tour group also diving
Diving point near PP Island
Dive for about half an hour, and then get on board to have a rest. If you are interested, you can borrow free snorkeling equipment and life jackets to snorkel near the ship.
Back to PP Island, let's go to chaokoh   PHI   PHI   Lodge. We ordered a fan room. There are electric fans, cold shower and double breakfast. When you go to blow the electric fan in May, you don't feel hot and cold shower. (there is also an air-conditioned room, with hot shower, you can upgrade the room with extra money). The double villa style rooms are all bungalows, with simple facilities, paid WiFi, simple breakfast and dinner provided by your own restaurant. The price is low and expensive. Guests can get 10% discount, There is no safe in the room. Valuables can be stored in the lockers next to the front desk. 20 baht can be stored once. There's a deposit for the key. There's a free swimming pool. It's not open 24 hours a day.
Shuangpin villa style rooms are bungalows
CHAOKOH PHI PHI LODGE
We took a shower first. Unexpectedly, it rained again. It was quite big, so we had a rest in our room.
PP Island Scenic Spot is at the top of the mountain. It's a long way to go
When the rain stops at 4 o'clock, we'll go   point。
View   Brand of point2
PP Island viewpoint
View   There are 1 and 2 in point 1, which is not very attractive. It takes another 10 minutes to walk up to 2, where there is a small store and many big rocks to sit and watch the scenery. Only then can we see the bay with double C.
From view   Double C Bay of PP Island
PP Island viewpoint
From hotel to view   The gate of point has been walking for more than half an hour. The road is very easy. Just follow the sign. Tickets at the gate. 20b for one.
The island next to Phuket must play and stay for one night
After going down the mountain, we went to dinner.
PP Island street view, you can buy shake and pancake to eat
PP Island
Go to view   I saw only on the way to point   Noodle's shop is closed. It seems that it has been closed for a long time. There is a note on the door from the boss, thanking the Chinese tourists and so on. In addition, he said that he didn't open the door because he had something to go out and didn't say when he would come back.
The taste is general, the price is small and expensive, and the cost performance is not high
After going down the mountain, go to chaokoh   Resturant had dinner. The price was small and expensive. The taste was average. The beef was very old. Later I learned that Thai Beef was too old. No seafood or drinks, just three dishes and one dongyingong soup. It's 675b, or 10% off.
Dinner, looking OK, eating in general
CHAOKOH PHI PHI LODGE 餐厅
Then book the next day's one-day tour around PP island. Basically, it's a little more expensive if you rely on the agency stores in the busy area by the sea. It's a little cheaper if you're in a remote location. Later, we found a 550b company and signed up.
Thai massage can't be missed. PP island is more expensive than Phuket Island
And then we do Thai   MASSAGE。 Found an aunt to sit at the door, do 1 hour, 250B a person, very comfortable.
The location of this one is also average, so it's cheaper than the one by the sea. Some shops report 300B or 350b.
MASSAGE
After the massage, we went back to the hotel to have a rest.
Today's arrangement is a one-day tour around PP island. The time on the itinerary is from 10 o'clock to 18 o'clock. We arrived at the agent's shop at 9:30 according to the agent's request. Someone will take us to the ship
The main dock of PP island is here
When we got to the dock, the boat had already been untied. We jumped on the boat. This experience tells us that if we are looking for an agent, we should look for a bigger one with more people, so we should be more at ease
Tongsai Bay View
Tongsai Bay
When you get on the boat, there's a guy checking in for lunch. The guy in charge of registration is lucky. He said that he has a girlfriend in Shanghai, which is quite funny.
A bay near PP island has clean water for snorkeling
The first one to go is the bird's nest cave. If the ship can't get through, it can only be seen from a distance. If you take a picture, it's over.
Some foreigners specially contracted boats to go out to sea
four of diamonds
The second one is LOH   samah   Bay is Maya   The other side of bay. There are wooden stairs on the shore, you can go to the island. The big boat can only stop at the outside. There is a distance of tens of meters from the shore. Those who can swim can swim to the shore by themselves. In addition, there are kayaks on board, and the staff on board will take them by boat.
After returning to the ship, you can snorkel around the ship. Xiao hei and the tourists on our boat also played diving, jumping from the third floor of the boat one by one, very high.
four of diamonds
Later, they all came back, and the boat left. Unexpectedly, they returned to Tongsai   Bay, part of the half day tourists have to get off the ship, and part of the half day tourists have to get on the ship, which means that the one-day tour of our ship is made up of two half day tours. In addition, lunch is also supplied, that is, lunch box.
Lunch is very simple, chicken rice with a few leaves
four of diamonds
Set out again, drove for more than an hour, came to the Bamboo Island
PP Island, an uninhabited island near the beach is very delicate
The big boat can't reach the shore. This time we can choose swimming or kayaking. We chose rowing. Two people in one boat. It's not tired. It's easy to start. It's fun.
The beach of Bamboo Island is very fine and the sea is very shallow
On the island, you can bask in the sun, swim and snorkel on the shore.
We went snorkeling for a while, because the water on the shore was shallow and there were too many corals under the water, so it was easy to dive. It was not as fun as snorkeling in the deep water near the boat. After a stroll, I rowed back.
When they arrived, they set out again and came to an offshore area near the northern part of PP island. It turned out to be shark   Point, a lot of foreigners go snorkeling. We think it's far from the shore, the waves are big, and the water is very deep, so we don't dare to go down. Start again, this time at rantee   Bay, the big boat also stops outside, can swim or row to rantee   Bay's beach. There are monkeys on the beach. Then set out again, this time back.
High cost performance, good taste, free wireless network
I went back to the hotel for a shower, went out for dinner and went to the DMC recommended on the Internet
DMC's Thai cuisine is authentic, cheap and cost-effective. The key is: Chinese menu (recommended by Chinese diving instructor), and free WiFi! A total of 305 baht, recommended!
DMC
After eating, I strolled around a little and went to the market of PP island. The local people ate there. It was cheaper, but the environment was not good. Then we went back to rest.
Today is a busy day, because I have to go back to Patong from PP, fly back to LCCT from Patong to Phuket airport, and go to KL in Kuala Lumpur from LCCT   Sentral for one night.
Local people buy vegetables, fruits and clothes at affordable prices. There are many things
The return ticket we bought for PP island was open. Because we were not sure about the shipping date, I went to the dock at 8 o'clock first and found someone to confirm that it was 9 o'clock, so I went back to have breakfast. After breakfast, I checked out to pick up my luggage and arrived at the dock 15 minutes in advance. Someone on the dock checked the ticket and then registered where the boat would be sent to when it arrived. What we registered was jocylon going to Patong, and then pasted a sticker for us. When we arrived at Phuket's Wharf, a driver was waiting for us with the printed list. It should be the person who had just registered the information and collected the destination and assigned it to the driver of the wharf. The driver took the list and looked for tourists according to the color of the sticker. I have to admire the careful arrangement of Thailand's tourism service industry. When all the people in our car arrived, we got on the bus and the driver arrived at the destination all the way.
We were later in baanzaan   Mark, because I want to go to you again   Kitchen once. I didn't expect you that day   Kitchen didn't open the door, so he found another one.
BANZAAN FRESH MARKET
We bought 700B / lobster (1250b / kg) and 220b / 4 tiger lobsters (650B / kg) on the first floor, and then found another stall on the second floor for processing. The processing fee was 295 baht. Lobster, steamed, relatively light; Tiger shrimp, BBQ.
Lobster bought in the market 700B / piece (1250b / kg)
BANZAAN FRESH MARKET
After eating, it's shopping. I need to buy something to take back.
Supermarket, a lot of things, buy specialty just right
I went to jocylon's big   C and boots, bought coffee, cashew nuts, nasal aspirates and cosmetics.
Mangosteen is fresh and cheap. I eat a lot.
BIG C
BIG   There are many things in C supermarket that are not available in China. Unfortunately, we can't bring many.
Mango rice, beautiful color.
BIG C
Buy good things, almost dinner time, and then went to baanzaan   On the second floor of market, I saw a rice noodle stand next to the processing stall at noon. The local people were eating it, and a few Hong Kong people were eating it. I thought it should be good, so I often came to taste it. It was really good. Two bowls were only 80B, recommended!
The airport is not big. It is said that the customs will ask for tips and pretend they don't understand
After eating, I was ready to go to the airport. If I wanted to save money, I first went to the agency to ask if there was minibus. After a round of asking, the agency said there was no minibus. I suggested we take a taxi, 600B. Then I went around again, and several agencies said that there was no minibus. If I ordered a black car, the Agency offered 700B or 800B. I went to the entrance of the bar street and asked about the black car parked on the side of the road, asking 1000B! It's really dark. I'm lazy to bargain. Finally, I ordered a black car to the airport at the first agency.
The boarding pass was printed on the self-service machine, and then the counter was stamped
Phuket Airport
When you enter the waiting room, you must visit the duty-free shops, especially L'Oreal. It's really cheap, and there is a product book in Chinese, which you can check against the English of the products.
The flight is ak829, leaving at 21:40 Thai time and arriving at 0:05 Malaysian time. There is no delay in arriving at LCCT, and we need to apply for a transit visa.
To KL   Sentral almost 1:30, through the temporary road, came to joy   Inn, it's clean. Just one night's transition.
Kuala Lumpur
The next day up, in KL   Sentral takes the airport bus to LCCT and the flight from Kuala Lumpur to Hangzhou.
MONORAIL@KL ♫ SENTRAL
Kuala Lumpur
Back in Hangzhou, the trip is over. This time, two people, air tickets, hotels, travel, shopping, meals, visa, insurance and so on all worked out to use 8000 yuan.