Published at 08:11, March 20, 2015
This time, because I brought my parents-in-law, parents, the itinerary was as loose as possible!
Take the elderly out, we must remember that! Arrange less walking, don't line up all day, and try to move more freely.
I hate to travel with the group, and this time there is an old man, so my mother, who is lazy, has to compromise with the group.
This time, they are very satisfied~
Take this opportunity to share with you the notes and itinerary of taking the elderly to travel! This is also the first time for me to travel abroad freely with such a large number of family members who can't speak English. For me, I must be a little tired, there are too many places to take care of, but I feel satisfied to see my family have a good time~
Hope to be useful for those who are going to take the elderly to Bangkok and Phuket.
Most of them are handwritten. Please forgive me if you have any wrong words!
There are also some strategies from other netizens~
Landscape is the original, no P, figure, a little whitening it~
About other trips:
First time to Thailand (Bangkok + Hua Hin + Chiang Mai) http://you.ctrip.com/travels/bangkok191/2174446.html
Haisan: http://you.ctrip.com/travels/sanya61/2230226.html
phoenix http://you.ctrip.com/travels/fenghuang988/2175657.html
Bali, Europe, the United States and Singapore, which I always said I wanted to write, were all dragged by me.. I'll put the link after I write it...
Sina Weibo: losspy
ins
If you have any questions, you can send a private message via microblog ~ Ctrip seldom opens it except when it is preparing to travel
There are many videos recorded in the United States
At that time, it was just recorded by hand, so I recorded all kinds of food markets and cars. Don't mind if I'm bored_ ╰)╭
Bow.
About money: the best recommendation is to bring it in US dollars. I used to find that not many stores in Phuket have written down the RMB exchange rate. There are still many RMB exchange rates in Bangkok. The dollar ranges from 1:31.8 to 1:32.4. The highest is 32.4.
About what to bring:
1. If you want to float shallow, you must rent a diving camera for deep diving. It is recommended that the Olympic Games, though expensive, is much clearer than canon. I went to Bali to rent Canon's, it's not clear. This Olympic Games can be used by land and water.
2. Clothes, shoes, swimsuits and towels. In addition, Thailand needs to use the adapter plug, and the 3-plug needs to be turned.
3. The camera can be replaced by WiFi memory card, and photos can be transferred at any time.
4. Charger is essential, so is the power bank.
5. Phuket is a city that plays the sea every day. It is recommended to bring 2 sets of swimsuits.
6. You'd better take a big towel and go ashore to cool off.
7. It's best to carry the itinerary strategy with you.
The above is what I feel I need after I go, so I can delete it as appropriate~
About shallow floating:
There is an error in understanding. Please don't go into it. It's just my own opinion. I hope it will help you to choose shore diving and sea diving~
I have been shallow floating and deep diving for no less than 10 times. I have been shallow floating and deep diving in different countries, big and small seas. I'm an ocean fanatic, so to speak. This trip because my parents didn't allow me to go deep diving regardless of them, so I only went shallow diving.
Shallow floating, shore diving and sea diving. Shore diving is on the shore and sea diving is in the middle of the sea.
Shore diving is generally able to stand up, the water is very shallow. Of course, the same underwater scenery is certainly not as good as sea diving.
Sea diving is generally a boat to a central place to stop, down a few staff, draw a fixed area for you to float.
These are necessary to wear life jackets, some large groups of sea diving will be surrounded by floating balls, free banana boats, high-altitude falling entertainment props.
Shore diving: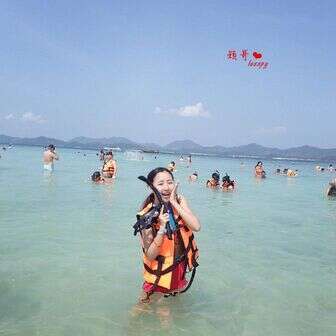 There are people everywhere. The water is about to the foot, not deep. I can see small fish, coral and so on, but it's too shallow and not beautiful. This is also my first ashore dive~
This is the farthest range I can swim, or I can reach the end. This picture also shows a little bit of the bottom~~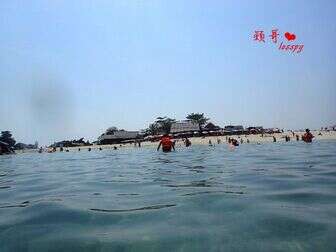 Bottom of shore diving: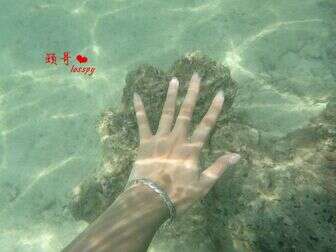 There are only a few small fish that we can see. They are one or two.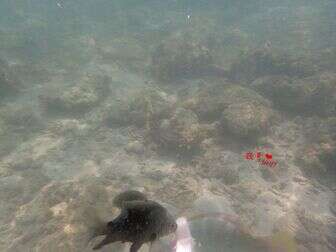 Halfway through the swim, I found a loaf of bread.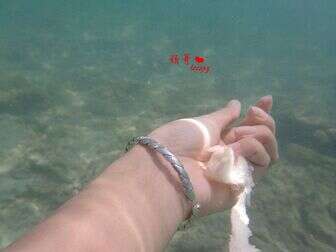 A loaf of bread turns into a lot of fish! You have to buy your own bread loaves. Haiqian will give you bread loaves. After all, the small fish attracted by haiqian are very limited.
It's best to buy diving shoes if you need them. Because whether it's shore diving or sea diving, there will be sea urchins. If you get stabbed, it will hurt. Don't do it.. Several of them were stabbed in this one-day tour.
Diving shoes are as follows. I took pictures of others. I didn't buy them myself_ ╰)╭
Shore diving can also float up! Little case~
Sea potential:
I don't think it's necessary to say that haiqian is beautiful! If you can swim, you must choose sea diving!
The color of the sea is different.
If you have ow, you can dive to 15m and take the picture below! This one was taken for me by the handsome captain~
When you throw bread, it's like this~
After watching the contrast, I would choose to dive in the sea. Hahaha ~ the scenery in the sea ~ can't capture one tenth of the beauty.
Deep diving is to bring oxygen cylinders, it is best to be able to swim to consider, this is a certain risk. If water, and can't swim, on the end! Although there will certainly be staff watching you, the taste of drinking sea water is very bad.
over~~
Itinerary (our flight time in brackets)
D1 (3.2) Shenzhen Bangkok (23:20-01:10)
D2 (3.3) Bangkok Phuket (15:25-16:50), Phuket night market.
D3 (3.4) egg Island, blue dream island, diamond island one day tour, Jiangxi cold.
D4 (3.5) in a daze at the beach of Patong, the human demon show.
D5 (3.6) one day charter Tour (Phuket Town + Phuket food market + Kata Beach + Kalong viewing platform + Ravi seafood + Shenxian Peninsula + outlet)
D6 (3.7) visit the weekend market and go to villas for vacation.
D7 (3.8) play at naihan beach, return to Bangkok (18:30-19:50), caohima restaurant.
D8 (3.9) eat, scan buy. Bangkok Shenzhen (19:05-22:50)
I wanted to arrange PP Island, but PP Island gave up because the old people couldn't take a speedboat and could only take a big boat, which took two hours and four hours to go back and forth.
Egg Island one-day tour is very suitable for the elderly. It takes less than 15 minutes for a speedboat to get to the island. You can try this one-day tour without seasickness.
If it's young people
I recommend a few more for a day tour and cross them. Because, one day tour, it's really great!
My Phuket Yacht, one-day excursion, pick-up and drop off flight, and Simon's demon show were ordered by lazy cat.
The one-day bus tour of Phuket was ordered at crazy Er Niu.
Taobao insurance to find the highest sales to buy.
I'm very satisfied with everything except Simon. It's a VIP bought by Simon's human demon show. It's only when I get there that I know that the VIP field is very big. What I'm arranging is the back position. I can't see clearly. So it's best to buy Simon's human demon show. The seller said that 100% of the first few rows are expensive, which doesn't matter~
Cost price (all approximate values)
Air ticket / person: 1500 from Shenzhen to Bangkok, 500 from Bangkok to Phuket. A total of 2000, 5 people, 1W.
Air tickets because there are elderly people, in addition to the past is to buy discount tickets, other time did not dare to choose the earliest and the latest flight. If you choose the earliest or the latest flight, a ticket in Thailand can be about 100 cheaper. It's about 200 cheaper internationally.
Hotel (all reserved in booking)
The first night in Bangkok: Prince Palace Hotel 3-room Suite - 663 yuan / day.
From the second night to the fifth night, Phuket: the Yim Siam Hotel: double room: 182 yuan / day, three room: 307 yuan / day. 2000 yuan for four days.
Phuket Deluxe - by the lake: 2 villas, 1300 yuan / day.
Day 7 Phuket: Waterford Diamond Tower Hotel: 3-room suite 630 / day.
The hotel should also be able to see that there is no particularly good reservation. Originally, my mother meant to book all the rooms, but I think it's too luxurious. If it's for two people, it doesn't cost much money, but five people want three rooms. The better one is 500-700 a night. My parents in law are thrifty people. I discussed with them in private, so we didn't book so good one. The seventh night villa is also to let them enjoy ~ because my father-in-law loves swimming, so I want to find a villa with a private swimming pool one day to make him happy~
Evaluation Hotel:
The first night's hotel was great, big and magnificent. Basically, drivers know that it's very easy to find. It's very suitable for getting off the plane. Nearby is the clothing wholesale market, clothes are very cheap, you can go shopping when you have time, but there is no other good place, it's a long distance from the city center.
The second night - the fifth night of the hotel, when the beginning of the phase is a 800 yuan one night suite, accidentally saw the hotel decided to book. Walk to Jiangxi cold 15 minutes, 20 minutes to Badong beach. It's an alley by the side of the road, where people eat, drink and massage. We have two rooms, one by the roadside and the other by the alley. The alley is very quiet, and the roadside is very noisy. The sofa bed in a three person room is super difficult to sleep. People like me wake up from time to time. But the big bed is very comfortable! The most important thing is that it's cheap, and it's near the Patong Beach, so it's cost-effective. The sanitation is also very clean.
Hotel on the sixth night: the villa is absolutely first-class. On the mountain, the traffic is too inconvenient. It's very close to the beach in naihan. The hotel has a free shuttle bus, which takes 5 minutes. The boss is a European, very easy to talk, because of the time of the plane, so we discussed the delay to check out at 3pm and agreed directly. We charter a car to go back and forth to the weekend market (the driver we find) and take a taxi for 9 people, 1000 baht.
The hotel for the seventh night: it's not bad, but it's very difficult to find the one with the lowest cost performance among all the hotels. Few of the taxis we stopped after coming out of caohima restaurant know. Later, I found that it was actually a family apartment, but it was very big and clean. It was very close to central world. I could get there in 10 minutes without traffic jam.
Eat: the Thai baht is about 5:1 to RMB
Phuket has a high price. After all, it is a city born of travel.
Each meal for five people ranges from 1200 to 2000 baht.
Drinks range from 50 to 120 baht.
Snacks range from 50 to 100 baht.
On average, it costs 5000 baht to eat, snack and so on every day.
OK: rent a car, take a taxi.
Phuket is very expensive. It is recommended that you can book a shuttle bus on the Internet, which is definitely cheaper than in the past.
There are few taxis in Badong, most of them are Tutu. Tutu in the Patong area, no matter 1 minute, 10 minutes or 30 minutes by car, is 200 baht. We can get to the beach in 3 minutes, 200 baht! But because of the old people, there is no way. When I was in Patong, I made 4-6 trips a day, which was about 1000 baht.
It's very cost-effective to charter a car. It costs more than 400 RMB 8h for one to four people and 580 RMB 8h for five to nine people.
It's 2000 baht to and fro for inter district transfer. I was looking for it. At that time, our chartered master negotiated the price to 1000 baht, but if we found those taxis, we couldn't negotiate the price.
Send some beautiful pictures and start the journey~
Night view of Bangkok
Patong Beach
Nusa Lembongan
The captain took me out when I was diving
On the 15th day of the lunar new year, the ebb tide was ferocious and all the ships were stranded.
Caohima Restaurant
My favorite Grass Mud Horse~
Family photo
Because my father just came back from Africa before the new year, he couldn't get a visa. So we all signed!
I suggest that it's best to do well in China, you don't know, landing sign, a sea of people!!!!!
And now Thailand landing sign need photos, must be taken there, with the past photos can not be used!
And after taking photos, the staff will tell you in standard Chinese, 150 yuan! Five!
We have to pay 1000 baht for entry, which adds up to 230 yuan per person. We also have to wait in a super long line...
If you don't sign on the ground, don't sign on the ground.
My mother-in-law and father-in-law later said that they were all shivering when they were tired. I really feel sorry.
I didn't take any photos, but I got Chinese tips as soon as I went. Don't worry about going wrong.
If you sign the ticket, you must print the return ticket. We need to see it at home. We need to see it when we go there to handle the landing visa.
Entry card (from a netizen)
Occupation: office clerk Hotel: V Residence Hotel
Some tips (from a netizen)
1. Be careful when changing money at the local counter!! You should count the money you get and the money you go out. You should be very careful even if you change money at the bank counter. It's best to check the exchange rate of the counter first, and then use the calculator to calculate the money you want to change.
2. Taxi must be taken by meter6.30 plane. It's better to leave at 4 o'clock!!
At the taxi counter in the arrival hall of Langman airport, the counter staff will translate the place you want to go to to the driver, and then give you two receipts, one large and one small. Don't give the large receipt to the driver, otherwise he will know you are a rookie, and he will do whatever he likes( In addition, even if you wait for a taxi at the counter, you have to ask if you want to make a form. If the driver refuses, you will threaten to make a complaint. When you take a taxi in Thailand, you must insist on going to the destination you want to go to and not listen to any recommendation from taxi drivers. If he refuses to go to the place you are going to, you can take another taxi. After hearing the recommendation, you'll be killed. The traffic jam rule in Bangkok is that there must be traffic jam from Monday to Friday, especially in the afternoon and evening. It depends on people's character whether there is traffic jam on Saturday or not, and there must be no traffic jam on Sunday.
Tutu car is more expensive than taxi. You can experience it, and it's easy to be cheated. The slaughter index is the highest. When you are on the street, pay special attention to the initiative and friendliness of strangers. They are often a group of truck drivers.
Bangkok's water transportation, bus boat general ticket is up to 40B / person! Those with a much higher price, 100-200 or even 400-600, are ready to kill you! If you don't want to be slaughtered, turn around and take a taxi. By meter, 100b is enough in Bangkok.
3. Happy card: this time I bought a happy card with 299B package, unlimited Internet access for 7 days and 100b phone charges. You can buy it at 7-11, but not every 7-11 has 299 cards. I bought it at 7-11 near Langman airport. In the top right corner of the package is your own mobile phone number with SIM card and instructions (in Chinese, English and Japanese). It's very cheap to call China, 1b per minute. The method is 00400 + 86 + mobile phone number / 00400 + 86 + area code (area code should not be added with 0) + fixed line. It must be 00400, otherwise it's not 1b per minute.
4. "South" means toilet in Thai" "Toilet, toilet" is the colloquial pronunciation of "south" in Thai. In addition to large department stores and scenic spots, many toilets in Thailand are charged. It costs 2-5 beads.
5. Tips guide: tips should be given on the following occasions: 1. Taking photos with the "sister" of the human demon: 40 baht (it used to be 20 baht, but the price went up. Remember to control the position of the good hands, and don't put them on the shoulder, because they often force your hands to press on their plastic, and the price will go up by 50 baht at a click). The common tip is 20 baht, so go to the small supermarket to buy some water, Change more. 711 over there is very popular and convenient. 2. Kill the horse chicken (Thai massage): 50 THB (this is really comfortable, much better than those in China, more comfortable, all aunts). 3. Hotel accommodation, daily room cleaning: 20 THB (just put it under the pillow). 4. Help carry bags and boxes: 20 THB
6. Don't give coins. Coins are given to beggars in Thailand.
Standby emergency telephone: Thailand tourism complaint hotline - (662) 1155 Thailand emergency rescue telephone - (662) 123 / 191 Thailand ambulance telephone: (662) 2460199 Chinese Embassy in Thailand duty room telephone: (662) 2457044 Bangkok Airlines 0-7622-5033-5 Thai Airlines 0-7621-1195 or 0-7621-2946 or 0-7621-2499 Air Asia China contact telephone: 9501390000200 local mobile phone, please contact us directly Then call 081-8937919; China mobile phone, please dial 006681-8937919, Phuket post office: in Jiangxi cold B1, the right side of atrium message! Phuket International Hospital: next to Pufu Town, Phuket international hospital is more expensive (if you are worried about getting sick, please buy insurance), but the environment is better.
In particular, the phone card can also be bought on the plane, Air Asia. 299 THB. You can get off the plane and buy it at the airport. It's really good. In 7 days, unlimited Internet access, video transmission, wechat brushing, and circle of friends are not needed. Even watching video is faster than Hotel WiFi..
About massage:
3. Let's relax Spa (print more coupons) this is the most popular spa in domestic travel notes. According to the evaluation of foreign travel friends, it seems that this spa is not worth the price, but its geographical location is good! Let's relax is what you see most in travel notes. It varies from person to person whether it is good or not. The advantages of the feedback from donkey friends are not mentioned here, but the disadvantages are as follows: the attitude of the front desk mm is not good. The environment downstairs is good, but the massage room upstairs is general, which is tatami. It's easy to make it colder and colder http://www.letsrelaxspa.com/index.php?branch=branch_ A this store needs to book in advance (you can book online three days in advance, Or call 1 day in advance) booking website: http://www.letsrelaxspa.com/spareserv/step1.php Reservation telephone: 66-76-346-08001. Foot reflexology massage 350 THB (45 minutes) 02. Hand reflexology massage 150 THB (15 minutes) 03. Back and shoulder massage 250 THB (30 minutes) 04. Traditional Thai massage (VIP room) 500 THB (1 hour) 05. Thai plant massage (VIP room) Between 700 baht (2 hours) 6 body wash 1000 baht (1 hours) 7 body wrapped 1000 Thai baht (1 hours) 8 fragrant essential oil massage 1000 1000 baht (1 hours) 1 face maintenance maintenance Thai baht. 000 THB (1 hour) 12. Four handed Thai plant massage 1400 THB (2 hours)
4. The life Thai massage of C & A Resort & Spa is conveniently located, which is highly recommended by you http://www.phuketresortandspa.com/thelifespa.php Price: push oil for 90 minutes 750b address: next door to Jiangxi Leng (juncelion shopping mall) in Badong.
5. Marina cliff restaurant. Official website Booking http://www.marinaphuket.com
I didn't go to these massage shops. They were also sent by netizens. I also copied and pasted them. I always look for small shops on the side of the road, because March is the off-season bar, 250 THB 1 hour Thai massage, foot massage 1 hour is also 250 THB.
My mother-in-law didn't go to the restaurant because she had blisters on her feet. The photos sent by netizens are so beautiful. I'd like to have a try if I have a chance!
At the end of the day, there are all the great restaurants I collected. Of course, I haven't finished eating. Eat a few very good Oh!
Daily notes and tips are at the end of the day.
Day1: the first day to sleep, the plane to Phuket, Phuket night market.
Hotel map, the decoration is great, the hotel itself is very big, very famous (there is a video in the U.S.):
Night view of Bangkok from the hotel
Bangkok in the daytime
After waking up, I have lunch in the snack street next to the clothing market, and take a small aisle by the river~
Go to the clothing market again. The street view and the big jackfruit in Bangkok are really tasty.
The hotel is very large with an air pool. I swam~
About the time, I took a taxi to the airport, 900 baht bus, and had another meal at the airport.
This Thai restaurant is great, better than the Chinese restaurant next to it!
The last time I came to Thailand, I had a Chinese restaurant. I thought it was very ordinary.
Recommend Thai Restaurant more, on the second floor of the airport!
But the desserts are average~
Airport~
I think the airport in Bangkok is really wonderful. The carpet is soft and the decoration is in line with my favorite style~
The boarding gates of Air Asia's planes are basically at the end. It takes a long time to walk, but there are few people. It's suitable for taking photos~
It's already evening in Phuket. I bought a car to send the hotel on the Internet. I'm lazy cat travelling. Found lazy cat, spray and so on to buy are actually waiting for the car together. There will be people who can connect with you and speak Chinese, right at the gate of the blue bank on the right side of the airport, and arrange to send you a car~
There are a lot of people in the night market of Phuket. There are all kinds of food in one street, and there are recruiters everywhere. You can find a good strategy, or you can look for it at will. I feel that the taste is almost the same ~:
In the roadside to find a snack group, had dinner, the United States has a video~
Coconut, the cheapest is 20 baht, in Phuket Town's vegetable market, the most expensive is 50 baht on the beach. Basically one per day, one per person~
Then go to massage and sleep~
Note in English:
3. Karon view point
4. Naiharn Beach
5. The most beautiful scenic spot of Laem phomthep
6. Phuket Town
7. Palang Road
8. The fruit here is the cheapest in Phuket.
9. Weekend market
10. The 1L hot pot shabushi in Jiangxi central Festival is delicious.
11. Big C shopping mall, next to lotus and UNIQLO.
12. Outlets, discount area, many brands discount.
What I think we should pay attention to in Phuket:
1. Change money must be compared to three, don't rush to change, there are money changers everywhere, don't change too much, about 32.2or32.3 can be considered.
2. There are many places to eat. Seafood will kill customers in Badong district. Be careful!
3. Be careful when playing water sports in Patong. If it's damaged, I really can't afford to pay for it...
4. When you buy something, you must bargain. The price of clothes on the roadside ranges from 100 baht to 300 baht, and the price of trousers ranges from 150 baht to 250 baht. It depends on the length of your purchase, sling or long sleeve. Men's wear is generally expensive, at 250-350 baht.
5. The drinks in Patong are great! Be sure to try fresh juice and coconut!
Phuket attractions -
Patong Beach:
1. Cold shopping in Jiangxi
2. Adult show
3. Bar street
Karon, Kata Beach:
Karon is good for surfing and has a long beach. Kata is suitable for reading and diving. There are fewer people and more foreigners on these two beaches.
Naihan Beach:
There are fewer people, because it's the farthest. It's similar to kalonkata~
Shenxian Peninsula:
It's said that Sumei is a full moon party, Phuket is a fairyland, and you can't be beautiful without going to sunset,  ̄ )
Chalong Temple:
I'm not sure about that. My family doesn't go to temples..
Phuket Town:
1. Old street 2. Vegetable market 3. Weekend fair. It's worth going. Especially in the weekend market, it's refreshing to eat and soft to walk.
Central commercial department store:
All kinds of buy, over 2000 baht can refund!
Big C lotus is a shopping mall. Outlets is a discount store. We went there, but we didn't think the discount was big.
Day3: one day tour of egg Island + Blue Dream Island + Diamond Island
The itinerary is in lazy cat, 299 one day tour per person. It's suitable for the elderly. The rhythm is very loose and the journey is not compact.
Long island + Blue Diamond Island + egg yolk island one day tour 08:15-08:45: pick up at the hotel and enjoy free coffee, drinks and snacks here 10:00: take a comfortable boat from the wharf and head for the five-star Long Island 10:30: arrive at the Blue Bay Beach Resort on the five-star Long Island and enjoy the welcome drinks and fragrant wipes after arriving at the hotel. 10: 30-12:00: our guide will teach the use of snorkeling equipment and snorkeling skills in the swimming pool of the hotel, and then go to the sea on the private beach in front of the blue bay hotel to practice snorkeling skills on the spot, so as to make full preparation for the sea snorkeling. Guests can also enjoy the hotel's swimming pool and the hotel's gym. 12: 00: enjoy a delicious lunch in the sea view restaurant of the hotel. 12: 30: after lunch, our free time is up. You can enjoy beach sunbathing, beach chair, swing and canoeing in the sea area in front of the hotel. In addition, we set up a service point in the hotel, you can enjoy the drinks, sand ice, snacks, ice cream and so on. 14: 00: leave Blue Bay Resort Kho Yao Yai and head for blue diamond island. It takes about 10 minutes to reach blue diamond island in the open sea and land on the island. 15: 00:00:00:00:00:00:00:00:00:00:00:00:00:00:00:00:00:00:00:00:00:00:00:00:00:00:00:00:00:00:00:00:00:00:00:00:00:00:00:00:00:00:00:00:00:00:00:00:00:00:00:00:00:. 16: 30: arrive at the boat lagoon wharf and arrange a car to return to your hotel.
The whole process is in line with its introduction, and there is no additional charge for the project. It's going to have movies, it's going to have prints. 1200 THB, if you want, tell him in advance that he will remake you!!!
First of all, I'll pick you up to the dock, explain the precautions, and so on. I'll take the speedboat~
The advantage of this group is that it won't have as many people as other groups. This is a new one, which has been promoted recently. So the caretakers will be more meticulous.
Seasick, the elderly will arrange to sit aft. The wind and waves are really strong. You have to roar to hear clearly. The sea is really blue. There's a video.
And then we went to the first island, lanmeng island. From the sea~
This island is just a hotel, so there are very few people. You can't go to the sea. If you want to take a holiday, it's a great place to stay for one night. Apart from the residents, there are no other passengers coming. It's a very quiet place.
From the hotel lobby~
Our speedboat
My mother didn't go to the sea, so she walked around and accompanied them~
I was photographed by my father. Ha ha ha~
Great~ P-map technology.
My mother.
With my parents in law.
The arrangement here is to learn to float in the swimming pool. Because I've floated before, it doesn't work for me, but my father, a novice, says he's benefited a lot! But the pool is so beautiful ~ I just went to take photos~
And then to me especially good, give me a small stove is this handsome staff! I think that's why I laid a deep "emotional foundation" for him in the swimming pool. When he saw me taking photos in the pool, he took the initiative to help me. He also taught me how to be familiar with shallow floating. He dived underwater together and asked his other friends to take pictures.
OMG, my mother-in-law and father-in-law thought they were all black, and then my mother couldn't laugh, she worked every day..
There's a picture with the captain in the pool~~
Swimming pool~
At that time, I was still so white... It turns black into carbon in one day..
After lunch on the island, you go to the second island, diamond island? It seems to be the name..
Lunch is very rich ~ farewell to lanmeng island.
Diamond Island obviously a lot more people, not close to see a pile of yachts parked here..
Many foreigners stay here for a holiday. Shallow float to climb up, on the other side of the beach~
That's the edge of the picture, the sea.
There are many coral reefs on the right side, so only a small part of the area can be submerged.
Take a picture from the sea~
Farthest~
Shore diving is, you can stand and swim.
The specific height is so short..
Look, fish.
Throw bread will have a lot of fish, usually occasionally a two appear.
From the sea, the mountain is really small.
A sea of people.
After an hour's ashore diving, I went to the sea of egg yolk Island, and the key role of sea diving came~~
The captain was kind to me. As soon as the ship stopped, he went down and motioned for me to go down. I thought he was going to pull every tourist down.. As a result, he directly led me out of the group..
Take off can't be further, my father can't find me after going to the sea, I went on the yacht again, and then, found out, I'm here!!!
In fact, I'm going further, but my dad didn't get the picture. It's already on the way back to Tat...
I'm close to the last one! Behind the island is the egg yolk island. It's just an island that has been diving in the sea nearby and hasn't been ashore. But when I swam to the nearest place, I could see all the things on the island.
It's really the most special and unique shallow floating. Few people can take pictures of the whole sea, only you. Haha, after all, shallow floating is a big army advancing...
This is also the first time I have seen a big reef, which is usually avoided by sea divers. And a lot of fish are swimming around here. I feel like I really touch the ocean.
This is the real face of the sea.
It's not the same as the beautiful sea you see in the prescribed area in a one-day tour. This time, you can see a sea urchin, coral reefs, and a bunch of small fish in groups. Thank you very much, captain.
Fish in pairs.
When the captain helped me throw bread, all the fish swarmed in. The captain went down to take pictures for me..
Below is the big reef. When you are tired, the captain will step on the fins and let me rest on it~
As soon as I went ashore (on the boat), my father snapped at me. In fact, I really like this picture. Ha ha~
This is the captain with me!!
The skin color is different after swimming...
And then back~
It's really the most impressive day. I went to Jiangxi in the evening.
I went to eat MK gold. I had eaten MK gold in Bangkok before, so I always wanted to try the difference between MK gold and ordinary gold. As a result, the family members were full of praise for what they ate, and five of them were 2000 baht~
Then it's massage, going to the supermarket and buying specialties~
Day3: in a daze on the beach of Patong, the human demon show.
Patong has the most complete water sports (towing, water motorcycle, sail, banana boat, etc.) with the same price (jet ski 800B / 15min, banana boat 300B / person, para boat 600B / person), Pull people into the air by speedboat) 1200b / 2 people (stay in the air for 10min) water motor double 1000B / 30min / 2 people are very exciting 2 reclining chair + 1 sunshade = 150B 1 reclining chair = 100b floating bed 50B / day
Patong night market Patong night market Patong night market Patong night market Patong night market Patong night market Patong night market Patong night market Patong night market Patong night market Patong night market Patong night market Patong night market Patong night market Patong night market Patong night market Patong night market Patong night market Patong night market Patong night market Patong night market Patong night market Patong night market Patong night market Patong night market Patong night market Patong night market Patong night market Patong night market Patong night market, And moulier rose cabaret & Restaurant.
The main food street area 1. Thawing Road: most of the seafood restaurants are large, and many of them have band singing. 2. Rat-u-this 200 pee Road: there are more popular seafood stalls. 3. The middle part of Bangla RD and sawatdirak Rd, opposite to Royal Paradise: night food market, a place where cheap seafood stalls are concentrated. You must eat kebabs and buy those made by old women, It's really delicious. 4. A small road on the Bangla Road: walk about 250 meters up the bar street, and when you see a watch shop, you turn in. Next to it is Family Mart. You can talk about the price. Authentic Thai fried noodles, fried rice, fried vegetables and other local food are cheap and authentic. Dongyin palace soup also tastes authentic. 5. Across from Aloha villa, or behind the big ocean: big food stalls, seafood is frozen. 6. Carrefour (Carrefour) sells cooked seafood, and the price is cheap. On the beach of Patong, near Novotel Hotel, there is a dolphin stone carving, which is called LOM ma. You can find the most economical restaurants on the beach of Patong, such as Wanghai food course, Thai food, Western food and seafood. There are also many small restaurants on the beach, which are not expensive and have a good atmosphere. Among them, there are three small restaurants opposite the beach. The business hours are from morning to late night. However, it should be noted that there will be more people in the evening. This one from Kho tuey is the busier and better of the three. If you enter from the side of the road, you can cross the path next to ninty four coffee and go straight for a while.
When I woke up naturally, I took a ride to Patong Beach. I rented a cushion for 100 baht for one day. Lie down and look at the sky.
The plane passed by.
There are foreigners sunbathing everywhere. It's really brave. We all run away from the sun.
You can only find a sense of existence in a cool place.
See a lot of Chinese girls in the photo, ha ha ha, foreigners are sleeping in the sun, Chinese girls are working hard in the sun.
My parents are also intoxicated in this world.
My mother-in-law and father-in-law were very interested in feeding pigeons.
Boring, I can't feel this relaxed happiness, so I have to buy ice cream to eat. Four in a day..
Have lunch~
In the afternoon, I had nothing to do. I pressed a motorcycle again, and then I went shopping.
My father-in-law and mother-in-law hold hands. The warmest thing is that time has not changed for so many years.
I found a famous restaurant for dinner. I feel that it tastes ordinary and Thai. If you are interested, you can try it!
Strolled the bar street ~ the family did not have the opportunity to enter, alas.
I ordered the 7:40 human demon show and sat in it. Before and after the human demon show, the human demon will stand in front and wait for you to take photos.
Now the price has gone up. It used to be 20 baht, but now it's 100 baht. It's the change of the times.. I went to get two~
This really good woman is much more beautiful than me.!
Simon is very strict and can't take pictures. But there are... You know. So, if you rent a video recorder on your head, you can rent it if you want to record it!
Day5: one day charter Tour (Phuket food market + Phuket Town + Kata Beach + Kalong viewing platform + Ravi seafood + sea beach + Shenxian Peninsula + outlet)
We made an appointment for an 8h charter. We wanted to see the sunset, so we chose 11:30-19:30.
The driving time is estimated according to my time at that time
Padong beach Phuket market 30min
Phuket food market Phuket Town 5min
15 min from Phuket to Kata Beach
Kata Beach - Kalon viewing platform 5 min
Kalong viewing platform - Ravi seafood 10min
Laver seafood market - 5 minutes on the beach
Sea beach Shenxian Peninsula 10 minutes
Shenxian Peninsula - outlet 80min
Outlet - Patong Beach 40min
First of all, I have always held the heart of killing the whole audience at the food market which is said to be cheap enough to fly and where the real Phuket people go. I am not disappointed.
The people here don't have the mentality of being a tourist. When the boss saw me, he waved me a pineapple. He was moved and bought 8 pineapples here~ 10 THB, 2 yuan.
I've also recorded a video here ~ my father is buying rambutan in the distance...
Coconut here is 20 baht!
Enough fruit, coconuts at the vegetable market. It's a mess.. We're going to Phuket.
Phuket is just a shopping street. I don't feel like there is much to go shopping. It took more than ten minutes to leave.
On the way, I met the place where I used to shoot a real gun and drive a go kart. I didn't have the courage to play a go kart because it was too dry. Real gun my mother felt dangerous again, so I was discouraged for a long time. I want to play with real guns.
The cheapest is 200 yuan, 10 bullets, long guns. The shotgun is 300 yuan. After shooting, there are bullet transcripts that can be taken home for collection.
I have a video here! The process is super handsome. When you see foreigners bouncing, you need to wear earphones for sound insulation, because it's really loud. This is the type of gun you choose. It's a pity that I didn't play.
At noon, it was estimated that around 1 o'clock, I went to Kata Beach. Really, I felt the warmth of sunshine once. The heat is dazzling. We just hide in the shade. I'm not in the mood to take photos. I have foreigners sunbathing behind me!!!
After a short rest, I went to kalongguan scenic spot.
Here you can see most of Phuket Island ~ it's worth visiting!
Because the light is too strong, the backlight is too serious, in order to see my face clearly, I adjusted the brightness of this one. The real color is the image above~
If you have enough sightseeing here, you can go to Ravi seafood market, which is very similar to Sanya. That is to buy seafood to process.
The general processing fee of the restaurant here is 100 baht per kilogram and 70 baht per half kilogram. So don't buy half a catty of seafood, it's not worth it! Even processing vegetables here is 100 baht. In any case, both vegetables and meat dishes have the same price.
Seafood is calculated by kg. The price we buy is. Crab 350 THB, 1kg, 5. Shellfish, the cheapest has 50 THB 1kg, expensive has 120 THB 1kg. All can bargain!
There is a very spectacular place near the laver seafood market. You must take a picture. However, the backlight is still very serious, and the tide was low at that time. If it was not so beautiful, it would not be po.
When we finished eating, it was still early, so we said we would go to the beach to play. We also thought that Kata's beach was too dry, so the driver took us to the beach of the sailing ship. It happened to be the 15th day of the lunar new year, and all the sea water receded.
In order to see the face clearly, I adjusted the color again.
Then the interest came, and all the people went down to pick up shells. They picked up a lot of shells and finally brought them back with them~
My dad's prank...
After that, I went to Shenxian Peninsula to wait for sunset. The video here is really beautiful. The sunset here really doesn't need P!