Getting around abroad doesn't have to be all about cars, trains, buses and bikes. From cruising Peru's Lake Titicaca on a boat made of reeds to flying down the streets of Madeira in a wicker toboggan or taking an odd horse-drawn carriage in Pakistan, there are so many unusual types of travel to be tried. Here's ten of the best.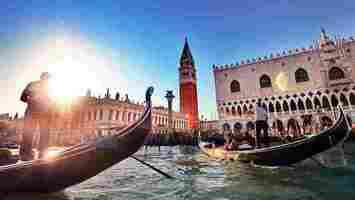 Traghetto, Venice Along the 3.5km stretch of Venice's Grand Canal there are just three bridges, so how do you get across? By Traghetto, of course. The unglamorous sibling of the gondola; these no-frills boats get passengers from one side of the canal to the other for a meagre fee. You can pick up a Traghetto (meaning 'ferry' in Italian) from any of the seven piers along the canal - just look for the yellow signs pointing you towards the landings. Each boat is rowed by two oarsmen- one at the bow and one behind the passengers, as in a gondola - if you want to ride like a Venetian, stand for the short journey. Tangah, Pakistan Save yourself a few bucks in Pakistan and ride on a Tangah, rather than the more commonly used rickshaws and taxis. A Tangah is a carriage, sitting atop two large wooden wheels (not exactly designed for comfort, so expect a sore bottom on a long journey!), pulled by one or two horses. They have a low-glamour, but high fun factor and have become more widely used in Pakistan for enjoyment, rather than as a functional way of getting around. Just beware that they're not the speediest way to travel! Bamboo train, Cambodia © AHMAD FAIZAL YAHYA/Shutterstock Those with a strong constitution may want to ride a Cambodian bamboo train - known locally as a nori. Passengers sit on a makeshift bamboo 'train' (basically just a bamboo platform) powered by an electric generator engine, perched just inches above the railway tracks and travelling at up to 40km/h. The unmaintained railway tracks make for a bumpy ride and the closest you'll get to luxury is sitting on a grass mat. But the fares are low and this is a once in a lifetime experience, as all the locals use them for getting around. Pick up a nori from Battambang station. Monte toboggan, Madeira © Nikiforov Alexander/Shutterstock Monte toboggans came to being in the 19th century, as a fast way of getting down the hill from Monte to Funchal. Today, they're more a tourist attraction than an everyday mode of transport for the locals. Pick up a toboggan at the bottom of the stairs leading to the Nossa Senhora do Monte Church. Once you've climbed into the wicker sledge, two drivers dressed in traditional white outfits will steer you down the narrow, winding streets to Funchal at up to 48km/h. It's an extraordinary and exhilarating experience. continued below Related articles from the blog
Jeepney, Philippines © Willem Tims/Shutterstock Known as 'the undisputed king of the road' in the Philippines, the Jeepney is a mammoth vehicle. When the American troops pulled out of the Philippines at the end of World War II, surplus jeeps were gifted to the locals and this is how the original jeepneys came to being. The Filipinos stripped them down, added roofs for shade and used them to re-establish public transport in the country. Nowadays, brightly decorated jeepneys are a symbol of Philippine culture and the most popular way of getting around in the country. Longtail boat, Thailand © Dmitry Rukhlenko/Shutterstock Longtail boats are an icon of Thailand. Originally they were used in the canals that ran through Bangkok - and although the canals have now been filled and replaced with roads, the boats are still prolific in the country. As the name suggests, they are long and slim - the ideal shape for canal cruising - due to the long rod in the back of the boat which holds up the motor. Locals use these boats like public transport and riding one is an experience you can't miss on a trip to the country. Songthaew, Laos Also known as a baht bus, this is a pickup truck adapted to transport passengers. Songthaew literally translates as 'two rows', taken from the two benches fitted along the sides of the truck. They run either as a shared taxi service, or in larger cities bigger trucks are adapted to run a bus-like service. With a typically Asian lax-attitude to safety, you'll see the rear of Songthaews packed with passengers and sometimes people travel standing on a platform attached to the rear. Dog sleds, Alaska © Kwanchanog Noiinwong/Shutterstock Imagine drifting across a white canvas of snow as a troop of husky dogs pulls your sledge - it's like something from a Christmas movie. In reality, dog sledding isn't quite so graceful, it can be a bumpy ride and will be accompanied by your dogs' barks, but nonetheless it's certainly a unique journey. For most Alaskan locals this isn't a day-to-day way of getting around, but for tourists it's a special way to travel, and something you can't do in many other parts of the world. The best time to go sledding in Alaskais January-March, as lack of snow in the summer means you're likely to be pulled by the dogs on a wheeled sledge.
Barco de Totora, Peru Totora is a reed which is grown in Peru, most notably on Lake Titicaca. The Uros are a group of people who live on the lake on floating islands fashioned from the reed. They also make Barco de Totora from bundles of the dried reeds, and these boats have become an icon of Peru. If you're visiting Lake Titicaca, the Barco de Totora is a wonderful, unique method of getting across the vast and beautiful stretch of water. DUKW, London © e2dan/Shutterstock DUKW, widely pronounced 'duck', are amphibious trucks that were designed by the American military during World War II to transport equipment and troops over both land and water. Nowadays, you can take a trip in a DUKW in central London, on the aptly named Duck Tours. On a tour you'll drive past famous London landmarks before dramatically launching into the River Thames to get a view from the water. They're the only way to experience the sights of central London by land and river - without leaving the comfort of your seat! Top image © rmanzanosgarcia/Shutterstock
Planning on your own? Prepare for your trip Use Rough Guides' trusted partners for great rates Flights
Accommodation
Rent a car
Travel visa
Insurance
Five futuristic modes of transport transforming travel
Technological advances in transportation have brought modes of transport usually found in science fiction to life. From super-trains to self-flying helicopters, the way we travel will never be the same.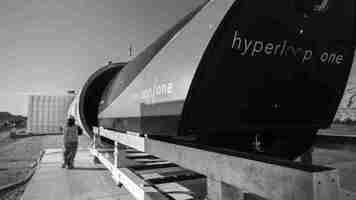 01 Hyperloop
The Hyperloop concept was introduced by prolific inventor and entrepreneur Elon Musk in 2012, when he announced engineers from his Tesla and SpaceX companies would begin work on a demonstrator. This promising, high-speed innovation is comprised of reduced-pressure tubes that contain pressurised capsules with the ability to transport passengers from San Francisco to Los Angeles in a mere 35 minutes at speeds of up to 700mph.
The entrepreneur decided to open source the concept to allow others to build on his work, which led to the creation of new businesses and groups dedicated to the advancement of this technology. Richard Branson-backed Virgin Hyperloop One successfully trialled a full-scale prototype of the system in 2017 and hopes to deploy a fully operational system within three years.
As current systems have been designed to offer an on-demand service for travellers, capsules will be able to depart every couple of minutes, which is much more regularly than other high-speed rail networks and will reduce waiting times.
02 Autonomous helicopters
Road testing of self-driving cars in a number of countries has been much publicised, but autonomous aircraft are set to play a major role in the future of mass transportation systems. Aerospace firm Airbus successfully completed a test flight of its Vahana electric vertical take-off and landing (eVTOL) aircraft earlier this year, with the flying taxi spending 53 seconds in the air.
The company hopes to create a fleet of eVTOL aircraft and position them on rooftops in major cities, enabling commuters to get around densely populated areas where road traffic is deadlocked. If all goes to plan, a fully operational aircraft will be ready within two years.
Last year, aviation research company Aurora Flight Sciences showcased a fully autonomous military helicopter that can also be operated remotely. By making use of advanced camera sensors and on-board LIDAR technology – a surveying method that measures the distance to an object by illuminating it with pulsed laser light and measuring the reflected pulses with a sensor – the aircraft is able to avoid any obstacles and independently select the most appropriate route to the destination. Competition in the autonomous aircraft sector is growing, with Uber and a number of Chinese companies investing heavily in this burgeoning transport technology.
03 Super-trains
Implementing magnetic levitation (maglev) technology into transport networks across the world may sound like a futuristic idea, yet trains running on maglev systems have been in operation since 1984. A 2015 Japanese maglev train reached speeds of just over 600km/h, but researchers at China's Southwest Jiaotong University are testing an ultra-fast bullet train prototype, based on maglev technology, that could potentially reach speeds of up to 1,000km/h.
Super-maglev trains use the same underlying technology as previous versions, except this next-generation transport innovation utilises a vacuum tube to reduce air friction and allows for increased speeds. These trains are not expected to be brought into service in the next few years, as traditional maglev projects are still under consideration in a number of primarily American and Asian cities.
A proposed multi-billion-dollar maglev train system from Washington to New York is close to receiving approval and would cut the travel time between these two cities to one hour, down from three hours. However, introducing super-maglev trains to this route could theoretically bring the journey time down to around 30 minutes.
04 Elevated cycle paths
Technological advances in transportation cannot be limited to the modes of transport themselves, but also includes the surfaces they travel on. Creation of a network of elevated cycle paths towering above city streets would not only make cycling less dangerous and more convenient, but could reduce congestion on highways, with the southeast Chinese city of Xiamen constructing the world's longest elevated cycling path last year. At 17 feet above the road, the 7.6km track offers connections to public modes of transport at 13 points.
Although there are currently only a handful of these ambitious networks elsewhere in the world, German carmaker BMW wants to change this. The automaker, in collaboration with Tingyi University in China, recently unveiled a proposal to build elevated cycle paths for modes of transport, such as e-bikes and electric scooters in Shanghai.
This futuristic route would be made up of an enclosed, elevated tube, enabling cyclists to ride all year round in comfort thanks to full climate control. There are already hundreds of millions of e-bikes in China that could use these paths and this number is rapidly growing as the country contends with severe air pollution.
05 Smart roads
Over a million people a year are killed in road traffic accidents, with tens of millions more injured. The emergence of smart roads connected to the internet of things (IoT) can significantly help to reduce road deaths, as IoT-enabled road sensors can instantly communicate with smart cars about the best ways to avoid hazards or adverse road conditions.
A Portuguese scheme, co-funded by the European Union, is set to create around 1,000 kilometres of smart roads in the country. This programme will see a series of cutting-edge transportation technologies installed on the route, facilitating wireless communication between road-based infrastructure nodes and smart cars.
It's not just safety issues that technologically-enabled roads can help address, with Sweden recently completing a pilot project that saw two kilometres of road transformed into an electrified track that recharges modes of transport, such as electric cars and trucks while they drive. In the future, wireless battery chargers will be found underneath roads, helping to reduce the level of air pollution and virtually eliminating the need for fossil fuels to power cars.
14 Mind-Blowing Modes of Transport You'll Wish You Had in Your Country
We can't find a country that matches your search. Please try again.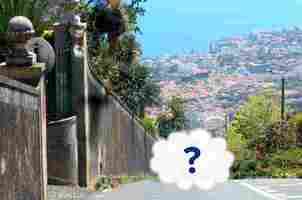 14 Mind-Blowing Modes of Transport You'll Wish You Had in Your Country
Alice Johnston Food Editor 30 October 2017 View
Some places think beyond the metros, buses and bike lanes to provide ingenious ways for their citizens to get around.
Longest urban cable car, La Paz, Bolivia
Imagine this view being your morning commute | © saiko3p / Shutterstock
These cable cars ascend nearly 500m up the mountains of the world's highest metropolis. It cost $234 million to install in 2014 and takes thousands of passengers along its 17-kilometre length every hour. It's the longest cable car system in the world.
Hovercraft, Portsmouth, UK
Hovercraft: Unpopular but still trying hard to be cool | © Gail Heaton / Shutterstock
You might think hovering vehicles belong only in Back to the Future — but you'd be wrong! The craft that runs between Portsmouth and the Isle of Wight is the world's longest running commercial hovercraft route. The journey takes around 10 minutes, as opposed to half an hour on a ferry.
Coco taxi, Cuba
We're going coco-loco for these cute taxis | © Roberto Lusso / Shutterstock
Ever wanted to ride in a vehicle that's the shape of a coconut? Head to Cuba! The coco taxis are small and round, made of fibreglass and cheaper than a normal taxi, although they are very noisy. You might think that coconuts aren't very aerodynamic, but these quirky taxis manage to ferry people around pretty quickly.
Ice angel windsled, Wisconsin, US
An amphibious vehicle that can travel on ice, snow and water, Ice Angels are used to traverse Wisconsin's mainland and Madeline Island. The lake freezes in the winter and can be driven across when it's solid, but when the ice is too thick for a boat and too thin for a car the windsleds are used. Powered by an airplane engine, the vehicle glides across the ice.
Maglev train, Shanghai, China
This Shanghai train is super speedy | © ChameleonsEye / Shutterstock
This train reaches speeds of up to 431km/h, meaning it makes the 30km trip between Shanghai airport and the centre of town in around eight minutes. The train rides upon a powerful magnetic field, and you can check the speed thanks to the visible onboard speedometer.
Bamboo train, Cambodia
Better hold on tight, it'll be a bumpy ride on the bamboo train | © Stasis Photo / Shutterstock
Passengers sit on a makeshift bamboo platform with wheels that run up to 40km an hour on unmaintained railway tracks. Sounds exhilarating! This hyper-local form of transportation is fast and cheap, even if it's not for those of a nervous disposition. If a platform, known as a nori, meets another going in the opposite direction, one of the platforms has to be disassembled to let the other pass. Hop on from Battambang station.
Reed boat, Peru
These dragon-shaped boats are made entirely from reeds | © Fotos539 / Shutterstock
These dragon-shaped boats are amoung the oldest ever forms of water transport. Constructed by the Uros people who live on Lake Titicaca on floating islands made of reeds, they are a beautifully traditional way of sailing across the lake.
Habal-habal, Philippines
Who wouldn't want to ride on a motorcycle with a pig and a goat? | © Paul Lewin / Flickr
This is a motorcycle that has been modified to seat more than two people. Consisting of wooden planks strapped to the bike to act as seats, it provides a speedy and mildly terrifying way to traverse the mountains.
Wuppertal suspension railway, Wuppertal, Germany
A beautiful view from this monorail | © DG-photo / Shutterstock
This monorail was built in 1901 and is used by 85,000 passengers a year. It's the oldest elevated electric railway in the world, and some carriages still have lamps, curtains and upholstered seats on which to enjoy your coffee as you watch the world go by below.
Cyclo, Vietnam
These nippy three-wheeled bikes are often faster than cars | © Vietnam Stock Images / Shutterstock
Three-wheeled bicycle taxis, these are a fast and green way to see Vietnam. After the French colonial period failed to introduce rickshaws, cyclos caught on instead. Popular for tourist tours, you hop onto the front seat before being pedalled through the city.
Amphibious vehicle, London, UK
Ride the Duck Boat to experience both land and sea | © Martin Hoscik / Shutterstock
Called the Duck Boat, this multi-terrain vehicle offers tours of London from both the road and the river. Experience the thrill of driving into the water only to float away serenely, much like a duck.
Traghetto, Venice, Italy
For a truly Venetian experience, stand up on the traghetto the entire journey | © Pfeiffer / Shutterstock
Everyone knows about the gondolas, but to travel like a local in Venice you'll need to catch a traghetto. These no-frills boats carry passengers from one side of the Grand Canal to the other – and as there are only three bridges across, you'll be saving a lot of time.
Monte toboggan, Madeira, Portugal
These wooden toboggans can go up to 48km per hour | © Karol Kozlowski / Shutterstock
These wooden sleds were created in the 19th century as a fast way to descend the hill from Monte to Funchal. Two drivers dressed in white steer you at speeds of up to 48km per hour down steep, winding streets. It won't be a smooth ride, but it will be memorable.
Dog sleds, Alaska, US
Dashing through the snow… | © freevideophotoagency / Shutterstock