Recommended accommodation
Ubud Green Resort Villas ¥ 347 immediate bookings >
Launch more hotels
Published on 2014-03-29 02:40
The first time I write travel notes, I want to share my experience with you, as well as the summary and analysis after collecting many travel notes. There are many shortcomings, including ╮ (╯▽) ╭.
First of all, let's introduce the background. This trip started on February 15, 2014, returned on February 21, and started in Guangzhou for 7 days and 6 nights. It's a direct flight from Hong Kong to Bali. It's a 5-day and 4-night trip to Bali and a 2-night stay in Hong Kong. The following will be divided into three parts: preliminary preparation, specific travel itinerary and small tips in tourism. The comparative analysis of accommodation in different places and different modes of transportation will be carried out in tips, so that you don't have to worry about it.
In November last year, my mother began to say that it was cold in Guangzhou during the Spring Festival, and she wanted to take a vacation to avoid the cold (it turned out to be a wise decision). Later, it was the final exam, all kinds of review, homework and so on. It was delayed until the middle of January, when it was finally a holiday, and planning was started. Comprehensive comparison of multiple islands, generally speaking, Bali is still a good choice, the overall cost-effective is relatively high (in fact, it is because Ctrip can not bear to go where there are advertisements)..
Preliminary preparation:
After the final destination of Bali, you can book air tickets. When you can arrive in Bali determines the subsequent itinerary, and booking air tickets in advance will be much cheaper.
Then the air ticket was decided, which was basically imperative. We began to collect all kinds of information (the motivation of planning could not come out without paying for one day). Bali as a popular island, there are thousands of strategies, but basically summed up the content is similar. It is suggested that you mainly check the strategy which is relatively close to the year of travel, and it is better that the interval is not more than one year, otherwise there will be a lot of tourism information that cannot be updated. Based on the summary of several travel notes, the following conclusions are drawn
1. First class hotels, second rate beaches and third rate scenic spots in Bali; Although it's too absolute, it's reasonable. You can press
Plan your itinerary according to this standard.
2. Bali attractions: Sea Temple, lover cliff, blue dot, ubu palace, ubu cultural market (I have all the above attractions)
Yes, I have. I will describe it in my travel notes; There are Shengquan temple, elephant cave, baidu lake, volcano, terrace, monkey forest, etc
Most of the distant scenic spots are concentrated in the north of wubu, which can be completed in one day by car; Among them, terraced fields and monkey groves
There's no need to go. I'm more beautiful than that.
3. Activities that can be carried out in Bali: Spa (almost distributed in every city of Bali), rafting (located in ubupang)
There are many kinds of water activities in lanmeng Island (friends who have been to Sanya should know more about the project base)
It's the same in the book. If you want to go, you'd better find an agent to buy tickets first, otherwise the tickets will be much more expensive on site.)
Pick out the scenic spots you want to go to, and then arrange them in the itinerary to determine the place to live according to the itinerary. It is suggested that if you don't know how to train scenic spots, you can rent a car to run scenic spots directly or leave the scenic spots you want to go to to the travel agent, they will help Ann arrange a more reasonable itinerary. Travel agents recommend two: Vivian free travel, the price is reasonable, Ayana's pricing is basically the lowest in the whole network, but customer service online time is relatively limited, basic is working hours.. 9am-5pm working days; There is also Taobao's Phoebe travel agent, do spa those are cheaper, charter drivers are very reliable. If you have already arranged your itinerary properly, it is more cost-effective and reliable to book various free travel packages on Ctrip according to your needs.
After the itinerary is basically finalized, the next step is to prepare the landing sign... That is, passport and e-ticket are OK, as long as the passport is valid for more than half a year; In terms of air tickets, it's better to make a good e-ticket in advance, and you need to see the entry and exit. If it is in Ctrip online booking, e-tickets need to call to confirm and let them send, may take about 10 days.
There is also money to pull, or said online, after 2006 to 100 U.S. dollars, the rest after 2001 to; 1 dollar to change a little more, convenient to tip; If you stay in Hong Kong and fly to Bali by plane, it is highly recommended that you leave the money exchange work in Hong Kong. Basically, domestic banks will give you $100 directly for money exchange. There is no loose money. If you want more than 1 yuan, you have to make an appointment.. embarrassed. But there is basically no such problem in Hong Kong. You can change the amount you want at any time. Maybe you will lose a little on the exchange rate, but small change is acceptable. If you think that the banks are crowded and don't want to change money, you can go to Bali with RMB to change rupees directly... Basically, most of the exchange points accept RMB, but the exchange rate is slightly lower than that of the US dollar.
Specific itinerary:
After a week of preparation, we are waiting for the day of departure. I got up early on February 15 and took the Guangzhou Kowloon through train to Hong Kong. When passing the customs, there is no such thing as being checked for a long time by the staff as said on the Internet, but simply asking such questions as where to go and how many days to go. After lunch in Hong Kong, I went to Lantau for sightseeing (I've been to Hong Kong many times, but I haven't seen any scenic spot orz). Then I went to Donghui city and went back to the hotel to have a rest. In the evening, I stayed at the Marriott Hong Kong Skyline Hotel, which is quite cost-effective. There are free shuttle buses to the airport and Tung Chung station.
16 February; Transportation: Cathay Pacific, 10:10-15:00 Hong Kong direct flight to Bali, 5 hours; Hostel: ubulun Hotel, Bali
I got up early in the morning and went to the airport for preparation. Because it was an international flight, I went to the airport about 2 hours in advance. It seems that the international departure hall is on the 6th floor of the airport, and most buses stop directly at the entrance of the hall, which means that it will be troublesome to take the subway. Cathay Pacific is generally a big plane, and almost full, so it's best to check in in advance, or you may not get the seats together. It is strongly recommended that those who have bought economy class tickets choose their seats in the first row after business class, not only because the seat length is longer, but also because they can get off the plane early and enter the customs early (the importance of loser psychology will be introduced later.)
Finally, five hours after the flight, we arrive at the long-awaited Bali Island. When we enter the arrival hall, the first thing is to go to the visa on arrival counter and pay US $25. You can also give other currencies, but the exchange rate will be relatively low... After I bought it, I began to queue up for a long time... So you know the importance of getting off the plane early... Cathay Pacific is a big plane, and the number of points arrived just in the afternoon, and it also began to hand over the shift ╮ (╯▽) ╭, just waiting to enter the Customs for more than 2 hours (⊙ o ⊙)!
Fortunately, I didn't encounter any difficulties when I passed the customs. As soon as I came out, I saw the driver who was almost collapsing.. I'm so sorry.. Get on the car after the local phone card, 40 yuan, the card itself has 52 rupees.. The first time for a 300m traffic package, mother no longer need to worry about looking for WiFi. After more than an hour's drive, I arrived at the first stop to stay at ubulun hotel. It was almost 7 o'clock. Because I live with my parents, I live in a two room villa. The environment is quiet, the rooms are gorgeous, and there are many facilities, but the hot water is not enough... Every time the hotel goes to wubu palace, Houlin and coco market, each guest has a small mobile phone, which is convenient for the front desk to call for a car when they are outside.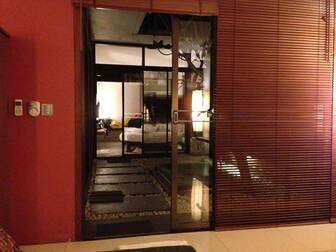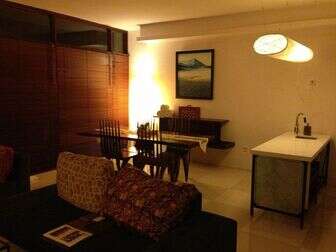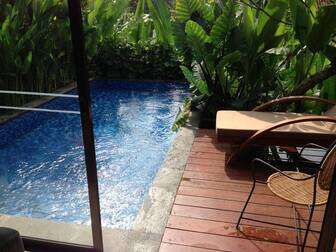 Put down your luggage and take a ride to wubu palace to find food... Really hungry... Not two steps to the legendary Lotus Restaurant. Besides, there's a money exchange place just opposite the restaurant. It's highly recommended that friends who don't go to small places change more money in ubu. After arriving at Kuta, the exchange rate will be lower and lower. It's just time to go into the restaurant and sit down. You can see the performance of ubu traditional dance in the back of the restaurant at more than 7 o'clock, but the table in the front row is full ╮ (╯) ╭ if you are interested in coming to see the dance, please call in advance to make a reservation. So we started our first Indonesian meal. We ordered a barbecue set meal for three,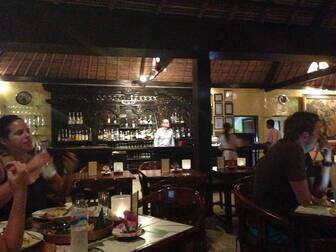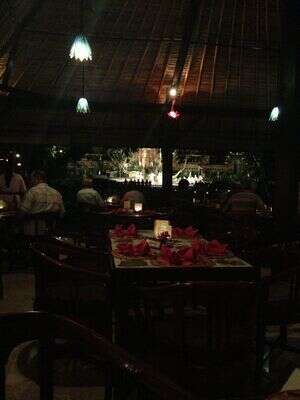 After dinner, most of the shops in the small streets are closed. After a stroll, you can take a taxi to the hotel at the gate of the imperial palace. PS: ubu is not so much a city... In fact, it's equivalent to a literature and art village like Hongcun. Basically, there are no taxis, but ZhouJie street is full of private cars to solicit customers. It's quite normal after two calls at the gate of the imperial palace. It's about 50000 rupees to return to the hotel three kilometers away. PPS: for those who want to stay in wubu Lvlin Hotel, the address on Ctrip is a bit wrong. It's about 300 meters away from that. Don't imagine walking from the hotel to the palace... It's going to be a long time and it's quite deserted along the way_<
17 February; Transportation: wubu Kuta, more than 1 hour; Hostel: the Sheraton Kuta got up early in the morning and took a look at the hotel first. It was too late the day before and didn't take a good look at it.. In fact, the hotel covers a very small area, with only about 20 villas. Basically, the guests are all Chinese, and they mainly travel as a family. There is a terrace in the back of the hotel. You can have a look at it. By the way, you can save the scenic spot of Bali terrace. (laughter)
After wandering around, I'll have breakfast and get ready to go to the city. Then I'll take a look at the scenic spots... Breakfast is not a buffet, but it's very rich.. That's enough for lunch. (laughter)
Take a ride to the ubu palace again, and finally recognize which is the palace.. embarrassed... Sure enough, even with a map, Lu Chi has a map.. The ubu palace stayed for about 15 minutes.. I've already watched every corner with my heart. (laughter) the next step is to walk along the busy Houlin road in ubri. Walking on the streets of ubu, you can really feel the flavor of a cultural town. There are many art shops like Yangshuo, with handicrafts and Balinese oil paintings. The online strategy says that the bargain price should be doubled. It's not exaggerating. They really ask the price according to their mood. (laughter) I'm more interested in oil painting, but what ubri sells is basically on the shelf. Small paintings are produced in large quantities, and large paintings are too over. But if you want to buy it, you have to buy it in wubu. I just don't want to get it. Kuta found that the price was twice as high, and told the shopkeeper that they only sold you half of wubu; The shopkeeper replied directly that it was ubu and that it was kutahaova.. Naked contempt (wry smile)
Lunch, on the opposite side of the palace, cost-effective is very high, eat support also 300000.. I was shocked when I hit it (laughter)
After lunch, go back to the hotel and wait for Sheraton's hotel bus to pick up kutaro ~ PS: there are few agents or travel networks for this kind of inter city shuttle bus. It's better to see if the hotel can help rent a shuttle bus in advance, or you can take a private shuttle bus in the city without any trouble. It's much cheaper.
After an hour's drive, I came to Kuta, the city with the most tourists. Along the road, I really felt all kinds of foreigners with surfboards. Kuta's architectural style is also different from ubu's traditional Indonesian small house, which is more modern, but it is also a mud concrete house with only 3 or 4 floors. If you want to reserve the room of Sheraton Kuta, the suggestion is to use SPG on the official website. The price is similar to that of Ctrip, and there are points and enjoyment. In any restaurant of Sheraton Kuta, you can get a 30% discount (this is worth it). The fitment facilities of Sheraton Kuta are quite distinctive, which is quite different from the wubu Greenwood hotel it stayed in before.
Put down your luggage and start to stroll around downtown Kuta as usual to feel the local conditions and customs here. Basically based on this hand drawn map, take route P1 and cross to the explosion monument. But the road condition of poppies 2 is not very good. If you want to go, you have to be prepared. Motorcycles shuttle constantly along the way, and people and cars are basically mixed... So be safe... At the same time, I want to remind you that there will be some amazing exchange shops with high exchange rates on this street, but they all have to go to the inside of the shops to exchange. So I suggest you not to take risks. After passing a restaurant on the road, the shape of the restaurant should be the cleanest and most exquisite in Bali. I feel that it doesn't match the surrounding buildings, which makes me shine.
After a lot of hard work, I came to the explosion monument. Indeed... It's a monument... It's only 5 minutes to finish this scenic spot, and the time is spent crossing the road and taking photos on this safety island (wry smile)
I went around the inside of Reagan district and went back to the beach. I have to say that Kuta's beach is really the same as Dadonghai's. The white pollution is too serious. No wonder it will be rated as a second rate beach. However, it is worth mentioning that Kuta Beach is different from jinbalan beach. The sand in the sea is black, fine and slippery. It's very comfortable to step on it.
In the evening, I went back to Sheraton's restaurant for dinner. I forgot the specific name. Next to the spa, the main dish is Italian food. The taste is very authentic, because there is no picture. If you want to see the English menu, it's too disturbing. Let's order according to the dishes recommended by the waiter. Generally speaking, it's very good, especially the appetizer of dayaozhu. Fried chicken is delicious!!
The appetizer is really good
This is Sheraton's infinity pool
Beach walk mall
After dinner in the evening, I went to beach walk, a shopping mall opened by Sheraton next to Sheraton. There are a lot of things in it. If you think the discovery is far away, you can take a stroll here. Moreover, the design of this shopping mall is quite unique. It connects all the shops like islands with small streams. It's a very distinctive building. After shopping, you can have a drink in the bar along the street.. You can't miss the nightlife here when you come to Kuta..
18 February; Transportation: Kuta - sea temple - lover's Cliff - blue dot - jinbalan beach sunset; Hostel: ayana
When I got up in the morning, I still went a long way to discovery. Along the street, there are many hotels with unique features, each of which has its own unique architectural style. The famous hard rock also feels good. There are all kinds of rock and roll shops and bars.
Hard rock front door
A hotel is sandwiched between hard rock and Sheraton, and its shape should be to imitate the waves.
Take a ride back, get on the bus and go to the scenic spot. The driver is a very simple Indonesian named Yoga ~. As soon as he got on the bus, he thought that the agent had already talked with the driver about the itinerary, but it didn't seem to be handed over. But yoga was very nice. He told him a few places we wanted to go, and asked him to help arrange the itinerary and the place for lunch and dinner. Originally, I didn't think about going to see the sunset on the beach today. I was afraid that I didn't have enough time. Yoga took the initiative to add this trip (it turned out that it really took more than 10 hours to use the car in the end.)
It's really a good driver. You can also contact the Phoebe agent on Taobao to find yoga. The price is cheap and the service is considerate.
Back to the main topic, I set out from Sheraton Kuta and came to the sea temple after more than an hour. Along the way, some villages and towns in Bali are very distinctive, and I feel that the stone Buddha statues and other stone carvings there are very prosperous businesses, and there are lots of them waiting to be sold in many yards. At the same time, gradually away from the center of Kuta, you can see many money changers. Compared with ubu and Kuta, the exchange rate is much higher, which is closer to the bank's exchange rate. The temple of the sea is a classic scenic spot. It's worth visiting. The temple in the middle of the sea is still very interesting( Pay attention to the big waves while taking pictures.. But what surprised me was that this scenic spot was very big. Before I went there, I always thought it was just a photo taking spot by the sea... I misunderstood it. PS: if you want to buy postcards, it's definitely the cheapest in Bali to come to Haishen temple. As soon as you enter the scenic spot menfang, there will be an aunt selling postcards. All the postcards are sold in piles. A pile of 30 or 40 postcards includes all the scenic spots you want in Bali. It only costs 10 yuan. Yes, the Chinese of aunt bargaining is pretty good, And you can directly give her RMB to buy.. From the parking lot to haishentemple, you have to pass a place similar to the shopping street. There is a BCA ATM that supports UnionPay to withdraw money. After deducting the handling charge, it's about 1700 US dollars. It's safe and the exchange rate is not low.
It's almost 12 o'clock when I leave Haishen temple, so I go straight to lunch. At noon, I eat roast pork chops, which is recommended by yoga. Many drivers bring tourists there to eat. Generally speaking, roast pork chops are of high quality and low price. The meat feels like it's ready to be dissolved in the mouth. Coupled with the Indonesian style chili sauce, it's really delicious. Finally, they all want to pack the chili sauce and take it away. Moreover, such a person is less than 30 yuan, and the amount is too much to eat. It's a pity that the shop lost its business card (crying) and can't share it with you!! The next stop is lover's cliff. It's on the southernmost side of Bali, so it's a long drive. It's about one and a half hours.
Valentine's cliff is also a very big scenic spot. It's worth visiting, mainly to see the sea view on the cliff. But if there are people living in blue dot or Ayana, the cliff over there is still better than lover's cliff. When you arrive, it's a red sun, and the main classic route is basically without shade, so you should pay attention to sunstroke prevention and sunscreen. At the same time, there will be monkeys to harass people. Some glasses, necklaces and hats may be just to pay attention to.
Lover cliff, and the temple.. In fact, there is a sense of pity
Next stop, blue point afternoon tea. In fact, the blue dot is next to lover cliff, which is about 15 minutes' drive away. Leaning on the sofa of the teahouse on the cliff, you can see the sea directly. It's still a holiday to have a rest and take photos with the sea breeze. After tea, you can take a stroll in the blue spot. The most famous one is the glass church. But I heard that the schedule is always full. People often want to get married, so you can't take close photos. After visiting blue dot for an hour, I feel that blue dot is an old and well-known hotel in Bali, and the price of food and accommodation is much cheaper than that of the same type of Ayana. But of course, the facilities and master plan are not as good as the latter. Compared with the latter, it should be worth the price difference.
Glass church
Afternoon tea out of the sea view, there are layers of platform.
At the end of the afternoon tea, I can watch the sunset at leisure. Jinbalan beach is located on the side closer to the airport, so it's natural to drive for about an hour. If you make your own schedule, you may have to pinch the time. The sunset will start around 5:30. There are many similar seafood barbecue shops along the beach. In fact, most people come here to watch the sunset, so it is suggested to choose a restaurant with a good angle. We went to Ganesha pudak cafe. Although we didn't expect the taste of seafood at first, it was surprisingly delicious. If the price is compared with the consumption in Bali, it should be small and expensive. However, a family of three plus yoga, a total of 500 yuan, per capita more than 100, in the domestic seafood is cheap, and shrimp and crab or something is still very fresh. During the meal, the sun began to set. The whole day was gradually dyed red, and then light purple and blue. Throughout the whole trip, I think this is the most valuable trip today. You can't miss Bali. Although the beach environment is a little bad, the atmosphere is very pleasant.
After all, Ayana's comments on the Internet are basically interactive, and the famous rock bar is also recommended by many netizens. Facts have proved that everyone is right, and it really lives up to the room price of 2000 yuan a night. After 30 minutes, we arrived at the gate of Ayana, which was checked by the guard. After passing the gate, we felt like entering the forest. It took another 7 or 8 minutes to get to the hotel lobby. There will be Chinese service staff at the front desk of the hotel, and there will be a Chinese special line service in the guest room. It seems that Chinese people still have a high occupancy rate for this hotel. When you get to the room, you drop your luggage and go straight to the rock bar. As it's getting late, you don't see anything. If you want to photograph the feeling of cliff and rock in the rock bar, please come before 8 o'clock. The consumption of rock bar is relatively high in Bali. Basically, the price of cocktail is 80-100rmb, but it is very characteristic. It's still made by cable car( It should be noted that rockbar is divided into two areas. If you are not the residents of Ayana, you can only sit far away from the main bar. In fact, there is no scenery.) it's very relaxing to drink and blow the wind there, and then you go to bed early. It's very tiring after the whole day's journey.
19 February; Transportation: Taman air Spa - Carrefour - Hotel stroll, accommodation: ayana
When I got up in the morning, I took a serious look at the environment of Ayana. Every corner is remarkable and the environment is well built. So I strongly recommend that I stay in Ayana for more than 2 days and enjoy the hotel facilities for one day. Only in this way can I get back the ticket price. Buffet breakfast is also very rich, Chinese food and Western food, as well as my favorite Bali rambutan. It's really this trip that makes me fall in love with it. It's delicious!! On the way to spa, it began to rain cats and dogs. I'm so glad I arranged the sunset schedule the day before. Thank you for your kindness. There is a Chinese service staff at the front desk of Taman air spa. Although they don't speak very well, they still understand it. They can pick up and take it back and forth. If you want to go to Carrefour, you can put your luggage here first, and then send it back to the hotel. It's the chocolate, sea salt spa and hot stone massage ordered by the Phoebe agent. The spa is very relaxed after finishing, which is much more authentic than the massage gestures of the same price in China. It won't feel like being hit, and the skin will really slip a lot.
After the spa, I just went to Carrefour to buy some special products and have lunch. Carrefour sells all kinds of essential oils in similar packaging to those sold on the street, but the price is still relatively cheap. The shopkeeper often asks for high prices on the street. If you don't know how to bargain, you'd better wait until Carrefour finally buys them. It is worth mentioning that Carrefour's trolley cases of various brands are still very cheap. They may be some out of season cases of the brand, but some styles are classic. Samsnite and pole have 300-400 small hard shell cases. Then the food worth recommending is the chocolate sold there. There is the kind of hand mail. Although the packaging looks very fake, the chocolate inside is also very casual, but it's delicious. The hazelnut wrapped in the chocolate is very crisp. There are all kinds of strange fruits in it. Please choose them carefully (wry smile). In the fruit below, except rambutan, they are all wonderful fruits... But mainstream watermelons and apples are really fresh and juicy.
Back to Ayana, I started to stroll. It turns out that one afternoon is not enough. Ayana is really good! Big! Ah! Each area is a self-contained one, and you can take a car to the sister hotel next door, or go to a private beach.
This is a small beach next to rock bar. The waves are too big to go swimming, but the scenery is very good. The water is light green and clear.
There is only one table at the end of the trestle of Ayana restaurant, which needs to be reserved. It's a great feeling for two people to have a candlelight dinner there in the evening, but it seems that they want a low-cost set meal of 400 RMB per person.
At night, I came to the rock bar again. Every time I feel that it's really nice to take the cable car down. Sure enough, the scenery is very good a little earlier. You can see the whole coast of jinbalan beach and the airport at the end. In fact, the cocktail taste of rock bar is moderate, but snacks are really my favorite part. I ordered a spring roll, French fries platter and noodles. The products are very exquisite and the taste is very good! In this way, when eating and drinking, it began to rain. The waiters seemed to be used to it. They calmly gave each table an umbrella. It was fun to eat with an umbrella.
February 20; Transportation: Ayana Airport Hong Kong, accommodation: Sheraton Hong Kong
When I got up in the morning, I thought about the plane at 3 p.m., so I got up early in the morning and started swimming in every swimming pool. Now that I'm here, I feel sorry for not swimming. After trying the endless swimming pools, I took a shuttle bus to the private beach of the hotel. After I went there, I immediately refreshed my impression of the second rate beach in Bali. I really want to correct its name here. The sand on the beach is fine, the water is light green, and even the coral on the bottom of the sea can be seen clearly. Looking at the beach from the edge of the cliff can also be regarded as a scenic spot. Any picture can be the theme of the desktop background. It's really a must to live in Ayana, and the residents in the main building of Ayana don't seem to come here very much, so there are not many people. They can't swim like dumplings.
After finishing up, we set out from the hotel at 12:30. If you arrive at the front desk a little earlier, you can ask them to call a taxi to take you to the airport. The taxis are all waiting for customers in the hotel parking lot, so they come up soon. About 40 minutes from Ayana to the airport by taxi, the taxi cost is about 80 RMB. There is no extra charge for taxi. Generally speaking, drivers who know that it is an international departure will take it directly to the entrance of the departure hall. As soon as they get off the bus, they will walk into the door. Here's a brief introduction to the airport in Bali. Its appearance is a combination of modern and folk culture. The facade of traditional palace style, with wavy roof and an indoor garden at the entrance are still worthy of careful study.
Here are some airport exit procedures. After you go in, prepare your passport and ticket. You need to check before you go in. When checking luggage, men and women are separated. It is suggested that they can give their luggage to the female travelers for security check, because it is very troublesome and slow for boys to check, and it is even more chaotic if they have to take care of their luggage. After entering the airport hall, it is similar to the domestic procedure, that is, to handle the consignment. You can ask the service personnel a little bit about the number of the airline they want to take. After checking the luggage, it is basically a road. There is no need to worry about it at all. To follow the flow of people is to pay the departure tax. Then the security check needs to take out the boarding pass and passport, which are the same as the previous invoices when entering the country, and fill in the exit card, If you lose it, you can fill it in again.) after the security check, you are basically waiting to get on the plane. In this way, the Bali tour will come to a perfect end~
TIPs:
If you want to fill in the entry card, I will leave out the details. Let's put some useful pictures below, so that we won't find them everywhere.
The hand-painted maps of ubu and Kuta are very useful, especially if they can't surf the Internet. If they can surf the Internet, it's better to Google them before going out.
On the comparison of some accommodation: for reference only, it is the summary after I read the travel notes and field investigation
Wu Bu: there are basically three types of accommodation: downtown, 10 minutes by car from downtown, and suburban
The hotels in the center of the city don't want to say that they are high-end. Generally, they are similar to family hotels, but of course, the environment is slightly better than family hotels, and hygiene should not be a problem. In addition, there is basically no movement after 9 o'clock in ubu. There is no need to worry about the noise. Of course, the price is relatively low. Generally speaking, a standard room of 400 RMB can have a 3-star one. There are also some hotels on the street marked with hot water WiFi, and the price is cheaper. Basically there is no need to book. There will be many hotels in the city.
It's a little bit more like the wubu green forest where I live. There's a shuttle bus to wubu palace and other downtown places, which takes 10 minutes. The scale of the hotel will be a little larger, all kinds of supporting facilities will keep up, and the layout is relatively loose. It is suggested that friends who want to walk in the city center but want to live better should choose.
After that, it's the country type, mainly focusing on the scenery of wubu mountain forest. Basically, it takes about 30 minutes to drive to the downtown. Basically, these hotels are mainly for leisure and vacation, and they are quite high-grade. It seems that the wubu Air Hotel is very famous and lives very close to nature, but the price of the standard room is generally 1200...
Kuta: This is mainly a comparative analysis of the hotels along the coast of Kuta. Including Kuta paradise, Kuta discovery Cartier, Kuta Sheraton, Kuta rolling stone, Kuta sun (the name is a little forgotten)
All of the above are well-known 4-star or 5-star hotels with high comprehensive evaluation and high popularity among Chinese tourists.
In terms of facilities, Sheraton is basically the best. First of all, it takes the shortest time to build. Of course, the facilities are relatively new. Second, Sheraton is still a global chain brand after all. For the other 4, there are problems that users make complaints about too old facilities.
In terms of price, Sheraton and discovery Cartier have the same price, about 1500 per night; Kuta paradise and Kuta rolling stone, 1000 up and down a night; Finally, there can be a standard room around 700 sun in Kuta
The geographical location is basically the same, that is, Kuta sun is a second-line sea view; If you want to get close to the discovery mall, Kuta first finds Cartier, which is next door. Sheraton is the farthest from the store. Moreover, the one-way road along the sea means that if you want to go to the discovery direction, you have to make a detour and walk for about half an hour. However, Sheraton is very close to shuimingyang district.
Let's just say that shuimingyang district is the same thing as Kuta new district. It's a long way from the center of Kuta, but hotel prices are relatively low. At the same time, shuimingyang district is also a gathering place for young people's favorite bars and art places.
About the mode of transportation:
There are three basic types: agent charter, private street charter and rental
It's usually about $45 per person to charter a car. If you add a Chinese tour guide, it's $20 per person. Generally, the agent doesn't have this service when connecting hotels. However, if you have been an agent before and you can contact the driver directly by phone, they are willing to take this kind of list. You can also contact the hotel in advance to rent a car 100-150rmb, including some handling charges. The advantage is that it is safe and convenient.
Private street charter, the price needless to say, of course, is much cheaper, basically up scenic spots down is the agent price of 70%.. Basically, it's all over the street, but if you want to, you'd better look for something more formal. There are tourist centers in every city. You can have these charter services, which are more formal. Inter city connection is about 40 RMB, which is half the price, but it seems that there is no fixed-point transfer.
Taxi: Bluebird taxi is the best, there are many imitation Bluebird, we should be careful. Blue bird has blue bird, and there is a bird logo on the light board, light blue. Generally, the starting price is 6000 Indonesian rupiah, which is very low. It's more convenient to take a taxi for activities in the city. But small cities like ubu basically don't rent. They are mainly private rental. They will hold up signs along the street and don't show their watches. They want you to negotiate the price with them.
About Ctrip and agent
Ctrip above the ticket hotel prices can be basically the lowest network, and is more guaranteed. Some self-service tour packages are much cheaper. And the agent in some small projects such as spa, rafting, water activities on the flexibility is greater, and consultation is more convenient.
Basically, I've finished all the consultation I'm going to share with you. Because it took a long time to complete, there may be some repetition and omission in the travel notes. I hope you don't mind. In general, I want to give some reference to friends who want to go to Bali, save some time to collect information and tangle. Bali is still a cost-effective tourist destination for leisure and vacation. I personally think it is higher than Sanya in terms of scenery and vacation, and its folk customs are relatively simple. Finally, I hope you can have a perfect holiday in Bali~~~