Are you going on an adventure out of state? Are you wondering if there are rental cars that you can take out of state? Do you have to go on a business trip but don't have a vehicle waiting for you in the state you're traveling to? Maybe your car broke down right before a big road trip with your friends or family!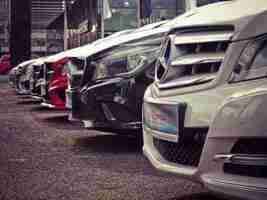 I bet you're wondering: can you take a rental car out of state?
Don't worry about not being able to get around, because we have done all the work for you! Read this article and find out which car rental companies allow you to take their rental cars out of state.
You don't have to worry about calling an Uber or taxi to get you around town.
With this list of car rental companies, you will be able to know which ones are going to let you take your rental across state lines.
Of course, you're going to want to double-check with whichever company you end up with to ensure you don't get charged any fees or break any sort of contract.
This wouldn't be good for anyone! So, just always be sure to check with your car rental company beforehand.
Let's take a look at eight rental cars that you can take out of state.
1. Budget Rental
There are Budget Rental offices all over the United States. Just about 90% of Budget Rental locations located in the US allow you to drive across state lines. Check with your local location because some locations have unique specifications or do not allow travel across state lines.
Some locations regulate how you use their vehicles. Taking a rental car out-of-state can have its limitations.
Rentals in Hawaii must stay on the island in which they were rented. You cannot travel to other islands.
Most of the Budget Alaska locations require the vehicle to remain in-state.
The Las Vegas, Nevada locations allow out-of-state travel to the following states: Arizona, California, the rest of Nevada, and Utah, all other states are prohibited.
Depending on your location, and the availability of vehicles, you are allowed to book a one-way rental to other cities in the US.
FAQ
Q: Can I take my Budget Rental car out of state?
A: In most cases, yes. Make sure to find the location page on scroll to Terms & Conditions, and click on Travel Into Other States. Or call your local location and talk to a representative.
Make sure no matter where you're traveling to get travelers insurance through World Nomad's, the premier travel insurance that covers everything that could ever go wrong on a long trip across the country or even across the world.
See Related: 17 Fun & Best Things to do in Omaha, Nebraska
2. Alamo
Make sure to check out Alamo for all your car rental needs that happen to be out-of-state! They have a special deal going on right now, so book before July is over.
Alamo is a good option for rental cars that you can take out of state.
Most of Alamo's vehicles can be rented in the US and driven throughout Canada. Some classes of their vehicles including exotics, large passenger, cargo vans, and other specialty vehicles are not allowed to travel across the border into Canada.
Travel into Mexico is prohibited. There are some exceptions, but you will be required to purchase additional insurance and coverages if you are planning on traveling to Mexico in an Alamo car rental.
Regarding Alamo car rental out of state, there is a one-way car rental policy. There are specifications and limitations that regarding how you use your rental car to cross state lines. Remember to check with your location to see which limitations you have to adhere to. Some of them include:
Some one-time car rentals are charged as a one-time drop charge or mileage charge on top of your rental rate.
The fees vary by rental location, return location, and what time of year it is.
One-time drop charges are payable at the pick-up of your vehicle.
One-way trips must be booked in advance.
FAQ
Q: Can I return my rental to the same location for a lower rate?
A: Rentals booked on a one-way trip, returned to the same location as pick up are subject to fees, drop charges, and higher rental rates.
See Related: Everything You Need to Know Before Renting an RV
3. Hertz
Check out for all your rental car comparisons. Search some of the best out of state car rental deals throughout the entire country.
Hertz has a one-way rental policy similar to Alamo. A simple one-way rental policy is perfect for many reasons. If you are going on a road trip and are planning to stay awhile at your destination, or your vacation gets interrupted by something urgent and need a car quick and fast, Hertz will be there for you.
There are three different package levels to choose from, so you know you'll be riding in style if you want to.
With 4,000 different locations, Hertz is going to be there for you no matter where you're going. You can trust this company with rental cars that you can take out of state. This is the option for you if you're looking for a Hertz car rental out of state.
FAQ
Q: Can I book online or do I have to come into the nearest location to reserve a one-way car rental?
A: As long as you are sure to read the Terms and Conditions, you are more than welcome to reserve a one-way reservation online.
See Related: Do You Need A Rental Car in New Orleans?
4. FOX Rent A Car
FOX Rent A Car has two different options for reserving a FOX rental car driving out of state.
The first option is going to be another one-way car rental. On the rental agreement, there will be a one-way rental charge added on. These rentals are only available in the following states of Washington, Arizona, Utah, Nevada, and California only. They will always be subject to availability and location. Charges can range anywhere from $20-$500.
If you sign the rental agreement and drop off your vehicle at a different location than what was agreed upon, you will be charged a one-way drop fee, on top of all other charges.
The second option is to travel through states. Vehicle rentals that originate in the states of Arizona, California, Colorado, Nevada, Utah, and Washington are only allowed to drive in the states listed: Arizona, California, Colorado, Idaho, Kansas, Nebraska, Nevada, New Mexico, Oklahoma, Oregon, South Dakota, Texas, Utah, Washington, and Wyoming.
Rental vehicles from Florida can only be driven within the state of Florida.
Rentals originating in the state of Texas can only be driven in the following states: Arkansas, Louisiana, New Mexico, Oklahoma, and Texas.
Rentals originating in Illinois are allowed to drive in the states: Illinois, Wisconsin, Iowa, Indiana, Missouri, and Kentucky.
FAQ
Q: Can I drive to Mexico or Canada in my FOX Rent A Car?
A: FOX rentals may be driven in Mexico and Canada. If you are going to Mexico, MEXICO Insurance must be purchased beforehand. You are allowed to cross into Canada, only if the rental was picked up from the FOX location in Seattle, Washington.
See Related: 7 Amazing Southwestern Destinations
5. Enterprise
Can you take an Enterprise rental car out of state? Let's find out!
In case you need to fly before you pick up your rental, make sure to check out Skyscanner for all the best deals on flights.
Enterprise is a good option for rental cars that you can take out of state.
Yes, you sure can. In fact, Enterprise is one of the few companies that offer car rental unlimited miles out of state.
Unlimited mileage is available for most car classes in both the US and Canada. The best rental car for out-of-state travel is going to be something that fits your needs and your family or friend's needs.
If there are a lot of people, it is best to get something roomy so there is enough space for everyone.
If it is just two people, a small sedan or compact car is going to be the best option. This is going to be the most affordable and least gas-guzzling.
Unless of course, it's your vacation and you don't mind blowing a bit of cash on a fancy, luxury ride for the weekend.
There are no mileage restrictions or restrictions on driving state-to-state. There are also very few restrictions on driving across the border to Canada. Enterprise is one of the most trusted car rental companies out there, so no matter where you're headed they will always have your back.
FAQ
Q: Is there unlimited mileage on one-way rentals as well?
A: Unlimited rentals are available on most one-way car rentals for most classes in both US and Canada. Make sure to check your vehicle class to ensure you qualify for unlimited mileage.
See Related: Do You Need a Rental Car in Los Angeles?
6. National Car Rental
National Car Rental offers a solid one-way car rental contract that allows you to rent the vehicle at one location and drop it off at another.
To our knowledge, there are no state-to-state restrictions. There are factors that the contract depends on things such as location, date, and vehicle type. A one-time drop charge or mileage charge could be added to the rental. These fees will be disclosed to you at the time of booking on the website and will be payable at the time of pick up.
The rental rate is subject to change if the rental is not returned to the agreed upon location, or if the rental is brought back to the location it was picked up at. These fees include drop charges, mileage charge, or a higher rental rate.
FAQ
Q: Can I take my rental out of country?
A: Some rentals can be taken across the border to Canada. If you wish to go to Mexico, special limitations apply, along with the purchasing of additional coverage to the vehicle while in Mexico.
Before booking your car rental, book the best flight deals with Scotts.
See Related: Do You Need a Car in Las Vegas?
7. Avis
Avis is one of the best car rental companies out there for both driving across state lines and unlimited miles.
Most of their rental cars come with unlimited mileage attached, besides a few high-end luxury groups, your car rental is most likely going to have unlimited mileage. You can verify your unlimited miles amidst the reservation process.
The price of the rental car and mileage depends on availability, location, time of year, and of course, car type.
You can enjoy traveling for a single day with unlimited miles. Make it a one-way trip, or return it to the same location you picked up at.
Are you driving across the country for a big move or business trip?
Or maybe going on a wild road trip adventure with your friends! Worry less when you rent with Avis and pick up a car for a week with unlimited mileage.
Is it just going to be a weekend getaway, but don't have a car?
Not to worry, go wherever your heart desires with a weekend rental included with, you guessed it, unlimited miles.
FAQ
Q: Will my luxury car rental come with unlimited miles?
A: Depending on which vehicle you choose with Avis, the high-end luxury groups will not come with unlimited mileage options.
Make sure to book through for the best deals on hotels. Like the Indigo Hotel in Los Angeles, California.
See Related: 28 Best Hotels in the Midwest
8. SIXT
SIXT rental car company is sort of a mix of all of the above-mentioned companies. They have a mixed contract of out-of-state usage. SIXT is a great option for rental cars that you can take out of state.
In general the rental vehicle is usually only allowed to be used in the state of original pick-up. This means it could be dropped off in the same state either at the same location of pick-up, or a different location in the same state.
There is a second option for crossing state lines with SIXT.
Depending on what state you are in, and what car you are trying to rent, usually, the rental car is allowed to be used in the surrounding geographical area and the same state of pick-up.
Follow this link to see which geographical category you fall into and see where your rental is permitted to travel.
Rental agreements that are signed states the contractual agreement between the renter and SIXT company, stating that a vehicle in violation of the territorial restrictions will be charged a $.50 cent fee for each mile.
If there is a reservation under your name for a one-way rental, and the state is any other state than pick-up, the restrictions above do not apply. The only restrictions are that the vehicle must stay within the continental US.
FAQ
Q: Can I change it to a one-way rental even though I did not book the reservation as so?
A: No, one-way reservations have to be made before pick-up. Otherwise, additional fees and higher charges may apply.
Related Resources:
Prepare Your Car For Summer Travel
Car care checklist for summer road trips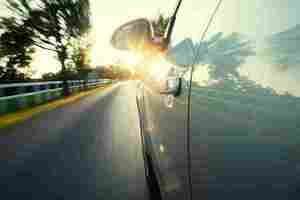 It's time for a drive vacation. You mapped a route, booked hotels, and made a checklist of things to do before you go. AAA reminds you to also make car maintenance part of your summer road trip preparation. Use this car care checklist to ensure your vehicle is ready for summer travel.
1. Check tires and tire pressure
Figure 1. Monthly tire pressure checks are a key part of vehicle maintenance. (AAA image)
Inspect all four tires and, if you have one, the spare tire as well. Look for cuts, gouges or sidewall bulges. Insert a quarter upside down into grooves to check tire tread. If you see the top of George Washington's head, it is time for new tires.Check tire pressure when the car has been idle and tires are cool. Inflate as needed to the vehicle manufacturer's recommended pressure. You will find it listed in the owner's manual and on the sticker of the driver side door jamb. Do not use the number on the tire sidewall.
2. Listen to and feel the brakes
If you hear a grinding sound or feel a vibration when applying the brakes, take your vehicle to an auto repair shop for a brake inspection. A service professional will check the brake system for fluid leaks, and the pads, rotors, shoes and drums. If repair or replacement is needed, use the Repair Cost Estimator to help anticipate costs.
3. Secure and test the battery
Figure 2. AAA Mobile Battery Service performing a battery test at the roadside. (AAA image)
Check the car battery to be sure cable connections are clean and tight, and the hold down hardware is secure. Have a service professional do a battery check to determine remaining capacity. AAA members may request a free battery check.
4. Top off engine oil and other fluids
Figure 3. Fluid levels must be correct for safe vehicle operation. (AAA image)
Check that engine oil, coolant and brake, transmission and power steering fluids are at the correct levels for safe vehicle operation. When adding fluids, use products that meet the specifications listed in the owner's manual.Note that newer car models may have sealed automatic transmissions without a dipstick, and electric power steering that may not use fluid.
5. Replace wiper blades and replenish windshield cleaner
Figure 4. Good wiper blades are critical to clear vision. (AAA image)
Rubber wiper blades naturally deteriorate over time. If wipers streak or fail to clear the windshield thoroughly, replace the blades. Fill the windshield washer reservoir with fluid formulated to remove insects and other debris, and test to make sure the nozzles spray adequately.
6. Check belts and hoses
Figure 5. A comparison of multi-rib drive belts after 100,000 miles. Both need replacement, but the newer belt made of EPDM rubber does not show wear like the older part. (courtesy Gates
Reinforced rubber drive belts power the engine water pump and accessories such as the alternator and air conditioning compressor so you should inspect and replace any that are cracked, glazed or frayed.Note that modern multi-rib or drive belt materials do not show easily visible signs of wear. As a general rule, replace drive belts every 60,000 miles.Inspect and replace worn, brittle, bulging or excessively soft radiator hoses. Check for leaks around hose clamps and at the radiator and water pump.
7. Keep the AC running cool
Take a test drive with the air conditioner running. If you notice a decrease in cooling capacity, take the car to an auto repair shop for diagnosis. Also have the cabin filter inspected and replaced as needed.
8. Replenish emergency kit supplies
AAA recommends keeping a well-stocked emergency kit in your vehicle. Include a flashlight and extra fresh batteries, first-aid supplies, drinking water, non-perishable snacks for people and pets, car battery booster cables, emergency flares or reflectors, a rain poncho, a basic tool kit, duct tape, gloves and shop rags or paper towels.
9. Plan ahead for vehicle service
In the event you should need vehicle maintenance, know ahead of time where to find an auto repair shop and technician you can trust. Use to access AAA's network of nearly 7,000 Approved Auto Repair facilities. Each shop meets AAA's service and customer satisfaction standards. AAA members receive auto repair discounts, an extended 24-month/24,000-mile parts and labor warranty, and assistance in resolving repair-related issues.
Should I rent a car?
Most visitors arriving to the Dominican Republic–including those from the United States, Canada, United Kingdom, the European Union, Russia, Ukraine, Kazakhstan, Mexico, many South American countries, Central America, Japan, Israel, etc. do not need a visa to enter the country. All foreign citizens who enter the Dominican Republic, exclusively for tourism purposes, must have a valid passport during their stay and departure from the country. This exceptional measure is valid until July 31, 2022.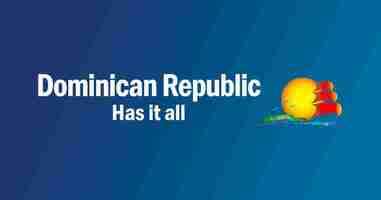 E-TICKET
The new electronic form replaces the Traveler's Health Affidavit, Customs Declaration and International Embarkation/Disembarkation forms. Passengers will need to fill out a form for arrival and another one for departure and the system will generate two QR codes. The e-ticket can be filled out before the trip or before going through Immigration at the Dominican airport. We recommend filling out the forms at least 72 hours before the trip, printing or making a screenshot of the QR code and keeping it on hand during arrival for the Customs authorities to scan it. The QR code will not be scanned during departure, but it is a confirmation that the form was completed correctly. If you need to make a change to the form, you must fill it out again. To access the form: For more information:
ENTRY REQUIREMENTS
As of April 23, 2022, all passengers and crew members do not need to present a COVID-19 Vaccination Card, PCR, or antigen test to enter the Dominican Republic or to enter tourist centers, any establishments or to receive services such as excursions. Random COVID-19 testing for passengers and crew upon arrival in the Dominican Republic will no longer be performed. However, when required, random testing operations may be performed. Passengers who present their Vaccination Card will be exempted from random testing.
Visas
The Dominican Republic issues tourist, business, work, student, and residency visas. Tourist visas can be issued for one or several entries. Any person, regardless of their nationality, can visit Dominican Republic if they are a legal resident of or, if they have one of the following valid visas in their passport: United States, Canada, United Kingdom or Schengen. Travelers who do not have a passport or visa from countries listed above or from other authorized countries will need to apply for a visa. To issue a visa the passport needs to have a validity of at least six (6) months.
The Dominican Ministry of Foreign Affairs is the institution that issues visas. They have a chat line available in English and Spanish, where you may contact them for specific visa questions or for other inquiries: https://mirex.gob.do/en/
Click HERE to check if your country requires a tourist visa.
See Dominican consulates abroad here. Please make sure to always check for updated requirements before traveling.
Who are exempt from needing a visa?
Residents in the Dominican Republic and Dominican nationals.
Diplomatic and consular personnel with missions assigned in the country, as long as they remain on duty.
Passengers using non-commercial private aviation as long as the aircraft meets the following requirements: the trip must be for sport, leisure, tourism and business purposes, and the aircraft must not weigh more than thirty thousand (30,000) pounds and have a maximum capacity of 12 passengers.
For more information, please visit GETTING HERE.