This post may contain affiliate links, which means that we may earn a small commission, at no cost to you, for qualifying purchases. More info: Disclosure.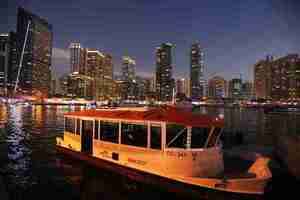 Before our trip to Dubai, I was looking for some practical information regarding public transportation in Dubai. There are so many ways to get around Dubai that I ended up browsing through so many different websites in order to research information on Dubai transport that's truly interesting and useful for tourists…
So I thought I would make a short summary based on our experience with public transport in Dubai. This should save you lots of time trying to figure out public transportation in Dubai.
Good to know: This is in no way a complete guide to Dubai public transport, but it should be more than enough for any tourist visiting the city. Find out!
READ ALSO: Best Tours in Dubai
Dubai Taxi
The easiest way to travel around Dubai is by taxi. Taxi in Dubai is very cheap and it's also about the same price as Dubai Uber.
Taxi in Dubai costs less than a euro per kilometer. We used taxis a lot and with five of us in a car, it was often the cheapest way to travel around. The only disadvantage of taking a taxi in Dubai is the busy traffic.
Here are some examples of the cost of taxi rides in Dubai:
Taxi from Dubai Airport to The Walk costs around 100 AED (25 EUR)
The Walk to Atlantis (The Palm): 40 AED (10 EUR)
The Walk to The Mall of The Emirates: 30 AED (7,5 EUR)
Good to know: Many hotels offer their own 'taxi' service. Hotel taxis are usually 25-40% more expensive than a regular taxi. Private airport transfers that you can book online are also much cheaper than what the hotels charge you.
Dubai Metro
The fastest way to travel big distances in Dubai is the metro. It's easy, it's efficient, and the trains run every couple of minutes. Disadvantages are the location of the metro stations (depending on where you are staying), and the long waiting times at the ticket booths.
Dubai is the cheapest transportation in Dubai for tourists!
The first time you use the metro, you buy a red NOL card, and they charge you 2AED for it. You can load a certain amount of money on the card and avoid having to queue every time you travel, or you can pay per ride.
In case you choose to pay per ride, make sure to use the same NOL card so that you don't have to pay for a new one every time.
What does it cost? Red NOL card users pay the following tariffs (the same for everyone, including children 5 years and older): 2 to 6,5 AED (0,5 to 1,6 EUR) depending on the zones traveled.
We paid 6 AED/pp from Jumeirah Lake Towers (JLT) Station to Dubai Mall (Burj Khalifa) and the same price from JLT to The Mall of The Emirates which is only half as far, because the price is the same for 3, 4, or 5 zones.
Dubai Tram
Dubai tram requires the same NOL card as the meter. In fact, you can use your metro ticket with no extra cost to continue your journey by tram.
Dubai tram is a pretty short line though. It follows the coast (a part of the route is in one direction only), from The Walk to Al Sufouh.
In the future, it should reach as far as Burj Al Arab and the Mall of the Emirates. But for now, it's only useful for traveling around a small part of the coastal area.
Dubai Monorail
Monorail connects to the tram line at Palm Jumeirah station and is the fastest way to travel on The Palm.
Dubai Monorail is privately-owned and uses a separate ticket system than the metro/tram. Furthermore, you can only pay cash for it. Single trip costs 15AED, return – 25AED.
Dubai Marina Water Bus
With only 4 stops Dubai Marina water bus is a comfortable way to get from one side of the Marina to the other, but it isn't by any means a fast way to travel around.
It runs every 15-20 minutes depending on the time of the day. We, and especially the kids, enjoyed it – it was a bit like a sightseeing tour of the Marina and saved us a 3km walk from Marina Promenade to Marina Walk. We walked back afterwards as the Marina promenade is a very lively and pleasant place to walk around in the evening.
Ticket costs 3, 5, 8, or 11 AED depending on the number of stops. Children under 5 travel free.
Dubai Marina Water Bus Map
Dubai Creek Water Taxi
Dubai Creek is a very lively waterway that is buzzing with boats in all shapes and sizes.
There are more comfortable ways to travel on Dubai creek including a water taxi or a sightseeing water bus, but the traditional Abra (take the motorized version) is much more fun and it's very cheap too.
The price is 1AED (0,25EUR) per trip. It's one you should do if in the Dubai Creek area, even if just for the experience.
Abra – traditional water taxi, Dubai Creek
There are other ways to travel in Dubai, including bus, Hop-On Hop-Off bus, etc. But we didn't use those, so I cannot comment on them.
Don't forget that using different means of transport adds to your travel experience. Furthermore, it can be really fun, especially for children. Our kids loved taking the metro, the water bus, and the Abra water taxi.
Tips for Getting Around Dubai
If you are traveling in Dubai with a family, I would opt for a taxi for all your short rides in the city. It's fast, cheap (often the cheapest option for 4-5 people), and convenient.
Taxi is also great for couples, of course. And it's so cheap compared to most other destinations that it often makes no sense to even look at the public transportation options in Dubai at all.
TIP: Take the metro for longer distances and during rush hours. Traffic can be quite bad in Dubai at peak times, so keep this in mind when planning your day.
For transportation from the Dubai airport to your hotel and back, you can also book a private airport transfer. It's cheaper than the hotel cars and you can be sure that there is a car for you exactly when you need it.
Where to Stay
Depending on how much time you have in Dubai, you may either want to stay in the Dubai Downtown area at the Dubai Mall/ Burj Khalifa or Dubai Marina area (for shopping and sightseeing) or at the beach (for a longer vacation that has it all).
With the convenient public transportation options, taxis, and private airport transfers, most of the popular parts of the city are comparable accessibility-wise.
Anyway, our personal recommendation for a longer stay is the Jumeirah Beach Residence (JBR) area. It's close to the beach and is quite easy to get to everywhere else from there.
More travel inspiration and information for Dubai:
If you found this post useful, don't forget to bookmark it and share it with your friends. Are you on Pinterest? Pin this image!
Major Forms of Transportation in Travel & Tourism - Video & Lesson Transcript
Airplanes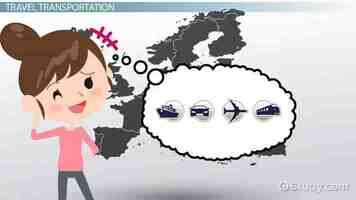 Airplanes are one major form of transportation for travelers and tourists. An airplane is a powered flying vessel with wings. Some are small and seat just a few people, while others are very big and can seat several hundred passengers.
There are several major airlines that fly to and from various cities. Some fly within a particular country, while others take travelers from one country to another. Airplanes can fly over land or water. Besides an airplane, people can also take a helicopter for shorter trips around town.
Air travel is the ideal choice of transportation for travelers who want a quick trip to their destination. These travelers may not particularly care for road trips, may want to get to their destination quickly, or may consider air travel the most practical and convenient choice. For Christy, the airplane is the practical and convenient choice for traveling from America to Europe.
Automobiles
Travelers who do enjoy road trips can take an automobile, such as a car or passenger van, to get to their destination. Some people take their own automobiles, while others rent one to save on the wear and tear of their own. Some people choose to hook up a travel trailer to their automobile. This travel trailer is almost like a mini home with a bed, a mini bathroom, and a mini kitchen.
Automobiles work well for travelers who enjoy the journey to their destination as much as the destination itself and can be ideal for travel to locations that are relatively close to home. Automobiles are also necessary for some lands if travelers want to get around the town by themselves. Once Christy lands in Europe, she decides to rent a car so she can drive around Europe and explore the country.