There are unique methods of transportation to be found all over the world, and it all adds to the culture and experience of each location. Here is the list of 30 unique types of transport in the world.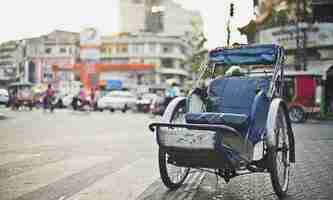 1. Reindeer Sled in Lapand, Finland.
Reindeer sledding is the oldest form of transport in the north, and an ancient part of Sami culture. People of all ages can participate on this very "soft" adventure.
2. Trams in France
Trams are enjoying a comeback in France. From Nantes to Marseille, city planners are building new, high-tech streetcar lines as central elements in urban redevelopment. And they haven't forgotten any of the French flair the world has come to love.
3. Suspension Railway in Wuppertal, Germany
Its full name is "Electric Elevated Railway (Suspension Railway) Installation, Eugen Langen System" (Anlage einer elektrischen Hochbahn (Schwebebahn), System Eugen Langen). It is the oldest electric elevated railway with hanging cars in the world and is a unique system.
4. Hydrofoil in Aegina, Greece
Greek tourism depends a lot from the Greek ferries as well as all kinds of other vessels like the catamarans and hydrofoils that connect the Greek islands.
5. Gondola in Venice, Italy
Aboard a traditional wood-carved gondola boat, look out for top Venice attractions such as Rialto Bridge and listen to Italian songs; it's a must-do in Venice.
6. Toboggan in Madeiran, Portugal
The Monte Toboggans first originated in the early 19th century as Funchal´s first means of "downhill" public transportation. Presently and for a number of years now, the "Carro de Cesto" is used to transport tourists.
7. Trolley Bus in Russia
Trolley buses in St Petersburg Russia are cheap and efficient, but also slow so they are not always a convenient way to get around the imperial city.
8. Aerial Tramway in Klein Matterhorn, Switzerland
An aerial lift is a means of cable transport in which cabins, cars, gondolas or open chairs are hauled above the ground by means of one or more cables. Aerial lift systems are frequently employed in mountainous territory where roads are relatively difficult to build and often found in touristic landmarks.
9. Underground Funicular in Beyoglu, Turkey
The Tünel is a short underground railway line in Istanbul. It is an underground funicularwith two stations, connecting the quarters of Karakoy and Beyoglu.
10. Hovercraft in Portsmouth, UK
The Isle of Wight Hovercraft is the last remaining commercial hovercraft service in the world. It operates a regular timetable transporting passengers between Ryde and Southsea in Portsmouth, with excellent connections to both road and rail networks on either side.
11. Terra Bus in Athabasca Glacier, Canada
The Terra Bus wheeled vehicle is one of the few snow coach type vehicles currently produced. It is an all-wheel-drive, three axle, off-road bus which is specially constructed for use in Arctic climates by the Canadian specialty vehicle manufacturer Foremost, based in Calgary.
12. Zipline above the canopy in Costa Rica
Costa Rica is world-renowned for its canopy tours, also known as zip-lines. Imagine sailing through the treetops hundreds of meters in the air with a chance to spot some of the country's diverse wildlife.Though many of Costa Rica's national parks offer canopy tours, the best are in Monteverde, Arenal and Manuel Antonio.
13. Coco Taxi in Varadero, Havana, Cuba
The Cuba coco taxis are some yellow cars, with small dimensions, can be seen inHavana and in Varadero.
14. Ice Angel in Wisconsin, US
Madeline Island is the only one of Wisconsin's Apostle Islands that is inhabited and it is connected to Bayfield on the mainland by ferry in the summer and by a two-mile ice highway in the winter when the waters of Lake Superior freeze over. However, during that transitional stage, when the ice is not strong enough to support a vehicle, the connection is serviced by ice boats with air propellers.
15. Dog Sleds in Alaska
A dog sled is a sled pulled by one or more dogs used to journey over ice and through snow. Several types of sleds are used, depending on their purpose.
16. Barco De Totora in Lake Titicana, Peru
If you're visiting Lake Titicaca, the Barco de Totora is a wonderful, unique method of getting across the vast and beautiful stretch of water.
17. Bamboo Train in Battambang, Cambodia
Passengers sit on a makeshift bamboo 'train' (basically just a bamboo platform) powered by an electric generator engine, perched just inches above the railway tracks and travelling at up to 40km/h.
18. Maglev in Shanghai, China
The train has actually exceeded 500kph in testing. It does the 19 mile journey to Pudong airport in 7 minutes!
19. Dubai Trolly in Dubai
To span a distance of 7 km, Dubai Trolley will serve as an exotic, easy-to-access connecting link between the various iconic attractions in Downtown Dubai including Burj Khalifa, the world's tallest building, and The Dubai Mall, the world's most-visited retail and lifestyle destination.
20. House Boat in Kerala, India
The houseboats of the Southwestern Indian state of Kerala, known as Kettuvallam, navigate the area's winding backwaters and offer visitors one of the most relaxing and unique methods of travel to be found in India. Although modern Kettuvallams serve principally as a tourist attraction, these boats have a long history deeply tied to the economy of Kerala.
22. Elephant in Luang Prabang, Laos
Often at the entrance there are a group of elephants you can ride and feed, convenient if you can't be bothered going on a formal tour to one of the nearby elephant camps.
23. Tangah in Faisalabad, Pakistan
Visitors may use rickshaws or taxis in Pakistan but riding tangah is a great experience. This is a kind of cart powered by one or two horses. Because of the wooden wheels, do not expect it to be comfortable ride but expect it to give a great experience.
24. Habal Habal in Philippines
Habal-Habal, or Skylab, is the unique mode of transport where ten people can travel on the side of a two-wheeled vehicle and it is a common site in many areas of Mindanao, in southern Philippines.
25. Tuk-Tuk in Thailand
Tuk-tuks or 'sam lor' (three-wheeled) used to be everyone's favourite way of getting around Bangkok before the BTS, MRT and colourful taxis took over.
26. Cyclo in Vietnam
The cyclo is a three-wheel bicycle taxi that appeared in Vietnam during the French colonial period after a failed attempt to introduce rickshaws. A double seat (for Vietnamese – an average foreigner would find riding with a companion a bit of a squeeze) is supported by the two front wheels, with the driver sitting behind.
27. Shotover Jet in New Zealand
Experience fully the power of the mighty rivers of Queenstown on a jet boat ride that will have you gripping the handrails in sheer exhilaration as you are taken on the ride of your life.
28. Matatu in Kenya
A matatu is usually a minibus or some such form of public transportation in Kenya. Away from the cities, the matatu transforms into a pickup truck, with a cover on the bed.
29. Felucca in Nile and the Red Sea, Egypt
A felucca is a traditional wooden sailing boat used in protected waters of the Red Sea and eastern Mediterranean including Malta, and particularly along the Nilein Egypt, Sudan, and also in Iraq.
30. Jeepney in the Philippines
When the American troops pulled out of the Philippines at the end of World War II, surplus jeeps were left and the locals stripped them down and added roofs for shade. This vehicle has then transformed into a vehicle for public transportation. It is still used and still the popular way to go around cities.
10 Unusual and Memorable Ways to Travel
Sometimes it's not the destination, it's the journey. Though most of us travel by airplane or automobile, there are many other enjoyable ways to get around.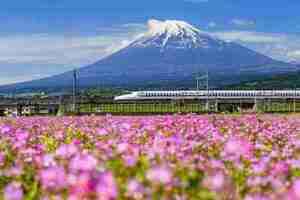 From submarines to hovercrafts, here are just a few of the different ways that you can travel. Why not make the journey just as memorable as the destination?
10 Unusual Ways to Travel
1. Hot Air Balloon
Taking a hot air balloon ride is an unforgettable experience. With its slow pace directed by the wind, this unusual mode of transportation is like no other. Seeing the landscape spread below you is a moving experience.
Traveling by hot air balloon will enable you to see the world from a magnificent height and will give you a new perspective on the planet.
Hot air balloons are common in many places. For example, they are often used in Turkey, Mexico and Greece to show visitors the beautiful landscape below. They are so celebrated that festivals are held to celebrate this magnificent mode of transport. READ MORE: Hot Air Ballooning in New Mexico
2. Freighter Cruising
Though it's not exactly the most luxurious mode of transport, traveling by barge or freighter is an affordable and unique way to travel. The most impressive thing about this mode of transportation is the sheer size of the vessel.
With a limited number of passengers, no amenities or wifi and months of sailing to your destination, you can experience the relaxation that comes with slow travel — and just think of the stories you'll come home with.
3. Private Jet Travel
Private jet travel, that's more like it! There is no better way to travel in luxury than flying by private jet.
Skip the queue and the busy airports and trade it all in for this luxury-lined flying experience that will leave you feeling like a king or queen.
By the time you arrive at your destination, you will feel well-rested and as if you just stepped out of a luxury flying hotel.
4. Atlantis Submarines
If you are fascinated by the ocean and would love to get a closer look at what goes on under the surface, then traveling by submarine is a must for you.
You can find these passenger submarines in places like Hawaii, Aruba and Cozumel, where guests can cruise in these unusual vessels. You'll be taken down to 100 feet underwater where you will see an entirely different world.
5. Camel Caravan
Camel caravans are still used in some parts of the world; they can be a novel and adventurous way to travel.
Riding a camel takes some getting used to, but these slow and sure-footed animals are an excellent way to cross the desert. This is an adventure you're sure to remember. Read More: The Great Egyptian Camel Fiasco.
6. Terra Bus
Explicitly designed for glacier travel, a terra bus (AKA snow coach) was built to withstand the toughest of terrains and the iciest weather conditions. It's used in places in Canada, where extreme weather can make road conditions treacherous.
With the ability to carry up to 56 passengers, this form of transportation is designed specifically for the Icefields Parkway and Athabasca Glacier in Jasper, Canada.
There's nothing this bus can't handle.
7. Shinkansen, Japan
The original bullet train, these trains can reach up to 200 mph.
High-speed trains are used to travel all over Japan. And did we mention that they're extremely fast? With over a dozen trains every hour and 1300 passengers at a time, your travel will be over before you can say 'Konnichiwa.'
8. Alaskan Hovercraft
If you thought they had retired the hovercraft, think again. In Alaska, these unusual vehicles provide transportation and help deliver essential services.
These floating giants can hover above land, water, ice or sand, and can venture to places that other types of vehicles cannot reach, often working in sub-zero temperatures and zero visibility. This is a vehicle that is a true asset in this rugged environment.
9. Symphony of the Seas
While the hovercraft was made to withstand harsh environments, this massive cruise ship was built to provide the ultimate in luxury cruising.
The Royal Caribbean Symphony of the Seas is the largest cruise ship in the world and is a spectacle to behold.
With everything you'd possibly need — including ice rinks, shopping malls, theatres, and even surf spots — you may never want to leave.
10. Airlander 10
This helium-charged, diesel-powered flying machine is among the most unusual ways to travel. The Hybrid Air Vehicles HAV 304/Airlander 10 is a helium airship with auxiliary wing and tail surfaces. It can fly using aerostatic and aerodynamic lift and is powered by engine-driven ducted propellers.
With the ability to travel for up to five days and land on almost anything, the possibilities are endless. True, we won't be traveling on these anytime soon, but who knows what the future holds.
So trade in those boring travel plans and book yourself onto one of these fabulous journeys that will help make your trip a memorable one.
10 Most Common Modes Of Transportation
10 Most Common Modes Of Transportation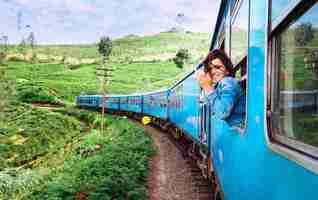 From the time humans invented the wheels, we have been striving to reach more places. We use several, varied modes of transportation to explore the world and to do businesses as well. We are improving our forms of transportation to reduce travel time, but still, we have old forms of transportation in use.
Below are the top 10 most common modes of transportation:
10. Human-Powered Transport
Human-drawn carriages and cycle rickshaws can still be seen and are used in some countries. These are one of the human-powered means of transportation, along with the bicycle. Bikes have been used for ages and it shows that bikes are the most eco-friendly and definitely the best mode of transport that humans have ever designed.
9. Animal-Powered Transport
Horse-drawn carriages, bullock carts, donkeys, and horses are the examples of animal-powered carrier or transport. Some carriages are also drawn by dogs and Huskies pull those sleds in the Arctic. Many countries use these animal-powered transports because they are much cheaper compared to other modes of transportation. Some of these carriages are present in countries for the entertainment of tourists.
8. Ships
Long ago, traveling to far away places can only be obtained by ship. Strong seamen faced the rough seas with ships made of wood and sailed to foreign lands. The entire world is traveled with the help of the ship, and still, the common way of trading is shipping. Some people preferred to travel by ship than the plane as a cheaper option.
7. Boats
While ships are for the ocean world, boats are for the world of rivers and lakes. Commonly used as personal or private transport, trading and fishing for thousands of years. They remain popularly used in lots of city ports across the globe and along canals.
6. Airplanes
Airplanes are the forerunners of the global age. They reduced the quantity of time needed to explore throughout regions. As of now, airplanes are commonly used by travelers and for deliveries. Space shuttles give us the chance to travel in space and are the next evolution of the airplane. It is now possible to explore the most visited countries in the world with the help of an airplane. Check out these 10 things to bring on every international flight to help make your travel more comfortable.
5. Motorbikes
The feeling when you ride a motorbike is exceptional. The motorbike is the form of carrier favored by the single travelers who love adventure. You can explore large distances with a motorbike or use it to have fun and thrilling ride. Around the globe, motorbikes are further used to transport goods and also as taxis for a single person.
4. Three Wheelers
The three wheeler is the symbol of a progressing nation. It is a motorized version of the cycle rickshaw, and it has different names around the globe. This three-wheeler is also called the auto rickshaw, tempo, tuk-tuk, tricycle, auto, lapa, mototaxi, and many other names in some countries. It is commonly used for private transport within towns or cities and as a mode of transport in carrying goods.
3. Buses and Trucks
Trucks and buses are essential modes of transportation all over the world. Trucks transport goods from one place to another while passengers or travelers are carried by buses. Because it's cheaper to ride these public transport vehicles than any other means of transportation, the poorest in the society have the chance now to travel to faraway places or to go to their desired destinations.
2. Cars
The most used of today's kind of transport for personal use. Henry Ford's vision of everyone owning an individual car has come true. Cars have grown the reputation in several societies and the more number of cars you own, the richer you look in the eyes of others. From hatchbacks to saloons, sedans, SUVs, MUVs, coups, grand tourers, roadsters, jeeps, etc. several kinds of personal car are used around the globe for private transportation.
1. Trains
The most used kind of transportation around the globe. The train is a unqiue kind of transportation because they can go vast distances, affordably and take a much shorter time than ships. Many see the train as the perfect mode of transportation for the crowds, especially when they need to drive long distances. Metro railways are used for fast and affordable driving inside the cities. Trains are also used for carrying raw materials and goods, they are essential for cross-country supply lines.
What's your preferred mode of transportation for your next vacation? Share your thoughts in the comment section below. Also, here is the list of 10 most futuristic transportation inventions that you should know.