Recommended accommodation
True Siam phayathai Hotel ¥ 108, book now >
The natural resort ¥ 59, book now >
Patong resort, Phuket ¥ 112, book now >
Phi Phi natural resort ¥ 322 immediate bookings >
Hotel De Bangkok ¥ 116, book now >
Oyo 624 Phi Phi palms residence ¥- 1 order now >
Launch more hotels
Published on December 4, 2015 14:52
Ten day food and shopping tour of Phuket, Pipi and Bangkok
Last December's trip to Phuket and Pipi Island left my husband and I an extremely wonderful travel experience. The seafood of Phuket and the fishing of Pipi island's long tail boat are unforgettable. So we decided to revisit our hometown next year before we returned home. For the convenience of eating seafood, we still chose to live near Jiangxi Leng in Badong. Pipi Island experienced a more original Northern Hotel, This time, we specially added a trip to Bangkok to increase our understanding of Thai culture and experience the authentic Thai slow life. In addition to the delicious food and beautiful scenery, the unexpected shopping in Kuala Lumpur Airport, the massage and snacks loved by the local people on the streets of Bangkok, the happy play of carpooling and boating with a pair of post-90s friends collected from Ctrip Travel, and the encounter of the local Aboriginal gangster who charged too much in Pipi Island, all these things can't calm down for a long time after returning home, Writing travel notes has become a habit and a part of travel. It is not only a record of my own journey, but also a benefit for more people. "Reciprocation" has always been the driving force for me to write travel notes. Last year, I read more than 140000 travel notes. I really feel flattered. Many friends have asked me some questions. Thank you for your attention and trust, In the future, we will still know everything and say everything. You can refer to my travel notes of Phuket and Pipi last year. There are some repetitive contents. This article will be simplified. If you want to contact my friends, you can add wechat: sunxiaobo451282, please indicate "Ctrip". The address of the first travel note is as follows: http://you.ctrip.com/travels/kophiphidon565/2237254.html ,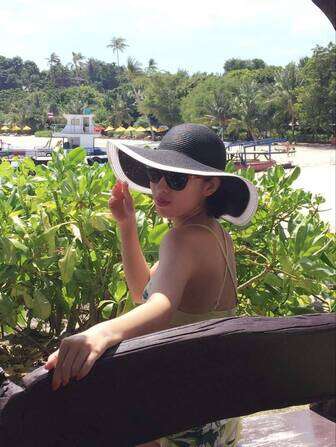 Itinerary:
November 17, Beijing - Kuala Lumpur - Phuket Island, evening seafood, November 18, Phuket leisure, afternoon Thai massage, evening seafood, evening Simon demon show, November 19, take a boat to the north of PP Island, afternoon snorkeling
November 20, PP Island Hotel leisure, swimming pool
On November 21, PP Island went fishing
November 22, PP Island - Phuket, Phuket - Bangkok
On November 23, shopping in Bangkok, king power and paragon, big C in the evening
On November 24, a one-day tour of Bangkok's Grand Palace, jade Buddha Temple and Wofo temple. On November 25, a half day tour of Bangkok's old parliament building, Thai hot pot and massage
November 26, Bangkok - Beijing
Travel preparation:
1、 Visa preparation: landing visa, stay no more than 15 days
1. Return ticket or e-itinerary
2. Passport (valid for more than 6 months)
3. Entry card (issued by stewardess or completed at visa counter)
4. 1200 tez cash (must be cash)
5. Boarding pass for plane to Thailand
6. One 2-inch white background photo (can be taken at the scene)
7. Fill in the application form (download and fill in the online template, take it with you or ask for it on site)
2、 Insurance: Meiya Leiyou, 10 days, 95 yuan per person
There are different opinions on whether insurance is needed, but my habit is that even if there are many life insurance and serious illness insurance in China, I will buy a separate insurance every time I travel, so as to give myself more protection and be responsible for my family. In particular, Meiya's insurance also covers luggage loss and flight delay, which are very practical.
3、 Transfer machine:
1. Domestic part: Shenzhou special bus. My home is 24km away from the capital airport. The high-speed fee is 125 yuan. I used a 50 yuan voucher, paid 75 yuan by myself, and charged 100 yuan to get 80 free. So I actually paid 41 yuan by myself. It's too valuable to enjoy such a professional service at this price.
2. Foreign part: Taobao lazy cat travel, punctual, efficient, good service
(1) Phuket shuttle: 66 yuan per way
(2) Bangkok shuttle: 85 yuan per way
4、 Hotel Reservation: all Ctrip, Agoda, booking price comparison, all hotels are the lowest Ctrip
1. Phuket Island: Patong Resort Phuket Phuket Patong resort, 2 nights, standard room is upgraded to superior room free of charge, the price is 395 yuan / night including tax
2. Pipi Island: Phi Phi natural resort, 3 nights, standard room, 479 yuan / night, tax included
3. Bangkok: true Siam Hotel Bangkok, 3 nights, standard room, 243 yuan / night, tax included. This hotel is recommended. It will be introduced in the text
5、 Communication: happy card, valid for 7 days, 35 yuan / piece
Buy on Taobao. You can tell us about the experience of 7-day validity, because after 7 days, you can recharge and continue to use it. After 7 days, you will receive a short message, which means that your package is due. Find a 7-11 to recharge it. Experience has proved that 100 strains are enough in the next 3 days. The clerk recommended 60 strains, but later it is not enough, and added 100 strains, but there is a surplus, After recharging, you will be prompted by a short message that you can handle a 19 strain / day online package. Just follow the dial-up number it prompts to handle the package. Friendly tips: not every 7-11 can recharge, we ask a few more oh.
6、 Air ticket: it's the most important thing to decide the budget
1. Beijing - Phuket, Air Asia special, Kuala Lumpur transit, 2 people including tax ticket price 1440 yuan, plus a consignment of 298 yuan, a total of 1742 yuan, basically a year to half a year in advance booking, cheap to incredible!
2. Phuket - Bangkok, Air Asia, 2 people 562 yuan, a piece of luggage 66 yuan, a total of 628 yuan
3. Bangkok - Beijing, HNA direct flight, 2 people 3452 yuan, a little expensive, but observed nearly half a year, only HNA direct flight is the cheapest, and the price has not changed, finally two months in advance to see only the last few tickets to buy.
7、 Travel expenses: 2 people, 10 days, three cities, a total of 14974, excluding shopping
1. Air ticket: 5822 yuan
2. Hotel: 2960 yuan
3. Shuttle + Taxi: about 900 yuan
4. Admission: 364 yuan
5. Catering + massage: about 4500 yuan
6. Visa fee: RMB 428 per person for 1200 plants and 2 persons
Text: This article starts in chronological order, commonly known as daily account, I'm sorry.
Day1, November 17, Beijing - Phuket, AirAsia d7317, 02:30, Beijing - 08:55, Kuala Lumpur,
Air Asia ak824, 12:40 Kuala Lumpur - 13:00 Phuket
Key words: duty free shop shopping, airplane blanket, seafood dinner
The day before departure, I worked hard for a day. After taking a bath in the evening, I left the airport at 22 o'clock and arrived at the airport at 22:40. I originally planned to spend more time visiting duty-free shops. However, I didn't know when the airline changed its rules and had to check in three hours earlier than the departure time. I had to wait an hour in the airport to get in. Then there was the happy part of duty-free shops, Since we will go through the downtown stores in Kuala Lumpur and Bangkok KingPower and the airport duty-free shops, we don't really plan to go shopping when we leave. We mainly focus on recording the price. But this link is very important. Parents who plan to buy skin care products must do more homework before, otherwise we can't really figure out where it's cheap. It's better than not knowing the price difference of each airport! For example, I have been using Lancome small black bottle 100ml, T2 price 990, Thailand discount price 950, Kuala Lumpur discount price 758! Why is there such a big difference when two bottles were collected decisively, because the Malaysian dollar has depreciated against the RMB. The small black bottle of 579 is equivalent to about 1050 RMB last year and 758 RMB this year. Due to the special reason of exchange rate, all cosmetics are the cheapest in Kuala Lumpur, and it seems that they can get a 10% discount if they reach 1000 ringgit, so they decided to buy a lot of cosmetics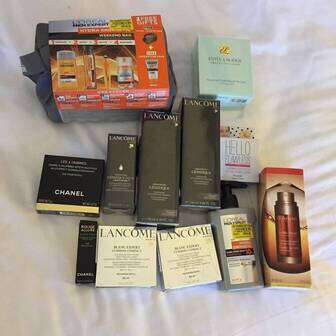 Chanel did not take part in the discount, but it was also cheap enough. Lipstick was only RMB 145! T2 is about 200! I don't know if it's the lowest price in the world, but it's definitely the lowest price in Asia. (is Malaysia Tourism Bureau considering giving me a certificate, so spare no effort to promote their tourism. Alas, women accidentally digress to shopping, but shopping has always been the top priority of my travel. Before I went there, I specially made a form to facilitate price comparison. Such important research results must be shared with you selflessly.
Let's get back to business. There are several tips for you about the Air Asia plane. 1. It's very cold on the plane. Even my big brother, who is very fit in front of me, is afraid to sleep and catch a cold. As for me, hee hee, I took out a blanket in a low-key way to receive your attention. In fact, I was going to wear a long down jacket to my lower leg, which happened to be a quilt cover on the plane, But it was not very cold in Beijing when I set out. My husband thought it was too exaggerating, so he didn't let me take it with him. It turned out that it was a little cold only with a short down jacket and a blanket. AirAsia is famous for its air conditioning. They also rent blankets on their planes, but the blankets are very thin. You can bring your own thick long clothes or woollen blankets. 2. Air Asia's plane meal is not ordered. It's really terrible. You can go to bed when you have enough to eat before boarding. The plane meal is provided not long after taking off. You can eat at 3:00 in the middle of the night, and you will feel sick after eating. When you arrive in Kuala Lumpur, there are many delicious things waiting for you. 3. Air Asia does not provide free drinking water on the plane, so buy a bottle or bring your own cup at the airport to drink water on the plane.
Kuala Lumpur transit: this time, I bought a connecting ticket. That is to say, I don't have to go to sea in Kuala Lumpur to do transit visa and then enter the customs. After landing in Kuala Lumpur, follow the sign to find the "transfer". The one who transfers should turn right, the one who turns left is the one who goes out to pick up luggage, the one who has the second boarding pass can go in directly through security check, and the one behind is the duty-free shop and boarding gate. If there is no boarding pass, print a boarding pass at the counter where you turn right. There is a note: Kuala Lumpur Airport has two layers of security check. Before entering the duty-free shopping area, there is a layer. This layer is relatively loose, that is, there is a layer of security check between the shopping area and the boarding gate, which is relatively strict. Water can't be brought in, so don't buy too much water in the shopping area, or it will be wasted.
Arriving in Phuket: I've taken AirAsia many times. Although it's a low-cost airline, it's never late. I've always admired it. The flight arrived on time at 1:00 p.m. Thailand time. The landing sign at Phuket airport is on the far left of the customs. We're familiar with it. We took the landing sign application materials downloaded from the Internet and went straight to the window. Last year, the cost was 1100 plants per person. I think it was 1000 plants on the Internet, So I decided that the extra 100 was a tip. This year, I put $5 as a tip directly behind the 1000 plants. As a result, the materials were returned. The people inside told me that it was 1200 plants per person with a calculator. There was no reason for the customs to give as much as they wanted, and they soon got the visa, But I looked around the window and didn't see the announcement of visa fees. I don't know how much more he charged! The pick-up was a lazy cat trip reserved by Taobao. It was a 66 yuan one-way 2-person car. When I went out, I turned left and found the ground of lazy cat under the ATM. The driver had already put the car beside us and waited for us. However, it was a bit unexpected that a large business car for 5-8 people was arranged for us, which was only for us. I'm really sorry that there was no traffic jam from the airport to Badong for about 70-80 minutes, It's really far away. The reason why we choose the lazy cat this time is that only the lazy cat's car can be directly parked in the airport to pick up the guests and set off directly. Many other pick-up companies have to make a minibus ferry at the airport and then change the car to go to the hotel outside the airport. Because the cost is the same, we choose the more convenient lazy cat. The hotel is Patong Resort Phuket, which is reserved by Ctrip. There is no standard room in the hotel, so we have upgraded to a superior room. It is also in the old building, with slightly old facilities and good breakfast. There are two swimming pools. There are many Chinese and Russian residents, mainly in the location. The hotel is 5-8 minutes' walk from Jiangxi cold, and the other door can reach the beach, But we haven't been there. It's a shame to say that we haven't been to the beach since we lived in Patong for two consecutive years, because Patong has only one task: eating seafood. Less than 5 o'clock, we set out to Banzan market. From the hotel across Jiangxi Leng to another street, Banzan market. The price of seafood is higher than that of last year. We are nostalgic people. We have worked hard to find the elder sister who bought seafood last year. The price of their family is reasonable, and they are old customers, so they give us a good price, Later, the elder sister's sister also took her husband to take a picture with him. We all recognized the signboard. There was a discount when we went to find her with this picture in the mobile phone. No kidding, she said it herself! Identify "Dragon Island" this signboard, her family several stalls and waiters, Chinese are super good, communication is no problem. The specific location is in the middle of the seafood area. There is a staircase on the second floor. Her home is in the second row under the stairs.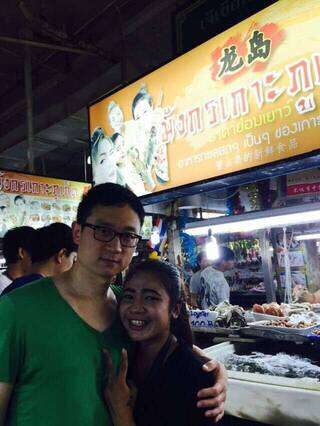 I bought three lobsters, two crabs and a plate of clams for dinner. There were 2300 clams in total. I went upstairs to find the "your kitchen 2" I had eaten last year. Your kitchen had four stalls last year, but this year it has been reduced to two. We chose No. 2. There's no special reason. It's just a spacious place to eat, and the processing fee is quite expensive, The above seafood, a plate of cabbage and a pineapple rice, together with 100 drinks, cost a total of 3400, which is more than 600 yuan. It's a cheap meal in Beijing, but it's definitely a big meal in the local area. Let's not say much about it. Here's the picture, you bring your own tissue, hee hee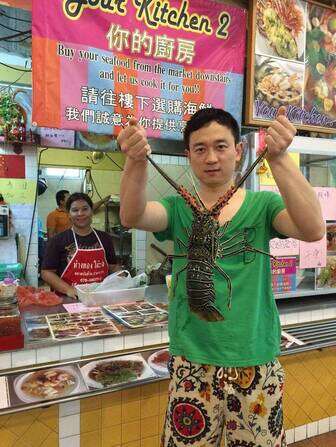 Here's a family photo: the sauce in the upper left corner is Japanese sashimi soy sauce and seafood red vinegar, and mustard imported from Japan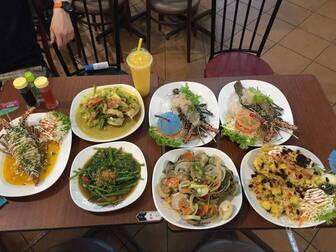 One lobster baked with minced garlic and two made sashimi. It turns out that sashimi is the most delicious. With lobster sashimi, this trip is half complete
Curried Crab
Pineapple paella is a little pompous, but it tastes good and has enough ingredients. Unfortunately, there are too many seafood to care about it
Everyone pay attention to the above is a meal for two, but we will not waste the food. Finally, we finished the meal miraculously and went back to the hotel to sleep.
You should pay attention to the weight unit. In the past, it used to be about kilogram. Now some stalls are selling at a very low price, but I ask you in detail that it's actually the market price. 2. As for lobster, Aolong is more expensive than Qinglong and tastes better. Don't be fooled by the merchants. 3. The advantage of Banzan market is that it has live seafood. Many other restaurants are chilled, so it's the best way to eat live seafood when you come to Banzan.
Day2, November 18, Phuket leisure
There is nothing to do today. After breakfast in the hotel, it's already noon. I took a rest and went out for a Thai massage. I decided to watch Simon's demon show in the evening. Taobao ordered a ticket of 66 yuan per person, excluding pick-up. Because it's very convenient for us to take a ride in Patong, we didn't choose to take a pick-up. We just took a taxi and got it done. 100 plants for two people, It's cheaper than the ticket with pick-up. I set out for Banzan for dinner at 6:00 p.m., and I love lobster as always. But this time I found a new love, a large-sized skin shrimp, which is usually called lainiao shrimp. It's delicious fried with minced garlic. At that time, I really regretted buying less, so I had the impulse to change my schedule and stay for another two days. We strongly recommend that you try it. Although it is also available in China, the freshness must be greatly reduced, and the practice is not the same.
Crab and cabbage are side dishes.
As for Simon's human demon show in the evening, I recommend you to have a look at it. In fact, it's a song and dance show. There are songs that are familiar to all countries. Although they are lip synching, the lighting and sound effects of the dance are still good. Compared with friends who went to Bangkok to see human demons, the quality of human demons in Phuket is higher. As a little girl, I admire the whole process of watching the show, Even men can become so beautiful, women really have no reason to be willing to degenerate! It's not allowed to take photos during the performance. I found some pictures on the official website to show you. The two on the left and right in the picture below we saw in the performance.
Phuket, November 19, day3 - snorkeling by long tailed boats in the north of Pipi Island
Today's schedule is to transfer from Phuket to the north of Pipi island. Since I went to Tongsai Bay last year, I chose a more original hotel in the north this year. Taobao laojia ordered a boat ticket with a package for pick-up and delivery. When placing an order, I can fill in the hotel for pick-up and delivery. There are two boats every day
Round trip ticket to the north pier of Pipi Island
Phuket departs 08:30 to reach North 11:30
Phuket departs 13:30 - reaches North 16:30
07:30 north to Phuket 11:00
13:30 north to Phuket 16:30
We set out at 8:30 in the morning and picked us up at the hotel at about 7:00. The Andaman wave shipping company is praiseworthy. The ship is relatively new and very punctual. In the north, because the wharf has not been repaired, the hotel arranged a long tail boat to pick us up at sea. On the ship, the hotel staff checked their names and numbered their luggage. The north is the last stop, At that time, the staff will ask you to get off the ship, and the luggage has been arranged to be transported away. If you book the hotel in the north in advance and receive the confirmation letter, you don't have to worry about the connection problem. Everything is arranged carefully. From the big ship to the long tail ship, and then from the long tail ship to the big wheel tractor to the lobby, you don't need to get wet, which can be called seamless link.
On the ferry, I joined up with the post-90s friends who travel with Ctrip, and recruited two girls to go snorkeling together in the afternoon. The long tail boats all stop on the shore. The boatman Xiaohei have a map in the shade of the tree. When they talk about the price with them, they will draw a map to tell you where to go. There were six of us, four hours, 1500 strains. In the end, each family gave a tip of 100 strains, a total of 1800 strains. There are two routes: one is the mosquito island line which is closer to the north, but there is a charge for getting on the island. I forget whether it is 200 or 400. In short, I think it is not cost-effective, so we chose another route: monkey beach line. My husband and I are a little tired of snorkeling. The fish in the world are almost the same. I feel that snorkeling is a bit boring. Moreover, the quality of coral in Phuket is not high. Many corals have died. There is no colorful underwater world, and there is no monkey on the monkey beach. Later, because of the rain and dark, we went back to the hotel 30-40 minutes in advance.
There are only four hotels in the north, which are arranged along the coastline from north to South: 1. Phiphi Holiday Inn Resort; 2; 2. Phiphiphi Erawan Palm Resort; 3. Phiphiphi zevola Resort; 4. Phiphiphi natural resort
The main reason why we ordered the fourth natural resort Pipi nature resort is that the hotels in the north are all high-end hotels. This is the cheapest one with a standard room of 480 yuan per night.
Hotel Evaluation: beautiful scenery, ordinary room, super far from the lobby, single breakfast, many mosquitoes
This is the view from the window of the room. Does it feel like Maldives?
And a few more photos of the beach
A quiet harbor under the setting sun
Tips for hotels in the North: 1. Qivolan is the most expensive and the nature resort is the cheapest. The two hotels are next to each other, so there is no clear distinction between them. Local tyrants can rest assured to live in qivolan. We have inspected the facilities and environment. They are all holiday cabins and Suites, which are very close to the Maldives; 2. If you live in a nature resort, don't stay in the cheapest standard room. The room itself is OK, but it's super far from the lobby and the seaside. It takes more than 10 minutes to walk, especially the way back to the room is all uphill. Although the room phone dial "0" to inform the front desk that they will send a ferry car to pick you up, it seems that there is no such service after 8 pm, It's very inconvenient to stay in this hotel. It's worth a few hundred yuan; 3. The mosquitoes in the north are extremely numerous and fierce. They are basically unstoppable. As long as the sun goes down, mosquitoes will come out to attack people. I sprayed Japanese mosquito repellent and lemon citronella mosquito repellent provided by the restaurant. In both ways, there are still an average of 10 bags per day. What is most incomprehensible is that the hotel rooms do not provide mosquito repellent incense, The next night, there was a mosquito in our room, which made us not sleep well all night. Finally, we killed it at 5 a.m. and barely slept for a while, which directly led to that I didn't let them clean the room in the next few days, for fear that they would open the door and toss the mosquitoes in. So our parents bring their own electric mosquito repellent incense. The stronger the mosquito repellent spray, the better! 4. The relatives who want to live in the North must endure loneliness. The North has nothing but natural scenery, and is isolated by the sea. We eat in the restaurant of the hotel for three days, and the taste is too general. Finally, we are too lazy to eat lunch before we leave. The hotel has a ferry from the north to Tonsai Bay, 200 per person. We haven't tried it, because there are only two shifts every day. It seems that it's 17 o'clock when we start from Tonsai Bay in the evening. It's a little time. We can't have dinner at all, so we lose the meaning of going to Tonsai Bay. 5. There is an extreme shortage of goods and materials in the north. The prices are too expensive and there are few varieties to choose from. Except for drinking water, other things like instant noodles and snacks can be bought from Phuket supermarket. I made a mistake this time because I saw 7-11 everywhere in Tongsai Bay last year. I thought there must be some in the north. As a result, there was nothing but hotel facilities.
Day 4, November 20, welcome party in the north of Pipi Island, sea gale, swimming pool and Hotel
After breakfast, we asked the long tailed boat to go fishing. As a result, we got a unified answer that we can't go out to sea today because of the strong wind, so this day has become a day for the hotel to soak in the swimming pool and have nothing to do. At the front desk, I was told that there would be a welcome party organized by the hotel in the evening. It would start at 6:30 and there would be a flame show at 8:00. I ordered the best table for dinner in advance to watch the show.
Room downstairs with Pool:
The morning restaurant is not afraid of people's birds
In the evening, the general manager welcomed the party. The cocktail was super delicious. After several drinks, I felt a little dizzy
On November 21, Day5, a long tailed boat went fishing in the north of Pipi island
Yesterday, Xiao Hei, who agreed to take us fishing, couldn't find anyone early in the morning. A pile of Xiao Hei on the beach recommended another one to take us out, 1500 plants in 3 hours and 2000 plants in 4 hours. Because the night before I was tossed by mosquitoes, I didn't fall asleep. In addition to the hot weather in Pipi Island, I actually got seasick. Moreover, as the temperature increased, the fish condition was not very good. We looked at it for nearly three hours, so we proposed to stop work and go home. A thrilling scene happened on the shore. We got on the ship at 7:40 and landed at 10:50. It was 3 hours and 10 minutes in total. I gave him 1500 strains plus 100 tips. Xiaohei said that he was wrong. He told us that it was 4 hours. I counted with him with my fingers: 8:40, 9:40, 10:40. Isn't it more than 10 minutes in three hours? Why don't you tip 100 more? He shook his head and said: No, no, no, 8:00, 9:00, 10:00, 11:00, it's four hours! We got on the boat at 7:40, and he could work out an hour by 8:00! Besides, we didn't agree with him, and he pushed the boat to the deep water to prevent us from getting off the boat. This made me angry. I talked with him in English for several hours while looking for foreign aid. Later, I told him that I was going to the hotel lobby to find an interpreter. I had communication difficulties with him, but he didn't agree. He said that the hotel would charge him money or something, During the stalemate, a travel consultant named Xiao Hei came. I told him the time of boarding and landing. They talked about it in local language for a long time. Although I couldn't understand it, I probably understood that the new Xiao Hei was counting time for him. Fortunately, he knew how to count. He supported our view. Later, Xiao Hei reluctantly said OK for three hours, However, he must have scolded us many times and felt that he had been calculated. He also stopped the boat far away from the shore and didn't give us a ladder. We climbed out of the boat and dived directly into the water. When we got back to our room, we found that my mobile phone was flooded in my pants pocket. Fortunately, it didn't matter after it was dried. I believe Xiaohei belongs to a very few unfriendly Thais, but it still lowers my long-standing good impression of Thailand. Even if the local aborigines have never read books and can't count, how can they never count more than many! Most of us want to blackmail us on purpose. If it's half an hour short, I'll forget it. It's 50 minutes short. It's so outrageous. Who can bear it! Fortunately, there is no danger in the end. I advise you that you are not familiar with your life and place abroad. In order to avoid unnecessary trouble, this kind of tourism project should start from the whole time. It is easy to settle accounts and it is not easy to be hacked.
The booty they caught went to the hotel for processing. They didn't seem to have a lot of this kind of business. The front desk called the kitchen and asked for it for a long time before they agreed to process it for us. There was a total processing fee of 500 strains. They paid for the fish first and made an appointment for dinner at 6 o'clock. They caught two kinds of fish. The one on the top of the picture is called spotted fish, which belongs to spotted fish. The one on the bottom is ruby fish, The restaurant of the hotel gave us a great surprise. First, when the foreman served the dishes, he specially introduced us to the chef, and then the processing level completely exceeded my expectation for them. Ma ban fish made dongyingong soup, ruby made garlic fried, super delicious, still drooling! Above
Fresh booty
Dongyingong fish soup
Deep fried Ruby fish with minced garlic
With the company of delicious food, the mood disturbed by Xiao Hei in the morning can be regarded as calming down. Really, only love and delicious food can live up to it in this world!
Day 6, November 22, a busy transition day from Phuket to Bangkok in the north of Pipi Island
The hotel checked out at 11 o'clock, and the liner started from the north at 13:30 to Phuket at 16:30. After checking out, we basically had nothing to do. We rubbed the net in the lobby to see the scenery. During this period, some staff came to confirm our name and room number. At 13 o'clock, the hotel sent a tractor to take us on board. We still started from the north at 13:30 and arrived at Phuket Wharf at 16:30 on time, So I can only go to a hotel from the wharf first, and then to the airport from the hotel, which tests the rationality of my time arrangement. What I fill in is the first day of my stay in the Badong resort. If it goes well from the wharf to the hotel for one hour, and considering the delay of the liner and traffic jam, I make a reservation to leave the hotel for the airport at 18:30, and the flight takes off at 21:30. This day is another seamless docking. The dock picked us up with a ticket. Unfortunately, a slow driver picked us up at the dock with a sign. Our car was almost the last one to leave the dock. On the way, we went to add oil. At that time, I had 10000 grass mud horses galloping by in my heart! Dawdling to the hotel at about 18:00, I bought two Turkish barbecue tortillas on the street for dinner. It was just 18:30 after dinner. Once again, I praise the lazy cat driver. He was really on time to a terrible degree. He appeared in front of us at about 18:30, and shook hands with us before getting on the bus. Although his English was not very good, he was very polite. Air Asia is still on time, successfully arrived at the Bangkok Hotel, check-in is already midnight.
Day 7, November 23, a shopping day in Bangkok
Today is defined as a one-day shopping tour. Before the battle begins, I would like to solemnly recommend the hotel I stay in: true Siam Hotel Bangkok, 3 nights, standard room, 243 yuan / night, including tax. The real value and great recommendation are as follows: 1 Thai style hotel, a different charm; 2. The room is very large, the standard room has more than 30 square meters, and each room has a balcony, so there is no need to worry about the ventilation and lighting problems; 3. The location is superior. Almost all taxi drivers know this hotel. When they go out, turn right and walk for 5 minutes, it's King Power duty-free shop. Many hotels, massage shops and light rail stations at the door can be reached within a few minutes; 4. After a few days in Pipi Island, where there is a lack of food and materials, we are back to civilized life. It's really touching to see that a small hotel with more than 200 nights has such a rich breakfast. There are three hot dishes every day, including white rice, fried rice with eggs, fried noodles, French toast, pancakes, white toast, a soup, a porridge, fried eggs and ham. Three kinds of fruit, pineapple, watermelon, papaya, each kind is super sweet. The restaurant is on the second floor. It's as lovely as a small tree house. It's decorated with originality. Here are some pictures for you to feel:
Hotel lobby entrance:
Exterior decoration of lobby:
Panoramic view of the restaurant:
Next corner of the restaurant:
Inside the restaurant:
Today's shopping day tour is as follows: King Power duty free shop Paragon big C
After breakfast, I set out to go to the legendary King Power duty-free shop. As we all say, they are all Chinese, and they are almost occupied by the Chinese tourist group. Because I have lived nearly two times, I can't see a westerner's face. I guess they disdain to go to the duty-free shop. These things are cheaper than us in their country. Since we have already purchased cosmetics in Kuala Lumpur, laiwangquan basically checks for deficiencies and makes up for omissions. We can get a 95% discount for 2000 cosmetics, but the price is not as attractive as that of Beijing T2. Other brands of bags and clothes are not complete. Burberry and Salvatore Ferragamo are the only big brands, and the others belong to the second and third line soy sauce brands, The only consumption is to buy a pair of sunglasses from Giorgio Armani. It's about RMB 800 for 50% discount. It's a souvenir of this tour. Wangquan duty-free shop is divided into three floors, the second floor is cosmetics and brand bags and clothing, the first floor is Thai local products, and the third floor is restaurants. Originally, I planned to buy some special products on the first floor and bring them back as a gift for company. Then I settled lunch on the third floor. As a result, neither of my two wishes came true. Things on the first floor are very expensive. If you have time to go to other supermarkets, don't buy special products here. Some of them are twice as expensive, so they don't think it's worth it. There are too many people in the restaurant on the third floor to get in at all. Besides, it's all tour groups. Buffet is just like grabbing food. People can't see the food at all. After going in for a walk, they are scared to run out. There's a picture to prove it!
King Power restaurant on the third floor
Appearance of king power duty free shop:
Tips for shopping in wangquan duty-free shop: 1. Hotels ask for paper coupons of wangquan duty-free shop, or follow his microblog online to download e-coupons; 2. Go to the service desk on the first floor to get your passport and coupons and apply for a shopping card. You can get the corresponding discount and exemption by showing your shopping card when you consume; 3. After payment, most of the goods on the second floor cannot be taken away directly. When handling the shopping card, you will be required to fill in the departure airport and flight number of Bangkok. The cashier will provide a pick-up certificate with the pick-up place written on it. After going to the airport security check and entering the customs, you can find the pick-up counter to pick up the goods. 4. It should be noted that shopping in wangquan's downtown stores and airport pick-up are limited to relatives who leave Bangkok. If they have to go to other places, they can't, but things like local products that can be taken away on the spot can be bought. 5. The advantage of wangquan City store is that there will be a discount for the full amount of cosmetics, while there is no discount for the airport store, but there are more big brands such as clothes and bags in the airport store.
Second shopping stop: simian Buddha and Paragon mall
The second stop of shopping is simian Buddha and Paragon shopping mall. We choose to take the light rail when we go to the business center. Bangkok is also famous for its traffic jam, especially the taxi in the business center is definitely not a wise choice. Simian Buddha is just next to paragon. The light rail station is E1 and chit LOM. Simian Buddha is famous for its efficacy and has always been fragrant. However, the scene is a bit unexpected. The famous simian Buddha is not a temple in the strict sense. The roadside of Shangye street is separated from the outside world by a fence, and there is no ticket to go in and out, It's true that if the mountains are not high, there will be immortals and spirits. There is an endless stream of people who come to worship Buddha.
Photos of four Buddha
From simian Buddha along the road to the East-West station to Siam station, there is the famous shopping center central world, which is a shopping center group composed of several shopping malls. It is impossible to complete the task if we want to go shopping. We have done our homework in advance, mainly looking at the big brands, so we chose paragon, which is a little disappointed. The luxury prices in Thailand are not good, I'm optimistic about a Prada killer bag in China. It's 14000 in China, 12000 after tax rebate in Thailand, and about 9000 in Europe. So I'm not very satisfied with the price in Thailand, so I'm not in a hurry to buy things. I've been window shopping all afternoon. Finally, I saw Victoria's Secret in a shopping mall next to Paragon on my way. I bought a few pairs of underpants for the psychological needs of this trip. I regret that I bought less underpants when I returned home. The price of five sets of pure cotton is 1750, which is very comfortable. You don't have to rush to look everywhere. There are Victoria's Secret shops in Suvarnabhumi Airport duty-free shop in Bangkok, But they're all underwear, not underwear.
The third shopping stop: BIGC
After walking all afternoon, my tired legs straightened. I went back to a roadside restaurant near the hotel and ate 100 mango glutinous rice. I also had a foot massage in the massage shop opposite king power, 250 for an hour. In addition, I gave 20 tips. After the rest, they were full of blood and revived. I took a taxi to big C supermarket to buy local specialties, Because there are countless big CS in Bangkok, we won't mark the location. Tell the taxi driver that they will take you to the supermarket nearby. The prices in supermarkets are closer to the people. The company gifts for relatives and friends are all settled here. The more conservative ones are dried mango, durian and coconut. But I recommend a good thing for you - coconut oil. It can be used as moisturizer and smeared every day after bathing. It's all natural vitamin e, which can keep moisture and resist aging, Bought nearly 10 small bottles of coconut oil for friends, less than 20 yuan a bottle. It's highly recommended. Coconut oil has a low melting point. When it's cold, it turns into a white solid. There's no need to worry about the quality. It can be used next to the heater or in warm water.
Day8, November 24, Bangkok Grand Palace, jade Buddha Temple, wo Buddha Temple
Today's main line is the Grand Palace and Wofo temple. According to the online strategy, you can take a bus to N8, then walk around the Grand Palace, jade Buddha Temple and Wofo temple, and then take a ferry to visit Zhengwang temple. But there is always a gap between ideal and reality. My friend and I consulted the staff of our respective hotels at the same time, Got a unified answer: the best way of transportation is to take a taxi, because the wharf is also very far away from us, so it's better to take a taxi directly. The practice of playing in Bangkok for a few days has also proved that taxis are definitely the most convenient and efficient way for intermediate free travelers like me. The taxi from the hotel to the Grand Palace was called by the hotel, and the front desk helped to set the price of 200. But when I came back, I found 300 at the entrance of the Wofo temple, the lowest. The taxi in front of the tourist attractions was expensive, which seems to be universally applicable.
I won't elaborate on the history and artistic value of the grand palace. You can ask Du Niang if you are interested. I just want to share my feelings with you. First of all, there are too many people. I feel that there are more people than the Forbidden City. They are all Chinese tour groups. They are basically another place occupied by Chinese people. I'll take a few beautiful pictures, Don't ask me why buildings are photographed from the middle to the sky. It's not that we can't take a panoramic view, it's because there are so many people below! Secondly, out of respect for Thailand's customs and habits, the Grand Palace requires that clothes should not show shoulders, knees and tight trousers. Those who do not have clothes can rent a set at the entrance. It seems that it is free. Just pay a part of the deposit. But yes, Bangkok is too hot for us foreigners, It's torture to wear long clothes and trousers to visit in the sun. When you come out of the palace, you feel like you're suffering from heatstroke. Jade Buddha Temple is in the grand palace. It is a royal temple dedicated to Jade Buddha. You can see it by following the tourist map. The overall feeling is: it's worth going. If the personality breaks out and catches up with the cloudy day, it will be more perfect.
A corner of jade Buddha Temple
Against the scorching sun, I moved out of the palace and immediately got into the small restaurant across the road. The air conditioner and mango shake saved my life. Although they are in the prime location of this kind of tourist resort, the prices are not exorbitant. I need to praise this! After dinner, I headed for Wofo temple. But as soon as I went out, I found a shop with NARAYA bags in Bangkok. I was so overjoyed that I ran in. Considering that I couldn't put down my luggage, I finally picked and bought seven big bags, totaling more than 400 yuan. In fact, if I could put down my luggage, I should buy several more, so the big bag was only a few dozen yuan, It's better to give someone a hand gift than dried mango
The Wofo temple is just outside the Grand Palace, turning left and then left. The ticket is only 150. There is also a bottle of drinking water free of charge. There are not many dress codes when you enter the temple, but there are many Buddhist temples inside. People who do not meet the requirements will be given clothes at the entrance of the temple, and some require to take off their shoes, so you need to wear convenient shoes when you come to Thailand.
Who will identify if this is a bodhi tree? There is a sleeping cat under the tree
Day 9, November 25, a lazy and leisurely day
At noon, we checked out and left our luggage in the hotel. We took a taxi to the old Capitol building. Because the Grand Palace tickets can visit teak palace and the old Capitol building for free within 7 days, the weather is too hot. Teak palace gave up visiting the old Capitol building. It's worth seeing, but the visiting requirements are very strict. All ladies must wear knee skirts and trousers, The original rule is that the bag can be taken inside and stored in a small white building, but now the new rule is that the bag must be stored in the cabinet when entering the door, and the wonderful thing is that there are dozens of cabinets, that is to say, people waiting at the door can only enter after leaving the cabinet! We were lucky enough to wait and soon got the key. This door can be entered with umbrella, water, mobile phone and other items, but we can't bring a bag. So remember to bring some money with us, because there will be clothing inspection inside, and those who don't meet the requirements will be asked to buy an apron for 50 plants. Only when you enter the building and store your mobile phone and other items can you enter the building for a visit.
The Ananda samakhom throne hall in Thailand was built in 1907 under the order of Rama v. Looking from the outside, the old Capitol has a dome modeled after the Western Capitol, and the whole building foundation is the cross type of Gothic church. The lobby is also like a Gothic church, with solemn benches and decorative paintings on the roof. The only difference from Gothic churches is that the contents of those decorative paintings are not biblical stories, but Indian style Buddhist stories believed by Thais, and the front wall is painted with King Rama V himself, who is popular among all people. From the perspective of architectural tradition, it is somewhat nondescript, and the pattern of the parliament building at that time also happened to reflect the political policy of Thailand in that period: to be friendly with western countries, to imitate the advanced western civilization, but to retain the root of Thai culture.
This is now the Royal Art Exhibition Center, displaying exquisite handicrafts made by craftsmen of the gerada handicraft production center supported by the current queen of Thailand to celebrate the birthday of the Thai emperor, the birthday of the Thai queen and the 50th and 60th anniversary of the Thai emperor's accession to the throne. The second floor is mainly composed of large pure gold sedan chariots, beetle wing weaving, large embroidery Teak relief screens and other large handicrafts are displayed on the first floor with some small and exquisite daily necessities, such as handbags, jewelry boxes and so on, as well as the top three award-winning works of the national craftsman embroidery competition organized by Queen Tai every year.
This scenic spot is very recommended. After passing through the security gate, free travelers can get interpretation earphones at the service desk with their tickets. The service staff will introduce how to use them for you. In fact, it's very simple. There will be a number outside each handicraft. You can enter the number on the commentator and press play to hear the corresponding interpretation. Team tourists will be equipped with special commentators to explain the whole process.
I went back to the hotel from the old Capitol building and found a MK Thai hot pot in a shopping mall for dinner. Many shopping malls have this hot pot, which is similar to domestic sipping and sipping. The ingredients are very similar to those in China, but the dipping materials are different. The menu seems to be all Thai. To avoid trouble, we ordered the 599 double set meals on the signboard, that is, choose a dish of instant boiled meat, a dish of stewed meat One snack, two ice cream and two drinks taste good. It's more authentic, because the people who eat around are Thai natives, not foreigners.
MK Thai hot pot:
After dinner, in order to pass the time, we went to the massage shop again. In fact, none of the massage shops we went to these three days are the same. After comparison, the best one we recommend is the one opposite king power. Recently, we are doing activities at a discount, with 200 plantar plants per hour. The technique is more authentic, but it is cheaper than other places. Many local people massage here, but the disadvantage is that they may be overcrowded.
After the massage, because it was still early, we wandered back to the shopping mall where we had dinner. This shopping mall is just under the victory monument station of light rail. It's not very big, but there are many things to eat. When we ate MK hot pot, we found a Thai rice noodle shop, so we came back to make up the night to see the signboard 13 plants a bowl. Is it too cheap? So each of us ordered a bowl, and when we came up, we were dumbfounded. It turned out that there was only one mouthful in one bowl. After looking at the pictures on the TV screen, we suddenly realized that it was not everyone's job to solve the problem. At last, each table folded the empty bowl like a hill. The taste was Thai style. It was really fun.
Day10, November 26, Bangkok -- Beijing Haihang hu7996
Bangkok's airport is three hours in advance for boarding pass, sad to be early again. Suvarnabhumi Airport in Bangkok is really big. The royalty duty-free shop in it also has the scale of a medium-sized shopping mall. There are two identical areas for cosmetics in the East and west directions. The big brands are Chanel, Prada, Gucci and Hermes, but they don't see LV and there are many second-line brands. However, the price is similar to that of Paragon after tax rebate, so you don't have to expect too much from the airport. If you shop in the downtown area and pick up the goods at the airport, remember to pick up the goods first, and then go to the duty-free shop full of people. The shopping time is fast, so don't delay the flight.
On HNA's praise, the stewardess is very happy, full of enthusiasm, chatting with passengers from time to time. After wandering for ten days, we were really moved to see our motherland's relatives. Take off on time, but the landing is one hour late. We should learn from AirAsia on time.
Postscript:
After returning home, I immediately received another big promotion from AirAsia. I couldn't resist the temptation of low price. I immediately scheduled my trip to Vietnam in March 2016. I'm a nostalgic person. Vietnam had been there once as early as March 2012. This time, I want to introduce this beautiful and charming country to the closest lovers. The theme is still inseparable from delicious food. The trip starts on March 17 and returns on March 28. If you also love to travel Love food, love shopping, welcome to join us, interested students can wechat contact: sunxiaobo451282