Published on December 14, 2013 15:01
Took a lot of beautiful photos, leaving a very beautiful memory. Maybe I can't make a statement, maybe I don't know how to write a lot of beautiful words, maybe I don't record a lot of detailed details, but I use my photos to write my feelings, express my mood, and record my beautiful journey ~! I love traveling, diving, outdoor, photography and self photographing. I have a brave heart and a dream to travel around the world! Use my photos to record the beauty of the journey, tell me the beautiful mood of every moment in the journey ~! I also hope to share my dream and my beautiful journey with you!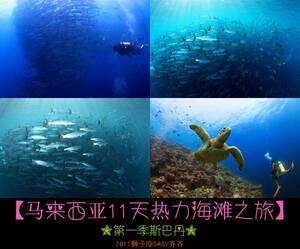 After waiting for three months, Guangzhou flies directly to Kuala Lumpur for three hours, turns to the airport for more than an hour, turns to douhu for more than an hour, and turns to xianbena for one hour, heading for the sea of my dream ~! After a day's journey
Finally came to him. Everything is really worth it ~! Spartan underwater world is really charming ~! This time the time of electric shock is too short, next time I will spend time in it ~! Sipadan is located in Sabah. Sabah is known as the hometown of wind. The climate is humid and hot all the year round. Sipadan is suitable for diving all the year round. There is no obvious season difference. Usually in the morning, there will be a moderate to heavy rain, but it will soon clear up. If you are lucky enough, the visibility of water is very high, and you have been diving in so many places ~! Only in Sipadan can I see what a real fish storm is ~! And there are storms everywhere! Maybe a turn around, behind you is a large group of sea wolf storm ~! When I really saw it, I was so excited that I was stunned. I was so happy ~! The above eight head pictures are taken by professional diving enthusiasts with 5D2 ~( I borrow it here) because the effect is really good ~! What I see is such beautiful scenery ~!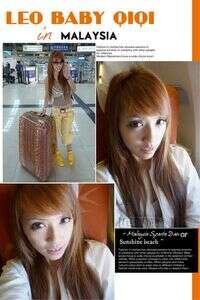 Unknowingly, the plane has been flying into Malaysia. The sky you see on the plane is always so blue and beautiful! My journey is about to begin.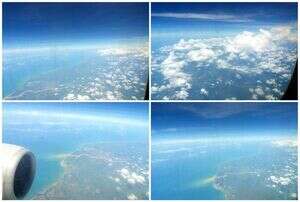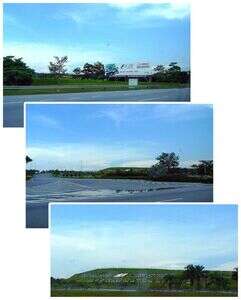 Arrive in Kuala Lumpur, take a taxi to the airport of Air Asia, meet the racetrack on the road, yearn for ah ~!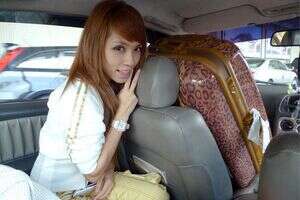 Ha ha, we have too much luggage. My leopard print suitcase VIP is in the front row!
Get up early in the morning, it's still dawn, the view of the wharf from our hotel room ~! It's busy since the day begins. In fact, xianbena is an old small county with low buildings and dilapidated buildings. The sea around it is not suitable for snorkeling or diving due to the pollution of life. If you want to dive, you must go out to sea. Xianbena is a small port city connecting with the sea. Although there are no local scenic spots to visit, for me, I can experience the local customs and feel the different breath of people's life in this country.
Our boat is full of diving bottles. The weather is fine, the sun is shining, and we are happy! Before, I got my ow diving license from PADI in Phuket, Thailand. Later, I went diving in Bali and Maldives, so I coveted shibatan for a long time! Now I finally come to the most famous diving Holy Land in Asia, which makes me very excited
I don't want to say more nonsense ~! I use travel notes to talk ~! Let's take a look at the photos! How clear the water is, how beautiful the sea is, how blue the sky is, how white the clouds are, how dazzling the sunshine is, how happy I am ~! All the beautiful scenery is in my photo travel notes ~! I hope you can feel the beautiful sea in my eyes, the beautiful Spartan, the beautiful world and my beautiful dream
Sun rain! It's sunny here, but it's raining heavily under the big clouds in the distance. I feel amazing. Nature always surprises us!
The well-known platform used to be an oil platform, but the reconstructed diving center is now dedicated to providing services for potential customers ~! Living here, you can dive anytime and anywhere every day, as long as you want ~! Just jump down! Ha ha ha! Very convenient ~! If you have a few more days to dive, I also suggest that you can live here and experience the feeling of living on the sea and diving! When we dive here, we often see diving enthusiasts diving directly. But it's only suitable for friends who really like diving! Because food and shelter are all on this platform, wake up to dive, tired to sleep ~! If you want to go to the market in the city or eat delicious food in Chinese restaurants, you have to go out by boat.
Whoa, whoa! Super happy me! ye~! ye~! ye~! ye~! Ye~!
There are three dives today! Storms can be seen everywhere... Swim swim, casually turn around, you can see a large group of fish ~! For the first time to see such a spectacular scene, I was really shocked. As if I had become a tiny fish, around a group of fish, they do not pay attention to me, I rushed into the school of fish in the stuffy cry ~! Never thought that there are so many fish in front of my eyes, right beside me, I think in their eyes also think I am another kind of fish ~!
The turtle! Turtle ~! Lovely turtle ~! It's lovely to watch the camera with me. It's a turtle with a sense of camera. We all love turtles ~! I love it very much, of course! Spartan is a holy land for sea turtles. It can be said that sea turtles can be seen everywhere. Just now, "wow" exclaimed that he found a sea turtle. He turned around and saw another one! It's really not unusual. You can say that you can see it every time, and you can see a few more! Unfortunately, I didn't go to the famous turtle cave.
Diving half-time, change place, we went to a shoal to start snorkeling!
Surprised again, the sea here is so clear, the blue sky is deep, the sea is green ~! The waves of the sea refracted by the sunlight are so shining!
Beautiful Malaysia shibatan!
We arrived near Mabu Island, where we can feel the clear water and enjoy the sunshine! Start snorkeling...
A burst of frenzy! In fact, although I like taking photos very much, I also enjoy the time when I travel. Maybe because I used to be a part-time graphic model, I can take photos very quickly. Although you see many photos of me, it doesn't take much time. Most of the photos you see are taken in a few minutes. Because when I heard the click, I would immediately change the post, and I didn't really look at the photos on the spot. They were all taken, and I would probably look at them. I would look at the photos slowly after I returned home.
Coach Zhao Zhenfei, who has worked hard this time, is recommended. He works conscientiously and provides excellent service! Oh, oh ~ ~ ~ next time you go diving in Malaysia, you can find him!
Diving trip happy end, more happy is next can eat my favorite seafood meal ~! When I think of seafood, my eyes shine! Radiate the light of happy dying oh...
Food begins! Super happy! Bask in delicious seafood, and I'm super happy to eat!
The night of xianbena walking in the night of xianbena on the road, big and small diving shop, all kinds of, is another kind of different feeling ~! In this night, in this journey, free, no bondage, brave, be myself! I just hope that I wake up every morning with sunshine and smile, that is, my most precious smile is easier and stronger than crying, so I want to be a sunflower and smile at the sunshine all the time. I'm just a silly child who loves to dream. I live with my dream. After all the pain and tears, I can see the scenery in my life. These colorful memories are all worth it
★
Shibatan is limited to 120 places every day! Need to book in advance, very tight ~! This time, we managed to get the quota for one day. There are still police with robbers on the island! Every one of us who goes to the island has to register. There is no lodging shop on the island, only a large pavilion can rest and eat, and it is not allowed to stroll on the island. I was called back after running a little far away. This environmental protection is really thorough! I really admire their sense of protection! Only in this way can we see such a beautiful scenery ~!
When you arrive at the dock on the island, there is a pavilion office. You need to register and sign at the office first, mainly including name, gender and nationality.
The legendary wave storm God was really good to me. Our first dive in Spartan was just sinking. I just turned around and immediately saw the legendary super cool wave storm. Not only happy, but also excited to death, I fly in general speed and the past. Although I had seen a bigger wave storm in the promotional film of Spartan before, when I saw it with my own eyes, I came here personally, and I realized the feeling of being shocked by this magnificent scene.
The world under the sea bottom of shipadan really shocked me! Full of full of fish, looking at the past, it is really too busy, can not see ah ~! It's a wonderful underwater world. If you don't pay attention, you may miss something.
The first dive surprised me so much that I couldn't finish watching it. There were so many wonderful underwater creatures! Not only see the forest wolf, but also see the humped parrot fish that I still remember. I call them "dragon head big brother" ha ha! They are huge in size, swimming in groups from afar, mighty, leisurely swimming by my side, casual appearance is really lovely. The humped parrot has a very obvious and iconic raised forehead and a pair of huge buckteeth. It's so cute and funny. It's full of joy, so it can't make people dislike them!
There are so many turtles in shibatan. They are rare species in other places. They can be seen everywhere! Most of the time, we see three at the same time, cultivating their body and mind in different places, maybe in a daze, maybe sleeping, maybe looking at the scenery, maybe looking at us strange human beings. Ha ha ha!
Look at my leisurely appearance, an old God in the appearance... It's completely adapted to the atmosphere of the sea floor!
Happy and excited end of a day of diving, let me shock the sea bottom world of shibatan, I think I will never forget... This small island far away from smoke and salt contains such a wonderful and amazing ocean paradise!
Back to xianbena, my heart still lingers with shibadan! Happiness is so simple.
Ha ha, I want to eat again. This is not only a beautiful underwater world, but also a wonderful seafood paradise! Only happy to describe my mood at the moment, completely fresh sea seafood, I can only say good to eat explosion...
The fourth day
We and the diving shop scheduled a sea trip to take us to an island with beautiful scenery, but usually no tourists. We want to see the most primitive and natural scenery of the local island. At first I thought it was an uninhabited island. The scenery is really beautiful! Everything is very calm, blue sky and sea, white scenery, lying in the shade of trees on the beach to sleep in the sun, that's really comfortable thing. Later, I found that it was a military Island, and there were military and police sentries. I met them to change sentries, but it should not be a very important base. Two guards at the sentry were sleeping in hammocks ~! There's no one in the base. It's probably just a training island.
Come to such a beautiful place, is to let go of happy play ~! For me who love to take photos, it's the happiest thing!
Local children on the island! Very lovely and simple. We take sugar and chocolate with us and give them to the children. They will be happy soon!
I stayed on the island for a while, and the boat came to pick us up! Go snorkeling nearby!
The sea water is really bright, so pure.
Time passes quickly. A morning passes quickly. It's already afternoon after the snorkeling. We're going back to the airport and fly to Kuala Lumpur. We'll stay for one day and stay for one night. Then we'll fly to heat wave island of momecha thermal beach!
As soon as we left the room early, our luggage was deposited in zhuilang. After diving back to wash and change clothes, I'll take a taxi to the airport! I can't bear it. The underwater world of shipadan is so beautiful. If I have a chance, I will come again!
★
The schedule arranged by the diving company is really good. I had a good time this time! Give me so many good memories!
thank you!