Recommended accommodation
Blue Point Hotel (H) ô tel Point Bleu) ¥ 556 cases of immediate booking >
Launch more hotels
Published on 2014-01-04 23:43
Seven Sao nians come to this honeymoon resort together, except for two couples who quarrel and quarrel all the way. There are three single girls left, including LZ, but no matter what, they are in a cold mood before going, and the sunset in their mind after coming back is also beautiful, so this is an island of China that is also suitable for playing with friends and friends. I love Bali.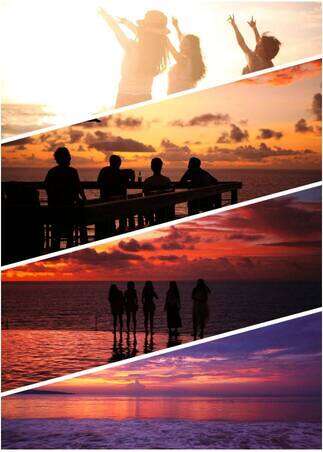 Introduction
1: Pre trip preparation
In fact, there are not many reasons. The purpose of this departure is to promote Air Asia!
It was only at that time that I learned that there was such a lovely low-cost airline as Air Asia, which has completed and exploded domestic flights.
So on the night of Dazuo, the ticket for Chengdu to fly to Malaysia was reserved in May of 2012 and January of 2013.
And it took about... Half an hour to make that decision.
So because of this half an hour... Several children paid the price of waiting for seven months.
About Air Asia
Booking:
It's all about crossing the river by feeling the stone. The passport hasn't been completed. OK, you can leave it blank. You don't need to fill in it for the time being. Just log in to modify and fill in it after you have finished.
When you book tickets, you will find that the price of this airline is a little cute except for promotion, but other services are not cute.
There are many extra charges for each step of booking, such as excess luggage, seat selection, meal selection, insurance, and telephone card,
You should pay attention to cancel these things, otherwise you don't know how your final expenses are increased.
Air Asia's hand luggage regulations:
1. Air Asia has to ask for a ticket to check the luggage. You can book the ticket together when you book the ticket, or you can do it when you go to the airport, but the luggage check-in fee is too expensive.
If there are not too many things, don't check them in and take them on the plane.
3. Air Asia's free hand luggage is limited to a 20 inch, 7kg suitcase plus a handbag or small backpack, so the secret is to stuff the clothes that occupy a lot of space but are not very heavy into the suitcase, and put the heavy things such as mobile phones and cameras in the handbag. Air Asia only checks the weight of the suitcase, but does not check the weight of the handbag, so it can pass the customs smoothly.
2: Currency exchange rate or something
At that time, the real-time exchange rate was as follows: 1 soft coin = 1550 Indonesian rupiah, which was the most cost-effective rate if you took it directly with a bank card without any service charge (Hengfeng Kyushu debit card is recommended, and there are no restrictions and annual fees for card application. ATM machines with UnionPay logo all over the world do not charge service charges, which is suitable for student party), followed by various exchange shops, Basically, it's about 1:1300 ~ ~ ~ 1:1400, which is not very good compared with direct withdrawal.
Note: there are many ATM machines in Bali, but those with UnionPay logo are only concentrated in Kuta and ubu. If you're in blue dot, Rowena, and kimberland, it can be hard to find. So try to withdraw the money after landing, and tell your driver to take you to withdraw the money first. ATM without UnionPay logo, of course, can't get coarse bills ~ ~ ~ of course, visa and MasterCard don't have to worry.
3: Entry exit
Bali is a landing sign. On the plane, the stewardess will issue an entry card
(this is what I saw in many travel notes when I was doing the strategy. Now I want to borrow it.)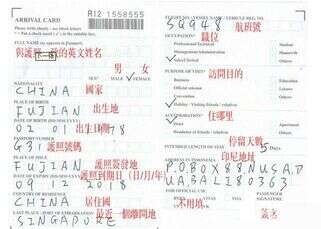 Visa on arrival at Bali airport.
Pay at the first window, get visa receipt, and go through the entry procedures at the next window. Hand in the passport, round-trip ticket, visa receipt, entry-exit form and customs declaration form to the staff and issue the visa.
Now we have to correct the saying that $10 is spent in seven days. Now all the landing tickets in Bali are $25, so prepare the tickets.
Tips:
1. The exit card and visa receipt should be kept and used when leaving the country.
2. When entering the country, the visa officer will ask for tips according to his mood. Some people will pass by immediately, others will be asked "what are you doing here, how many people are you here for a few days" and so on. If he asks you these questions, it's the precursor of tip. If he doesn't give it, he will directly say "please 100 RMB". That's what happened to bohans in our team. Because he didn't understand at that time, he thought that 100 RMB was a normal charge. Just give it. After passing the test, he pulled us to say that he was asked for 100 soft coins, and we all said - damn it! The most ridiculous thing is... Because Bohan often can't figure it out, he went back to find the visa officer "why 100 RMB?! why!!"


To sum up, if you are asked for a tip by the visa officer, you can start the forced mode of pretending to be stupid, pretending not to understand, pretending not to have money
3. At the time of departure, we have to pay a departure tax of 150000 Indonesian rupiah. And it must be given in Indonesian rupiah.
┄┄┄┄┄┄┄┄┄┄┄┄┄┄┄┄┄┄┄┄┄┄┄┄┄┄┄┄┄┄┄┄┄┄┄┄┄┄┄┄┄┄┄┄┄┄┄┄┄┄┄┄┄
4、 Prepare more tips, one dollar or 10000 inds. In this country where tips are all over the world, it's embarrassing to tip without change.
5、 Climate and choice
Bali is in the southern hemisphere, so the season is opposite to ours. Although it is hot all the year round, there are rainy season and dry season.
The rainy season is from November to March, and the dry season is from April to October. The coolest and most comfortable sightseeing season in Bali is from June to August, but it is also the peak season.
Therefore, the main conclusions are as follows:
Peak season: from May to September, it is cool and comfortable, but there are many people and the consumption is rising
Off season: in other months, it's very hot, easy to encounter showers, and it's very competitive, but there are relatively few people, and the biggest point is that consumption is not so expensive, and there's a lot of room for bargaining.
(so, we were very impulsive when booking tickets this time. Later, we learned that January and February were the times when the rainfall was the most, OMG... Then we prayed for Emma not to rain for seven months before rough hair. As a result, Jincheng's achievements are far from perfect. During the six days in Bali, there was only one day of heavy rain in ubu. The rest of the five days were sunny It's just hot enough.)
┄┄┄┄┄┄┄┄┄┄┄┄┄┄┄┄┄┄┄┄┄┄┄┄┄┄┄┄┄┄┄┄┄┄┄┄┄┄┄┄┄┄┄┄┄┄┄┄┄┄┄┄┄
About itinerary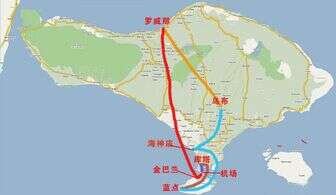 The day before: arrive at Denpasar Airport - Kuta Hotel: Kuta pop Hotel
First day: Kuta - duty free shop - blue point (uruwatu) Hostel: Blue Point Hotel
The next day: blue point (uruwatu) Hostel: Blue Point Hotel
The third day: Blue Point - Temple of the sea - ubulus: Ulalas petulu
The fourth day: ubu luoweina Hostel: luoweina Dolphin Beach Villa
Day 5: luoweina Hostel: luoweina Dolphin Beach Villa
Day 6: dolphin watching in luoweina - jinbalan - Airport
traffic
Local transportation: the package for one day (8-10 hours) is within 100 W rupiah, which can be found at any time, and most of them are reliable
The landlord's own experience is that he didn't contact the taxi driver in advance. They all found it after they got there. It's suitable for people who are not sure when to play.
The price negotiated with master is not calculated by days, but by distance.
Restaurant
As long as it's not a big killing in a seafood restaurant, it's good to have a normal dinner of 50-100 per person.
In addition, the beach sunset meal in kimberland is the most expensive.
shopping
Abundance of objects from more to less: ubu Kuta rovena sea temple
From cheap to expensive: luoweina - ubu - haishentemple - Kuta
So to sum up, it's very common to buy things in Rowe, which will make you happy.
The more high-end or special ones are bought in ubu, because Rowe may not have them.
Travel tickets
Sea temple 1W, wubu monkey forest 2W or so
Tickets are not required for the Ubud palace
detailed list
Bali is a three-way British standard socket, so it must be equipped with a power converter.
Sunscreen. sunscreen cream. Sunglasses. Sun hat. Beautiful dress, beautiful skirt.
Printed hotel orders, maps, food menu in Chinese and English.
Day1: Kuta duty free shop blue dot
I arrived at the airport at 11 p.m. the day before( 7 W rupiah from airport charter to Kuta Hotel.) Wake up the next day, this is the first sight of Bali, a hotel immediately sweating, into the barbecue mode.
Ah... It's summer in the southern hemisphere~
At the front desk of the hotel, we called a charter service. From the hotel to the duty-free shop, there was 75000 cars for four people. About 20 minutes' drive to the legendary duty-free shop, ready to sweep half a day. There are also many restaurants in duty-free shops, and Sao nians have decided to settle their first meal in Bali. Stay in the air-conditioned room, drink black tea and leave the barbecue mode.
I'm behind the camera.
It's evening after the cleaning. After going out, we asked the security guard Shu to help us call a car and go to our official first stop in Bali: blue dot.
(Tips: the list price of the duty-free shop is all in US dollars, and the payment is also settled in US dollars. If you don't have US dollars, you can also use other currencies to convert the currency in your hand by the exchange rate in the shop. In fact, it's not too bad. It supports UnionPay to swipe the card without paying the service charge. There are also a row of ATMs outside the shopping mall, but... There is no ATM of UnionPay.)( From duty free shop to blue point: 150000 rupiah, a four seater car, more than half an hour's drive)
It was dark when we got to the blue point. It took at least 40 minutes to drive all the way. I couldn't see the scenery clearly. I just felt that I had gone through a jungle and was getting more and more remote. At this time, the driver began to say, "you live in a remote place, in the forest, usually many foreigners like to make love in the forest, I have seen it.". Then all the people in the car had a look of "low fuel, you know, I know," and chuckled with the driver.
Day2: Blue Point Hotel
"Blue dot" is located on the cliff of uruwatu, with an invincible romantic sea view. Under the cliff is a famous surfing Mecca. The surfers who come here are all top experts from Europe and America. The invincible sea view and boundless swimming pool give people the illusion that the swimming pool is connected with the sea. It's very beautiful. The Wedding Church beside is even more romantic. Apart from the white roof and structural columns, the church is full of transparent glass. Facing the vast and clear Indian Ocean, it makes you feel like you are in a fairy tale world.
So for the blue dot, we can be described as "admiring".
The real trip to Bali has just begun.
Spent the whole day at blue dot. Who said you can't play all day in the hotel? The Sao nians don't think it's for the sake of driving.
So I arranged for a whole day in blue dot, shooting slowly and loading slowly.
Breakfast is packed by the hotel. Yesterday, when checking in at the front desk, the breakfast coupon was issued. You can enter the restaurant with the ticket.
... although 8:00 or something is really the best time for me to get up early, I still think it's worth getting up early when I can have breakfast in a restaurant on the sea. Now it's the magnificent Indian Ocean.
Open the window, the wind of the Indian Ocean. Then the losers couldn't help but want to express their joy with all kinds of coquettish voices, but in order to reflect our good quality, they still resisted the impulse to groan.
Downstairs is the cliff bar.
After breakfast, go to the famous infinity pool in blue point. Oh, NIMA... It's so beautiful. It's the boundless swimming pool I used to play in Da Nang, Vietnam. Finally saw the legendary cliff invincible sea view, almost wet eyes, OK~
With the mood of chicken jelly. I went back to my room and dressed up. Didn't I say that I would have to work hard all day here.
The rooms of Sao nians are next to each other. As soon as the balcony comes out, you can say hello to them.
Ouch, hey, why are you two men touching your chest?
Make up, change clothes, stay in the room to hide for a while, noon heat, thick door.
This is sister Wei. She's dressed like a goddess today.
It's agreed that we should have a show,
As a result, we didn't expect that the 3-minute walk from the room to the swimming pool was taken by us for more than an hour. The blue dot forest is very dense.
Selfie... Endless selfie
Next to the pool is the legendary glass church. All the tourists come to the front to chat.
Right now, it's a pool surrounded by gardens.
The swimming pool is surrounded by chains. Tourists who are attracted to the pool can't step into the pool, they can only watch from a distance. To get in, you have to report your room number at the entrance, and then let me in. Of course, you have to be the guest here. Never be a loser. So forced mode must be turned on. There are not many people in the swimming pool at one or two in the afternoon. We can have a lot of fun. This picture is named: the collision between xiaoqingxin and muscle man.
Five girls are standing up... But... What kind of creepy creature is that at the foot of the right one?? Later, it was Wei Meizi's boyfriend... Hello... Who told you to stick your head out, please consciously go into the water.
LZ turned back unexpectedly.
Under my power, Bohan decided to dive like this.
Little me. Ask someone to put a foot in it, and I will be integrated with the Indian Ocean forever.
Take a look at this pistil girl... Short oil... A person is there laughing wildly.
Start playing wide angle... Group photo of the famous Blue Piano logo.
This photo is named: honey, is it fragrant?
Bohan miniature.
This product is the male friend of the one above~~~
Bohan... Strong version.
Xuanmeizi said that she must take a picture that appears to have a meter long leg... So
Take off, Astro Boy!!
Next to the swimming pool, I found a square inch of space, too small and fresh.
Clap, clap. A couple of wedding dress makers came to the glass church nearby. Is it romantic? I'm surrounded by two female losers, I'm surprised every few seconds, and I'm secretly photographed every two minutes.
The building behind is a restaurant.
I've been in the sun for more than an hour. It's time to hide.
They came to the pool again.
The angle of the scenic spot of blue dot wedding dress is necessary~
Tired of swimming in the pool, wandering around the blue dot. Present a picture of LZ.
Tired of playing, I decided to go back to hide from the high temperature, but when I was walking, I photographed again in the grass outside my room... Shit
I had a good nap. Wake up is about to sunset rhythm. From the balcony, it's time to go out and wait for the sunset. Let's go, Sao nians. Two steps to the pool, looking forward to the sunset... Beautiful explosion... My little partner and I were shocked~
These shrimps are really special. They will enjoy life. A resort, a quiet Indian Ocean, a bottle of wine, a beautiful evening, a few good brothers talking and laughing.
It's getting more and more red and purple. church.
When the photos are sent here, I don't think it's necessary to say more. The photos didn't have any post-processing. At that time, we were almost beautiful. At that time, the swimming pool had only seven years for us, so we could play our best
We in the scenery.
There is a man in my power, buried in the water, began to take photos of hair. But it's hard to be a girl who can't even swim... And take pictures like this. And the light was already very dark. It's difficult to focus. We tried many times and finally got one that was barely satisfied.
It's getting late, and there's no one else in the pool except us.
Next comes the goddess. The goddess began to play.
Day3: when you get to the sea temple, buy a ticket of 1W per person, and talk with the driver oba. We can see the sunset before we go. So the driver oba said he would pick us up at the door at 7 o'clock. There are various restaurants at the entrance. Walk to the seaside. There are many handicraft shops along the way. But the price is not affordable, TX can temporarily not consider buying here. Go to the seaside, the temple of the sea is there. At first glance, it used to be..... WTF??!!! People mountain people sea!!!
The wind and waves by the sea are very strong, and Sao Niang people like to stand beside the waves and be blown into a mess.
Will we take a picture of the "V" sign in the background of the sea temple? Of course not! So they went to the far side of the temple of the sea... Looking for a place where there was no crowd.
A little to the left of the sea god temple is a completely different world. There is no ghost behind. This is our goal.
Aircraft carrier style was still popular at that time.
Obscenity can be controlled= Second, young people are more happy.
Eh... Where come the Middle East elder married young women.. It's too much of a mix and match.
A few nerves were called to distant place by me to shoot... We are far away... Need to shout I don't know what this photo means. Let me think about it, maybe it's youth without limit and so on.
When the light is up, you can play little refreshing. A few years later, I was too excited to stop. Come on, go against the light!
At first sight, she came as a goddess! Take a closer look? How the expression is a little "smile too much". "....
Here, I have a favorite photo of this trip!! Emma... I love it so much... To use it as my desktop first. For Bohan who doesn't know much about photography, I adjusted the parameters for him. We concave the shape several times, and finally! At this moment should be accompanied by a lyric: nothing can stop my yearning for self travel.
Four people. As for the other three people, they are separated. But since they all agreed with the driver to meet us at the gate at 7:00, we don't worry about the whereabouts of the other three children.
I'm looking forward to the sunset of the sea temple, one of the ten most beautiful sunsets in the world. So they began to go back to find a commanding point to shoot the sunset. Go to the back of the mountain, call it "mountain", the perfect place to shoot the sunset of the sea temple. In the changeable color sky... Took a favorite picture of the sea temple.
It's 7 o'clock sharp. It's time to leave for Ubud. All the scenic spots going in and out of the sea temple pass through this gate. Chinese Name: the gate of good and evil
Day4: Ubud - Palace - Monkey Forest - rowina
Attached is a map of Ubud,
The place where we stayed, the palace and the location of the monkey forest are clear at a glance.
And the road from the palace to Houlin is the street with the most concentration of wubu hotels and goods.
Last night I went to Ubud's Hotel, a door... This garden... This acid is cool... The little buddies were shocked again. The waiter took the two pairs of lovers to a villa, and two pairs of woodlouse opened the door and began screaming. When we walked in, we found upstairs and screamed again. And then the question comes, which pair sleep upstairs, which pair sleep downstairs? Finally, the most fair and international solution to the dispute - scissors, stone, paper... To set the overall situation. Our three single rooms are on the first floor of another villa.
Breakfast kiosks in the woods. And honest waiters.
The Bachelor of our table also gave him a 5W tip. After taking it away, he came back and said, "you don't have to pay so much for the extra breakfast. It's too much."
We say: just for you
He left happily.
Well, our first floor is a bit shabby by by me. In fact, it's very beautiful. It's only saved by words here~~
A car parked in a hotel.
Walking around downtown ubu.
Transportation:
Ubu said big or small. It's about 10 minutes' walk from our hotel to the palace, so we threw the ham away.
It's a 20 minute walk from the palace to the monkey forest, because you can walk and shop all the way.
It's 3W Indonesian rupiah to take a taxi from shenghou forest to the hotel.
The convenience store bought a bottle of blue Pepsi. The taste is the same as what we usually drink. After a few sips, the whole tongue turns purple.
The buildings along the way are very distinctive. No wonder some people say that Bali is a first-class hotel, a second rate religious culture and a third rate beach. I feel deeply about this evaluation.
The great palace of Ubud
Ten minutes later, we arrived at the grand palace.
In the Grand Palace of Ubud. Compared with the Imperial Palace in China, it's really like a slum or something
Outside the palace.
The imperial palace is very dilapidated. Ten minutes later, sister Rui and I came out.
As a pathfinder, we decided to explain to several children waiting outside like this: short oil, not so good. I don't think it's as beautiful as our hotel. Just don't go to see it.
It's impossible to compare with our Imperial Palace in China.
So the children decided to go to the monkey forest with a look of disgust.
I was photographing him, and he was looking at me with disdain. It is the so-called interaction of forces.
Monkey Forest
We picked up a passer-by at the roadside and asked where the monkey forest was. It was said that it would take 20 minutes, then we went all the way.
A lot of things were swept along the way, mainly hand-made soap and essential oil soap. Who calls it cheap and more suitable for giving away= As a child, we arrived at the gate of the legendary monkey forest. As soon as we get to the door. Monkey brother shows up.
original... It's sister monkey. She's also wearing a monkey baby~
This is the monkey forest. In my memory, the ticket is 2W Indonesian rupiah, which is more than 10 yuan in total. After thinking about it... It seems that Sao nians are not very interested, so they decided to go back shopping... Anyway, there are so many monkeys at the door( It's really a group of frugal and stingy years
Uncle!! Where are you touching?!! Pay attention to integrity!!
So he went back to his home,
Passing by a hotel, it's very beautiful.
I'll stay here next time.
On the stone carvings, there are two big red flowers of Yang Er Che Nam.
Don't miss this concave opportunity.
Recall the scene of this picture. It's moving. Because after the two of them took this picture, ubu suddenly had a super heavy rain. The raindrops hit him for two seconds and he could get wet in his underwear. The couple without an umbrella was all the way back to the hotel.
We came back to the hotel to get our luggage.
Tonight's trip is to the north of Bali: Rowena.
The waiter was so happy to see us being drenched. Then he took us to the shower of the swimming pool to change our clothes.
After everything is settled,
We also found a passionate landlady to help us contact a driver and charter a car to luoweina.
The landlady said it was dark and rainy, so it was hard to find a cheap car.
(after negotiation with the landlady and the driver, the deal was finally closed at 50W. It's a three hour drive from ubu Rowe. It's already cheap for seven people.)
It's 11:00 p.m. when I enter the hotel, I'm stunned! I can't believe we got a suite of seven or eight square meters for 400 RMB
Day5: lowena
After breakfast, I sweep the street.
This small town in the north is obviously not as busy as that in the south of Bali. It's just like the rural wind But... I love its price~
Here, rice fields and rainforests are very close to you.
The streets of lowena.
Passing by a souvenir shop, my little sister is so cute. She has no fear of concave shape in front of the camera.
By the way: the souvenirs of lowena are the cheapest in Bali. Of course, there are not many kinds of souvenirs, and there are not many handicraft shops. But because the bargaining space is the biggest, buy Sao year people call it cool!
Walking back and forth in the streets of Rowena for two hours,
OMG, sincerely far away, finally came back. Swept a bunch of cheap souvenirs.
When I came back, I met him, our special waiter. It seems that we have been very familiar with him for one or two days.
As soon as you see me, you say "Huang Xiaomei!" But his Chinese is poor, and his pronunciation is basically "huanjiumei"
In the hotel, there are many joys.
Second, young people are more happy. We, whose brains are clamped by the door, formally deduce what real brains are clamped by the door...
I have dinner at the gate,
Sunset again, just in the position of Rowe, can only see the sunrise, can't see the sunset.
As for the feeding problem of Rowena, there is only one more prosperous street in the whole town. Bar, restaurant, souvenir shop.
Good night, Rowena. In the evening, he confirmed to the waiter that he would go to sea the next day and paid 6W Indonesian rupiah,
He told us to meet at the seaside of the hotel at 6:30 Is it true? There's a kind of knot that can't get up at all.
Day6: luoweina sea dolphin Tour - jinbalan Airport
Rowena
5:30... I'm still struggling in bed...
The door began to ring, "huanjiumei ~!"!! Huanjiumei ~ ~! "
Shit, it's him who wakes me up, and it's still that wonderful pronunciation.
I was driven away without dressing up,
When I came out and saw the other four people, it turned out that they were not dressed up, so I was relieved.
It's 6 o'clock. It's on the beach outside the hotel.
Oba, the boatman, began to push the boat into the sea.
The bow looks like this.
Arrive at the sea area where the dolphins haunt, meet the big army... Originally... Everyone is running after the dolphins~
Brush! A dolphin shows up!! Wipe! But I didn't get it! Not only didn't you get it! Not yet! It's true that we can see dolphins! And it's right next to us... And then woodlouse starts screaming.
The reflection arc was a little slow, so I realized that I should turn the camera to high-speed continuous shooting. Then I held up my weapon and started to catch dolphins.
So many shots. Only this one has a face ~ ~ ~ it's so cute
This one can pretend to be looking at sharks...
After spending about an hour in this sea area, we found out the secret of watching dolphins... That is to chase the dolphins in a boat( Generally speaking, when a dolphin is about to jump out, there will be fast-moving waves on the sea, and the boatman follows the waves. (our boatman helps us chase the dolphins very hard. When we get back to the shore at 8 o'clock, we give him 4W Indonesian rupiah as a tip. He said, "you give me money Thank you!"
After breakfast and packing, we'll go back to kimbalan and fly back in the evening.
I'm a little lost.
The car that the hotel contacted us came to pick us up at 10 o'clock. It's 120W from luoweina - jinbalan - Airport, which is more cost-effective. The transaction was concluded.
jimbaran
Four hours later, we arrived in kimberland
Jinbalan beach is full of restaurants,... Found a restaurant for lunch. And wait for the sunset.
In the afternoon, I sat at the restaurant beside the beach waiting for the sunset. Finally, there's a sign of sunset. Get ready to take photos.
At a quarter past six, the scenery on the horizon began to change... It was only half an hour. Jinbalan was transformed into another kind of scenery.
Wide angle up. It's beautiful. Woodlouse has been screaming, especially my woodlouse. But I'm almost in tears, OK, Kimberly, you're the grace of creation.
The 10:00 p.m. plane... Doesn't give us much time in kimberland. Sao nians seize the time to have fun.
LZ back
From orange to red, red to purple. A lot of colors. Blue dot, Temple of the sea, golden Balaam. At last, the eyes of the three sunsets were protected. The trip to Bali is a perfect ending.
There are a lot of people on the beach at sunset BBQ, and the live band is still hi. When I left, I felt like a knife in my heart. I drove to the airport in 10 minutes. Let's go. Let's go. I just want to see you again.
Detailed expenses:
plane ticket:
Chengdu to Kuala Lumpur 1200
Kuala Lumpur and Bali 380
..................................................................................................
Accommodation: (please ignore the price at the back of the picture... It's the total price of two or three rooms or two or three nights)
Pop Kuta Hotel 200
Blue dot 600 * 2 days
Ulaspetulu300
Luoweina Dolphin Bay Villa 400 * 2 days
Finally, divide by three bachelors = 900 / person
.......................................................................................
Transportation: Airport Kuta Hotel (charter 7W)
Kuta Hotel - duty free (7.5W)
Duty free shop - blue dot (charter 15W)
Blue point - sea temple - wubu (Chartered 100W)
Ubu rovena (Chartered 50W)
Luoweina jinbalan Airport (Chartered 120W)
A total of about 300 W rupiah.
It is about 1950 yuan,
Divide by 7 = 280 / person(
.....................................................................................................
Meal: total ≈ 500 soft coins
admission ticket:
Sea temple 1W
Dolphin 6W
Total = 50 soft coins
Various tips: 100 / person in total
Landing visa: 25 US dollars ≈ 160 soft currency
Departure tax: 15W rupiah ≈ 100 soft currency
Shopping doesn't count( Because we're a loser in shopping
So in addition to shopping, the total cost is about 3200 soft coins. In the end, it's only 3200... Seven of us were scared.
Price seems completely poor travel mode, but play up absolute five-star enjoyment ~ so TX people can refer to our price list and itinerary.
........................................................................................................
The secret of poor travel summed up by the landlord:
1. Cheap air ticket:
1) Air Asia must make every effort to grab tickets when it is promoting its development!
2) Pay close attention to @ Asia low-cost airline network: frequently update the discount information of some Asian countries, including low-cost airlines such as Air Asia and Cebu airlines, as well as discount information of domestic airlines in China. It's definitely better than you search the tickets yourself, because the special tickets of international airlines can't be found completely in the domestic search engine
@AirAsia home: every time big promotion, small promotion, discount and so on, they will notice in advance on the microblog. If you see the promotion microblog, just go and get ready to grab tickets. The price is absolutely the best. Even if you don't get the cheapest ticket for AirAsia's promotion, it's usually very cheap to book a few months in advance.
@E Travel: the largest amount of information, including domestic major airlines launched limited time special tickets, discount information, as well as international cheap ticket information, as well as a variety of hotels, visa discount information.
These three microblogs may not be suitable for students who are not poor in money, but they are definitely good news for poor children~~~
2. Travel together. Most of the cars in Bali are minibuses or MPVS, with 7 people, so of course, 7 people are the most cost-effective.
3. Have the cheek to bargain, don't be afraid. In ubu, an ashtray was priced at 100 thousand Indonesian rupiah. After a few more stores, they found the one with a price of 5 W. finally, with the bargaining, the deal was closed at 30 thousand.