Published on April 16, 2014 22:04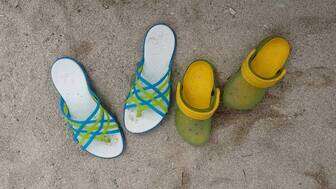 For me who love traveling, the real travel is very few. In a flash, I am already 33 years old. This time, I told myself that no matter what the reason, I can't stop myself. After firming this belief, persuading his family and studying numerous strategies, he finally made a complete plan for his first free trip and his first outbound trip, and made a perfect trip during the Spring Festival holiday in 2014.
Because my son is only 4 and a half years old, too many tourist attractions are not suitable for him, so I chose the island tour. In addition, my mother-in-law's sister, that is, my husband's aunt, lives in Singapore. After studying the map, I decided the destination of this trip: Singapore + Bali. The time is five days and four nights during the Spring Festival in 2014, Staff: my mother-in-law, my son and I (my husband doesn't like to travel, so I have to bring my mother-in-law who also loves to travel!), Travel cost: 30000 yuan, this introduction mainly introduces the trip to Bali, Singapore travel notes, please look forward to!
1、 About air tickets:
When you decide your destination, you should start buying air tickets first. After looking at the strategy, you come to the conclusion that domestic air tickets are the cheapest to book half a month in advance, while international air tickets are the cheapest to book half a year in advance. There are less than three months left. After observing the ticket prices for a week, you decide to buy Haikou for your mother-in-law and son - Jetstar Airlines and low-cost airlines from Singapore, Children and adults have the same price. When they start from Haikou and return to Guangzhou, their sons can go to Haikou and relatives' homes in Guangzhou for a few more days. I couldn't ask for a long time off, so I had to leave late. I found that the round trip tax increase of China Eastern Airlines from Xi'an to Singapore was only 2571 yuan, so I bought it for myself. A week later, the one-way flight to Singapore will cost more than 3000 yuan. Ha ha, it's a big profit! However, this flight is a red eye flight. It stops in Kunming, arrives in Singapore at 2 a.m., and departs from Singapore at 3 a.m. when it comes back. It's not suitable for children.
Route adult children Airlines
Yuncheng -- Haikou 1625 1080 China Southern Airlines
Haikou -- Singapore 543 543 Jetstar Asia
Singapore Bali Air Asia 1861.88 1783.8
Singapore - Guangzhou 1202 992 Hainan Airlines
Guangzhou Yuncheng 1040 992 Air China
Total: 6271.88 5390.8
China Eastern Airlines 2571 from Xi'an to Singapore
Air Asia 1783.8 from Singapore to Bali
Total: 4354.8
Total cost of three person air ticket: 16017.48
Important note:
1. Booking international air tickets half a year in advance is the cheapest, the earlier the better. If you encounter low price air tickets, you must start quickly! Shanghai, Guangzhou, Hong Kong have direct flights to Bali, or via Singapore, Jakarta to Bali, you can compare the fares.
2. Don't buy the domestic flight ticket too early, half a month in advance is the cheapest. I bought the ticket from Yuncheng to Haikou one month in advance, which is 500 yuan more expensive than half a month in advance. It's really distressing!
3. Air tickets with round-trip special package can be cheaper. Because the discount range of air tickets in small cities is smaller, the overall cost is higher. If you start from a big city, the air tickets will be much cheaper.
4. The price of red eye flights will be more favorable, but it is not suitable for children. I choose a better time for my ticket from Singapore to Bali. If I choose to go to Bali in the evening and return to Bali in the morning, I can get about 1000 tickets, and the discount rate is even greater!
5. Cheap air fares don't include catering and luggage check-in. If you don't have much luggage, you don't need to check it. Many people on the plane don't check it, but it's convenient for those with children. It's about 20kg to buy a luggage check-in. You'd better buy plane meals when you book tickets. It's the cheapest and you can bring your own food on the plane. Anyway, Jetstar and Asia Airlines can bring their own food. Singapore airport carries out the last security check at the gate. You can't take water with you, but there is still a place to take water after you go in. There is no free water on the cheap airlines. Remember to take some water here.
2、 About hotels:
Everyone says that Bali is a first-class hotel, a second-class beach, and a third class scenic spot. After I have been there, I feel that what I said is really right. Therefore, if I want to stay in a good hotel in Bali, I feel like one word: cool! I went for four days and stayed in three hotels:
The swimming pool villa of ubu butterfly hotel is 715 US dollars, two nights including two mornings, a free dinner for children, a 120 minute spa for two, and all the washing and gargling products of the hotel are made by oshitan
Best Western Kuta Beach premium twin room $45.91 per night with double breakfast, free for children
Luxury garden view room of Westin Nusa Duva is 1302 yuan, including double breakfast every night, free for children
Important note:
1. Many hotels have children's charge rules, some compulsory extra bed, some breakfast to charge, some rooms are not allowed to take children, no matter what way to book the hotel, we must understand clearly.
2. For some hotels that are very popular in China, we must start early. I hesitated for a week and decided to order Ayana and royal pita Maha, but the rooms were full. I regret it!
3. The transfer hotel can save a lot of taxi money with the help of charter and one-day tour.
4. Wubu's accommodation is characterized by villa type, so it's best to live in a villa with a swimming pool in wubu. Children like it very much, and they don't want to go anywhere when they are in their own swimming pool; The sea of Nusa DUVA hotel will leave a shoal after the ebb tide. There will be some small creatures, small fish and sea urchins in it. Children like it very much. Many children will explore there after the ebb tide!
3、 About chartering and activities:
The activities of car charter and one-day tour can be reserved through travel website or agent. Price:
Wubu airport 150 yuan
235 yuan per day
Blue dream island one day tour (speedboat on the island + sea walk + Island Tour + offshore platform project + lunch) special price 600 yuan / person
Important note:
1. Pick up and charter the price difference is not big, it is best to choose a more secure agent booking, in order to avoid late and other phenomena.
2. One day tour generally charges for children over 4 years old. Different companies have different regulations, but Bali is generally not so strict with children. No one will pay special attention to children's age, height and other issues, so... You know!
3. A one-day tour of lanmeng island with a stroll on the sea floor is very affordable and worth visiting. The main reason is that the sea there is beautiful and the lunch is not so bad. It's certainly no problem to have enough to eat. People on the offshore platform go by glass bottomed boats, and children like it very much. The offshore projects on the platform are exciting, so young children can only sit there and wait.
4、 About visa:
1. For landing visa in Bali, the following things need to be prepared:
1) Passport valid for more than 6 months;
2) Landing visa fee: US25 yuan / person in cash. After seeing the visa on arrival sign, it is suggested that one person should pay here, and the other person should continue to go to the immigration officer's counter to queue up, which can save a lot of time.
3) Completed entry and exit card and declaration form
2. The visa process is as follows:
1) After getting off the plane, go to visa on arrival on the first floor to apply for the landing visa. At the first stop window, buy the landing visa from the Immigration Customs at the cost of US25 yuan per person. Adults and children can get a "landing visa receipt" at one price;
2) Go to the next window --- queue in front of the immigration officer counter, waiting for the official to verify. Here you are: 1. Receipt of landing visa; 2. Entry exit card; 3. Passport. Immigration officials will collect your "landing visa receipt" and stick a visa sticker on your passport. Then they will stamp the entry seal on the visa sticker and take away half of the entry-exit card. At this time, Immigration Customs will book your exit card in your passport. Please check carefully before you leave the counter: a. whether there is a visa sticker on your passport; b. Whether the entry seal is stamped; c. Do you still have your other half's exit entry card.
3) Go ahead, go to the baggage claim carousel to claim your luggage, and finally, when you pass the baggage customs inspection, you can submit the declaration form and leave the airport.
3. Note:
1) Please take good care of your passport and half of your immigration card. The other half will be taken back when you leave. If you lose the card, you will be fined by the immigration department.
2) After picking up the luggage at the baggage claim area of Bali airport, if you find any marks on the luggage, please clean them immediately, otherwise you will be rechecked one by one when you pass the check;
3) There are many porters who volunteer to help you with your luggage at the baggage claim area. After leaving the airport, they must give a tip (20 thousand rupees). If you don't need to help carry out the luggage, please refuse immediately;
4) If you want to take a taxi, after leaving the airport pick-up gate, turn right and go straight to taxi service. After you get the taxi roll, the driver will take you to the parking lot to drive;
5) Remember to keep cash rp150000 / person and pay airport tax when you leave.
6) Fill in the entry-exit card and baggage declaration form (the entry-exit card and baggage declaration form can be collected on the plane): 1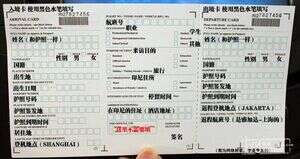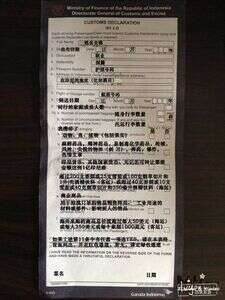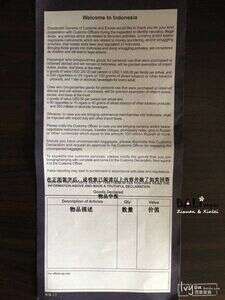 5、 About exchange:
The currency of Bali is RP (rupiah, IDR for short), and the use of US dollar is also very common. Generally, accommodation, car charter, travel agency tour and self paid items are quoted in US dollars, while shopping, eating and tipping are mostly in Indonesian rupiah.
I personally think that the exchange rate is mainly for safety, and the exchange rate difference between different places will not be particularly big. Moreover, we only need to exchange pocket money, and the amount is not large. There is no need to tangle too much about the exchange rate. Therefore, I chose Singapore airport to exchange exchange foreign exchange, which is safe and reassuring. There are many exchange points in Singapore airport. They charge a certain handling fee and can exchange RMB, US dollar, Singapore dollar and other international currencies for Indonesian rupiah. However, all currencies need to be converted into Singapore dollar and then converted into the required currency. There will be a certain exchange rate loss when using non Singapore dollar exchange. I have converted US dollars from China, For the Indonesian rupiah exchanged in US dollars, 300 US dollars was exchanged for 3.3 million Indonesian rupiah, and the handling charge was s $3. It seems that I can't remember the change of more than S $6. For a five-day and four night trip to Bali, you can eat, buy and tip. There are 3.3 million Indonesian rupiah left. Therefore, you can exchange 200 US dollars for Indonesian rupiah. It's very convenient to swipe cards in large hotels and hotels.
Here are some strategies I collected for exchange, which are convenient for my friends to check:
1. Exchange skills:
1) The exchange rate of Indonesian rupiah fluctuates greatly. When you arrive at the airport, you should first look at the exchange rate of that day. If it is at a high level, you might as well change it a little more.
2) The exchange rate of the airport is generally lower than that of the urban area. You can change it a little less first, which is enough for one or two days' expenses. There are many shops in the city that can exchange money. The farther away from the center, the better the exchange rate.
3) There is no commission on the exchange rate bulletin board of street exchange point, which means there is no handling charge.
4) The exchange rate of large denominations is higher than that of small denominations. It's best to issue US dollars after 2006, but not before 2001, and there must be no US dollars beginning with C, B or D codes.
5) When exchanging, check face to face, don't change hands through others. Don't be tempted by the high exchange rate, there will be something fishy in it.
6) You'd better go to the bank, supermarket and Kodak store to exchange money. If the exchange rate is too high, there is usually a problem. It's better not to go to the alley and ask if there are 50000 or 100000 notes to avoid getting a pile of small notes.
7) When changing money, if someone chats with you, don't be distracted. After you get the money, make sure to check whether there are counterfeit notes (usually 100000, printed a little crooked). You can't let them handle it after ordering. Some counter tables have mechanisms, and they will drop one after shaking.
8) Don't change US dollars into local currency. It's too troublesome to change them back if you can't use them up. It's very convenient to exchange foreign exchange there. One hundred at a time, how much to use.
9) BCA bank in Bali has begun to fully support China UnionPay card. BCA bank is one of the largest private banks in Indonesia. Its ATMs are all over Indonesia. No less than 20 BCA banks can be seen on the roadsides of Kuta, ubu, rowina, cingara, gimbalan and other places, most of which are clearly marked with UnionPay logo. It costs about 690 yuan to take 1000000 yuan each time, which saves the trouble of finding the exchange point and is safe.
2. Safe exchange point:
1) Kuta is the exchange place next to McDonald's (the one with glass door).
2) There is a Exchange on the right side of sun department store.
3) Pt.digahayu valueprima: there are security guards, cash detector, documents, and the exchange rate is the same as that of sun department store. We charge 1996 dollars, and the exchange rate is the same. It's located on the Legian street of Kuta, very close to Pantai Kuta street, next to quickserver. However, there is only one in Kuta, and it's not very easy to find. Some drivers don't know. There are three Ubud, which can be seen when shopping. Business hours: 9:00am-11:00pm
4) Kodak next to Kuta Paradiso can be changed to 9250, and Matahari can also be changed to this exchange rate.
5) The one opposite the juice stall of sun department store is safe and reliable, and the exchange rate is good. You can exchange more here.
6) Travel agencies or Kodak are pretty good, relatively safe.
7) There is a bank at the intersection of poppies I and Kuta street. The exchange rate is good.
8) Turn right when you come out of poppies Hotel and walk to the intersection of Kuta square (about 30 meters away). There is a very regular money change. There are security guards and cash detector in it. If you bring more US dollars of 1996, it doesn't matter. Kuta's store can change them, and the exchange rate is very good.
6、 About tips:
Indonesia is a tipping country. In Bali, except for hotels and restaurants that have been marked with service charge, tipping is generally required for all kinds of services. The amount varies from 500 to tens of thousands of rupiah depending on the labor paid by the other party. Hotel bellman, daily room cleaning, taxi driver all need to give a certain tip. It is recommended to take 10000 guilders and a dollar bill with you and be ready to tip at any time.
Most hotels and restaurants add an 11% government tax and a 10% service charge to the bill, without having to tip.
For bellboy, room attendant, etc., the standard is about 10000 Dunns. The taxi driver's tip may consult the agent, if the other party's service is very good or paid extra labor, please increase it as appropriate.
7、 About communications:
The activity I ordered and the shop that chartered a car gave me a SIM card, which is basically useless. The charges of China Mobile in Bali are not very expensive. I forget the charging standard. In short, when you arrive at the destination, you will receive a short message, which will prompt you the local charging standard. I have been in Bali and Singapore for 10 days. I only use my mobile phone to make some necessary calls. The time is within 2 minutes. When I am in the hotel, I use WiFi to contact my family and friends. After 10 days, the phone charge of 50 yuan has not been used up. Therefore, please don't waste too much precious time on the SIM card, and put all the time on the beautiful beach and hotel!
For those in need, I also use strategy information. Please see below:
There are many kinds of SIM cards in Bali, mainly including im 3, simpati, Mentari and pro XL, and simpati has the best signal. Recommended "telepati" card of "telkomsel".
The prices of the same SIM cards sold in different places are quite different. The same 5K SIM card sells more than 80000 RP in the coco market, and the prepaid card with a charge of 50000 sells 120000; In the kiosk in the middle of the road, the simpati card is sold for 50000 yuan, and the recharge card with 50000 yuan is sold for 80000 yuan; In Kuta, the lowest price for a simpati card is 9K, and there are small face value rechargeable cards, which only need to charge 10000. It is recommended to sell the simpati card with rp15000 value, including rp10000 call fee, and charge 20K to get 10K free. It's for sale in circle K.
Make a local call
It's more expensive to dial local phone 1krp / min. Local calls are free.
The country code of Indonesia is 0062.
Bali is divided into several districts, the area code of Kuta is 361, and the area code of Lovina is 362. When you call, remember to dial the area code in front.
Call home
Taking simpati as an example, to make a domestic call with Bali SIM card mobile phone, you need to dial: 01016 (IP phone code of mobile phone manufacturer) + 8621 + fixed phone number, 0101686 + mobile phone number.
01016 is the IP code of Mentari and 01017 is the IP code of simpati.
Mentari-010168621 (Shanghai only) + fixed line number / 0101686 + mobile phone
Simpati-010178621 + fixed line / 0101786 + mobile phone
Im 3-010898621 + fixed line / 01089 + mobile phone
Frequently used telephone
Chinese Embassy in Indonesia Tel: 0062-21-5761037; 0062-21-5761038。
Ambulance: 118, fire: 113, bandit: 110, Red Cross: 26465
Medical assistance center Tel: 236225 (Bali has 24-hour International SOS service, it is recommended to purchase health and accident insurance with international rescue service before departure).
8、 About food:
As a foodie, I never forget to arrange delicious food for myself. This trip, I have arranged delicious restaurants recommended by everyone for every meal. However, due to children, weather and other reasons, I only went to two restaurants on the preparation list. This is a small pity. Both restaurants have good taste, but the local food in Bali has a strong flavor of spices. It's good to have a taste of fresh food after two meals, but it's a bit wrong to eat all the time. I bought the book "complete self tour of Bali" and recommended many delicious restaurants. Here are some excerpts from the book for your reference.
Kuta:
Star anise restaurant: Bali rijsttafil address: ji.setia Budi 8
Recommended by the balcony: seafood barbecue address: ji.bene Sari No.16
Shuimingyang:
Ultino recommendation: zuppa di cipolle, bistecca A1 rosmarino, tiramisu address: ji.laksmana No.104 Oberoi
Recommended by warung Italia: seafood spaghetti seafood address: ji.kunti No.2
Kimbalan:
Kisik bar and grey recommend: Fried Seafood skier, tenderloin MB5 address: in Ayana Hotel
Private appetizer antipasto della CASA, crayfish spaghetti taglioini all aragosta address: Temple Hill studies ji.wanagiri 18
Ubu:
Recommended by Laka Leke: dirty duck address: Nyuh kuning
Pita Maha Restaurant Address: the Royal pita Maha Hotel
Nuri's warung recommended: pork ribs spare ribs address: tromol POS no.219
Travel notes start:
Starting from Xi'an on January 27, I arrived in Singapore at 2 a.m. on January 28. Singapore Changi Airport is the sixth busiest airport in the world. It has been voted as the world's best airport by British business travel magazine for 26 years in a row. It has won 440 awards so far and is the most award-winning Airport in the world. It has three terminals connected by free light rail and five theme gardens, The airport of garden city! There is a butterfly garden in T3, which is the first one in the world to be set up in the airport. Don't miss it for your friends waiting at T3!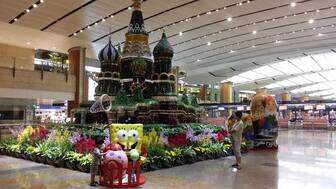 These are all decorations in the airport. How beautiful!
On the first day of January 31, my son and mother-in-law and I started our five-day and four night trip to Bali. The plane that is more than 12:00 at noon will land at 3:30 in the afternoon. After getting off the plane, we will apply for the landing visa. There are a lot of people, but we are from China. The most fearless thing is that there are many people waiting in line. What kind of formation have we never seen? Finally, it's our turn. As soon as we handed in the information, the staff member took $20 and said something in English. He instantly understood that he had been blackmailed for tips. He used one of the strategies: pretending not to understand. But my English is so bad, I really can't understand it! Seeing that English is not good enough, the man said "tip" in Chinese. Of course, he still can't understand it. Your Chinese is too nonstandard! After finishing the formalities, he had no choice but to let go. Ha ha! 5:00 smooth clearance! At the exit, there were countless people who picked up the plane with their brands. After three rounds of searching, they couldn't find our name. They called the local Chinese customer service three times. After waiting for an hour, they came to a car. The car was in good condition. The driver spoke English. My English had fallen back to junior high school level, but I didn't expect that I could use it. Simple words were enough, Anyway, the driver understood that I had to go to the hotel for dinner. I moved out the food strategy and found a restaurant I wanted to go to. The driver was very responsible. He called to ask for the address. It was not far from the airport, and he was on the way. However, as soon as I got on the bus, my son fell asleep, so I had to go directly to the hotel. With children will appear a lot of emergencies, hungry, tired and so on, for their own schedule, at any time to make adjustments, therefore, for mothers put forward higher requirements, must have a full understanding of the destination, to deal with emergencies, mothers should do their homework in advance!
When you arrive at the ubu butterfly hotel at 7:30, you don't have to worry about the luggage unloading. Someone will help you to deliver your passport to your room. While you are sitting there enjoying the welcome drink, the service staff will help you check in. Just ask how to arrange the free dinner and spa. Then, the private housekeeper takes you to the room and tells you something to pay attention to.
The hotel lobby
The driver gave me the SIM card when checking in, cut it into a small card for me, and didn't leave until it was finished. Then I remembered that I didn't give a tip. The minimum face value of the money changed at the airport was 50000 shield, so I had to give him a surprise!
When I installed the SIM card in the room, I found that this small card is even smaller than our small card. I tried to put it in the corresponding position of the mobile phone card, and it can be used!
For this trip, I read the best travel notes, and bought the "Bali Island completely self Tour" before I left. I found that the restaurant and hotel recommended by this China's travel book were very good. It was more comprehensive and objective than many travel notes. It is very worthwhile to recommend buddies to the book, especially the recommended restaurants.
The majeli restaurant of butterfly hotel is famous for its European cuisine. He and the restaurant of Royal pita Maha next door are both recommended in the book "travel to Bali completely". When my son arrived at the hotel, he woke up. I arranged the dinner for 8 o'clock to feel the delicious food of majeli restaurant for the first time. After arriving at the restaurant, the problem came. The menu was all in English, and there was no picture. The Chinese go in the hotel was off duty, so ordering became a big trouble. Fortunately, a waiter who was learning Chinese came, and the Chinese, English and gestures barely ordered. It's really delicious. The first dish, main course and desserts are very good. My son also ate a lot. I'm a typical eater. I forgot to take photos when I had delicious food. So we don't have eyes for the best meal in Bali. If you go to butterfly Hotel, all the meals will be arranged in the hotel. There will be a surprise waiting for you!
the second day
At dawn, I have a chance to have a good experience of my villa. The villa is two-story, downstairs is a small living room and a big bathroom. There is a single bed in the living room, a big bed on the second floor, and a small bathroom. Not to mention, the picture above.
First floor living room
yard
Small swimming pool
Super large toilet on the first floor
Aiyong Valley seen from the yard
Along the path, is a villa.
Roadside sculpture
It is said that you can eat here as well
Go to breakfast at ten o'clock. You can see the valley of Aiyong River under the restaurant.
Just the Royal pita Maha next to it
After dinner, take the free bus at 11 o'clock in the hotel to take a walk in the wubu palace and wubu market, and then go to the gate of the wubu palace in more than half an hour. You can visit the Ubud palace in 10 minutes.
The ubu market is near the ubu palace, and there are many special shops beside it. I especially like the silver ornaments. They are very beautiful. But I remember that there are many shops on the way to the de graran terraces in the strategy, where the things are the cheapest. I didn't start thinking about this. I was going to go there tomorrow. Later, I found that there was a mistake, because most of the shops on that road are wood carvings, There are no silver ornaments like this. Ah, it's time to save money!
The streets of Ubud
The shop beside the palace
My son is not interested in shopping. After visiting the wubu palace, he won't leave. He and his mother-in-law are waiting for me at the wubu palace. I don't want them to wait any longer. After visiting the market in a hurry, they didn't buy anything. Originally, he wanted to go back to the hotel after lunch, but his son always missed the small swimming pool of the hotel, and everyone was not hungry, so he had to take the 12:20 bus back. The shuttle bus of the hotel starts from the hotel to the ubu Palace at every hour, and the latest one is at 5 o'clock to send a car of people and then pick up a car of people to come back.
At three o'clock, we took the hotel bus to ubu again. In order to have a typical Bali food, we went to the Lotus Restaurant recommended by everyone. The restaurant is very close to the ubu palace. It only takes three or five minutes to walk by. The center of the restaurant is a large lotus pond, which is really a Lotus Restaurant.
Behind the lotus pool is the goddess Temple designed by the artist lempad. The temple is exquisite and majestic. The overall landscape is unexpectedly spectacular and beautiful. I personally think it is much more beautiful than the ubu palace.
It is said that the restaurant has a traditional dance performance at 7:30 p.m. on Tuesdays, Thursdays, Saturdays and Sundays. Interested friends can arrange these times to have dinner. We ordered dirty duck meal, seafood fried rice, fresh juice and Soto ayam, a famous chicken soup of his family. The total cost was 305000 with tips. It was delicious, but there was no surprise. Maybe the original expectation was too high!
It's almost 6 o'clock when I return to the hotel after dinner. My mother-in-law and I take turns to do spa. My son is still in love with his small swimming pool. The water in the swimming pool is a little cold in the evening. It's said that the swimming pool of sky garden hotel is a constant temperature swimming pool, which should be more suitable for children!
This is the spa center. The spa is just like the domestic one. First wash your feet and massage a little, then push the essential oil all over your body, and finally take a bath. The bath doesn't use disposable plastic cloth, so you don't dare to take a bath. What's special is that butterfly hotel uses the products of oshitan. After finishing, the skin is very smooth. Oshitan's body products are really good. It's almost 9 o'clock after I finish the spa. I go back to my room, pack up my things and go to bed. Tomorrow I'll check out and change my hotel. I'm going to leave before I begin to enjoy it. I really can't bear it. I strongly suggest you stay in the hotel and enjoy your private villa more!
on the third day
After getting up and packing up, we received a phone call. The taxi driver had been waiting for us in the hotel ahead of time. We called our housekeeper to check out and asked him to help take the luggage to the lobby before we went to have breakfast. Breakfast is in the form of ordering. There are three kinds of packages to choose from, American style, Bali style and one kind of forgetting. All in all, they are very good.
Aiyong River seen from the hotel Road
After staying for two days, I left a tip of 10000 Duns to the waiter when I left the room yesterday morning. Today, I was in a hurry to pack up, and finally forgot it. Sorry!
Today is a day's charter trip. The driver is not the one who came to pick up the plane that day. He can speak some Chinese, but it's not as smooth as English! He said that he made a mistake about the flight on the day of pick-up. Finally, the company sent another driver to pick us up. He thought that the driver was too irresponsible!
Our first stop was the de graeland terrace. We arrived in 40 minutes with 10000 tickets. We arranged to go here mainly because there was a strategy saying that the things sold nearby were the cheapest. But we finally felt that there was nothing to buy. They were all wood carvings and there was no way to take them when they were too big. The scenic spot is so small that you can see it at a glance. It's not worth visiting at all. No wonder this place is not mentioned in the book "complete self tour of Bali".
The second stop is the sea temple. When I came to Bali, I still wanted to go to this landmark scenic spot. Two adults had 60000 tickets, and the driver asked me to pay the parking fee. Fortunately, I looked at the tickets carefully and found that one of them was a parking ticket list, so the driver returned the parking fee to me. It's not a real driver!
The sea temple's waves are very big and it looks quite imposing, but the scenic spot is too small. If you take a picture, you can turn it in 20 minutes. If it wasn't for that it's the most famous scenic spot in Bali, it's not worth visiting. There are many introductions about this scenic spot, so I won't say more. Let's look at the picture!
It's about 40 minutes' drive from Haishen temple to Kuta, where we arrange to have lunch. At made's warung, this hotel is mentioned in numerous strategies, and drivers are familiar with it. I ordered three cups of fresh juice, an Indonesian fried rice, a seemingly mixed rice, and the rice wine introduced in the strategy. The wine was too spicy to drink. The rest was OK. The total cost was rp22000, plus 10% of the service charge. The total cost was rp242000.
After dinner, we set out for today's third scenic spot, Valentine's cliff in wuluwatu. It's very close. It's only half an hour away, and the ticket is 40000. This scenic spot is the largest, but it only takes 40 minutes to walk leisurely. There are many monkeys in the scenic spot who can grab things, so we must be careful. The scenic spot is on the edge of the cliff near the sea. It's good to watch the surging waves under the cliff and listen to the sound of the waves beating on the cliff. If you can have a coffee shop, it's more emotional. It's said that you can enjoy such a view when you go to the blue point hotel for afternoon tea. Maybe it's a more comfortable choice.
After the visit to lover's cliff, I originally wanted to visit the rock bar of Ayana Hotel, but I thought my son might not be as interested in the bar as the beach, so I went straight to jinbalan beach. At five o'clock in jinbalan, the barbecue has begun to set tables and chairs. After learning the strategy, I thought the barbecue here was expensive and not delicious, so I didn't arrange to eat here. I only ate two cream roasted corn rp10000. It's cloudy today. I didn't see the sunset until more than six o'clock, but it's very beautiful to see the sun shining from the clouds from time to time.
When you arrive at Best Western Kuta Beach Hotel at 7:00, the front desk of the hotel can only speak the word "deposit" in Chinese, but it's enough, isn't it? After check-in, I want to go to the neighborhood for dinner, but the weather is not beautiful, it rained heavily, so I had to solve it in the hotel. The taste of the hotel restaurant is OK, but the variety is less. Cost rp166980. In fact, there is a terrace restaurant nearby, which is said to be good, but my mother-in-law didn't want to go out, so she had to make do with it. The hotel is the same as the domestic chain Express Hotel. The room is relatively small. After two nights in more than 2000 hotels, and then in more than 200 hotels, you can imagine the feeling. There are mosquito bites in the evening. In fact, if you add more than 100, you can stay in a hotel with better location and conditions. Partners with children are not recommended to stay in the hotel. However, there are still advantages here: it's closer to the beach, it's right after crossing the road, and it's rich in breakfast.
the forth day
Today is a one-day tour of lanmeng island. The driver will pick us up at 8 a.m. and arrive at the dock in about 20 minutes. After checking the tour items, everyone will be given a tape to take with them, which can be distinguished by color. I took part in the fast boat on the island + undersea walk + Island Tour + offshore platform project + lunch, 600 yuan per person, free for children.
Starting at nine o'clock, the boat seemed to arrive in 40 minutes. At first, it was OK. Later, the waves became bigger and bigger. It was as exciting as a pirate boat. The timid son was afraid to move. When he came back, he cried and didn't get on the boat. ha-ha! I can't afford to hurt my timid son! After getting off the boat, you will take a tour around the village, which will take you to a high place and overlook the coastline
Then visit haizaotian. There are many boats on the sea of haizaotian. It's beautiful with the quiet glass sea!
When we came back, we took glass bottomed boats to the offshore platform in batches to play marine sports. Children like glass bottomed boats very much. Through the glass at the bottom of the boat, they can see coral and small fish. Children can hardly play the offshore platform, they have to sit and wait. My mother-in-law and I took turns to play the underwater walk. The underwater walk is to put on a heavy helmet and sink to about 3 meters of the sea bottom. Walk along a built section of the handrail on the sea bottom for a short time. Accompanied by the staff, we will also give a piece of bread to feed the fish. The fish are right in front of your eyes. You can even touch them with your hands. If you are lucky, you can see the creatures on the coral. I saw a red creature attached to the coral. When the staff touched it, it quickly retracted into the coral. It was very interesting. Seawalk is very suitable for people who can't swim, but the time is too short to enjoy. When I came up to see my son, I was bored. I didn't want to play any other sports. (other sports include banana boat, flying saucer, snorkeling, etc., which are all free). I went back to the shore to have a meal by glass bottom boat again. The meal was very ordinary, but I had no problem eating enough.
After dinner and playing with my son on the beach for a while, the three of us rowed a canoe together for a while. It felt very good, but it was too sunny. We must protect ourselves from the sun.
At about four o'clock, we took the speedboat back to the wharf of shanur. The driver was waiting for us at the wharf. At five o'clock, we were sent to the Westin Hotel in nushadua, ending the day tour. Generally speaking, the price of 600 yuan one-day tour is affordable, especially for children who don't need money. It's really cost-effective. Lanmeng island is very beautiful, so it's worth a visit!
I forgot the tip for the driver yesterday. Today, the driver asked me for it and gave rp50000.
The Fifth Day
We fly at 6pm and can stay in the hotel until 3pm, and it turns out that Westin is worth staying! The service of Westin Hotel is very good. There is a Chinese G.O. when checking in, they will give their children a backpack with painting tools and a drinking cup. With this cup, they can drink unlimited amount of drinks at the bar of the restaurant all day. There are tables and chairs for children in the lobby and restaurant, children's club and children's pool. The big bed room is 2 meters wide, The double bed room has two 1.5 beds, which is very suitable for families with children. The garden is also very beautiful. There are countless beautiful reclining chairs beside the swimming pool and on the beach, which is very emotional.
There are many small animals in the hotel, such as squirrels, seabirds, snails and lizards
Breakfast is very rich, but the restaurant ordered less dishes, there is no Chinese menu, it is very depressing! I don't want to eat any formal western food. I miss the western food of butterfly hotel. I really regret not eating more there! Bali's local specialty food will have a strong flavor of spices. I can't get used to it. It's good to have two meals, and I can't stand more.
In the morning, my son and mother-in-law were playing in the children's pool. I rented a bicycle in the hotel and turned around several nearby hotels, which were all good
It's like Laguna. I can't remember
There are few people in the Daze Pavilion
But I still like Westin. It has rich facilities, the most beautiful gardens and lots of people.
After checking out at 12 o'clock, you can still enjoy the living room of the hotel. My son didn't come out until 1 o'clock to take a shower and change clothes in the living room. I had a meal in the hotel at about three o'clock in the afternoon. I had two meals in the hotel, which cost 251000 + 254000. After dinner, I asked the hotel to help me call a taxi to the airport, and the fare was 86000. I went to the airport for security check and paid the departure tax of 150000 per person, ending my five-day and four night trip to Bali for the new year.
I think I'm well prepared for this trip, but I'm still sorry. Because I'm with my children and it's raining cats and dogs every night, many of the recommended restaurants don't enjoy it and many places don't have the chance to go. For example, Kuta stayed all night. Although he lived near the beach, he didn't even see the beach. Next time you have the chance to come back to Bali, you can go to visit the most bustling Kuta, and then find a hotel with good scenery. It's perfect to stay in your villa for a few days!
For Bali, my son's memory stays in the private pool of butterfly Hotel, the glass bottom boat of blue dream island, the public children's pool of Westin Hotel and the beach.