Published on May 30, 2020 17:45
There is a very popular saying on the Internet describing Bali" First class hotels, second rate beaches and third rate scenic spots. " That's why I haven't been to Bali for a long time. I haven't been there yet. I'm biased. But the island south of the equator still attracts me to explore. But arrived, only then discovered, other people's words, other people's prejudice, cannot replace your liking, your thinking. Every time I travel to the island, I have a habit of never doing strategy or thinking. It's the same with Guam, and it's the same with Bali. A holiday is a holiday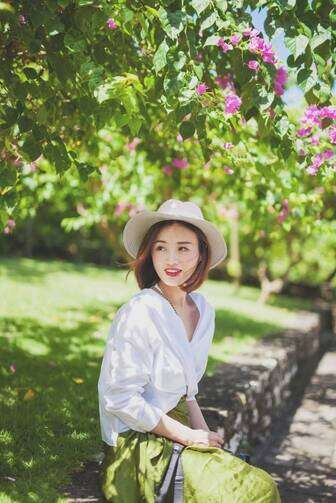 - magic rabbit - Hangzhou, media man. The makeup artist who can't do special effects is not a good traveler. He insists that "life is short and pleasure is in time". Camera equipment: Sony a7r2 (lens: fe1.8/55; FE4/24-70); 5D2 (Shima 1.4 / 50)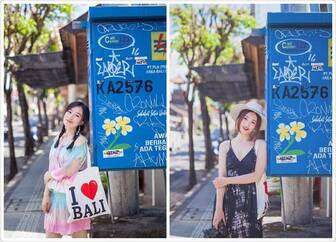 Left: Great Xia an (photographer and writer, Switzerland) right: of course, it's me. We met on a trip. I like Ann's self in the camera. She can always take pictures of me that nobody knows. We're the same age. Once we leave Switzerland, it's a year. Our counterparts in Bali have brought our hearts closer and closer. It is said that travel is the best way to test friendship. The unpredictability in travel becomes everything we need to face together. Day and night relative, lifestyle integration and mutual understanding and care. I still remember that day when I was diving with ANN, I was so seasick that I couldn't even lift my camera. The same vomit of seven meat and eight vegetables, but also two diving after ANN, in the speedboat can not move my back, once, gently, but it is at that time I, the biggest support.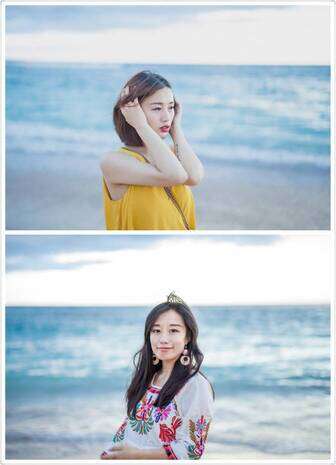 ——Good friends are like stars! When Ann and I saw this sentence, we sat in villa and had our best friend's candlelight dinner. This is the words that the hotel knew we were best friends and specially prepared, which entered our hearts.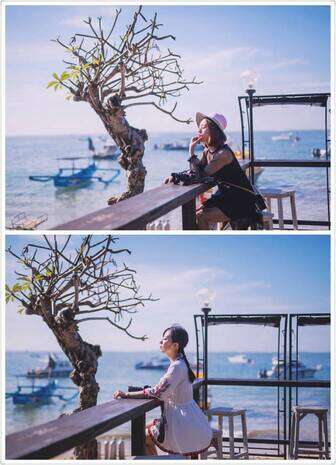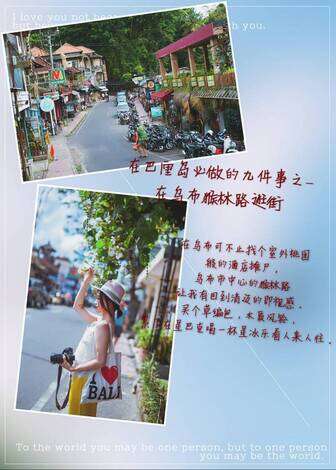 I was busy at 5:30 in the morning. Pudong Airport and An'an met. This departure is a year. But when we approached face to face, it was like the kind of friends we often met. There was no strangeness. It's no less difficult to find a good travel partner to embark on the unknown journey together than to find a close husband to spend the whole life together. So during the first flight from Shanghai to Hong Kong and all the time of customs clearance and security inspection, Ann and I were talking about the new things of our year" "Whoosh", I feel like landing in Hong Kong. There is no sense of drowsiness from getting up early.
In Hong Kong airport, a little stinky, seamless connection into the second journey. A lot of people on the plane began to sleep, and ANN and I started to watch the protagonist of "Wulong drama", moonlight. After watching, An'an and I said that we really can't understand the director's world. We really want to make efforts to finish the whole process. Feeling is also a moment, the plane has begun to descend, open the sunshade, the sky outside has become more and more beautiful. It turns out that we have crossed the equator.
I went out of the gate and took my luggage. I recognized our driver at a glance in the little black with the sign. Because the driver is Zhong Hanliang from Bali, this kind of treatment for Zhong Hanliang to pick up the plane is really bad. Because of the unique design of Bali airport, I feel the heat wave coming as soon as I leave the customs. Fortunately, Bali is cool at night.
After a whole day's plane meal, you must treat your stomach well. The boss of this restaurant is Chinese. It's famous for porridge and seafood. So I and an an played hard and ordered a Manchu and Han banquet. There's always a feeling of starvation for a week. Recommend you must try avocado, chocolate juice, crab, all kinds of porridge, in fact, every dish is really delicious. So in Bali, your Chinese stomach can be liberated here.
After eating and drinking enough, "Zhong Hanliang" sent us back to the hotel to have a rest. Originally, the first night's resort had a high cost performance, but Ann and I thought it was average. But it completely exceeded our expectation. The hotel is not only very big, with good greening and large swimming pool, but also has beach and nice rooms. Big surprise. Inaya Putri Bali Resort is located on the seashore of Nusa Dua, 15 minutes' walk from Bali collection. The design of public area is very good. The hotel has its own small bazaar, and the service is very good. Walking around the beach in the hotel at dusk, groups of muscle handsome men are dazzled. Although the room design is in line with the rules, but the simple upper grade is simply the most cost-effective choice. The price of one night is about 820 RMB. As a resort, the price is really beautiful.
We thought the hotel at night was amazing enough, but when we got up in the morning, we found that it was better in the morning and dusk. One day's flight, Ann and I almost fell asleep quickly. Good night, Bali.
I had no dream all night, and I had to recognize my bed on the first night of my trip. I slept every second and didn't even change my posture all night. It seems to fit Bali very well. I just remember talking with Ann before going to bed and I lost consciousness. Go to the balcony and take a deep breath. It's the fresh air of the island. All the troubles of work, the trivialities of life, and the meaningless people and things are all forgotten. After dressing up with ANN, we went to have breakfast in the sunshine.
At ten o'clock, bus driver Budi showed up in the hotel lobby on time, ready to take us to lover's cliff. On the way, the driver told us that there are many naughty monkeys in the lover's cliff. They are very brave and will rob tourists of their hats, glasses and slippers. Ann looked at me and laughed. Because I really have a lot of fruit on my hat, glasses and sandals. As a result, I was scared all the way for fear of being robbed of equipment by monkeys. However, the reality is that we only met a lazy monkey at the exit, holding a mineral water bottle. Is this a burst of character.
When you enter lover's cliff, the tourists in shorts and skirts will wear Sari of various colors. Because the upper part of my body is wearing a white shirt, I feel that it matches my clothes very well. In fact, some strategies say that lover cliff is very boring. But I think the scenery is good. All kinds of blue in the sea, all kinds of green in the woods, and gorgeous flowers make up a beautiful picture.
Ann and I pressed the shutter, looking for a good place to take pictures. So I went into a forest, and the sun fell from the branches and shone on my face. When I press the shutter casually, I have a special feeling. So, many girls ask how to take photos. In fact, sometimes it's just the process of looking for feelings. Two people and two cameras are not light, but because of habit, they both become Hercules, that is, visual sense. With the arrival of noon, the sun became more and more intense, and ANN and I retreated.
Because we had a very full breakfast, we went straight to paragliding. Paragliding is a new project in Bali, and we are catching up with the first wave of experience. I've parachuted and paraglided in Queenstown, so I'm not nervous except a little excited. Ann is still a little nervous, but as soon as she gets up in the sky, she immediately relaxes and enjoys the feeling of blue sky, white clouds and wind blowing past her ears. After 20 minutes of experience, you can basically travel several circles above the coastline. It's really wonderful to see the sea from God's perspective. After the experience, Budi sent us back to the hotel. The advantage of chartered car is that the air conditioner blows on the car.
Back to the hotel for a rest, change clothes, wait for the sun to set, sunset, and ANN to the hotel beach stroll. The staff who decorate the candlelight dinner, the fresh meat sitting in the lazy sofa blowing the sea breeze, and the people pressing the shutter at the seaside. The light is just right, and ANN is also shooting high, all kinds of state is very good and natural. Maybe we are smiling while we are shooting, which attracts the handsome fresh meat in the lazy sofa and looks at us frequently. In the end, one of the handsome little fresh meat came to us. It's the beginning of the conventional way of chatting up, but maybe because we are handsome, Ann and I laugh at each other. Singapore's handsome guy also downloaded wechat directly because of his contact information, and then invited him to dinner with wechat in Chinese and English.
And Ann politely refused the small fresh meat invitation, and then strolled to the restaurant beside the hotel to eat. But our hearts are very happy. When we get to the age of aunts, there are still 20-year-old guys chatting up, which is a little bit of joy in our hearts. Only at this age, the so-called love at first sight, the so-called love affair, but just the existence of the story. We walk carefully in life, the biggest lucky is that we can do what we like. And those warm feelings will stay in the deepest memory. Walk along the road, ask the way, you will always get a "I love you". There are also those who ask if they are single, or they talk to each other directly. On this day, feeling and An'an were expressed a hundred times. So, we conclude that men in Bali are more "coquettish" than those in Paris. Of course, their enthusiasm and frankness are enviable. Passing by a restaurant close to the eye, I went in with Ann.
I'd like to have a famous Indonesian fried rice, which tastes dull. A few days later, Ann and I came to the conclusion that Balinese people really can't cook. Fortunately, the environment and atmosphere are very good, and the price is not expensive. The resident singer also sent a Chinese song "love you for ten thousand years" to Ann and me. After dinner, walk back along the way, the breeze is just right, walk across the beach back to the hotel. The first day in Bali is full of spring hormones. Good night, girl.
Today is very simple. During the day, I make an appointment with ANN to take wedding photos of my best friend. In the evening, I have a candlelight dinner in the villa. Why take photos of your best friend? Because although Ann and I are good at taking pictures for each other, there are very few group photos. So just be photographed. In the morning, go to the hotel and take us to the store, choose our clothes and start to make up, then go to take photos. Although the weather is very hot, but the photographer makeup artists are super considerate, all the way umbrella makeup, everything. Both the photographer and the makeup artist are from Sichuan. They talk funny, so the atmosphere of taking pictures is also very good. Let's reveal the sidelights. The main film needs a little time to refine. I'm still a little tired after shooting, so I'll go back to the hotel to have a rest and wait for the romantic dinner.
Villa de Daun is buried in the bustling streets of Kuta District, with a feeling of being in the dark. That is to experience the quiet and secret accommodation, and convenient to play on the street, especially suitable for lovers or friends who like quiet and do not want to be isolated from the world. The hotel's butler style service, guests first, will not feel abrupt. Each villa is a separate area, living room, bedroom, bathroom, swimming pool, mask to face. The most interesting thing is that we have our names on villa's doorplate. It's sweet. In the morning, I wake up naturally, and then have breakfast in my room. It's really a busy holiday. The room price for one night is 2655 RMB, luxurious but affordable.
We can ask for the time of honeymoon dinner. We enjoyed the spa before dinner, which just eliminated the fatigue of taking photos today. After the spa, walk slowly back to the room, surprise came. The door lit a candle, push the door in, full of petals, pool side dinner has been ready. Ann and I have never been so romantic in our life. After a while of shooting, we watched the stars, enjoyed the delicious food and chatted all over the world. The two girls always talk a lot, but at this age, there are fewer and fewer people who can still talk from their heart. We are honest with each other, say some small secrets between us, share great joy and great sorrow.
I was always the one who fell asleep first, and Ann would turn off the light and close the door for me, and then climb carefully to the bed. Good night, friend, the brightest star.
Early in the morning, the housekeeper delivered breakfast to the room according to the scheduled time. It was really cool to see two men busy in the kitchen. I'm afraid there won't be many such treatment in my life. Ann and I ordered an Indonesian breakfast and a Japanese breakfast. Breakfast sparkles in the morning's comfortable sunshine, and appetite soars.
After breakfast, the diving company came to pick us up. For the sea, I am afraid, I would rather go to heaven but never into the sea. But sometimes, we have to face what we are afraid of. But before I set out, I unfortunately scalded myself, so I couldn't go to sea. And Ann was diving for the first time, so I decided to go with her. In the diving shop, the assistant filled in a form for Ann and taught her diving knowledge and movements in detail. After all the people have assembled, they will leave for the seaside. The same group of foreigners are experienced divers. So in the fear, we got on the boat.
Blue Dream Island, we're here! As soon as I got on the boat, I began to feel dizzy! Ann tried to take a picture of me to distract my attention. As a result, I had a "look of being rescued when I was killed". A boat of foreign friends also gave me the position that was not easy to get seasick. I was very moved. I'm also suppressing my stomach. By the time I reached the first dive point, I could hardly lift my camera. With his own willpower, he gave Ann a few random presses. I never thought that when the boat was moving, it was pediatrics at all, and when they got into the water, it was the most painful thing for the boat to stop.
Every second, for me is suffering. What I admire most is that I have to be at the stern of the boat to be the most comfortable, but there is no sunshade over there to expose myself to the sun. So when I couldn't move, I used willpower to fill the sunscreen again. On the other hand, a handsome foreign snorkeling guy didn't go down long before he became ill. As a result, the two of us on one side, each suffering. After a while, Xiao Hei came to ask us if we want to eat. Where can I eat. As a result, little black brother nibbled the sandwich with relish. Finally, the tumbling stomach can no longer stand, began to vomit. The first vomit in life is not drinking too much, but seasickness. After vomit, I feel ashamed. After all, there is a foreign handsome guy on the side. Who knows, when I look back, the foreign handsome guy is also vomit.
Time is still, every minute is slow, and finally they are expected to dive first. But the bad news is that there is a second potential. At that time, I really felt that there was no love in life. Foreign friends and Xiao hei and coaches said that they would send me back first if they didn't, but at that time, it was far away from the shore, and it was too late for a round trip. Everyone taught me how to reduce seasickness, coaches also put ice bags on my neck. I said I could stick to it. At this time, An'an vomited three times because of the shaking on board. So to the second diving point, Ann insisted on, I also insisted on the boat.
Finally, they came up. Ann excitedly told me that she saw the devil fish and vomited again. This is the charm of the sea, while emitting dangerous signals, while people can not help but explore its miracle. Life is the same, the more dangerous the more addicted. It's funny that the whole boat of foreigners all know that Chinese girls are afraid of the sun, love to pat, poor physical strength, save dignity is to spit and stick to the last. I think it's everyone's care and care that makes me stick to the end. On this ship, there are no borders, only love. And Ann patted me on the back, gently and slowly, I fell asleep on the boat on the way back. At the moment of landing, I felt that I was "saved" and that I was back to earth. Only when we came back did we know that we had a rare big wave! From scald to big wave, Virgo is in the hardest hit area! Now I remember the feeling at that time, it is still unforgettable. I don't know if I have the courage to go to sea. But I think I will. Human beings are always curious about the unknown. I just want to remind you that people who are seasick must take seasickness medicine in advance. Of course, you will not be so unlucky as me to meet rare big waves. Back also jokingly and friends said: "young Pai ah Robinson ah, how in the end adhere to the sea ah?" My friend said, "if you float on the sea for ten days and a half months, you will get used to it." Really!!!
Farewell to the friendly foreign friends and coaches, and Ann back to the hotel to rest. After the sun sets, I feel like I've finally recovered. Women's strong desire for shopping can really conquer everything. They set out with ANN to go shopping around the bar street in Kuta district. I got a Bali brand skirt and I love Bali's small cloth bag. It looks very common, but it's easy to take pictures. I suggest you buy about 10 RMB.
The bar street is really busy. People from all countries gather here. Kuta district is really a cultural compatible place in Bali. I was followed into a shop by a foreigner brother, but they just expressed their love and chatted. Sometimes we feel that we Chinese are really a very introverted nation. We don't easily express our love for one person. We prefer that time can tell everything. But sometimes, life is impermanent. I think we can express it timely and honestly.
Good night, Kutta. I feel like I'm sleeping on a boat tonight.
Super happy sleep to wake up naturally, although up and a dizziness. But up to usher in the sun and breakfast, not piles of work and worry, dizziness is nothing. And Ann find the most comfortable sitting position in the yard, eat breakfast and review our experience yesterday. A lot of things, maybe at that time, I felt that I could not stick to it, and I felt that I had no love in my life. But when it's over. It's just an experience between talking and laughing. So, if you are going through something bad, please stick to it and everything will be OK.
After breakfast and Ann put on the clothes we bought in Kuta last night. It's cool, comfortable and good-looking. Ann is regretting that she didn't buy a few more ~~~~~~~~~~~~~ although the sun has begun to shine outside, we still plan to go to Kuta street for a hundred days. The owners of roadside shops like to sit on the steps in front of the shop, chat in twos and threes, or watch the space. Ann and I are walking and shooting. We really love such lazy street scenes. If I have time, I also want to chat with the shopkeepers on the street for 50 cents a day. When I retire at the age of 35, I must go wandering instead of traveling.
After checking out at 12 o'clock, bus driver Budi came to pick me up on time and ANN and I went to the southeast black beach to participate in the dolphin dance project. This activity is different from chasing dolphins at sea. Instead, we play, feed and kiss with dolphins in the activity center beside the black beach. These dolphins are all rescued and injured. When they recover, they will go back to the sea. The activity of Amway is not only close to the dolphins, but also the scenery there is really good. It can be arranged on the day from the South Beach to Ubud, because it's on the way.
While waiting to play with the dolphins, Ann and I went to the black beach to shoot again. The scenery is good. You can press it at will. It's just that the sun is quite fierce in the afternoon. Please pay attention to the exposure. At sunset, it's the most suitable one.
Because I want to participate in this activity, but I'm afraid I'll run into water where I'm scalded. So I bought a large waterproof tape in Kuta's drugstore the night before. The whole activity lasted 45 minutes in the water without any water. The whole process of swimming with dolphins, feeding dolphins, hugging dolphins, dolphins are really lovely. And I have to say, dolphins are really very smart. Our aunt can't swim in this pool, and she's afraid that dolphins never dare to be intimate with them. Therefore, a more personalized dolphin who is intimate with all people is not allowed to be intimate with her, no matter what the trainer says. Please get along with the world with the greatest sincerity, then you will get the same sincerity.
After the event, the driver took us to the hotel. Tonight's hotel is in Ubud, a royal built hotel. Because of the early booking, Ann and I successfully moved into villa 104 with wonderful scenery. Almost all the way exclaimed "my God", "oh my God".
The Royal pita Maha hotel was built by the royal family, so there is no need to explain the luxury. The hotel itself is a paradise. You don't have to go anywhere to live here. You can just stay in the house for three days. Room design everywhere shows noble and also don't, the door is bolt style, the whole is belong to their own private space. Lovers here, really can be tired of a day not to go out. One night price 2780 RMB, just want to say, it's worth it!!! Even our two best friends feel that romance is not good.
Good night, paradise.
Do you ever wake up in the morning and don't know where you are. Vines cover the bed, and sunlight comes out from the cracks of the curtains; The pool was full of sunlight, as if the stars had fallen into it. Time is in disorder. The first eye contact when we meet again has been occupied. Forget what you are doing before you get emotional. Life is lonely. If you are smart, your heart will be distracted. In fact, the result is the same whether you try or not. Seeing An'an's sleeping face, I remember that we were chatting about the topic of emotion while we were passing a lot of photos last night and loathed that the Internet speed was too slow. We are always sentimental animals, but reason still exists.
I'll go to have breakfast after washing. I'm looking forward to every breakfast in Bali. If the first two days were a sweet and quiet breakfast, then today is like having breakfast in Wonderland. After eating, I basically sat cross legged, because my body and mind were extremely relaxed. After breakfast, I went back to my room and changed into Hanfu. Today's task is to shoot Hanfu, because of the fairyland effect of the hotel. Actually, I'm not a fan of Hanfu. I just think it's good-looking. So I don't care about the regular steps, short hair can also wear Hanfu, I'm happy. For a long time no serious make-up, because usually too lazy, eyebrows semi permanent, and then kind of eyelashes, basic is to get up and go out. I really don't want to admit that I have a Chinese character in my heart.
Walking through the hotel with ANN, the hotel with immortal body is really full of scenery. It's no exaggeration to say that you can walk in the hotel for three days, and you can lie in the room for three days. It feels like you can contract the whole holiday. It seems that Hanfu is still very fresh here. I met a lot of shy little brothers and hope to take a group photo. Later, when we came to a pool, we all thought it was a pool for watching and worshiping. As a result, the hotel brother said it was a pool. Simply, without saying a word, immediately jumped into the pool, really feel the moment through. I'm not classical, and I'm not a lady, but it's OK to shoot a naughty rabbit.
After taking photos, the driver came to pick me up on time and ANN and I went to play 4WD. It's an hour's journey through the rolling mountains of Ubud. After arriving, I had lunch first, and it was surprisingly delicious. Seeing the foreigners coming back from the last wave covered with mud, I was also shocked by Virgo. After eating, the coach took us off. At first, because of the heavy handle, we couldn't grasp the direction. Later, I gradually became bold, and I could make a rampage, but when I met the mud pit, I would not cross it, but moved it. Virgo is not good. The coach took us to get used to the car in a relatively smooth place in the field. Passing by the village along the road, the children waved to us warmly. After that, we will drive on a relatively exciting track, which is quite exciting.
After the four-wheel drive, the driver will take us back to the hotel. I fell asleep because I played too high all the way. It's honeymoon dinner tonight. After taking a bath with ANN, the housekeeper has arranged the candles for dinner. It's just the setting sun, talking and laughing, and dinner is over. Originally, I wanted to go to Ubud city center, but looking at the romantic swimming pool, I decided to go into the water. And Ann lie by the pool, looking at the stars. Life is just like this.
Good night, before you fall in love.
I remember the last time I went to Guam for a week, but on the fifth day I began to feel a little insipid. But today, when I woke up naturally after I had breakfast with ANN and started to pack, I felt that life in Bali was going so fast. So that when it comes to the day of going back, I feel that there are still many things I haven't done.
At noon, the check-out driver came to the hotel on time to pick us up and set out for downtown Ubud. The pundi - pundi grilled ribs, which must be eaten in wubu City, is definitely our best choice for lunch. Smelling the smell of grilled ribs at the door, I swallowed my mouth. A grilled rib with avocado juice is absolutely worthy of the top 1 of Bali cuisine. Ann and I chewed a huge rib with only bones left! Strongly recommended to everyone, must eat!
The urban area of ubu feels like Chiang Mai. It's super leisure and refreshing. It's not too much to walk around Houlin road three times. It's good to walk around, the window design is good, and taking photos is not afraid of props and composition. When you are tired, just sit down at Starbucks and have a super large cup of starice. It's too happy. Not far from Starbucks, there is a woven bag shop, which is super good-looking, matching Island clothes with a face. The price is a little expensive, about 150 RMB, but you can make a counter-offer, but don't be too cruel, the boss doesn't sell it. Seriously, I really love Ubud. I think it's great to stay in downtown ubu for one night, hang out in the street at night and have a drink in the pub.
After saying goodbye to ubu, the driver took us to Carrefour. Here you can buy some souvenirs for your family and friends, which is cheaper than the shops outside. I love snacks, naturally bought a pile of snacks here. And the super famous, Bali Limited blue Pepsi.
The last stop of this trip is spa. It's not only relaxing the tiredness of the journey, but also great for Virgo to take a shower and shampoo before getting on the plane. Otherwise, sweating all day or something is really kind. Spa girl's technique is very good. I fell asleep several times and learned some moves by the way. Hahaha, I fell asleep when I got on the plane. An an said that I slept all the way back to Shanghai, and the transfer did not delay my seamless sleep.
The trip to Bali ended smoothly and it was a wonderful holiday. Please don't be misunderstood by that famous saying, because I think I will go there again. One week is not good enough. People are doomed to suffer from freedom. Only in dreams can you abandon all fetters and reach desire along the absent presence. Life is lonely. If you are smart enough, you already have some distractions in your heart. Why don't you try to find out what else we can't lose? Goodbye Bali, south of the equator, before love.