Published on June 12, 2015 17:10
Bali honeymoon
Bali is known as "the island of flowers" and "Paradise Island". It not only has flowers blooming all year round, but also has the most beautiful beach in the world, just like a fairyland on earth. Due to the influence of Indian religious culture in the history of Bali, most of the residents believe in Hinduism, which is the only place in Indonesia that believes in Hinduism. Bali is not only beautiful and charming, but also famous for its colorful culture and unique customs.
I love Bali
In particular, in order to let you see the most real Bali, all the pictures are original, without any beautiful pictures and processing.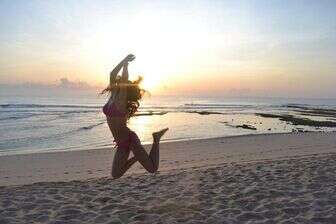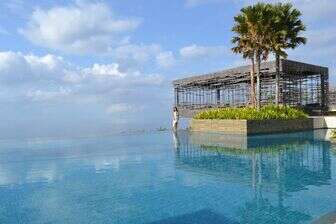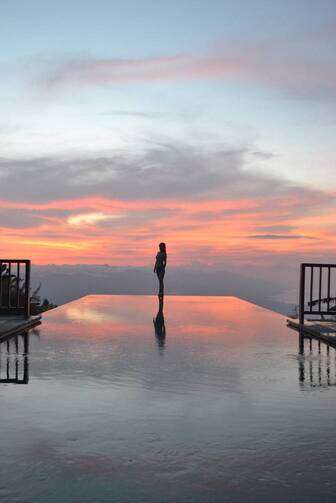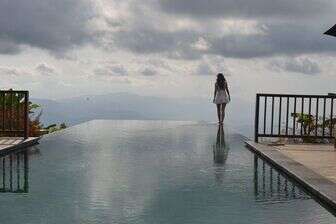 Because it was a honeymoon tour, I was afraid that the holiday would not be enough, so I planned five days and four nights. I regret that I didn't book more days when I came back. Free travel, so air tickets, hotels, chartered cars are all reserved by themselves, early study this every day.
Before booking air tickets, I saw that many people recommended Air Asia's tickets, saying they were super cheap. So I stayed in Air Asia for a few days, but I didn't see dozens of special tickets. At last, when I bought them, they were not very cheap. Two people went back and forth for more than 8000 yuan, but after flying, I regretted buying them, because the plane didn't provide water and food
Here is a special reminder of luggage. The weight of checked luggage should be selected at the time of booking. It's better not to be overweight. Reasonably estimate the weight of your luggage and choose the right number of checked luggage.
The hotel was selected by Vivian for three nights at that time. One night was reserved from Agoda, Aila villas wluwatu. I liked the feeling of this hotel so much that I ordered it. However, it was not a special price at that time. It was more than 5000 RMB per night. It is estimated that this is the most expensive place I have lived in my life.
It's better to book a room on Agoda in advance. It's cheaper.
Pre trip preparation
1. Certificate: ID card, copy of ID card, passport, air ticket (Air Asia is printed online, need to change air ticket at airport)
2, cosmetics: sunscreen essential (I bought water baby), banana boat repair glue, skin care products (Laneige's travel suit), water spray (Yi Yun), lipstick lip gloss (I suggest you use Oh, because red lips and blue sky match better, take pictures to see).
3. Toiletries: toothbrush and toothpaste (some hotels don't have disposable toothbrush, but I live in them, just in case), shampoo and shower gel (travel suit), facial cleanser, small towel (bring your own towel because you have slight cleanliness addiction), toilet paper
4, drugs: PPA (for diarrhea), band aid, cold medicine, anti mosquito bites spray (small bottle)
5. Clothes and swimsuits: a beautiful skirt, swimsuits (I bring four sets, because swimsuits are not easy to dry, they will dry in the daytime, but they are not dry at night because of the humidity), sun hat, sunglasses (it's sunny in the daytime, it's comfortable to wear sunglasses), slippers (flip flops are necessary, it's convenient to go to the swimming pool and beach,)
6. Charger change-over plug (some hotels need change-over plug, some don't need it, just in case)
7. Bank card (visa card is OK, we have it, but it doesn't work). Money (we must change US dollars in advance, and we should have some change, because it's very convenient to buy things with change when you fly or get off the plane. You can change a little Indonesian rupiah in China, but you don't need to change too much, 100 RMB is enough, and the rest can be changed after you get to Bali Island).
scheduling
The itinerary that Vivian sent me at that time looked very clear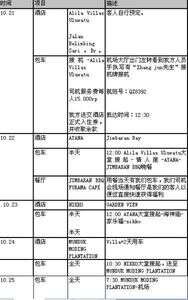 Bali cuisine
1. Lettuce salad (gado gado)
This is the standard appetizer in Indonesia. It usually includes potato, tomato, boiled egg, cucumber, Tempe and some vegetables. After drenching with yellow sauce, it's very cool.
2. Mixed rice (nasi campur)
Like the signature meal, each restaurant has its own characteristics. There will be chicken or satay, with string beans in orange juice, fried soybeans, eggs and special chili sauce. It's very rich!
3. Fruit salad (rujak)
It's one of the special Bali food. Usually, vendors slice mangoes, pineapples and papayas, and then add a special chili sauce to make a salad. Fruit with chili sauce, it's a wonderful taste. It's said that it has the effect of losing weight!
4. Roast suckling pig
This is a specialty of Bali. Many morning and night markets sell roast suckling pig rice. But for Balinese, the best roast suckling pig is in LBU Oka, near the ubu palace. It's full of pig blood strips, pork shreds and crisp pig skin. You have to eat it with your hands!
5. Crispy Duck
Another Bali flavor column. The best place to taste is Bebek bengil, the dirty duck restaurant in Ubud. But in fact, the most orthodox duck meal in Bali is the banana leaf smoked duck, bebebek betutu, which was ordered the day before. The former is crisp and delicious, while the latter is almost instant. Also can't miss!
6. Bali fruit
In addition to jack fruit, durian, rambutan with litchi in its head and Langsat with black hard shell, there are also the following two kinds of common fruits in Bali:
Markisa: it's a kind of fruit that looks like passion fruit, but tastes like longan. It's sweet, juicy and not sour. It's delicious.
Salak: it is named for its skin like snake skin. The flesh is crisp and astringent. It's not pleasant at first, but you will fall in love with the sour and astringent taste after eating for a long time.
7. Dirty Duck Restaurant
Special dirty duck (actually smoked duck). Walking into the restaurant, people feel that its beauty lies not only in the rice fields, but also in the exquisite waterscape sketches, blooming green trees and flowers, traditional percussion music and lazy soft couch. All this makes people feel that the so-called sentiment originally means this.
8. Beach BBQ
Jinbalan is most famous for its delicious sauce after barbecue. It's really delicious.
In Bali, the breakfast price of better hotels ranges from $8 to $30 per person, and the dinner price ranges from $20 to $70. Eating in a restaurant outside the hotel can save about 60% to 80%. The most economical ones are open-air stalls, which can be eaten for thousands of rupees.
best Times
Bali is located in the equator, is a typical tropical rainforest climate, the annual average temperature is 28 ℃. The dry season is from April to October, when the rainfall is relatively small, so it is suitable for tourism. Every year in July, August and early September, a large number of Europeans come to Bali for vacation. During this period, the price of local hotels is higher and they are often full. Around Christmas, there are more tourists from Australia and other parts of Indonesia.
Currency exchange
Indonesian currency rupiah, commonly known as rupiah. 8500rp (Rupees) can be converted into 1 US dollar, 1100rp (Rupees) can be converted into 1 RMB. Note that the banknotes are in good condition, and there will be no folded, worn and dirty banknotes. The exchange rates of airports, hotels and markets are quite different. The exchange rate at the airport is very low. We all ask the driver to take us to the market to exchange money. We can communicate with the driver and ask him to take you to the place with high exchange rate to exchange money. We exchange US $100 every time. As a result, we have to go every day. So we suggest that we can exchange more money at a time according to our own spending plan. It's better to exchange US dollars.
Warm tips
You are not allowed to wear shorts or skirts when entering or leaving the temple. You need to rent a salon and a belt outside the temple for free.
During the sacrificial ceremony, it is not allowed to stand in front of the people kneeling and praying, and it is not allowed to shoot the priest with flash light.
Although the Hindu class system in Bali is not strictly divided, in order to avoid violating the priestly class because of the unknown class, please do not touch the head of children.
It's better for the local people to get permission first. On the one hand, they should show respect, and on the other hand, they should avoid the dispute of charging afterwards.
The left hand is considered unclean, so use the right hand as much as possible when in contact with people.
You can't drink raw water directly in Bali. Please buy Mineral Water instead, and don't drink ice from vendors.
The day before the wedding, the next morning at 10:00 high-speed rail, I am also pretty hard, more than five to Shanghai, from Shanghai railway station by subway, line 2 direct to Pudong Airport, but really many people, dragging luggage and two backpacks, almost crowded to death. Arriving at the airport, I had dinner in several places before I was satisfied. I had to register for the plane at 1 a.m. and wait in it
Day2 got on the plane at 1 a.m. and soon went to sleep. When he woke up in the middle of the night and saw a meteor, he was suddenly excited. Unfortunately, he didn't take a picture. When I get to Kuala Lumpur at 5 a.m., I have to say that Pudong Airport is better. There is still a place to drink after the security check. When I get to Kuala Lumpur, I'm short of time, and I don't have time to change money and buy things. After the direct security check, I register and get on the plane without eating or drinking. As I said before, this cheap flight doesn't provide water and food. I'm thirsty on the plane and buy a bottle of water, Here's a reminder that you must change some money in advance. At that time, I only took us dollars and RMB, but they didn't change the US dollars. They charged us dollars, but they gave me Indonesian rupiah. It's a lot. After a long time's calculation, I thought it was wrong. I used my poor English to talk to the stewardess for half a day, and she gave me more Indonesian rupiah, but I was still trapped by the stewardess, A small bottle of mineral water cost more than 70 yuan. She said that the exchange rate on the plane is like this. I can't help it. The water has been drunk, so I can only comfort myself. At 12:30 over Kuala Lumpur, I finally arrived in Bali. Here I remind you to sign US $25 each. We got off the plane and didn't pay. We waited for the visa officer to check, and then we went to queue up again, It took a lot of time. When we get out of the airport, Vivian's chartered driver is waiting for us with our name. The driver is Indonesian, super good. His name is Budi. We both have a bad memory. We have been calling him Dubi these days
Aila villas wluwatu arrived at our hotel more than 3:00 p.m. they said Bali is a first-class hotel, so this Aila villas wluwatu is the most expensive hotel I have reserved, more than 5000 a night, but I really like the style of this hotel, quiet, really want to stay a few more days
The room is very big, mainly with a private swimming pool. It's fun to watch
Take off your clothes and go into the water
After swimming for a while, we decided to go outside. We wore the hat of the hotel and carried the bag of the hotel. The waiter Xiao Hei led us to talk for a long time, but we didn't understand a word. It was estimated that we introduced the use of the hotel and the room. Finally, we politely said thank you, and then gave a dollar tip. Xiao Hei left
It's sunset. It's beautiful
After a while, I came back. The advantage of having a private swimming pool is that I can swim whenever I want. Get up early in the morning on day 3 and go to the public swimming pool of the hotel. There are not many people in this hotel, so it's very quiet
Endless swimming pool. I love it
There was no one in the swimming pool. After a short swim, I left. I continued to visit many such rest places in the hotel. I felt very good. I could eat here
There are Plumeria everywhere. It's so fragrant and beautiful
Where we do spa, we start to wash our feet
At that time, I wanted to take underwater photos. I bought a waterproof cover from Taobao and put it on the camera. But I haven't been swimming for a long time. My head looks ferocious underwater and I didn't take a good picture
After the last swim, Budi will come to pick us up for dinner right away
After blue dot left Aila villas wluwatu, it was noon. We asked Budi to take us to dinner. Because Budi didn't speak Chinese, we could only communicate in English. After thinking about it for a long time, we didn't know what to eat, so we just said "Indonesian food". After eating every day, Budi brought us to blue dot, where afternoon tea is very famous
The scenery outside the window, below the sea are all surfers, it looks very exciting, forget to take photos
The food looks good and tastes good. Both of us have eaten it
The boundless swimming pool of blue dot is not big, but it is well-known in China
When we had enough food, we went to the next place. At that time, we ordered the scenic spot of Valentine's cliff in Vivian. Because many people went there, we thought it was so good. As a result, we were very disappointed. There was nothing but monkeys. When we saw some foreigners at the door, they warmly told me that the monkeys inside were terrible. They jumped on her and she didn't want to come here any more. The point is that I can understand her English. I begin to admire myself
It's supposed to be monkey proof to tie a yellow belt at the door
There were too many monkeys and the scenery was ordinary. I didn't think it was interesting, so I came out and asked for a coconut at the door. It was super fresh and delicious. It was totally different from what I drank in daweifang. The price was super cheap, so I wanted to move home
Ayana
I came to Ayana from lover cliff and recommended this hotel. It's very cost-effective. At that time, I didn't know if I had made a mistake or what. It's a standard room
Bali hotel services are super good, at the door to meet you, immediately present a wreath, and then lead you to the front desk, give you a cold towel to wipe sweat, but also send you a good drink, check in and take photos
Pack up and go to the hotel
The front desk of the hotel is on the third floor. We thought it was on the first floor. We couldn't find the front desk when we came out of the room. The hotel is relatively large and almost lost
Jinbalan BBQ
After a stroll in Ayana, Budi was ready to eat. Budi was waiting for us at the front desk. Before that, he and Vivian ordered to go to the BBQ in jinbalan. It was really delicious. There was roasted corn on the beach, which was totally different
Just sitting in rows, watching the sunset, eating seafood
When I came back, I saw a small dessert in the room
On the way, Budi took us to the small supermarket to buy fruit
Day4 wake up in the morning, open the balcony door is such a view, change clothes and go swimming
The swimming pool is very big. We came early and there are few people. When we come back after playing for a while, there will be a lot of people
Many foreigners bask in the sun on the reclining chair and untie the band of bikini. My skin color is healthy enough. I really don't want to tan any more
The boundless swimming pool here is also good, but it's too full to go down
Ayana's famous cliff bar is open only at night
Crystal church, you can get married here, beautiful
After leaving Ayana, we continued our Indonesian food tour. The place we took us this time also received a tour group. There were so many people. There were no pictures and all the menus were in languages we didn't know. We were speechless immediately. After communicating with our boss in English for a long time, we didn't understand what he meant. Finally, when the boss talked to others, we found that he was Chinese, Southern, so we talked in Chinese. He gave us some of the characteristics of their store. We didn't have enough food, but the serving speed was too slow, so we didn't ask for anything else. After eating, we withdrew
Tanah Lot
On the way to the sea temple, the roads in Bali are not wide. Many people ride small motorcycles
The temple of the sea is not bad, the scenery is OK, there is also a shopping street, the things inside are very cheap, you can bargain, must cut half price, or lower, a lot of local characteristics of things, souvenirs and so on, we bought some, later went to the supermarket, found that the things here are much cheaper than the supermarket
Nikko
When we came out of haishentemple and went to Carrefour, Carrefour should be the biggest supermarket there. We went to buy a lot of souvenirs, fruits and snacks. At that time, we didn't take pictures of a lot of things. We ate there in the evening. We ate in a mess and bought another pile
When we arrived at Nikko, it was evening. After packing, we went to the seaside and saw that there was a seaside bar open. We were too full to play
I got up very early today. I got up at half past five to watch the sunrise. The sun rises very fast
Running. It's so hot
Watch the sunrise and visit Nikko
We played in this pool all morning
The balcony of the room
Nikko Hotel is very big. It was built on the cliff. The front desk of the hotel seems to be on more than ten floors. The scenery is beautiful from the front desk
After leaving Nikko, I used to eat buffet here. I ate these two plates myself. In fact, I ate more, so I didn't take pictures. I didn't look at it in general. But it was really delicious. Durian, mangosteen and jackfruit on the road, the durian varieties here were not as good as the domestic ones.
Snacks on the road
Cancel Plantation Mode
MMP is really far away. It took more than four hours to get there from Nikko. It's very small. There are only eight villas and six rooms. We ordered Villas at that time. When we arrived, it was said that we had upgraded and lived in a suite nearest to the swimming pool. I don't think it's as good as a villa. But I really don't know how to express my ideas in English, so I can only live like this, Anyway, the scenery outside is just as beautiful as before, or as soon as I enter the hotel, I will send a wreath and a cold drink
The honeymoon cloth bed of the room
Sweet dessert. It's too sweet
This is the most famous infinity swimming pool of MMP. Unfortunately, the weather was bad when we came here. The weather on the mountain changed very fast, but it also had a different feeling
I took a picture of the afternoon tea delivered by the hotel. The coffee here is very good. I bought a lot of coffee and took it home when I left. I haven't drunk it yet. I wanted to drink the cat excrement coffee here at that time, but we didn't have it when we went
It will be fine for a while, but it's sunset. It's still beautiful
Ah, ha ha, to be honest, I'm really embarrassed to swim here. Some foreigners are not in the same level as me. The old lady also plays diving. The couple who swam butterfly stroke two years ago still kisses me in the swimming pool for two minutes. I'm so embarrassed to go into the water
The hotel is on a mountain. The air is good and the temperature is lower than that at the foot of the mountain
I'm going to the airport when I get up in the morning on day 6. I regret that I didn't book a few more days because the place is too far away.
Budi and I had an appointment to pick us up at eight o'clock. When the time was almost the same, I was very happy to see Budi at the door. Budi told me that he was afraid that we would be late. He slept in the car all night and waited for us. After listening, he was so moved. I really didn't know how to express my gratitude in English, so he said thank you
The scenery of the street
The hotel is also very good. Knowing that we can't have breakfast in the hotel restaurant, we packed it in advance and let us take it on the road. We gave two big boxes of delicious food to Budi and forgot to take pictures
Packed up, ready to go, bought a lot of things in Bali, the box can not put down, so the hat, shoes, water baby, banana boat and other heavy occupation of space are left in MMP, at that time when the security check also found cosmetics with you, forgot to put the suitcase, was thrown away by the security personnel
Got on the plane and left Bali