Recommended accommodation
The Island Hotel Bali, Bali ¥ Book now > 60
Launch more hotels
Published on June 23, 2016 12:09
The beginning of Bali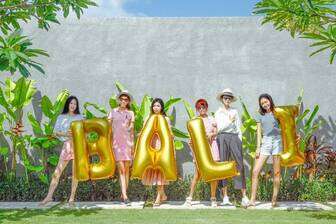 When it comes to Bali, no one feels strange. When I first talked about this trip to Bali, I actually refused (cold face) ~ why? At that time, it was winter in Beijing, and I couldn't kick my breath in the end of the year and busy work summary, so I didn't have the motivation to go abroad. Until the travel team of friends formed, the team killed me. There were long legged deer on camera, cc with all-round self photography, Xueba Yaoyao with chest, handsome orange with imperial sister, and Pipi without friends. So, on the 15th day of continuous haze in Beijing, I followed five mushroom maidens with chest, face and legs over the winter and flew toward the eighth degree of south latitude.
About the big and small questions of the journey, microblog or leave a message: @ yangxiaoweibo.com/yangxiaoshan225 the clothes that girls ask most about are friends Cindy's shop, TB search Cindy in skirt.
~~~~~~~~~~~Xiaofu's travel portal~~~~~~~~
Break into the calm and restless Glass Sea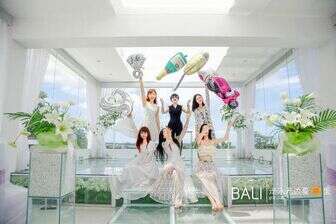 Write down a church carnival that belongs to six mushroom niangs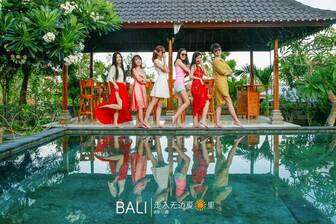 Get n failed pose photos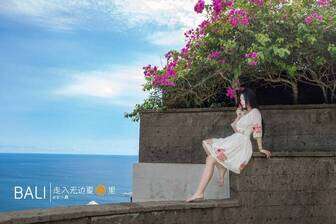 The green sea echoes the blooming triangle plum
A uneasy shooting under the weight of two parrots
In your eyes, in my lens
Illness can't stop the excitement of rushing to the sea
A dazed afternoon with the swaying plants on the edge of the cliff
Breathing in the setting sun in the green garden
Fancy wedding in a glass church
Kuta grocery store is my love, my love~
Every day is inseparable from the group of six to eat and drink
The sunset in kimbalan is as beautiful as it is imagined
See green and Balinese small house blend together, occasionally smell the fragrance of Plumeria
Yes, we are the SLR team
Ignite the new year flame of 2016, an end and a beginning
Beautiful scenery + New Year + holiday + sore throat = my most enchanting travel
In order to coordinate the time of six people, we chose the week before and after the new year's Day holiday, starting from December 29, 2015 to returning on January 5, 2016. So we experienced the first new year's Eve in a foreign island. At the last moment of 2015, we gathered together with strangers from all over the world on the beach of the hotel, counting down the carnival, and lit the fire circle of 2016 in the last second, Look at the fireworks blooming in the night sky. The first time I got sick and had a holiday. Before I left Beijing, there was haze for half a month. My throat became inflamed and uncontrollable. Until the day before I left, it was so serious that it was difficult to speak. So, Yang Xiaofu became Yang Xiaoyu. Before I left, I and the mushroom girls told me, "next, I'm going to be a quiet girl, Now it's time to make eye contact. Fortunately, each of these mushroom girls can stand in their own way, and I have been taken care of during the whole journey. As for the holiday, it belongs to the house leakage, but when it rains at night and coughs badly, my aunt comes to visit again. It's really cool. It's not easy for two or several couples to get together with six fairies. First, it's hard to reconcile the time. Second, it's hard for everyone to recognize a destination at the same time. Third, both her husband and her boyfriend are willing to let go. We are a private group of six. We've got to find a company to arrange the tour, You don't have to worry about it. For the first time, I experienced Bali hospital. I said that I was sick and had a holiday. So in the second half of the journey, I fell down again. When I was young, I felt that I could pass by without seeing a doctor when I was old. The medical environment in Bali was surprisingly good. From the hospital environment to the doctor's service attitude, I was confused. I thought that when I went to European countries, the price was relatively moderate. After three days of taking the medicine, I immediately became lively.
Our trip to Bali
2015.12.29day1: Beijing → Hong Kong → Bali → stay in Hotel → hard rock international buffet dinner 2015.12.30day2: go to lanmeng island → Beach Club marine project → free activities → lunch → stay in Hotel → dinner 2015.12.31day3: Mangrove Reserve snorkeling → Cross Island Bridge → tears of the sea → return to Bali → the Zen lulur spa → stay in Hotel → dinner → New Year party 20 16.01.01day4: wake up naturally → restaurant with sky and sea view in urumwatu → dinner → return to hotel 2016.01.02day5: lunch in Alila Ubud resort → Alila spa → Alila afternoon tea → ubu Palace → market shopping → paddy restaurant → stay in Hotel 2016.01.03day6: part of people wake up naturally & part of mermaid market shopping → shopping → coffee factory → small shop → return to BBQ2 in Hotel Villa 016.01.04day7: Bali safari wildlife park → Puri TIRTA lulur spa → dinner → Airport 2016.01.05day8: Bali → Hong Kong → Beijing
Our Bali Hotel
Why is this topic called blind tour of Bali? Because, ah, I didn't do a strategy before I left. You know, I don't have to worry about traveling with some travel experts. So the hotel part is based on personal experience and practice. Bali has always been known as a "third rate beach, second rate scenic spot and first-class hotel". This time, as we went to lanmeng island in the middle of our trip, we also visited several hotels, ranging from pure accommodation to literary and art, as well as luxury stars. Let's have a look at the experience of this hotel: Hotel 1: Harris Kuta Galleria Hotel
Cancellation: http://hotels.ctrip.com/international/1543738.html
I started from Beijing in the early morning, but I didn't arrive in Bali until the evening. So I chose a fast hotel near the airport on the first night, which is located in Kuta. It has a moderate area, clean and sanitary, and can meet the convenience needs.
Hotel 2: Blue Dream Island cabin
Cancellation: http://hotels.ctrip.com/international/2511986.html
First of all, each room is an independent villa. The garden design of the small courtyard can be described as one scene at a time. In the center of the courtyard is a swimming pool. Several rooms are built around the pool. There are aboriginal style cabins and large rooms with floor to ceiling windows. The garden design of the small courtyard can be described as one scene at a time, with the highest production rate, The strongest sense of vacation.
酒店三:HOLIDAY INN RESORT BALI BENOA
Cancellation: http://hotels.ctrip.com/international/2144683.html
There is no star hotel chain to be picky about. There are a lot of guests in Europe. There are huge swimming pools and water parks connecting rooms. There are private beaches that can cross the new year. There are rich buffet breakfasts, rooms that can see the sea through the door. The service is not to mention. We are here from 2015 to 2016.
Hotel 4: seven angels Villa
Cancellation: http://hotels.ctrip.com/international/1547280.html
Well, you can see that my stardom standard is based on the beauty of the photos... Hahaha. We live in a single family villa with our own private swimming pool, a private villa barbecue party and a beautiful glass church. On the way to the hotel, I was walking up the mountain all the time. I was a little dizzy, but when the hotel was higher than the sunset and sunset, I really realized the wonderful geographical location.
Our transportation in Bali
External traffic: the airport in Bali is Denpasar. The English name of the airport in Bali is Denpasar International Airport (DPS), so don't make a wrong number when checking the ticket ~ --- from Beijing to Bali, Indonesian airlines and China Eastern Airlines all fly directly, which takes about 8 hours. Of course, the ticket price is expensive; Most people will choose a transfer. The transfer places are Kuala Lumpur, Hong Kong, Seoul, etc., which takes 11-13 hours. We choose Hong Kong transfer this time because the time is more appropriate, and the second is because it is Chinese language and convenient; Go: Hong Kong Airlines hx305 Beijing - Hong Kong 06:50-10:55 transfer to Hong Kong Airlines hx707 Hong Kong - Bali 12:25-17:35 return: Hong Kong Airlines hx708 Bali - Hong Kong 01:15-06:05 transfer to Hong Kong Airlines hx336 Hong Kong - Beijing 07:40-10:20 internal transportation if you read some travel notes of Bali, you will find that everyone's evaluation of public transportation is basically 0 ~ Bali is really a big island, There is a long distance between the scenic spots. It's unreliable to think about taking the bus. Charter is the choice of many people. Local charter is about 250-300 RMB a day, 8 hours. Of course, our group originally covered charter, and we also gave a tour guide, a long, to you. By the way, it's very convenient to have a Chinese tour guide in Bali, My experience this time of course lies in the fact that I am sick. If there is no dragon guide, I would be a little helpless.
On communication in Bali
You used to buy a phone card at the airport when you went abroad, but now it has become WiFi. What else is WiFi? You have to make a phone call, right? So in Bali, you have two kinds of network cards to choose: --- one is mobile phone card replacement, which usually has about 3G traffic and a domestic phone within an hour. The price of a treasure is about 100 yuan, so you need to buy it before you go abroad, Discard when used type----- One is to rent portable WiFi, which provides a certain amount of 4G traffic every day, and pays according to the number of days of leasing. After shooting a treasure, you can pick it up at the airport before going abroad, and the equipment needs to be returned. We use the long tour guide's portable WiFi. Normally, the signal is good. Of course, when we cross the mountain, the network will be cut off. Because the hotels we stay in also have WiFi, and we don't care about the mobile phone when we play, so portable WiFi is enough for us.
Money and spending in Bali
Going abroad always needs to understand the exchange problem. For me with mathematical dementia, I have to convert the value of RMB every time I buy something. It's really painful ~ --- UnionPay card can withdraw money directly from the ATM of BCA and Citibank. Most hotels and stores on the island accept UnionPay and credit card---- Indonesia's currency unit is Indonesian rupiah (rupiah RP.). There are many currency exchange points. It is said that the exchange rate of Ubud is the highest, so we need to find a big exchange point to exchange. We only exchange money once in Bali, led by the Dragon guide to the reliable exchange point. I exchanged 200 US dollars in China. At last, I planed out the tour fee. I spent about 100 US dollars, and another 50 US dollars was the sum of the conversion relationship of Pipi: 1 US dollar ≈ 6.5 RMB, 1 US dollar ≈ 10000 Indonesian rupiah, Example: 10000 rupees ≈ 5 RMB (again, it's about for reference only) --- finally, it's important to count clearly before leaving after exchange ~ ~ remember~
Visa and entry exit issues in Bali
This year, Bali Island has become more convenient than ever. In 2015, Bali Island's tourism policies were improved: visa fees, after June 2015, Bali Island cancelled the visa fee of 35 dollars, and saved a visa to prepare Chinese mainland tourists to enter the customs and enjoy a visa free policy for a period of 30 days. The departure tax is also included in the air ticket, so there is no need to pay it separately; Now you don't need to fill in the entry-exit card, just write the luggage declaration form; Entry preparation - Passport (valid for more than 6 months) - boarding pass - luggage declaration form (will be issued on the plane) many travel notes mentioned that tips were asked when entering the customs. I don't know if it has been improved this year. Six of us passed the customs smoothly, and were only asked to stay for a few days or what to do. Other travel notes also suggest that if you are asked for extra fees, you can pretend you don't understand and muddle through. Well, we don't have a chance to practice this time~
On language and customs taboos in Bali
Language Bali is an old resort island. The service industry can communicate in basic English. Some shop assistants can also speak simple Chinese. People with English difficulties like me can communicate barrier free by dancing and jumping out one or two words. Ha ha ~ tipping Bali is used to tipping, so it's very convenient to prepare some change in Indonesian rupiah before traveling, such as carrying luggage, cleaning hotels, etc Spa massage these daily services, about 5000 ~ 10000 Indonesian rupiah can be converted down to about 5 yuan RMB; When you walk on the road, you should pay attention to the sacrificial articles on the road, and don't step on them. Local people often place sacrificial articles at the door. Some common things like trees on the street are also used as gods; When entering the temple, you need to take off your shoes and not expose your arms and legs. At the entrance of the temple, there are salons and belts for free to borrow. Men and women should wear salons before they reach their knees in summer clothes;
Preparation for Bali
Costumes in Bali Island are summer, and clothes are completely safe with summer wear. Short pants are good, mosquito bites and long skirts are awesome. Slippers are absolutely essential. I brought three pairs of shoes, and the result is slippers. Sunscreen in Bali is super strong in ultraviolet rays. My sister has been tanned n times and one has been sunburned. It's only by applying ice towel that she can relieve her sunburn slightly. High power sunscreen, as usual, recommends anti sunburn, Ganggang medicine, anti mosquito sting dew, anti itching peppermint cream, carsickness medicine and Chuangke paste. You can bring them that you are used to. Of course, Bali pharmacies are also easy to find, However, according to long Dao, because Indonesia's prescription drugs are relatively strong, if you feel uncomfortable, you should not buy them in the local area. Going to the hospital is the safest. When you go abroad, your passport must be put away. It's best to prepare a passport folder. When you go abroad, you should put your ticket and passport together to prevent loss. Voltage and socket voltage: 220 V, frequency: 50 Hz, need to be equipped with German standard conversion plug.
Compared with the countries I have been to before, Bali is a mature tourist city with high safety factor. Although the travel team will provide safety protection for the travelers participating in the meeting, out of my own habit, I still bought a more comprehensive accident insurance for myself. This time, I bought Meiya Leyou http://t.cn/RcEBaXm , including routine security such as flight delay, luggage loss, bank card swipe, medical care, etc. before traveling, save an electronic version in your mobile phone and add wechat customer service, Then give your family a copy of the insurance company's telephone number and policy number so that they can use it in case of emergency.
Other girl's best to prepare a sun repair mask, come back every day, feel dry and dry on the face, what an Aloe Mask is like, and can't be more praised.
About my colleagues
CC selfie goddess, with all kinds of fans of beautiful girls, can be seen every day from morning to night, holding a tripod, setting a pose regularly, playing music on her mobile phone while taking pictures. Is this the high life with background music? Yaoyao, I always say that you are the one who makes the travel notes this time, so I take all kinds of chest photos for Yaoyao. It's really a huge pear to be friends with a woman doctor with big chest and brain. I want to be quiet, Pipi's leg, waist, height and small face, Pipi, the long legged girl No.1, tells you that you don't need to fix your photo at all. She's a god horse experience. Pipi is also a standard Sunglasses party, so we're not qualified to wear sunglasses... Xiaolu's most photogenic literary and art show is really not a cover. The long legged girl No.2 and Pipi attract countless eyeballs when they go to that stop, The food is also very good. When you see the fawn, you feel warm and happy. Many friends who see our photos ask why there is a boy. Although orange is called brother by us, it is also handsome enough to bend people, but it is a real female leader. Her name "Leo of Cymbidium heart" is really the most appropriate portrayal of orange
Mushroom girl's equipment
Most of the photos in the travel notes are taken with my Canon 6D, and the rest are shown in the figure below to identify the powerful equipment backup of mushroom girl~
Every time I met the flight at 6 o'clock, I felt that it was the day of suffering. Fortunately, this time there was a warm-hearted orange who let my husband drive around for a while. Beijing took us all, got on the plane in chaos, and woke up in Hong Kong.
When I arrived in Hong Kong, I began to take off my coat. The moist air from the South Coast penetrated into my body. It was my first time to go to the Hong Kong airport. Because it was so close and convenient to go to Hong Kong from my hometown, I never wanted to travel to Hong Kong in Beijing. "Anyway, it's a place very close to home. Don't worry." well, I'm not the only one who has such an idea. During their stay in Hong Kong, they didn't shop. After comparing the prices of duty-free shops in Hong Kong airport, they all felt that skin care and make-up were not cost-effective. During the shopping, they all woke up and began to chat.
It was dark when I arrived in Bali. We passed the customs smoothly, and we didn't ask for tips. I was asked to stay for a few days, and then I let it go. When I left, I gradually felt the temperature of Bali. In a few minutes, my body reacted and went to another world. I began to sweat to protest and let me take off my sweater and trousers. Fortunately, I also came prepared! If you come to Bali in winter, remember to put on your clothes. Otherwise, if you don't find the bathroom, you will be sweating. Our receptionist and guide, WarDi (brother long), are waiting at the exit with the names of six people. A conversation reveals that director Long's English seems to have a bit of Taiwanese accent. Listening to the chubby director long speaking Taiwanese accent Putonghua, Several Indonesian girls brought us a bunch of Plumeria. Even so, the trip to Bali started in the fragrance of Plumeria~
The first thing we do after we get off the plane is not to stay in the hotel, but to have a dinner to comfort our tired body. The first meal in Bali is the cafeteria of hard rock, in the music theme hotel of Kuta Beach, so as soon as we enter the restaurant, we find that the design and decoration of the restaurant exude rich rock and roll Chinese Valentine's day, and the hall also has colorful performances, It's always my firm view to have food and drink with the brigade, so after entering the restaurant, replenishing energy is the biggest task!
This time has passed the restaurant, so in addition to our two tables, there are almost no people in the restaurant. At that time, my throat was still very painful because of inflammation, and I only dared to eat without fire. Fortunately, the restaurant has a wide range of varieties, stuffed with a bowl of light rice noodles, some vegetables and some fruits. I feel my brain can start thinking about life~
After dinner, a car full of girls went to our first night's Harris Kuta Galleria Hotel on their stomachs. They passed a currency exchange point on the way, and each of them exchanged 100 US dollars in Indonesian rupiah, so that they could meet consumption tomorrow. As I said earlier, the first night was a transitional Hotel, so I found that the environment was much better than I thought. I spread the Indonesian rupiah on my bed and asked Yaoyao, do you think I'm a rich man? In the excitement of my first visit to Bali, mixed with holidays and sore throat, I was soon hypnotized and didn't know where I was.
Instead of staying in Bali today, our first stop is lanmeng island. Lanmeng island is an outlying island in the southeast of Bali. The sea water here is very clear, so it is also known as "Glass Sea". The rare thing is that there are mangroves in the east of lanmeng island. There is a special route from Bali to lanmeng island. Please refer to the official website for departure interval and schedule https://www.rockyfastcruise.com/
Director long told us last night that he could go out in his swimsuit today, because he would go to the sea first. I don't know why, but I have a sore throat and I'm too lazy to talk about it. I don't know if it's feasible to go to sea during my holiday, so I put my swimsuit into my backpack and went on board with some swimsuit girls. If you are seasick, you must remember to sit at the stern of the boat. When choosing a seat, I want to have a look at the beautiful scenery of the glass sea and choose a seat in the first row. It turns out that I am too naive, the first row of scenery is very good, but it's very dry! This wrong decision led me to hold an umbrella all the time. I had to hold an umbrella when I woke up. When I fell asleep, I still had to hold an umbrella with indomitable inertia. I wanted to cry without tears~
I don't know how long it took for the boat to leave. After sleeping, I woke up and fell asleep. Until the surrounding water became more and more blue, I saw lanmeng island. Lanmeng island's activities are not on the island, but on a large floating boat (or more like a deck), with snorkeling, undersea walking, sea slides, banana boats and flying saucers. Our tickets are open to play. Girls began to put on their shoes to go into the water. When I saw a walk on the bottom of the sea for the first time, Heart: it's amazing. I'm willing to change my swimsuit and go for a walk on the bottom of the sea. It's a zero base dry duck favorite project that doesn't need to be able to swim and dive (I'm also a swimmer in sixth grade, so I don't know why I became a dry duck. It's estimated that the principle is to wear a 20 kg helmet with oxygen to resist the buoyancy of water, It allows you to walk in areas not deep under the sea. If you don't know how to swim like me, you may feel a little terrible, but everyone who goes down has a special diver to carry it. It's absolutely safe. Don't worry about it.
Snorkeling only CC to play, I don't need to know the water flying saucer and banana boat are playing again, hear the scream of the girls behind, play vacation feeling and rubbed up a few levels.
Orange began to try this strange slide diving~
One of the floating bodies in the picture below is CC, which I can't find
After playing the project, we boarded the island in a glass boat that could see the bottom of the sea. The dock on the island is a beach club, which can store bags, eat, swim, bask in the sun, and canoe. Before the buffet meal, the first big action of patting began.
The little black cat in the bag store has been playing hide and seek with us. Come out and let aunt have a look~
At this point, we must praise one is orange brother! Long before we set out, we began to prepare the most eye-catching equipment for this trip - the huge water playing flamingo. When we took out the camera and began to take pictures, the oranges were inflating; When we play on the beach, oranges inflate; When we came back to the swimming pool, the Flamingo finally came out
This picture of swimming pool floating failed to leave the country as a photographer. Should I put myself on it~
CC began to try underwater film. Pipi rented the Olympus waterproof camera, which performed well, with excellent shutter speed and color.
After dozens of pieces of waste film, two pictures of normal posture without eyes closed, give CC silent praise
The Flamingo of orange catches people's eyes. Pink is especially on camera in a piece of blue
Before lunch time, I set up a team of Yaoyao and CC to hang around
Statues of gods, small coconut trees, reclining chairs, all of them are full of holiday feeling under the background of sea water and sunshine. Dogs who are reluctant to move when people come to sleep on the beach are almost integrated with sand
Under the protection of cool sunscreen clothes, I don't have to worry about ultraviolet rays. It's a must-have for home travel
Turn back to the beach club and find that Fawn and orange have already begun to challenge the canoe, and the mushroom girl's courage to go crazy is commendable
Mushroom girl hi tired, began to take a swimsuit photo on the beach, a big wave of beautiful picture is approaching ~ first look at Pipi this tall big long leg tut tut tut~
CC students this provocative gesture tut tut~
Distant business line~
And I... why do I see the bloat on my stomach being strangled
It takes courage to take a picture with career line
Until noon, there was no one on the beach, and foreigners were hiding under the trees to enjoy the cool. Finally, we were willing to go back to the beach club and have lunch buffet. It's the first time for us to have buffet lunch in a wet bathing suit and a leg of sand near the sea, but the people in the restaurant are not surprised. It seems that this is a normal thing. After having enough to eat and drink with chicken and meat, we set out to the Bali cabin where we stayed today~
Today, it seems that there are only six of us staying in this small yard. In the noon sun, we only hear the sound of insects. Next to the yard, there is a training playground and a small temple. Because there is a dragon guide, we don't need to go through the check-in procedures. The one who helps us carry our luggage is a young man who takes care of the small yard. I live with Yaoyao, Pipi and CC, And orange and deer live in a very special Indonesian house.
Everyone has traces of the sea (I am salty in the sea and sand). The first thing after I move in is to take a bath and clean up. Dawdling until about 4 o'clock, I saw CC come out and began to take selfie activities. After the rest, I also had the energy to throw out cosmetics and put on a few layers, and began to walk in the small yard.
Seeing that CC is still taking pictures of herself, I went to take two pictures. Two girls in red skirts are very happy~
With the CC teacher, we are no longer afraid of no big group photo. Under the guidance of CC teacher, we all become JPG (all kinds of static), only CC is GIF (all kinds of dynamic). After taking 10 photos, only CC changes posture, we all keep a pose silently. Haha, well, the self portrait talent is really not covered, CC teacher, please take my knee~
And then she asks me: "do you feel all right? And I say:" yes, I feel wonderful tonightI feel wonderful because I see the love light in your eyes. And the wonder of it allis that you just don't realizehow much I love you
I should be the one who gets up the latest and dawdles the most. Because of coughing, I didn't sleep well all night. I chatted with Yaoyao intermittently. Then I got up to drink water, coughed, and got up to drink water again and again. I was sleepy. When I got up, I saw that CC had already taken a circle. Pipi brought me a legendary cold cough speed recovery medicine, Fawn and orange seem to have finished the half-time break. Today, the sun is still so bright. After applying sunscreen layer after layer, they jump into the yard with their camera in high spirits.
The sunshine of lanmeng island is really good. The green plants all over the yard don't feel gloomy at all. All the small trees and grass are tender green, blending with the small room. Occasionally, a little wind blows, and the fragrance of Plumeria comes.
Brunch is also solved in a small hospital, fresh fruit cut + bread + fresh juice, as patients with throat discomfort, like, like again~
After dinner, today's play has just begun. We went to a seaside shed on a small Bali trampoline. It looked like a local fisherman's house. The hut was built in a high place overlooking the beach. When I got off the car, I saw a broad shoal, calm sea, reflecting the blue sky and white clouds. The mushroom girls were so poor that they rushed to take photos.
In addition to the common islands, lanmeng island has waves and beaches, especially a mangrove. Speaking of mangrove forest, there are mangrove trees in Beihai, my hometown, but they are all twigs, and they are not so dense. After entering the mangrove forest of lanmeng Island, I feel a bit like watching foreign exploration programs. The dense branches and leaves completely cover the waterway, and the roots are tightly grasped in the sand. After a brief walk through the mangroves, we entered the open coral snorkeling area.
The most fierce one among us is CC. The boat went into the water before it stopped. It's said that it was not long after we got the diving license, but we were enthusiastic and didn't need the help of little black brother. We had a good time swimming. Then the well-dressed oranges also went into the water. The skin of the oranges was afraid of the sun, so it was easy to get sunburned. So this all-round wrapped diving suit was her water suit. Pipi was still hesitating between getting into the water and not getting into the water because of her sunburn yesterday. I'm still on the boat to watch and cheer myself up.
Before going out this time, I specially rented a GoPro. After Sanya's rising posture, I rented a one with a screen. It's not blind to take underwater photos at last ~ CC came back after swimming a circle, and Yao Yao, who can't swim, also went into the water. I checked my swimming goggles, listened to the experience of the mushroom girls, and plopped down the ladder of the boat.
Those who can't swim, just like me, hold on to the swimming circle, put your body flat, walk forward with your feet, bury your face in the water, and you can see a completely different underwater world.
No matter how many times you have visited other people's photos of the seabed, how many times you have been to the aquarium, and how many videos and movies you have seen on the seabed, you can't feel like this moment. You can really immerse yourself in the water and watch the colorful fish slip by you. The coral is within your reach (but don't touch and destroy the coral). This is another world, magical and wonderful, Intoxication.
The first time I shot underwater, I was in a hurry and the film production rate was very low, but it was enough to recall. Our captain and nurse, Xiao Hei, will make some bread crumbs to feed the fish when you are snorkeling, so as to attract more tropical fish to circle around you.
Accidentally also photographed a CC's buttocks and legs, as well as light refraction under the skin of the giant legs.
The first snorkeling, success, still in a trance, yeah!
After the snorkeling, we went through the mangroves, took a small jump in Bali, and continued to turn around lanmeng island. On the way across the bright yellow bridge, long Dao bought instant noodles for some hungry mushroom niangs, so we ran to the bridge to see the scenery. This bridge is only for pedestrians and motorcycles, but with the clear blue water behind it, it's so beautiful. CC and I ran to the bridge to take a wild picture at the risk of being crushed by motorcycles and bicycles.
Eat a bowl of Bali instant noodles, energy supplement (but I have a sore throat, dare not eat too much)
Lanmeng Island fjord is named "tears of the sea" because of the special topography of the bottom of the sea and the impact of waves on the cliffs, which is like tears from the eye socket of the sea. This name, coupled with this scenery, is enough to make up for all kinds of beautiful stories.
Long Dao said don't get too close to the edge of the cliff. Every year, some tourists are accidentally brought down by the big waves. If you look at the cliff, there is no possibility of survival. Therefore, the beautiful scenery is precious, and the price of life is higher.
There is no car in lanmeng Island, so the means of transportation in lanmeng island is what I call "Xiaotiao". Well, it should be called "double car" locally. We take a double car to pass by panorama ponit, which is the commanding height of the whole lanmeng island. Here we can have a panoramic view of the beautiful bay, the village with red roof and the dense forest, and thoroughly immerse ourselves in this beautiful and simple island.
On the way back to Bali by boat, the Indonesian song of killing Matt was playing on the boat. We fell asleep again. We didn't realize that we were coming so soon until all kinds of shouts started.
Because of the distance, we'll go to the spa first and then check in the hotel. Spa masseuse in Indonesia is different from Thai masseuse. When they come up, they first kneel to wash their feet, then exfoliate, and then massage with essential oil. The whole process lasts about 2 hours, making people relax slowly in the fragrance of essential oil. It is said that before marriage, royal women had to arrange 40 days of lulur skin care spa intensively in order to keep their skin tender and clear. Now it has become one of the most popular spa.
After dinner, stay at benova Holiday Resort Bali. The hotel is located on Benoa beach, next to Nusa Dua. The location is very good, and the environment and service are very good.
Tonight is the new year's Eve. I've been playing for a whole day. When I brush the circle of friends, I find that you are sending all kinds of pictures and pictures about the new year's Eve. It's my first time to celebrate the new year's Eve in a place so far away from home. It is said that there will be a simple new year's day climbing ladder on the beach. I will stay in my room until 11 o'clock, and I will take a long distance to join in the fun.
We found Pipi deer and oranges. They have been playing on the beach all night. Now they are waiting for the new year's Eve with a glass of champagne.
By 11:50, the beach was already jubilant, and fireworks were in full bloom in the night sky in the distance. I also began to send new year's greetings to all kinds of friends. At 00:00, the music drowned everything, and the torch of 2016 was lit. In the uproar of voices, the segment of 2015 flashed by and ushered in the new year. There was still some emotion. In the past year, I made a lot of risky decisions, and people around me came and went. I met villains and was helped by many people. The only constant thing is to keep following my heart. I hope 2016 will not be distorted by life.
We are sitting in the best view of the sea view of six people, today's dishes have lobster, my breakfast is really rich, ha ha ha~
Before dinner, I told orange that this viewing platform is so beautiful. Here are some of them for you. Then, there was the inexplicable four in a row
Today is the first day of the new year, so we arranged an afternoon to be in a daze in front of the sea. We don't have to rush to take photos. Some of them sleep, some of them play with water, and some of them explore the beautiful scenery.
The following group of photos are from CC, mixed with CC students, beautiful photos
Behind the scenes~~
CC is going to continue to challenge underwater photos today. Before the white skirt was completely sacrificed, I borrowed a group of half body water photos. Finally, I found that it was very difficult to make the skirt float in the water. Sure enough, behind every beautiful photo was hardship.
This is the most leisurely afternoon, in a daze, take photos, continue in a daze, sea breeze, sea view, food, in front of the beauty long legs ~ no regrets~
At sunset, several mushroom girls pester the Dragon guide, "I heard that the sunset on jinbalan beach is very beautiful. Can we go and have a look?" ~ ~ the chubby dragon guide waved his hand: "go" jinbalan beach is the most intimate beach on the whole island. This beach is famous for its beautiful sunset and the special way of fishermen's operation. Commercial activities have not lost the original style of the small fishing village. It is a pleasure to run on the beach in the morning and dusk. The fishermen here still use old and simple wooden boats to go out to sea. It's the best time for the sunset to arrive at jinbalan. Mushroom Niang coincidentally raised the camera, ran to the waves, excited as if to see candy children.
It's time to raise the camera again!
The sun began to set, and blue oranges appeared in the sky
CC said, come on, come on, it's just portrait time. Let's go
Looking around, the self portrait goddess CC began to click photos again. You're taking photos, I'm taking photos of you. I recorded a few single reflection photos of CC long skirt, which is also very interesting.
Finally, we sat on the beach to watch the sunset egg yolk slowly sink into the water, and the sky suddenly became dark. Under the guidance of teacher C, the mushroom girls formed a small team to take a group photo of 2016, to live up to the beauty of the new year.
The Japanese style barbecue for dinner is more like a performance. The chef with a small cap is frying all kinds of meat and fish. The six of us are sitting around the barbecue table, chatting and chatting to start the gossip of the girls. I couldn't eat too much barbecue because of my sore throat. I watched the chef turn over the shrimp in the oil, and the butter melted on the iron plate. I drank the ice water and turned over today's photos. I was very satisfied and satisfied.
In the morning, I finally caught up with a breakfast, thinking that I should buy some hand mail, so I went to Bali to buy polo shirt first. There are many places in Bali to buy polo shirts, but there are many fake ones. The one we went to is also a famous genuine one, and the price is cheaper than that in China. It is said that the price of the shop is about half cheaper than that of the domestic stores. The amazing thing is that the waiters can speak simple Chinese, so there is no problem in communication. Yaoyao bought coconut hand cream and handmade soap with high cost performance. 10 boxes for a big bag is $30, five for one. Hand made soap is also 30 dollars, 10 boxes, buy five get one free. In addition, there is essential oil here, the price is more people-friendly, the store provides free juice, and smoking room.
CC and I went around and thought it wasn't our dish. After greeting director long, we went around.
It's a little cloudy today, and the clouds are very thick. We discussed and estimated that it would rain. We wandered to a small temple by the side of the road. The complicated patterns and patterns are a little mysterious and a little solemn. We looked at them with respect.
After buying the letter, we went on all the way to today's lunch place - Arilla resort.
The hotel is surrounded by mountains, and the sun blocking jungle is totally different from the seaside. Standing on the broad terrace, you can overlook the plantations and rice fields. It is said that monkeys can still be seen in the villa~
The jungle swimming pool and spa of the hotel are very famous, which can be called the best massage experience since Bali. Our lunch is very light, deep in my heart ~ sour sweet sauce, I don't know what is made of, taste very special.
After a cup of ginger tea, you can start the best spa. Different from other shops, they are all very old technicians. The massage technique is comfortable and can relieve the pain. The entire spa room is an open-air courtyard, with gauze curtains and green plants floating out in a small arc with the wind. At this moment, the body and mind are put into the nature.
At the end of the spa, the clouds became thicker and thicker, and finally it began to rain while we were drinking our self-help tea. My condition today has also entered the lowest level with the dark clouds. I'm afraid I'm going to the hospital today. I feel a little feverish, but I can't hang up tomorrow. Long Dao made a phone call with China and ordered us to go to the hospital after dinner.
After leaving Alila, I came to wubu palace and wubu market not far away. It was a scene of downtown. Built in the 16th century, the ubu palace has 60 rooms. The exquisite hand carving and noble gold foil decoration in the palace attract many tourists every year. If you want to experience the extremely luxurious life of the Royal Palace in Bali, you can also stay in the Palace Hotel. The area of the palace is smaller than you think, probably because it is only part of the open space. It can be completed in 10 minutes, And more parts are mysteriously blocked behind by the crimson walls. In front of every gate of the palace, there are two little beasts. The same thing is that they all put on their clothes. Hindus believe that they are living gods. The trees grow wantonly here, and the moss covers the corners. Without the majesty of the royal family, there is more flavor of history in this cloudy day.
Because the wubu market is just opposite to the wubu palace, we divided into several groups and started to buy. We found our favorite skirt from afar. Oranges and fawns bought local souvenir cups at Starbucks. CC and I found local characteristic skirts in the market and bargain to 40 yuan. We all went shopping happily in rainy days.
The rice field dirty duck restaurant for dinner is very close to wubu palace. The dirty duck meal and rice field in the restaurant are the selling points. When it arrived, it was the sunset after the rain, and the rice fields were covered in orange. The rice fields we saw in peacetime were completely different. We are still a few mushroom Niang feeling, CC has run far away, not too fierce selfie goddess~~
The duck is not big, only half of it. It's very deep fried. There's no water at all. It's fragrant in the mouth. It's crisp and tastes normal. It can't taste the original flavor of duck or other spices. It's suitable for people with all kinds of flavors. I don't use sauces. I eat it all the time. In front of us is the open paddy field with natural wind. I'm on the verge of fever, watching everyone happily eat barbecue, can only eat a duck without tears, drink soup, wait for a while to face the doctor.
After dinner, I meandered to the hospital again. The name of the hospital was unknown, because I was confused. Director long said that this hospital was highly appraised by European tourists, and the facilities were also very good. I was shocked when I entered the hospital. The decoration and facilities are not for making movies. I was taken into a small compartment, and the nurse told me to lie on the bed, then raised the upper part of the bed, and began to take my blood pressure or something. After a while, the doctor in blue came in and began to ask me about my condition and record it. Of course, the whole process was translated by long Dao. Finally, he opened his throat and took his temperature, which was similar to a series of examinations in China. The doctor helped me out of bed again, even if it was over. Finally, I prescribed anti-inflammatory drugs for three days. I took my temperature. I didn't have a fever, but I became inflamed. So it's a good idea to take some Balinese cough medicine for temporary treatment and go back to the hospital. Yao Yao summed up afterwards that the service was much better than that in China. There was no need for patients to wait in line to see a doctor, or to lie in bed waiting for the doctor to come. He fully experienced that the customer was God. I hold a pile of anti-inflammatory drugs, listen to the doctor's advice, back to the hotel.
Day-to-day blood sheep? ω?? ) Long
Balinese anti-inflammatory drugs are very effective. After a night without coughing, I finally got a good sleep. I got up in good spirits in the morning. It seems that I stayed in a villa in a daze last night. The long legged trio went to the seafood market early in the morning to prepare for our indoor barbecue ladder this evening. Here's a picture of the fish market from deer and oranges. It's a booming scene~
When I woke up, I was already on the third day. I could speak normally without coughing. I estimated that the breakfast buffet could catch my little tail and wipe my face. When I got up, I could watch the villa and rush to breakfast.
The red flowers on the side of the road match well with the red skirt. Keep one~
After dinner, another dose of medicine came, and the whole person was cute. As expected, they couldn't give up treatment. The girls who went to the fish market also came back. Last night, they peeped into a glass church in the villa area. They didn't know who volunteered to ask the staff for the key. They were very excited and began to put on make-up and small skirts, ready to take some hard photos. The church has a glass roof. It's beautiful, but it's not hot enough. Several mushroom girls worked together to turn on six air conditioners. It took a while to feel that the temperature reached the normal value.
The mushroom girls said that they would take a picture today, so they asked everyone to take out their little white skirt. I tragically found that I didn't have a little white skirt, so I wisely replaced my coat with a white swimsuit. Ha ha~
According to the Convention, after the group photo is finished, it's time for each mushroom Niang to take a photo. After all, it's hard to get in
The same glass church, we want to shoot the bride's happiness, only orange shot "call me Queen" of the imperial sister feel~
How long leg skin pats is strip ~ envious
CC's big dress is back on the road
My little gauze skirt, which pretends to be a white skirt, does not live up to the beauty of the glass church. I throw it up
My little friend retreated after taking satisfactory photos. In the end, CC and I were still studying "is there any more special angle?" mushroom mother's enthusiasm for taking photos would not dissipate
After taking the photos, the sun surged up. In the afternoon, I originally arranged to go to the famous coffee factory. Xiaolu had a little cold and chose to take a rest. Pipi continued to treat sunburn. CC had to catch up on the draft. In the end, only me and orange and Yaoyao were left. Today, I finally changed from being able to speak words to being able to speak complete sentences. No matter where I went, I felt very excited, Let's discuss with director long that we might as well turn around and go to some place where we can buy the letter. Director long also readily agrees. In the picture below, I have a golden throat treasure in Bali. I ate it for a week~
So before we went to the coffee factory, we went to beach walk, a large shopping mall
Yaoyao bought his favorite bikini here. Oranges went to the seaside to take satisfactory pictures. I just went around in the shopping mall. The shopping mall was mainly made of clothes, and there were all kinds of dessert shops. Each shop decorated itself very exquisitely. There was an exhibition on the second floor, a hair salon, and a cinema on the third floor. Things are neither expensive nor cheap. You can see a lot of discounts. The magic is that the structure of this shopping mall is open. Facing Kuta Beach, it's the biggest natural shopping mall I've ever been to.
The next stop is the coffee factory. As soon as you enter, a beautiful Chinese speaking guide will greet you: "Hello everyone, welcome to the coffee factory". At the entrance, two employees are demonstrating the selection of coffee. To tell you the truth, I actually reject Maoshi coffee. In the beginning, Maoshi coffee was eaten by civet as a fruit. After fermentation in the stomach, it was excreted from the body. People found that such coffee beans were sweeter, so it was named Maoshi coffee. However, if there is business, there will be harm. Many unscrupulous manufacturers will catch civets and put them in cages to specially feed them coffee beans. Because of the digestive system, the civets fed in this way will have a shorter life than normal civets.
Of course, the factory we visited is purely natural, that is, we went to the wild to collect coffee beans excreted by civets, so the output is very small, and each one is very precious. We watched the whole production process and drank a cup of cat dung coffee. We thought it would be more cost-effective to buy coffee beans than to drink them outside. But for me, who only goes to Starbucks for a big cup of coffee when I'm in trouble, I really don't need it~~~
There is a small commodity store in the coffee factory. I didn't buy a letter a few days ago. I finally got up and started to buy it.
We were supposed to go back to the cottage for barbecue. On the way, we begged director long for a place to buy beautiful trinkets and take us there. Director long couldn't resist our soft words and took us to a small commercial street near Kuta. He thought that one and a half hours would be enough for us to turn around a few times. Who knew that as soon as he entered, he aimed at a small woodcarving shop, One shop for an hour.
As a pseudo literature and art girl, I love my handicrafts. When I saw a room full of handicrafts, I was excited to pick up the camera and put it into the lens. Then the staff stopped me, so I secretly took some pictures for you to see. If you also go to Kuta commercial street, don't miss it~
When I checked out, I took a picture of my favorite glass mirror. The staff didn't stop me. Finally, I didn't have to be furtive
It was a villa barbecue in the evening. I told director long that my voice just turned today. Did I pass by any porridge shop? I packed a porridge myself, and then I was able to go to the Bali Cantonese restaurant once, not to mention the taste.
Waiting for porridge stall, by the setting sun, leave two porridge shop to visit here
Big enough to look like an alien lobster~