I remember a song performed by the folk trio Peter, Paul and Mary, back in the 1970s, called "Leaving on a Jet Plane." We all look forward to boarding that plane which will take us to our desired and eagerly awaited destination. Some say that the travel element in getting there is a large part of the enjoyment of travelling. I agree with this. However, unless you are going to stay put in one place, other forms of transportation can be enjoyable too. Let's look at some of these on Goway's Holidays of a Lifetime exclusive group itineraries.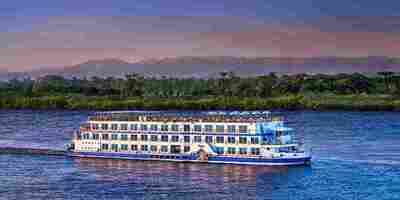 Rail Travel
What could be better and more relaxing than settling back in a comfortable seat and letting the world go by with a train's window acting as your movie screen – scene after scene unfolding. This is the case on 4 different Holidays of a Lifetime. On the Waltzing Matilda tour to Australia and New Zealand, (or our Best of Australia), there is a wonderful optional train trip available from Alice Springs to Adelaide. This almost 24-hour overnight journey through the Australian Outback is taken on the luxury Ghan Train. You will have a comfortable cabin to sleep in with all private amenities, enjoy exceptional meals in the dining car, and arrive fresh for the next portion of your tour.
If you really enjoy luxury train travel, our Cape to Cairo… Ultimate Journey of a Lifetime is the group tour for you. Rovos Rail, Africa's most luxurious train journey specialist, is your host for over 2 weeks of rail travel. The journey starts in Cape Town in South Africa, and continues to the Cape Winelands, Kimberley, Pretoria, and the Madikwe Game Reserve. It then heads to the Hwange Game Reserve in Zimbabwe, followed by a visit to Victoria Falls. Finally, it traverses Zambia and enters Tanzania, finishing up in Dar es Salaam. Now, you are not spending all that time on the train. You will have comprehensive sightseeing excursions as well as staying at a lodge in Madikwe and a hotel in Victoria Falls. Life on board is idyllic, as staff endeavour to spoil you with their excellent service. You will have gourmet meals with complimentary wine. The observation car at the back of the train provides you with exceptional views of the varied and dramatic countryside through which you travel.
On the Splendours of India exclusive group tour, there is a short opportunity to travel through the Indian countryside from Ranthambore Tiger Sanctuary to Bharatpur, taking approximately 2 hours. You will travel on the comfortable Shatabdi Express, which is fully air-conditioned and offers a high standard of accommodation compared to many other Indian trains.
Our Splendours of China & Tibet itinerary offers the opportunity to experience the Maglev. I first encountered this train when someone insisted I depart for Shanghai airport from the centre of the city using this high-speed form of transportation. I am glad I did. It reaches a speed of around 270 miles/430 kilometres per hour! Maglev stands for magnetic levitation – the train, when in motion, hovers above a concrete track. I recall looking down from the train when at full speed and seeing cars on a highway below looking as though they were moving at the speed of an ant. And I couldn't even get a sense of the speed as the ride was so smooth. Oh, and you get to the airport in no time at all!
River Cruising
There is nothing like a cruise, especially on a river as part of our Holidays of a Lifetime exclusive group tour. On the Cape to Cairo, what could be more appropriate than a Nile River cruise in Egypt. For 4 nights, your luxury cruise vessel, the Oberoi Philae, sails up the Nile from Luxor to Aswan. There are several shore excursions taking you to see amazing sites from the time of the Pharaohs. These include the Valley of the Kings and the Valley of the Queens, with their magnificent tombs of past Egyptian Pharaonic royalty and the splendid monumental structures of the Karnak and Luxor Temples. During the journey, other important archaeological sites are visited. Eventually you arrive at delightful tropical Aswan, Egypt's sunniest city. Here you visit the impressive Aswan High Dam and the awe-inspiring temple at Abu Simbel.
On the Splendours of China, what's better than a cruise on China's longest and most scenic river, the Yangtze. On this 3-night journey, the ship sails during daylight hours and docks overnight so that you obtain maximum viewing time. Departing from Chongqing, you sail to Yichang, passing through the fabled Three Gorges – with their dramatic scenery, as the ship cuts through high cliffs and steep precipices. There is also a visit to the amazing Three Gorges Dam, the largest hydro electric power plant in the world.
And Now for Something Completely Different…
Perhaps not going to take you very far but at least unusual, is a rickshaw ride on the Splendours of India in Varanasi, the holy city of Hindus. The teeming streets and the boisterous and frenzied lifestyle of the city are seen from a totally different perspective as you ride along. On the Splendours of China, there are, in Beijing, old neighbourhoods called Hutongs, which are a type of narrow streets or alleys where you will find traditional Chinese houses complete with courtyards. What better way to enjoy a visit to one of them than on a leisurely Pedicab Ride observing the traditional lifestyles which still exist in parts of Beijing.
Up in the Air
Yes, get literally up in the air on the Samba, Tango and Waterfalls group tour. At Iguassu Falls, you have the opportunity to take an optional helicopter ride over this magnificent and powerful gift of nature. Seeing Iguassu Falls from the ground is pretty spectacular. Seeing them from above is even more breathtaking.
So from that jet plane to a rickshaw ride, let Goway, on our Holidays of a Lifetime exclusive group itineraries, transport you to new delights.
Suggested Itineraries:
20-Day Waltzing Matilda – Holiday of a Lifetime
13-Day Best of Australia – Holiday of a Lifetime
32-Day Cape to Cairo… Ultimate Journey of a Lifetime
17-Day Splendours of India – Holiday of a Lifetime
17-Day Splendours of China & Tibet – Holiday of a Lifetime
9-Day Samba, Tango and Waterfalls
14 Unique Modes Of Transportation Around The World!
Buses, subways, local trains and cabs are such a thing of the past! If you are a passionate traveller, if you really want to experience the culture of a place, TripHobo recommends you hop onto any one of the following unique modes of transportation around the world and have a ride of your life!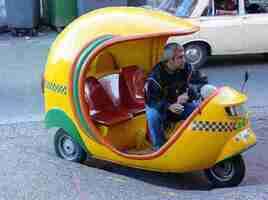 Bamboo Train, Cambodia
Photo by Isderion
Afternoon Tour By Tuk Tuk To Bamboo Train,countryside,killing Cave And Bat Cave 3 Reviews 3 Reviews USD 20 Book
Full-day Tuk Tuk Tour To Bamboo Train And Bat Caves With Local Food Tasting New on TripHobo USD 35 USD 33.24 Book Save 6%
A makeshift mode of transport in Cambodia, the bamboo train, as its name suggest, is made of bamboo. It can travel upto a speed of 40 kilometres per hour and is one of the most efficient and cheap ways to travel around the country and definitely an unusual mode of transportation, don't you agree?
Barco de Totora, Peru
Photo by Thomas Quine
Lake Titicaca (day Trip) Uros&taquile 2 Reviews 2 Reviews USD 46.16 USD 43.9 Book Save 5%
Sunrise On The Floating Uros Island New on TripHobo USD 65 USD 60.87 Book Save 7%
Uros And Taquile Islands On Fast Boat11 Reviews 11 Reviews USD 65 USD 62.31 Book Save 5%
Made of reed, the Barco de Totora or Totora Boats are built by the locals staying around Lake Titicaca. They are made to resemble the form of a dragon. While in Peru, hop aboard one and explore the magnificent lake.
Coco Taxi, Cuba
Photo by Adam Jones
The next time you visit Havana, do explore the city in a Coco Taxi. The taxi is called Coco because it resembles the form of a coconut! A two seater, three wheeler and with a 75cc moped engine, the Coco Taxi is a bit noisy, but relatively cheaper than regular taxi.
Jeepney, Philippines
Photo by Pimlico Badger
While in Philippines, travel as the locals do! The Jeepneys are known for their crowded seating and their vibrant decorations. Some of the decorations and patterns of Jeepneys are so popular that they have become a symbol of Philippine art! A fun fact- Jeepneys were made from US Military jeeps that were left back after World War II.
Planning a trip to Philippines? Plan your travel itinerary using TripHobo's smart trip planner.
Mokoro, Botswana
Photo source- Wikimedia
One Day Mokoro Safari1 Reviews 1 Reviews USD 148.72 USD 132.5 Book Save 11%
Mokoro is a type of dug-out canoe which is commonly used in the Okavango Delta in Botswana. It is made by using wood from trees such as ebony, kigelia (sausage tree) and African teaks.
Tuk Tuk, Thailand
Photo by Akuppa John Wigham
Bangkok By Night: Temples, Markets And Food By Tuk-tuk 364 Reviews 364 Reviews USD 72.69 USD 69.14 Book Save 5%
Full-day Guided Tuk Tuk Chiang Mai Adventure And Rafting3 Reviews 3 Reviews USD 165.97 USD 157.85 Book Save 5%
The sputtering sounds you hear as soon as you land in Thailand are the ones made by Tuk-Tuks! These three wheelers can be found navigating the streets of many cities in Thailand. Taking atleast one ride in a Tuk Tuk is compulsory if you want to have a genuine Thailand experience!
Beer Bike, Amsterdam
Photo by Mike Knell
Known by many names such as Beer Bike, Boris bus, Cycle bar or Mobile bar, this ride is sure to leave you high! Cycle along the canals of Amsterdam while pedalling with your friends all the while enjoying a drink!
Burro Taxi, Mijas
Photo by Alexander Marcucci
A cart pulled by the humble donkey, thats what a Burro taxi is all about. Explore the bylanes of the picturesque town of Mijas, Spain on this mode of transport. Infact, Mijas is famous for its donkey taxis. However, it has received a lot of criticism from animal welfare activists.
Chiva Express, Ecuador
Photo source- Wikimedia
An amusing form of public transport in Ecuador, the Chiva Express is a bus that rides mostly on rails, like a train! It connects the beautiful mountains of the country to the picturesque sea shores. This mode of transportation is no longer used by locals though. It serves mostly as a tourist attraction.
Auto Rickshaw, India
Photo by Warren Apel
Delhi Sightseeing By Tuk Tuk New on TripHobo USD 40 USD 37.37 Book Save 7%
Jaipur Local Day Tour By Tuk Tuk (auto Rickhsaw) - All Inclusive New on TripHobo USD 108 USD 97.56 Book Save 10%
You will find many of these three wheelers navigating the traffic on the streets of India. A popular mode of transport in the metro cities, the Auto Rickshaw is a three seater vehicle and you will find it painted in vivid colours of yellow, green and black.
DUKW, United Kingdom
Photo by Iridescent
Ever wanted to ride in a James Bond style vehicle? One which runs on land and floats on water? Your search ends here! The DUKW (pronounced Duck) is a brilliant machine and was designed by the United States of America for the transportation of men and machinery over land and sea during WWII. Today, Duck Tours are offered in Central London where visitors get to ride through popular London landmarks and then float right into River Thames. What a fun and odd mode of transportation! Who wouldn't want to ride in this?
Cyclo, Vietnam
Photo by Jpatokal at wts wikivoyage
Cyclo Tour New on TripHobo USD 26 Book
Lonely Planet Experiences: Cyclo & Market Small Group Adventure 77 Reviews 77 Reviews USD 36 USD 34.14 Book Save 6%
Full-day Saigon City Tour Including Cyclo Ride1 Reviews 1 Reviews USD 82.06 USD 78.04 Book Save 5%
The Cyclo is a three-wheel bicycle taxi that appeared in Vietnam during the French colonial period. Today, it is mostly operational in the capital city of Hanoi. When you hire a Cyclo, make sure you negotiate the fare in advance.
Dog Sled, Alaska
Photo by chensiyuan
Yukon Dog Sledding Adventure19 Reviews 19 Reviews USD 173.34 USD 164.86 Book Save 5%
In Alaska, the age-old mode of transport, Dog Sled is still in use- but mainly as a tourist attraction. The sled is pulled by a pack of 4 to 6 highly trained dogs. Visit in winters as it is the best time for sledding.
Felucca, Egypt
Photo by Wouter Hagens
Cool1-hour Private Felucca Cruise On The Nile River 1 Reviews 1 Reviews USD 20 USD 18.13 Book Save 10%
1-hour Felucca Sunset Sail On The Nile In Cairo New on TripHobo USD 40 USD 36.26 Book Save 10%
An integral part of Egyptian culture, Feluccas are traditional sailboats made out of wood. Depending highly on breeze and wind directions, these boats have been around for thousands of years. Over the centuries, despite modernization and mechanized boats, the felucca has remained the primary transportation of the Nile River. Making it definitely one of the most rich, historical and interesting mode of transportation of all times.
Feel the wind blowing through your hair while on a bamboo train, freeze your a** off while travelling on a Dog Sled, fight for a place to sit on a Jeepney, feel adrenalin pumping while you try to balance yourself on a Mokoro, get intoxicated on a Beer Bike and watch out for donkey dump while on a Burro taxi! Which unique mode of transportation do you want to board on your next vacation?
You May Also Like To Read:
9 Most Wacky Cocktails Around The World
10 Best Public Transportation In The World
10 Most Exotic Waterfalls on Earth
Transportation Modes: Our Top 20
It's not about the destination, but rather the journey . . . or something like that. Getting around in an unfamiliar place can be a challenge. Add to that a different language and foreign currency, and a trip from Point A to Point B might seem daunting at times. Nevertheless, when we look back, the way we've gotten to a particular destination is sometimes just as interesting as the destination itself. Below is a list, in no particular order, of some interesting transportation modes we've encountered on our travels.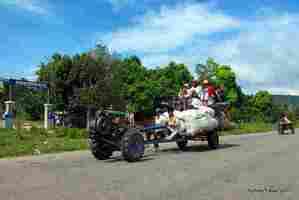 Tuk Tuk/Auto Rickshaw/MotoTaxi These three-wheeled, motorized vehicles can (usually) get you where you need to go quickly and economically. They are used like taxis, and price should be negotiated before you get in. They can be found in different forms all over Southeast Asia, parts of Central and South America, China, India and beyond. In places like Bangkok, a ride in a tuk tuk is on every tourists to-do list. Do some research on what you should pay for a short ride. If you don't, just be ready to pay up, and think of it as one of your "experiences."
Mokoro A dug-out canoe used in the Okavango Delta, Botswana. Built from a single ebony, sausage or teak tree, this craft took us through the delta to view some of Africa's amazing animals. We were bush camping for a few days in the delta, and the mokoro was our only transportation mode. A "poler" steers the boat standing with a long pole and pushing off the bottom of the shallow waterways. This is MUCH more difficult than it looks. I know. I tried. (TM)
Bamboo Railway There's only one of these left that we know of, in Battambang, Cambodia.The famous bamboo train (Norrie) started in the 1980s, inspired by the small vehicles used by the rail workers to make repairs. Roads were terrible at the time, and people were struggling. The bamboo platforms on wheels were strong, and built for minimum cost. They run along the old, French-era single track. We had a blast on our ride!
Reed boats On Lake Titicaca in Peru you may come across Las Islas Flotantes de los Uro (Floating Islands of the Uro). This floating village is made of the totora reed (a cattail type of rush). The totora reed is also used to make the homes the people live in, as medicine, to make handicrafts to sell to tourists, and more. When we visited, we took a ride in a totora boat.
School Bus Similar to the ubiquitous chicken bus in Guatemala and parts of Central America, a converted school bus is used in Venezuela to make the trip over the mountain from Maracay to Choroni (Puerto Colombia). The buses are old Bluebird school buses that have been outfitted with new custom paint jobs, stickers, colorful lights and a sound system that leaves your ears ringing. Fearless drivers lay on the air horn around each blind curve as you make your way up and over the mountain. There are some beautiful views, if you can stand to keep your eyes open.
Overland Safari Truck On our journey from Zambia through Botswana, Namibia and on to South Africa, we traveled in an overland safari vehicle named "Shaggy." These vehicles are put together with many of the inside pieces from a bus (seats, etc.) but with the passenger compartment separated and raised in the back. The driver and guide sit in front in the cab, and communicate to the passengers via an intercom system. Under the main compartment is storage for tents, food and other gear.
Longtail Boat (Water Taxi) Native to Southeast Asia, these craft use a second (or third or fourth)-hand automobile engine to maneuver through rivers and canals. The hull is long and narrow, usually like a canoe, but they can be up to 30 meters (100 feet) long. The drive shaft is extended out behind the boat, with the propeller on the end, giving the longtail its distinctive look. In Bangkok, watch your head, some of the canals are narrow and boats pass under low bridges. It sure beats Bangkok traffic though.
Motorbike Known as Xe ôm in Vietnam, Ojek in Indonesia, Motoconcho in the Dominican Republic, and Motodup in Cambodia, motorcycle taxis typically carry one or two passengers. Some are licensed and wear a special vest or official uniform. Others are completely freelance. Most commonly, you can just wave one down and haggle the driver down to a decent price.
Bicycle Probably the most widespread of all vehicles across the globe. We have rented bikes in nearly every country we've visited. Prices range from up to $20 dollars an hour to as little as one dollar for a whole day. This was the case in the photo above, Siem Reap, Cambodia, very cheap, though the bike did lack brakes!
Shared Car/Jeep/Van Also common all over the world, shared vehicles are always an adventure. From long-hauls to shorter circuits around town, this transportation mode often requires some strategic planning. Choose your seat wisely or you may find yourself in an unintentional hours-long game of Twister. One example is the Songthaew: These are usually a pick-up truck with open sides and back. You enter through the rear and sit on a bench that runs along either side of the vehicle. They can be used as a private or shared taxi, but more likely they are a shared ride along a predetermined route. That doesn't mean there are set stops though, so be sure to shout if you need to get out!
Beasts In some places, camels, horses and donkeys are the most common people-carriers. Our favorite experience was in Bikaner, India, where we rode out into the Thar desert by camel and spent the night with a family there. Beasts don't just carry people though. They work hard transporting all sorts of goods and materials.
Campervan When traveling in Australia and New Zealand, these are the vehicle of choice. Campgrounds are very well-kept and affordable. Unlike the larger motor home or RV, campervans tend to be smaller and lack a toilet or shower. There is also not usually separation between driving and sleeping spaces. Our campervan in New Zealand was a converted Nissan Vanette, and we lived quite comfortably in it for about a month. There was space for bags under the bed, and from the back you could access a table, chairs, a cook-stove and kitchen items.
Funicular Also known as a cliff railway, the funicular involves both cables and a track, taking people up steep mountainsides that could never be climbed by a traditional train. The key is that there are two cars. The descending car helps pull the ascending car up. One of our favorite examples: the tram leading to Victoria Peak in Hong Kong was one of the first funiculars in Asia (opening in 1888). The steepest part is a 48% grade! Park of the Hakone circuit in Japan is covered by the Hakone Tozan Cable Car (箱根登山ケーブルカー Hakone Tozan Kēburukā).
Cgo yong Found in Cambodia, this is nothing more than an engine welded onto a wooden frame. The name, literally translated, means robotic cow. It is used to transport both people and goods.
Maglev Maglev is short for magnetic levitation. Maglev trains basically float over tracks, with magnets creating both lift and thrust. In Shanghai, we rode this transportation mode to the airport on our way to catch a flight to Hong Kong. We were traveling during peak hours, so it ONLY went about 190 mph. Had it been off-peak, we would have hit about 275mph!
Hagglund (Bandvagn)
This all-terrain vehicle was fist developed in Sweden in the 1970s for its army's use in harsh conditions and over extreme terrain. The vehicle has tracks like a tank and is made up of two units with a pivot point in the middle. Near Christchurch, NZ, you can experience the Hagglund being put through its paces at the Antarctic Center as you cross the ice, go up and down muddy hills and through the water.
Donkey Cart For those who can't or more likely don't wish to carry their luggage to their guesthouse, the donkey cart is available in the Gili Islands (Trawangan, Meno and Air) of Indonesia.
Shinkansen The bullet trains are a network of high-speed trains connecting major cities in Japan. They are known for punctuality (you can…and people do…set your watch by the arrivals and departures), comfort, speed and efficiency. A Japan Rail Pass is highly recommended if you want to take full advantage of this excellent long distance option.
Cable Car/Gondola Cable Cars are used to get people up to the top of steep mountains/slopes or across bodies of water. Large windows provide spectacular views. Some of our favorites: Hakone Ropeway, Japan; the Teleférico de Mérida, Venezuela (the highest at 4765 meters and longest (12.5 km) cable car of the world; and the Table Mountain Cableway in Cape Town, South Africa (with a rotating floor).