Published on July 25, 2013 16:02
The first time in Ctrip
Send travel notes, novice on the road, business is not familiar, please pay more attention~
I always agree with a saying: it's better to travel thousands of miles than to read thousands of books. After the baby was born, Niu's mother secretly decided to take her to the end of the world, seeing, thinking, feeling and growing up on the road. As soon as she was three years old, Niu's mother carried her out of the country alone. During the journey, he has overcome many difficulties, such as language barriers, children's illness, bumps and so on. Along the way, children learn to grow, adapt and think, while mothers see different worlds through their children's eyes. Child, when you are still young, mother is willing to take your little hand to the end of the world; When mother is old, please hold her hand tightly to see the world, OK?
Long beach in the Philippines has always been Niu Ma's favorite place because of her special love for the sea. When she was preparing to leave last year, she had to change to Sabah in Malaysia because of the tense relations between China and the Philippines. In July this year, her city opened a direct charter flight to long beach. Niu Ma fought against the public opinion and went out with her little girl. The disputes between the two countries have their own big people to worry about. Small people like us can still live in harmony with small people of that country and greet each other. Indeed, in long beach for 6 days and 5 nights, we feel the friendly greetings, sincere smiles and warm help of the Filipino people. Thank you.
Let's take a picture first. I wish this moment will last forever.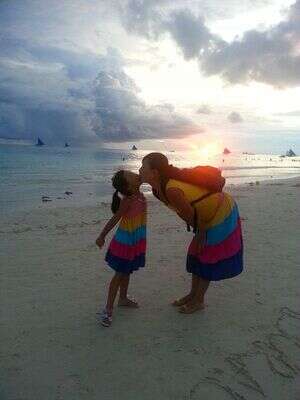 When it comes to travel, Niu Ma advocates that everything should be simple because she is with her children. In order to save trouble and convenience, she takes photos with mobile phones and card machines, but she takes beautiful pictures of anything she wants to use in long beach.
Overlooking Long Beach Island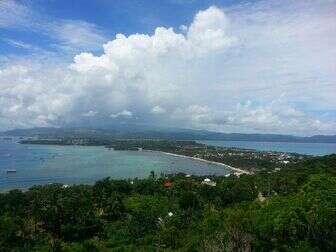 The sea of Long Beach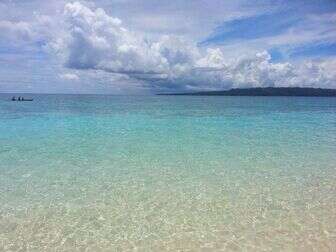 The cloud of long beach -- the foot of the sky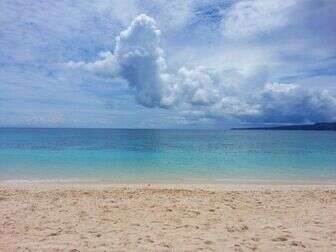 Crab boat in Long Beach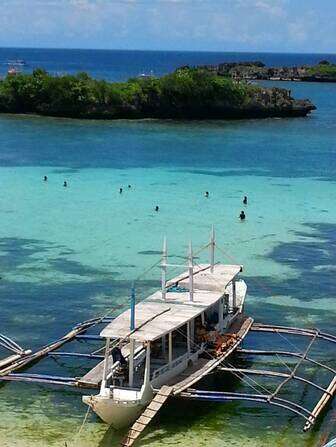 Coconut trees in Long Beach
Fish in Long Beach - I feel that this is a red carp that can be refined. I don't know who is willing to help?
———————————————————————————————————————————
It's reliable to write a running account.
Day1: at 5:30 p.m., Cebu Airlines flew directly for more than three hours to calibo airport in the Philippines, and the air conditioning on the plane was fully turned on. Is the oil in the Philippines free? The mother with the baby can't afford to be hurt by the white air-conditioning. Remember to bring a thin blanket to avoid freezing the children. Cebu Airlines is a low-cost airline. Except that the air-conditioning is running well, the rest is free of charge. It was a smooth journey. After arriving at caribo airport, the clearance procedures were very slow. It took more than two hours to get out of the airport by car and 15 minutes by boat. It was midnight when we arrived at Long Beach Island. Then we took Tutu, the main local means of transportation, to the Hotel. In fact, it was three rounds. We drove very fast on the road. When we met ditches and pits, we flew directly and felt that we would throw it out at any time, The girl tightly grasped Niu's mother's hand and whispered, "Mom, it's better than roller coaster. When she got to the hotel, she washed and slept, and had no dream all night.".
During the journey, the child virtually exercised his adaptability and also cultivated his mother's adaptability. I remember that when I went to Malaysia last year, before I arrived at the Hong Kong airport, my 4-year-old girl suddenly had a high fever. She lay on me and just wanted to go home. At that time, she was inexperienced and in a hurry. She almost had to go back with her child on her back, Weighing the pros and cons, since we have decided to take our children on a trip, what kind of impact will it have on our young children if we give up when we meet some difficulties as parents? In addition, it's normal for such a small child to have a fever. I believe I can grasp the situation and the child can overcome it. Niu's mother holds her child and drags her luggage all the way out of the gate. On the plane to Malaysia, Niu has been running a fever and leans on Niu's mother. Along the way, Niu's mother keeps feeding water to the child to cool down and prays constantly, Air Asia's low-cost airline seats are crowded. After more than three hours' journey, my hands and feet are numb, but God's blessing, the chick's fever subsided miraculously after she arrived in Malaysia. The next day when she saw the sea, she was even more lively. Our mother and daughter had a wonderful journey. What I want to tell my children is that in life, when you encounter unknowable difficulties, you really should not give up. If you shrink back, you may no longer dare to move forward, and people around you will lose their trust in you. Be cruel to yourself, bite your teeth, walk over the ridge, and it will be sunny again.
For example, this time, I went to the Philippines with my child. In addition, the girl coughed a few days before her departure and even had four days of injections. All her relatives and friends had doubts. However, because of the successful trip last time, the child's father had no objection, because he believed me.
Charter flights of Cebu Airlines
There are few stewardess on the plane. They look good and the service is good.
———————————————————————————————————————————
Day2: in the morning, the sailboat set sail at sunset. But July is the rainy season in the Philippines. It's hard to see the sunset in the afternoon and the clouds are very thick. Later, it's not surprising that we saw the rainstorm in long beach two nights. The rain was flying sideways and the umbrella was useless. But fortunately, it wasn't long. It was mass in the afternoon.
Free travel is good, there is no morning call, free time arrangement, but the strategy must be done well, otherwise I don't know what to eat, what to do, what to play. Get up in the morning, big sunny day, good mood, long beach, we come!
Our hotel, crown Regent in S2, has a very large swimming pool with surfing. Every time a girl comes back from a trip, she is destined to enjoy herself in the swimming pool. However, she suffers a lot from her mother's hard work. She is tired from the sun and is willing to work as a horse with a salary of zero.
Sea, here we are!
Come to the beach, very excited, a bit like picking up treasure, dancing, the sea, we are about to put into your arms, please do not refuse us!
We are not Bai Fumei. Niu's mother advocates that children should grow freely in nature, and feel every plant, every leaf, every flower, every spring flower, every autumn moon, breeze and drizzle in nature. We live in the reinforced concrete urban forest. The cramped space, the crowded traffic and the oppressive atmosphere really deprive people of their true nature. What's more, Niu Ma is worried about her children. She has always believed that the big pattern has a big mind and great wisdom. The reason why the sea is big is that she does not refuse rivers. When a child looks at the sea, she can find that she can appreciate it and think about the distance of the sky and the breadth of the sea.
At present, children's nature is exploding~
I am so small in front of the sea~
Here comes the sailboat~
Cool girl on the boat~
Set sail~
The sailing boat in long beach is a unpowered sailed crab boat. Sitting on the net pockets on both sides, ouch ~ it's a bit too tight for my butt, so it's better to come out and borrow a bath towel in the hotel, which doesn't hurt so much.
Rippling with the waves~
In the sails to see the sea and sky, all the United States so unreal, more than 30 minutes after the sails to shore.
Although the sailboat can't catch up with the setting sun, it still has a special flavor in the scorching sun. In about 30 minutes, when the sailboat returns, Niu Ma tells the boatman to drive slowly and then slowly, so that we can have more charm! It's a pity that the Filipino boatman didn't know Chinese at all. She didn't pay any attention to my gestures and waded ashore.
Turn to dmall at noon, there are so many people, exactly there are so many Chinese! The girl is thirsty and tired. We don't care about going out. She sits on the ground and drinks mango shake like a refugee. In the next few days, the girl is like a monk chanting Scripture: Mom, I want to drink mango shake. I won't go without it! Straight read her mother headache incomparable, yield way: buy, buy, see buy!
Mango shake is really good. In fact, there's a mentality of compensation here. I seldom give a chick a cold drink at home. I don't seize the opportunity to threaten her mother to drink. What's missing is what's needed.
Looking back at niuma's first year in primary school, I still can't figure out why the United States is a foreign country and why it's not the United States? When I was 20 years old, I had my first real trip to Hainan by plane. In the future, I would travel as long as I got the chance. When I was a mother, no one cared about my children. Let's take them out with us! In the final analysis, it is also the mentality of seeking compensation!
In the afternoon, I made a Philippine style horse slaughtered chicken, a row of Datong Kang, separated by a curtain in the middle. A group of Chinese aunts and I were devastated by them. As soon as they smeared oil on it, an aunt was reading: it's over! My husband doesn't like being oiled! Another aunt answered: where do men do it? I don't know if my husband wants to take off his clothes, too? He doesn't like people touching him! Cut ~ I still think what matter, in the heart abdomen black way: your husband how old person, aunt also blind worry, ha ha, don't like you touch?
After a while, another elder sister screamed: easy, easy! How to say in English? Next to an aunt depressed said: I don't know this, or you put up a little finger to represent the light point, put up a thumb to represent the key point! I don't know if it's useful. Anyway, I've heard a little bit. Oh, it's not enjoyment or torture! As long as I do massage for a girl, she plays defense radish!
According to the omnipotent online strategy, I went to dmall to find yellow club in the evening and ordered a big pizza with four flavors, as well as a can ice cream with good taste. I feel good and satisfied.
After settling down the girl to sleep in the evening, Niu's mother was in a daze looking at a box of clothes. Her luggage was contaminated by chili oil from a fellow countryman on the way to check in. Most of the clothes in the box had to be washed. Niu's mother, with her black eyes, was not afraid of hardship and tiredness. She was crazy about washing clothes, but what to wear tomorrow. After washing, all the hangers in the hotel's wardrobe could not be removed, TNN's, Which evil design, fortunately with a small clothes rack, hang to the balcony, wake up in the morning to collect clothes, still dripping, rainy season clothes hard to dry, God ~ not so play me! I had to dry Niu's bikini with an electric hair dryer. In the next few days, Niu only wore one kind of clothes - bikini!
——————————————————————————————————————————
Day3: Island jumping tour, including sea fishing, snorkeling and BBQ.
After yesterday's sea baptism, the girl is looking forward to today's sea voyage. In the morning, she can't help but cheer up in the restaurant. She is willing to show her children how to encourage them. This confidence is precious. I don't know if it will be so when she is older? Keep it, baby!
Generally, it's in S3 to go out to sea. The sand here is quite rough. It's very unique in Changtan island. From S3 to S1, the sand goes from coarse to fine. There are many dwellings in S3, and the sea sports are relatively concentrated. I'm going out to sea~
The water in the Philippines is of different depths, so the local boat people created a unique crab boat to balance the two sides of the boat.
After boarding the ship, a dark cloud ran with us. At first, we were a little careful of the rain, but we were still very lucky. The sun was shining high and the waves were calm.
When the boat arrived near crocodile Island, sea fishing began. The boatman also carefully set up Zhiyang shed. There was no fishing rod, only one line and two small hooks on the line. Ha ha, Jiang Taigong hooked the fish. Those who wish to take the bait. The girl refused to accompany me to go fishing, but she didn't have time to say: Mom, I'm thirsty ~ there are three coconut sellers on the sea, 100 pesos. Use one coconut to settle the girl and warn her, drink your coconut well and don't disturb your mother! Niu Ma just put down the bait, just heard the girl behind shouting: Mom, the coconut fell! Niu Ma immediately felt like peeing her pants. She sat down in coconut water and became angry immediately. She was about to give out the lion roaring skill. She felt that the surrounding environment was not right, so she had to be angry. Dantian said to herself: my name is not angry, calm down, and keep an international image! Fortunately, if you want to pee later, the container is ready! After several times, Niu's mother could only envy her neighbors.
The girl humiliated me again: Mom, why are you so stupid that you didn't catch a fish! Niu's mother gritted her teeth: it's a miracle that your mother can catch fish with you! Girl then asked: what is a miracle? What child, still ask, Niu Ma can only talk nonsense: if you don't have nothing to call Mom, shut up and be quiet, this is a miracle! The girl immediately said: Mom, don't count on it. I can't create this miracle! Good vocabulary, but also used to create!
Desser's girl~
Time flies. At noon, I go to the island to eat BBQ and have a rest. This is crocodile island!
I don't know why, the boat can't reach the shore, so she has to wade to the shore. The girl is afraid. At this time, Niu's mother feels the friendly kindness of the Filipino people and takes the initiative to help me pick up the girl. She doesn't resist uncle Hei. It seems that she has a lot of knowledge and can accompany her children. She is courageous and moved~
Our BBQ ~, good-looking, hehe, not delicious!
How can the beautiful scenery live up to the rest time after dinner~
Filipino children in the water around the boat perform forward somersault and backward somersault, which should be the most natural way of growth. In fact, education is really amorphous, no matter how much it is, it should be more like watching, quietly waiting for the children to grow up.
Water to clear, I would like to be a water plant in the waves~
Afternoon snorkeling, you see the water as green as silk, want to take it home, underwater coral rock looming~
I want to be in the arms of the sea. The underwater world is so beautiful. It's a colorful world, with colorful coral reefs and swimming NiMo. I don't want to leave and I can't bear to leave~
Little girl was only worried. Unexpectedly, she asked Uncle black to accompany her to the sea. She didn't know how to communicate with her. Although she was scared and yelled in the sea and dared to try, little girl who challenged herself still won the praise of all the people on the ship. As a reward, uncle black dived to the bottom of the sea and picked up a blue starfish for her.
Little girl, like a treasure, happily said to me: Mom, I also have more stars like Carmelo! Carmelo is a favorite character in the book. The title of the book is different Carmelo, which virtually deepens the girl's understanding of the book. The girl always said to me: Mom, can I take it home? But the child, mother know you like it, but like does not mean you want to possess it, but to take good care of it, respect it, it has life, it belongs here, left the sea, it will lose life, you will eventually lose it, let it go back ~ girl understand, reluctantly put the blue sea star back to the sea.
——————————————————————————————————————————
Day4: in the morning, I drive buggy car up the mountain to overlook Long Beach Island. In the evening, I swim beside the reef of Notre Dame
Tutu, the main means of transportation on Long Beach Island, starts at 60 pesos. Filipino's English is very good, but Niu Ma's silent English, which she has learned for many years, has been returned to her teacher early, and her daily language is not so good. However, when Chinglish meets Filipino English, it's a bit like a duck. Fortunately, there are gestures and mobile phones, so long as you understand the key words, it's OK! We don't pay attention to any grammar or sentence. Originally, English is a tool for communication. I really don't understand why I learned so many grammar and sentence patterns in class, and I didn't want to study. As a result, it's hard to speak in real life; I also don't understand that many friends around the country spend tens of thousands of yuan to apply for English classes for their children. It's not as good as spending this money to go abroad. At least my little girl will thoughtfully say to me: Mom, I want to learn English well. It's really useful. Let me come next time I go abroad! Once the child understands why to learn and what benefits it will bring to him, he will naturally be interested in learning. If he doesn't let her learn, she will not do it!
Can you guess how many people this car can hold?
The Tutu driver took us to the starting point of buggy car and talked about the price. She went up the mountain for 700 pesos plus 120 pesos. Niu Ma asked the guests waiting for the bus who were equipped with a Chinese tour guide team. They actually charged 350 yuan per person. Oh, my God, it's too cruel. The Chinese people are not very kind.
When I got the car, I was very excited. I drove up the mountain by myself. The car was very simple, with right foot accelerator and left foot brake. But each team was equipped with a team leader, who drove slowly and controlled the speed of the whole team. She couldn't run. She was so anxious that she wanted to overtake. But the team leader Xiao Hei tried to stop my behavior after he found out. Hey, let's go ahead quickly.
It took 15 minutes to get to the top of the mountain~
See a Transformers~
Original picture
The way to the viewing platform is to walk on your own. The girl's endurance is always good. She always walks on her own. It's easy for Niu ma~
The whole island of long beach
On the way back, she found that the original car was missing, so she picked one to drive back. This time, Niu Ma thought of a good way. She came to the end of the team, hid in the shade of the tree for a while, and then sped up to catch up. After all, ha ha, it was a little fun to drive. She felt a little addicted to driving ATV. Niu Ma saw a fierce girl, black bikini, black sunglasses, black helmet and a body of meat, Driving ATV is very popular, like a female bandit!
We had a big sleep at noon. At 5 p.m., we went out for a walk and turned to the virgin rock. There were dark clouds. Then we saw the heavy rain flying across the long beach.
90% of the Filipinos believe in religion. In a few days, they feel more docile and kind.
In the evening, Willy's rock didn't see the sunset. The clouds are too thick. I'm a little sorry. Is the sunset so rare in the rainy season?
When it rained heavily, OLE in dmall was waiting to eat paella. It's hard to wait. It's estimated that we won't eat paella until 40 minutes after placing the order. The paella for two people at 770 pesos is more expensive. Different people have different tastes.
——————————————————————————————————————————
Day5: Puka beach, West cove, sunset in the evening
Puka beach is far away. On the other side of the mountain, it is said that it is Liang Jingru's wedding place, also known as shell beach. Her sand is not as delicate as white beach. There are many shell corals, and tourists are not so many. Everything seems so quiet and elegant. The girl is not happy to pick up on the beach. When we arrived, the sky was still a little heavy, and soon the sun was shining, and the water was sparkling, It's pure and clear, and it's a good swim. It's here that I'm completely sunburned.
The sun is too hot to fight. Turn around and go to West cove. Although it's a hotel owned by the champion, it's a fairy tale kingdom. It's so beautiful. I suggest you go to see it when you have time.
I feel very generous. When we are leaving long beach, dark clouds still make me see the sunset on Long Beach in the evening. It's sunset in the West and rain in the East. The road is merciless but affectionate, which makes this trip without any regret!
Sunset only gives us a few minutes of beauty. In a flash, it's raining cats and dogs. My little girl and I went to the seafood market and bought lobsters, octopus, prawns and so on, and then took them to the store for processing. There are many restaurants with air conditioning, almost all of them have to book. It's good to sit on the street without fear of heat. It's famous for Fujian people and Hong Kong kitchens, but it's crowded, It seems that with the arrival of more and more Chinese people, the price has become more and more expensive, and it is difficult to cut down. The local people will not come to eat, but only do business as tourists. Of course, it is better than Hainan. The taste belongs to the level of large food stalls, but the good thing is that the food is fresh.
———————————————————————————————————————————
Day6: reluctant to say goodbye to long beach and return to warm home. I can't help but sigh that with the development of modern transportation, I am still in Filipino in the morning and have returned to my familiar city around 4:00 in the afternoon.
Sidelights:
Lovely Philippine little Lori ~ Niu Ma feels that Filipino women are beautiful in Southeast Asia, better than Vietnamese, Malay and Thai people (except for human demons of course). Although their skin is dark, their facial features are delicate, and their faces are kind, which makes them feel good.
Snails caught on the beach ~ it's definitely good to bring more children out. At least you can see the living creatures, so as not to show her only pictures. It's less fun of life. After playing for a while, the chick is released with great love.
The angry bird drink I saw in the supermarket is specially bought for the chick. It tastes good, only 20 pesos~
Fish swimming in coral rocks~
In Long Beach, you can find paths leading to the seaside everywhere.
People who build sand sculptures beside the virgin reef rock ~ many local children will build beautiful sand sculptures. If they want to take pictures, they will charge tips. After seeing this, the girl exclaimed: there are experts in sand! There are experts in every field. It's a skill to play to the extreme.
Philippine currency: peso, which can be exchanged at home is the best. Unfortunately, my city can't exchange it. It's estimated that I have to make an appointment one month in advance, so I only exchange part of US dollars, which can be exchanged in many places of Long Beach Island, but the exchange rate is too black. RMB: peso is 1:5, the normal international exchange rate is at least 1:6.4, US dollar: peso is 1:42.75, Relatively speaking, it's better to exchange US dollars. The Philippines is a tipping country, so every morning you should put 20 pesos at the head of the bed as a tip for room service. Never give coins, because Filipinos think that coins are for beggars. In addition, you must protect your suitcases when you enter and leave the wharf. There are many little black people who will help you carry the suitcases and then collect tips. However, in case of strong wind and waves, it's better not to give up tips when you get on and off the ship. Let little black help you. If there are waves and you drop the suitcases into the sea, it will be miserable. You have to tip for massage, ranging from 50 to 100 pesos. Another time, don't exchange too much. Try to spend all pesos before leaving the island. There's nothing to buy at the airport. It's too small! Despite the large face value of peso, ah, as long as it's money, it's not spent!
Tips:
1. Every year from April to October is the rainy season in long beach. Windproof net will be set up on the beach, which will affect the landscape. Although it rains heavily, it is not long. It is difficult to dry clothes outside. It is best to put the air conditioner in the house. The mother with the baby had better prepare a clothes hanger and bring more swimsuits, because all the hangers in the hotel that Niu Ma laid down can't be removed. I don't know which immoral design! If you really can't do it, use an electric hair dryer.
The clothes are washed every day. After the babies play on the beach, they will bring a lot of babies back~
2. Parents with a baby must prepare a bed towel, which can not only resist the air conditioning of the plane, but also wrap the baby after swimming ashore. They can even protect the baby from the sun. If they are diligent, they can bring swimming circles, sand toys and snorkeling tools. Of course, they can also buy them in the local area. Niu's mother provides them by herself, which can be used for everything.
3. Remember to protect yourself from the sun. The beauty of the long beach water is directly proportional to the sun's poison. The sunscreen index must be higher than 50. Niu Ma is completely sunburned and painful. She also becomes a zebra directly. The places she wears and doesn't wear are different in depth. I still don't feel it locally. When I get home, I find that everyone except me is white and rich. The pain comes from comparison, It is strongly recommended to buy a banana boat in the local supermarket, and aloe can be repaired after being exposed to the sun. The effect is good.
4. There are local dried mangoes for shopping. There are two brands, 7d and Cebu. The price of 200g is about 100 pesos. It depends on individual bargaining power,
It's all very good. The dried mango in Cebu is small, but it tastes heavier. The girl likes it very much. She has dried several bags before returning home, and coconut oil. The package is very beautiful. It's a good gift. It's 40 yuan a bottle.
5. When you bring your baby out, you should prepare medicine, such as waterproof band aid, Smecta for preventing diarrhea, carsickness medicine, etc. you can choose seafood, but you'd better not eat oysters. Many people will have gastrointestinal discomfort. The local medical situation is general. It's said that private doctors are very expensive.
6. Take baby must pay attention to safety, Niu dad's request to me is to take his baby home safely, there are a lot of people on the beach of Long Beach, the Tutu on the road is also very fast, dusty, please hold the child's hand tightly. For this reason, Niu Ma also gave up deep diving. I really can't imagine the child seeing her mother disappear in the sea with an oxygen cylinder on her back. However, I strongly recommend the deep diving in long beach. It's cost-effective, about 450 yuan.
7. As for hotels, it is recommended to book a trip with children at the seaside. Going out is the beach. It's very suitable for children to play with water and sand. It's not recommended to live in the middle of the mountain. Although the room is good, it's very inconvenient to take a swimming pool outside. We ordered Crowne Regent of S2. We didn't move the nest for five nights. It's about five minutes away from the seaside, But the room facilities are very new, with swimming pool and super-high slide, and comfortable outdoor sofa. I'm very satisfied.
8. As for eating and drinking, there are delicious food and seafood from all over the world in long beach. Because Niu Ma comes from a region where there is no spicy food, she misses the delicious food of her hometown very much after a few days. She always thinks that the delicious food is not that delicious. In the next two days, she often eats a beef meal. I don't remember the name of the restaurant, and the front door is very small. It's next to the Chinese restaurant. She feels that she is the most used to eating in long beach, Niu Ma tried not to drink boiled water. She basically bought mineral water to avoid water acclimatization. Of course, mango shake is definitely worth recommending.
This is a gift from a chick to Dad - a love stone found on the beach. Let's move forward with love.
Continuation - published on July 25, 2013 16:07
The first time I posted in Ctrip, I felt that I didn't accept the soil and water seriously. I always lost what I wrote, or no one paid attention to it. However, I still felt that Ctrip Xiaobian was serious and responsible. They helped me find the lost part in time, and soothed my injured heart. Thank you~