Show all 7 days away
     The reason for this trip was that the tourism law of the people's Republic of China was going to be promulgated, and the price of Thai tour was going to rise. My mother's friend asked her to visit Phuket, but my father didn't accompany her, so he asked me. Originally, I agreed, but my husband didn't trust me. He didn't allow me to go with her. He had to be under his supervision, and he didn't want to go with the senior group, So I decided to have a free trip. Due to lack of experience, I think it's more convenient to book travel products in Ctrip, and the reputation of big websites should be better, such as air tickets, hotels, insurance, visa, pick-up, shipping tickets, and one-day travel unified station, which can save worry, effort, time, and English communication. Although they didn't have time to prepare their English well at all, the foreigners' Chinese is so poor that they still go to China to play. So the two English rookies choose Phuket as the start of their self-help tour abroad. Mom's group tour also takes place at the same time. I will compare it with her group tour in the end.      The purpose of this travel notes is to remember this unforgettable journey, no gorgeous words, no petty bourgeois sentiment, the most important thing is that there is no beauty, and even the photos are taken with the card machine and iPad, but we have a happy mood and a small strategy, interesting things, hope to give some reference and help to the students who want to help but dare not travel abroad.
It can be said that homework is also to do, first put on the self-made itinerary, with this husband just a little more at ease, in fact, he is full of timidity, ha ha. Itinerary 1: Phuket 7-day self-help tour? PP Island 2 night Product Name:   Phuket 7 free travel? Including accommodation on PP Island   No. of 1 night: 1623072    http://vacations.ctrip.com/freetravel/p1623072s28.html#yhdp The first day (September 18): check in at 22:00 between Chengdu and Phuket: check in at the departure hall of Chengdu Shuangliu International Airport today, and take a flight from Chengdu to Phuket at 23:50. Flight: China Eastern mu573    The total flight time is about 4 hours and 10 minutes     Although it's Wednesday, I have to go to work, but the plane is in the evening, so I can go on duty again, without any delay. This page is not complete, so we have to open it according to our talent.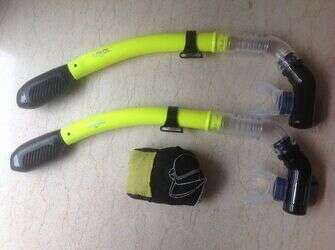 In order to avoid the suspicion of advertising, the source of the dry respirator bought on Taobao has not been mentioned. Later, practice has proved that it is very easy to use. Although the Holiday Inn in Pipi island can borrow snorkeling supplies for free, and all kinds of one-day tours including snorkeling can also be borrowed or rented, it is necessary to keep your mouth clean, and the borrowed breathing tube is generally wet, and it needs water, which is dry, It's not easy to get into the water, and you can drain it by yourself, so it's not easy to choke.
Chengdu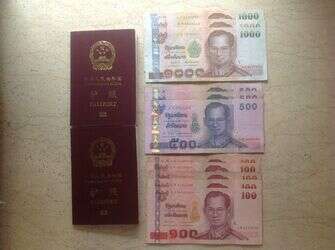 The domestic exchange rate should be higher, but there are too few small denominations. You can also apply for the gold card of Bank of Chengdu (you can deposit 20000 yuan, and there is no restriction on withdrawal). In Thailand, the first ATM withdrawal is free of service charge, but the local bank in Thailand will charge 50 pig service charge, and the exchange rate will be settled according to the listing price of the people's Bank of China on that day. It is said that the card of Huaxia Bank also has this function. The exchange rate of the Bank of Thailand is generally low. The so-called exchange point in the black market is higher, but I'm not sure.
Chengdu
Let's first take a beautiful photo of Maya Bay to attract people's attention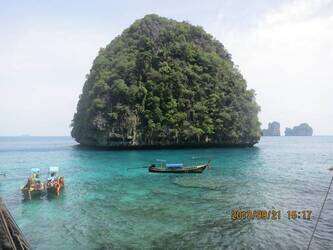 Chengdu
The next day of the itinerary (September 19): when you arrive at Phuket airport at 03:00, pick up your luggage and enter the customs, you may have to charge a tip of 10 yuan (some say you don't charge if you don't go with the team), take a free map, cash out or exchange for Thai baht, buy a mobile phone card, and pick up the plane by the reservation (35 yuan per person one way) to the hotel for a rest. Note: 1. The plane should meet at the exit within 1 hour after arrival, otherwise it will be deemed as abandonment. Ctrip local contact number 0066-818929168 (China mobile phone) 0-818929168 (Thailand mobile phone)       2. When you arrive, set the time one hour earlier, sometimes one hour later. Hotel: Citin   Plaza   Patong   Hotel   and   Spa,   Phuket is about 200 yuan / day (excluding morning),   Samsung, because it spends less time in the hotel, as a transitional Hotel, it's cost-effective. It doesn't matter if it doesn't include breakfast. Anyway, it can save a lot of expenses. The estimated time of arrival is 04:30, after check-in and washing, it is 05:30, and then have a good sleep. 11:30   Get up, go out for brunch, meal time: about 1 hour. If time permits, book a 4-in-1 set meal on the sofa in the afternoon  ( Ride elephant about 30 minutes) (adult) (Ctrip price 109 yuan / person). If you are too tired and don't want to move, take a stroll at the beach of Patong and have an early rest. 14: 4 in 1 set meal in sofa  ( Ride an elephant for about 30 minutes) (adult) pick up at the hotel, Thai   Fruit Thai seasonal fruit for free  +  Elephant   Trek   30min   About 30 minutes by elephant+   Elephant   Show   Elephant show+   Orchid   Farm   Orchid Garden visit  , The activity time is about 14:30-16:30 (starting in the afternoon). Note: 1. This product includes pick-up and drop off for carpooling service. Please arrive at the boarding place on time and wait. If the driver waits for more than 10 minutes, the car will leave. It is deemed that you will give up this service automatically. If you haven't seen the driver after waiting for a long time, please contact the emergency contact person as soon as possible to ensure your trip. 2. If you are satisfied with the tour guide's service, you can tip at your discretion. The amount is generally from 50 baht. 17: 00 to the hotel. If you're too tired, you can't finish the activities in the evening. If you're not tired, you can book tickets for Simon's demon show in the evening. It's only 5 minutes' walk to your hotel, and there's no need to transfer. The price may be lower (Ctrip transfer price: 100 yuan / person). 17: 30 walk to Jiangxi cold Badong night market for dinner, buy fruit food, prepare to go to the island, go to the bar street. 21:00   Return to the hotel for a rest. Note: due to the fear of late flight on the first day, we don't book the project. If conditions permit, we can go to the local newsstand agent for reservation after arrival. Today is the Mid Autumn Festival. Remember to make a phone call or send a message to your family. The hotel to stay is still: putongsi Plaza Hotel
     The stewardess of China Eastern Airlines was very unkind. They thought they were going to send us an entry form on the plane, but they didn't, so we got off the plane and looked everywhere. Later, it was found that there was only one person in the team. They were given by the tour guide. We had to go to the window on the left side of the gate to ask for a tip. My husband arrived smoothly, and all the people who asked for a tip were asked to give a tip. It seems that this is also a matter of character. So late, there are still many people entering the customs. There are only five or six flights from China. I thought it was in the domestic airport. Team tour was asked to tip 10 yuan in passport. Anyway, I didn't see anyone tip in our line. Everything went well.      I came out to pick up Ctrip and found it after 2 laps. It scared me to death. The reception people knew Chinese. Because it's carpooling, let's wait a moment. As a result, I didn't wait for anyone to come later, so a car sent us two to leave (it should have been a business car). I was flattered. The journey was quite long, which saved a lot of time. My husband and I discussed how much to tip, and the minimum denomination of Thai baht was 100, so I gave 10 yuan RMB. I had to take a special bus, I gave the driver what I was going to give to the customs.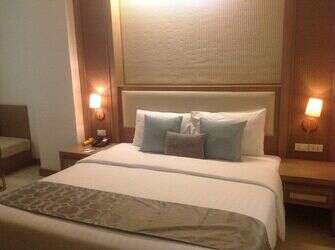 There are elevators, a small balcony, you can dry clothes, but there is no landscape. Welcome drinks, free WiFi, but can not be found directly, to enter the login name and password. On the day of leaving, a Chinese tourist group came, and many foreigners lived here. It was 5 minutes away from Renyao show, 10 minutes away from Badong beach, and 20 minutes away from Jiangxi cold. It doesn't include more than 200 days in the morning. It's cost-effective.
City Plaza Patong Hotel and spa, Phuket
     Chalong temple is a surprise for us, because it is not in the scheduled itinerary. My husband had a friend in the local area who had enough rest at noon. After contacting him, he took us to his friend's house to play. When the sun was not poisonous, he took us to Chalong temple. This temple is one of the famous temples in Thailand, and the queen also came to worship. She didn't accept tickets, which is unimaginable in China.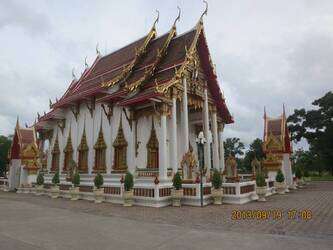 Temples in Thailand are always resplendent and distinctive. But remember to take off your shoes when you enter the temple.
Chalong Temple
A relic on a tower
Chalong Temple
Looking down at the whole Chalong temple from the tower, it is the Buddha's day and the Chinese Mid Autumn Festival. So many people come to worship the Buddha, and local people often come, but most of them offer flowers, and few of them burn incense, which is very clean.
Chalong Temple
After visiting Chalong temple, my friend took us to ride an elephant.
Feed the elephant banana. The elephant is very smart. When I saw it in my hand before I sat down, I stopped to roll up my nose on the road. It was not enough to feed a few of them until I put the empty plastic bag on its nose.
Sofa Li National Forest Park
The people driving the elephant are Burmese. They work here, speak simple Chinese, and weave necklaces with leaves for us.
In fact, the performance is quite normal. There is a clown, fat, with two fake bras. He hugs, kisses and kneads the men sitting in the front row and the middle aisle on the first floor. He laughs to death. I had planned to take photos of him after the performance, but I was not allowed to take photos during the performance, but I didn't find him later.
You all know that.
Simon entertainment group human demon show
In addition to Thai programs, there are other countries with the largest number of performances in China, because Chinese people like to watch the human demon show the most, performing three, which seems to be the most dazzling national style, the drunken princess, the girl from Alishan, the Korean performing two arilang and Jiangnan star. The scenery was changed very quickly. At one time, it was changed from the Chinese court to Cleopatra. The scene was very beautiful, but the singing was all lip synching.
I think the most beautiful pink ladyboy
Simon entertainment group human demon show
Dressed very exposed, a strong invitation to take a picture with him, to tip, they grasp the money.
Simon entertainment group human demon show
They are all poor children. They have suffered physical and psychological damage in order to make a living. Now it's OK. They can't survive 50 years by taking hormones.
Day 3 of itinerary (September 20): Phuket - Grand PP Island 06:00   Get up, fix breakfast and pack. Check out at 06:45. 07:15   From the booking to PP Island round-trip big boat ticket (adult) (round-trip 140 yuan / person) to the hotel to pick up the car to PP Island wharf. Travel distance: about 40 km; Driving time: about 1 hour; 08:30 take a big boat to the scenic spot: Pipi Island    Travel distance: about 100 km; Driving time: about 2 hours and 30 minutes; Note: 1. Andaman   The wave ship sails to Tongsai Bay Wharf of big PP Island, and the guests staying in the hotel near the wharf can go to the hotel by themselves; If you stay in the hotel in the north of PP Island, you need to continue to take the big boat to Lantong Bay and then transfer to the long tail boat provided by the hotel for free; 2. To go to Pipi Island, you need to pay 20 Thai plants / person. Please pay to the relevant staff at the wharf;   3. It's better to seize the upper seats of the cabin, or you can only stay on the deck when the seats are not enough. When the sun comes out, it will be very dry, the air conditioner will be very cold, you should wear long sleeves, take medicine for seasickness, and provide (take) water, bread / biscuit, pineapple, etc. for free inside the ship; 11: 30 to the hotel: arrive at PP Island pier. Q: I want to stay in PP island for 2 nights, but all the hotels in PP Island stay at 14:00, while the ships to PP Island arrive at the hotel around 11:30. Can I check in? A: you can go to the hotel and ask if you can check in in advance. If you can't, you can leave your luggage at the front desk and have lunch by yourself. Hotel: Holiday   Inn   Resort   Phi   Phi   Island (Holiday Inn Pipi)   It's about 800 yuan / day. It's a high-class cabin with 5 stars by the sea and 4 stars by the mainland. It's beautiful, but it's more remote. It's less choice to eat and more mosquitoes. It's necessary to be prepared. Several nearby houses are of this type, but it's 500 yuan cheaper than 5 stars per day. It's cost-effective. Note: the room near the front desk is better. It's not a sea view house, but the wooden house near the coast is also better. 12: 00 lunch: walk along the seaside to another hotel, the nature resort restaurant buffet is 60 yuan / person, after the meal, the seaside pose photo. 14:00   check   In the room, pack up and take a rest. 15: Borrow free canoes, snorkeling tools and life jackets to play next to the hotel at the water activity center of the hotel. Holiday Inn has the only snorkeling spot on the big PP Island (return it to the hotel before 6 p.m.), which may discriminate against Chinese people. Therefore, we should be tough. Beach chairs and beach towels are free at the swimming club beside the lobby. Bathrobes and towels are for you to take a bath, not for you to wear and run around, nor for you to go to the swimming pool. By the way, find the boatman next to the hotel to book a one-day tour to mosquito Island, Bamboo Island, monkey beach, Maya beach, etc. one boat can take six people to go snorkeling and play. The price is about 400 baht / hour, 1000 pigs for 3 hours, 2000 pigs for 6 hours, and 300 pigs for 1 hour overtime. 17:30   Return the borrowed canoe to the hotel and wash it in the room. 18: 00 dinner: PP Island prices are very expensive, coastal beach north to the swing restaurant, the price may be slightly lower. 20:00   Go back to your room and have a free WiFi on holidays.
     In the morning, when you pick up at the hotel, you put a label on your name, which represents the hotel you want to stay in PP island. Then you go to Phuket wharf and ask you to go to the big ship according to the label. When you go to Tongsai Bay and ask you to wait for the boat. When you go to PP north and ask you to go to the long tail ship according to the label, your luggage is also labeled. Naturally, someone is in charge of it. In a word, a small label goes all over the world.      When I went to the wharf from the hotel, I sat next to a Canadian beauty. She took the initiative to talk to us. She came to Asia alone after she resigned. She was very smart. Ask us how long we play, tell her five days, she exaggerates that you open the luggage, and then close it. Who calls us Chinese people who have a hard life? We are traveling and foreigners are on vacation. My husband also recommended the photo of Yading Daocheng in his mobile phone. I can only say that this is my home town   autumn   is   very   English is too bad to talk about.
Most of the tourists get off here. The hotel here is relatively cheap, but the facilities are poor. Students with low requirements can stay here. The entrance fee should be paid here, because I was not under the dock, so I didn't pay in the end.
Tongsai Bay
Because I knew in advance that I would not disembark here, I would wait in the cabin for other passengers to queue up to disembark. My husband went out to see the scenery, and suddenly told me to go outside the cabin to see the fish. There were too many people to squeeze out, so I followed the people who were queuing up to get off the ship. As a result, the service staff of the ship thought that I was going to get off the ship, and they kept following me to remind me to stay. I had to pick up the camera in my hand, point to it and go back to take   Photo, the talent nodded clearly. He was really dedicated. If I insist on getting off the boat, the man will rush up and hold me.
When the ship is at the dock, there are a lot of fish as soon as the bread is thrown from the ship.
Tongsai Bay
check   When in, there are Chinese speaking waiters who will send mint flavored towels and welcome drinks.
The hotel lobby.
Holiday Inn Resort Phi Phi Island
Holiday Inn Resort Phi Phi Island
Hotel View
Holiday Inn Resort Phi Phi Island
There is a water tank at the door to wash feet so as not to bring sand into the house. Although we ordered the cheapest senior cabin, we were given the second row (the first row is the sea view room, which is more expensive). It's very close to the lobby, restaurant, play pool and swimming club. I'm very satisfied.
Holiday Inn Resort Phi Phi Island
I was worried that there would be a lot of mosquitoes. Maybe I didn't live near water. I didn't see many mosquitoes. After two days, I only saw two. Moreover, the room was equipped with mosquito killers, so I didn't get bitten in the whole process.
Holiday Inn Resort Phi Phi Island
At noon, go to the restaurant of Pipi Island Nature resort to have a buffet. 300 pigs is 60 yuan / person. You can eat enough, but the taste is not so good. However, the restaurant near the sea is very beautiful.
Birds are coming to share food with people
Phi Phi Natural Resort
Phi Phi Natural Resort
In the distance are mosquito island and Bamboo Island
Phi Phi Natural Resort
The beach outside the hotel is fine and white, and the water is good.
Beach outside Holiday Inn Pipi Island
I was going to borrow a canoe, but the tide went out in the afternoon and I didn't even lend it to us. So the students who want to play the canoe remember to borrow it in the morning when the water is deep.
I learned to snorkel for the first time. I only saw the video on the Internet. No one taught me. I can stay up for 10 minutes at a time.
The snorkeling area of Holiday Inn Pipi
In the afternoon, the water retreated a lot, only to the abdomen, but it was suitable for me who could only swim a few meters with my head up, but I was easily scratched by coral. Here I see pink fish, sea urchins and corals that will gaze at people in front of me. One by one, they may be sea anemones.
The snorkeling area of Holiday Inn Pipi
The fourth day of the itinerary (September 21): PP Island - a one-day boat trip, snorkeling, get up at 07:00 and take photos in the hotel. 08:00 breakfast: free buffet breakfast in the hotel. Meal time: 1 hour, remember to steal a few pieces of bread and put them in an empty mineral water bottle to feed the fish. 09:00 rent a boat and go to the surrounding scenic spots for sightseeing and snorkeling. Remember to borrow free life jackets, snorkeling tools and fins from the front desk before going to sea. Then put on the breathing tube of frog mirror and dive into the blue sea. Lunch: bring your own food. It's said that you have to take charge of the boss's lunch. 16: 00 back to the hotel, remember to return the borrowed snorkeling tools, wash. 16:30   Go to the hotel swimming pool. 17: 15 go back to the room to wash and then go to sunset on the mountain   Bar sunset, you can see the whole Andaman Sea. It's more cost-effective to use hotel coupons. 18: Dinner: in the restaurant of the hotel, the price is relatively expensive, need 10% tip and 7% tax, if you have buffet coupons, you can enjoy it in the seaside Thai restaurant. Dining time: about 1 hour evening: if the spa of the hotel is not expensive, you can consider it. Hotel: Holiday Inn Pipi
On this day, I rent a long tail boat to go out to sea. I rent it with four Chongqing sisters in the hotel next to me for six people. Seven hours, 2400 pigs, 400 pigs per capita, equivalent to 80 yuan. It's really cheap. But the process is a bit tortuous. When I passed by the long tail boat the night before, the boatman took business. I was going to mosquito Island, Bamboo Island and Maya Bay. The boatman said that Maya Bay was too far away. If I had to go, I would have 2500 pigs. I told him that he would not work and would not reduce the price. We left without negotiation. At this time, a Chongqing elder sister asked me if I wanted to rent it together. She found a person who could speak Chinese and talked about 1800 pigs. She didn't do it without lunch. If we shared it, we would go up a bit and strive for lunch. I agreed, but it is required to have the above three attractions. The next day I got on the boat and asked if there was no Maya Bay. Maybe my sister in Chongqing didn't make it clear, so she had to talk to the boatman again. As a result, he only knew English in primary school. The boatman didn't want to go to Maya Bay. He said it was a long way and a big wave. I said I must   Go, in my poor English and body language, I finally said something. However, when I added it to 2300, I cancelled other trips and went to another place in the back to swim. Xiao Hei is very good. We won't do that. He sent us one by one. Of course, we insisted and gave 100 pigs a tip.
This is our boss. He's very nice. We go to the sea and he's always protecting us, especially two who can't swim at all.
Mosquito Island
Mosquito island is named after the number of mosquitoes. It's not on the island here. It's just snorkeling nearby.
I'm going to swim far away
Mosquito Island
Look, I can still turn
Mosquito Island
Mosquito Island
Bamboo Island is a forest park, and the beaches of emperor island are two of the most beautiful beaches around Phuket. There is a charge of 200 pigs / person. But it's a through ticket with Maya Bay. If you buy it here, you don't need to buy it. Remember to take the ticket with you. You may check it.
I dare not get too close, for fear that it will bite me
It's estimated that it's wild. It's said that there's artificial breeding on the emperor's Island, and you can take pictures with it.
Take a close-up.
Blue sea and silver sand
Look how fine the sand is. Please automatically ignore suntanned feet.
Maya Bay, the location of the American film "beach", starring Leonardo, is the place where I insist on coming.
Welfare came, bikini on the stage, in fact, there are a lot of, but did not deliberately take, this is unintentional.
Maya Bay
Brave advance of torrent
Maya Bay
Seeing such a view, my companions all said that my persistence was not wrong. Even if I increased the money and swam here at risk, it was worth taking an extra three hours for this scenic spot. Unfortunately, I gave up the Coral Garden between mosquito island and Bamboo Island. In fact, I forgot that scenic spot.
The lagoon behind Maya Bay. Our boat took us here and swam for a few minutes before we came ashore. It's really beautiful.
Maya Bay
Is the water very clear? Fish are very hungry, a throw of bread to a group, I dare not feed themselves in the water, afraid to bite me.
Maya Bay
How about a colorful one
Maya Bay
I was going to borrow a canoe when I came back, but the tide went out again. If I didn't lend it to me, I couldn't row. Come back from the sea and swim again. It's very effective.
Please forgive me for playing in the infinity pool for the first time, and facing the sea.
The endless swimming pool of Holiday Inn Pipi
It's said that it's the only Sunset Bar in PP north. A hotel has both East and west directions. It's very good to catch all the sunrise and sunset. Think about it this way and feel a little relieved about such an expensive house price. The clouds are a little thick, but it's nice to see them in the rainy season.
I finished swimming in a hurry, just to see the sunset. Fortunately, I caught up. I don't want to look at the time in the photo. I didn't adjust the time difference, so I should go one hour ahead of time.
Sunset. Holiday Inn Pipi
It's like a conjoined sun.
Sunset. Holiday Inn Pipi
Of course, the bar ordered something to drink, only ordered drinks, no wine (you can use the hotel's coupon to order wine), it was very good to drink, but the price was also a little expensive, 2 cups was 60 yuan. Just keep the account and pay when you check out.
Sunset. Holiday Inn Pipi
In the evening, a Thai girl knocked on the door, handed this to her, said a lot, but didn't understand. Finally, she heard a for   I'm glad to know it's for me   It's time for you.
I don't know if everyone has small gifts. In view of staying in such an expensive hotel for two days and abiding by local customs and etiquette, I always wash my feet with water from the water tank before entering the house. The room is also very clean. I have to clean it up when I go out, and I put a tip of 20 pigs every day. I have consumption in the sunset bar. I think it should be a reward for me.
Holiday Inn Resort Phi Phi Island
The fifth day (September 22): PP Island - Phuket Island - seafood feast - Patong Beach get up at 05:30 and watch the sunrise at the hotel beach. Check out at 06:30 and have a free breakfast buffet at the hotel. 07:00 take the hotel tractor to change to the long tail boat, and then take the big boat back to Phuket. The morning shift from PP island to Phuket starts from Tongsai bay at 9:00, and the departure time from the hotel should be confirmed with the hotel when the hotel in the north of PP Island returns, so as not to delay the journey; Q: it is necessary to determine whether you can choose the return time in the afternoon for the round-trip large ship ticket (adult) to PP island. A: afternoon is optional, but we have to arrange shopping in Patong in the afternoon, so we will come back in the morning. Driving time: about 2 hours and 30 minutes; 11: Arrive at Phuket Island Wharf at 30:00, and take it to the hotel by car. Travel distance: about 40 km; Driving time: about 1 hour; Q: when booking a ticket, can you ask for a different hotel for pick-up and drop off. A: Yes. Hotel: Novotel   Phuket   Vintage   Park   Resort (Phuket vineyard Novotel resort) superior room (Zhongbin) is about 500 yuan / day, five stars by the sea, equivalent to four stars in the mainland, opened in 2012, very new, good location, Jiangxi cold walk to more than 10 minutes, 5 minutes walk across the road is the Patong Beach, the swimming pool is said to be the largest in Patong, it is said that the front desk has Chinese service, breakfast in general. Note: because I only live for one day and go out during the day, I just sleep, but I have to consider shopping, so the price is not too expensive. 12: Check in at the hotel at 30. 13: If you want to ride an elephant, walk to Jiangxi for lunch; If you don't ride an elephant, go to B market for seafood dinner (close at 5 p.m.) 14:00 if you don't go to the sofa on the first day for a 4-in-1 set meal  ( Ride an elephant for about 30 minutes) (adult) (109 yuan / person), then go today and pick up at the hotel. The activity time is about 14:30-16:30 (starting in the afternoon). If you ride an elephant on the first day, you can play at the Patong Beach and the super large swimming pool of the hotel today. 17: 00 to the hotel. 17: 30 walk to Jiangxi cold dinner, Jiangxi cold DQ is very cheap, go shopping, jeans, local products: cashew nuts, dried fruit and so on. Go back to the hotel at 21:00 to have a rest. Get up early tomorrow, don't go to bed late.
After sunset, of course, it is sunrise. The time is less than 6:00 local time. Please automatically advance the photo time by 1 hour.
dawn
Holiday Inn Pipi Beach
There is the sun on one side and the moon on the other
The moon, which has not set yet at sunrise, sees the same brightness of the sun and the moon.
Holiday Inn Pipi Beach
All the water went out in the morning
Holiday Inn Pipi Beach
There was almost no one on the beach in the morning, except for the hotel staff who cleaned up. But maybe the one with the sea view room is lying on the bed.
Holiday Inn Pipi Beach
For places with Thai style buffet, it's necessary to remind them that their daily buffet coupons are only from Monday to Friday on weekdays. We didn't eat them on Friday, but we couldn't use them on Saturday.
Holiday Inn Pipi Beach
Great, the water has receded. Today, I finally got on the amphibious monster (tractor). Today, I'll take this from the beach, first turn to the long tail boat, and then turn to the big boat to go back to Phuket. Although playing less than half a day, it's not a blessing to take advantage of the lack of water in the morning to take a tractor.
Holiday Inn Pipi Beach
I was so seasick that I only took a long tail boat for 7 hours yesterday. When I sleep at night, I feel I am floating around in bed. Today is a long boat ride! Moreover, in the morning when I went back, because there were fewer passengers, the boat was also smaller. In addition, the wind and waves were very strong in the rainy season, and the boat was shaking very much. I was almost dead after taking carsickness medicine! I'll take a boat tomorrow. I swear I'll never take another boat in a year. I regret eating too much breakfast. Although the breakfast in the hotel is very rich, I can't get the room price back. Don't eat too much before you take the boat. Most of the people who want to get carsick are also seasick. It's better to take a bigger boat in the afternoon because the bow of the boat will sway, so don't fight for the front seat. Now I have a profound understanding of the principle that happiness and misfortune depend on each other.
Because I didn't play here, I always get two when I pass by.
Tonsai Bay, Pipi Island
There are many boats here. If there are many people going to sea and the budget is not too tight, it is suggested to rent a speedboat here to save time on the road, play more places and not easily get seasick.
Tonsai Bay, Pipi Island
The hotel lobby. check   in   I didn't meet the legendary Chinese waiter when I was young.
Novotel Phuket Vintage Park Resort
Through Ctrip's request to arrange rooms with high floor, no street, quiet and sea view as far as possible. The hotel didn't have a room with sea view. It gave me a room facing the swimming pool, which was also very good.
It's said to be the biggest swimming pool in Patong. There's a pool behind the corridor bridge.
Novotel Phuket Vintage Park Resort
One from each side of the bridge.
Novotel Phuket Vintage Park Resort
Novotel Phuket Vintage Park Resort
Children from all countries play water volleyball together.
Novotel Phuket Vintage Park Resort
Room facilities are average, breakfast is average.
Novotel Phuket Vintage Park Resort
Banzaan   Fresh   Market   Referred to as B market, located in Badong Jiangxi cold behind a street, McDonald's diagonally opposite. The first floor sells seafood (mostly chilled, but also some fresh), fruits and vegetables. The second floor is for processing. Some bosses speak Chinese. Generally, the price is per kilogram of baht, so they can bargain again. Finally, dividing by 5 is the price of RMB. The second floor can also bargain, and it will close at 6 p.m.
I can only say that it's not a big one
B market. Patong
Although the photos are small, they are not generally large
B market. Patong
As long as they are alive, the price is a little more expensive, but we haven't had a good seafood for a few days, so we have to have a big meal.
B market. Patong
The story of hat: I bought a straw hat just before departure. I forgot it in the lobby when I was waiting for the boat in the first hotel. When I went to PP Island, I thought of it. I called the hotel because there was 0 in front of the Thai phone number. I didn't know whether it should be broadcast or not. So I called Ctrip's local Chinese hotline and asked them to tell the hotel to help me find it and let me know when I found it, I'll come back from PP island in two days. Soon there was a text message notice found, so after the seafood dinner went to take it back.
The legendary Badong beach is not as messy as it was imagined. Maybe it's late to go. There are not many people. Friends who want to play water sports are coming here.
Although the sand is very fine, but yellow and black, big waves, one layer after another.
Patong Beach
It's better not to play with the motorboat. It's said that it's controlled by the gang, which may cause you to crash the motorboat.
Patong Beach
Day 6 (September 23): Phuket Panya Bay kayak Adventure Day Tour Shopping get up at 07:00 and pack. 07:30   check   Out check out and check your luggage. Breakfast: free buffet breakfast in the hotel. At 08:00, pick up the car from the one-day kayak Adventure Tour (270 yuan / person) to Phuket Island wharf. 08:45   From the dock, go to Panya Bay. 09:45   Arrive at Panna Island, transfer to a small kayak and start exploring mangrove cave. Explore matte cave, explore stalactite. 12:15   Go to 007 island. 12:45   Return to the ship for lunch buffet. 13:30   Transfer to kayak and explore the room hole. 15:00   Take a rest, kayak and swim in lavar island. 16:00   Back to the dock. 17:00   Arrive at the dock and return to the hotel. 17: Go to Jiangxi for cold dinner at 30. 18: 00 to shopping malls, jeans, local products: dried fruit and so on. Do not need to shop can be a spa or Ma Shaji. When checking in, say hello at the front desk, and after checking out, you can take a free bath in the gym, but close at 8 p.m. Return to the hotel lobby at 22:00, and take the reservation by Ctrip (35 yuan per person per way) to the hotel and the airport. Journey: about 1 hour. Arrive at the airport at 23:00, go through the customs clearance, check-in, luggage check-in, etc. if there is a tax refund, you should take the tax refund form filled in by the shopping mall to refund at the airport tax refund window. Visit the duty-free shop at the airport at 24:00, use up the remaining baht and wait for boarding.
Panya Bay is known as Guilin on the sea. It is the same Mantou mountain as Guilin. Today, I'm not in a good condition. I ate carsickness medicine late. I had breakfast. I got on and off the bus for an hour and then went to the dock. As soon as I got off the bus, I vomited. A tour guide who knew a little Chinese immediately brought me a wet paper towel and ice mineral water and pressed my shoulder to make me feel better. Later, he gave me cool oil to smell. I became the focus of our group and attracted a lot of attention. But after I vomit, I feel better. I still play as I should.
Mainly to see stalactites in the cave, there are bats. Unless the service in this place is very good, there is no need to tip, because the rowers are all the staff on the ship, and the tour guide on the ship will collect them at the end of the journey. Because we didn't know how many times we gave them, the Israelites sitting opposite us asked if we were Japanese.
Matterhorn Panna Island
Matterhorn Panna Island
The room is full of holes, surrounded by mountains, just like a house.
The room is full of holes, surrounded by mountains, just like a house. The rowers in this place are not from big boats. If the service is good, you can give some tips. My husband also rowed the canoe for him for a while because he met our needs for all kinds of photos. When he was in a good mood, he gave 100 pigs.
Room hole
Finally, it's time to shoot 007's the golden gun.
007 Island
Many people also call it cabbage.
007 Island
When I get here, I'll let my husband swim in the sea. He doesn't wear swimming clothes.
Laval Island
The wave is very big. It's drifting farther and farther. It's almost impossible to swim.
Laval Island
He couldn't swim back. He was the first one to climb on the canoe. Because he was fat and a little hard, all the foreigners in the boat who didn't go to the sea laughed and I laughed too, so I didn't catch the scene of climbing. Then he came back in his kayak happily.
Laval Island
     After a day's tour, we have to be sent back to the hotel. There are many cars. We are No.16 car. My husband is very worried and keeps checking with the driver. The driver asks our hotel: Novotel? My husband   what? It's hard to talk about people. After asking again, he reflected that he was wrong. He answered Novotel, nodded, laughed at the driver and pointed out a car to us. My husband rushed to the car with me, trying to pick a good seat earlier, so as not to make me carsick. As a result, he rushed to the right side of the car, only to find the door of the cab, but not the door of the carriage. We had been here for several days, and forgot that the door was on the left. Looking at our driver, we laughed miserably.      Another story to find. The night before, I went to Jiangxi Leng to buy Lee Jeans. Because I bought a lot of them, I gave my husband a pair of underpants on the counter and put them in a small box. After I bought them, I went to the service desk of the shopping mall to fill in the tax refund form, and then I left my things there. As a result, today we went to Jiangxi cold, this time to big   C supermarket bought food and took back the lost things by the way. If it happens in China, it is very likely that it will not be found.
The seventh day of the itinerary (September 24): from Phuket to Chengdu, take a flight from Phuket to Chengdu at 01:00. Flight: China Eastern mu574    The total flight time is about 4 hours and 10 minutes. Arrive at Chengdu airport at 05:30, pick up your luggage and go home by yourself. The expected time to get home is 07:00. The trip is over. Today is Tuesday. Have a good sleep, have a rest and go to work tomorrow. The trip is 7 days and 5 nights, which actually takes 6 days, including 1 day of Mid Autumn Festival, 2 days of weekend and 3 days off.      This flight is like a war: at 10 p.m., the people who send us off will pick us up. At 11 p.m., they will arrive at the airport, check in the air tickets, and then enter the customs. There are a lot of people. It's 0:50 after the operation. They were going to go to the duty-free shop to buy some L'Oreal skin care products, but they went to see that the Chinese people are almost empty of L'Oreal (when I left, there were two flights to Chengdu, There are people who fly to other places), and the boarding starts at 0:45, the plane flies at 1:15, and the first time it flies without waiting.      Itinerary features: there is no discount of 500 yuan per person for this order, but except for PP Island, the time spent in the hotel is less, so the hotel is cheaper than itinerary 2. I stayed in three hotels. I stayed in a cabin on PP island for two nights and enjoyed the tranquility and original ecology of if you are the one 2. The water quality of PP island is good and it is suitable for swimming. I also experienced the bustling and convenient shopping of Patong Beach. Disadvantages: there are many mosquitoes in the cabin, a little afraid, and due to the PP Island back and forth for a day, the schedule is tight, so you need to charter a boat to play around the PP island.      Comparison: my mother and the group also had a good time, eating and living well, but she paid 900 yuan at her own expense. The scenic spots she went to were different from ours. Although there were one-day tours to PP Island, she didn't go to Maya Bay, mosquito island and Bamboo Island, which I thought were the most classic. If I don't go shopping, it's cheaper than my free travel. The main reason is that the holiday inn I stayed in for 2 days on PP island is a little expensive. She finally didn't shop under my thousands of advice and limited funds. Fortunately, we didn't buy them. The latex pillows and mattresses our tour guide took us to buy are more than twice as expensive as those our local friends took us to buy.      Conclusion: the local tourism industry is very mature and standardized, much better than the domestic seaside, and the hotel price is much cheaper, there is no butcher, the cost performance is super high, very suitable for free travel.